The Winter Break Could Be Just What Manchester City Needed
By Dan Larsen | 14 February 2020
Dan argues that the break might be to City's advantage.
(Photo by Aymeric Laporte/Instaram)
Breathe everyone! Manchester City are in the midst of a two-week winter break, and it couldn't have come at a better time for the club. Things haven't exactly gone well for them leading into this break. Last time we saw this club on the pitch, City put in a performance that perfectly summarized everything that's gone wrong for them so far in the 2019-20 season. They created chance after chance against Spurs, generating a gaudy expected goals total of 3.23. They limited their opposition to an xG of just 0.43. City's expected points total out of that performance that was an absurd 2.92. Yet, the blues found themselves on the LOSING end of that match, conceding two while scoring none.
Of course, the match against Spurs wasn't a one-off. City put in an nearly identical shift on matchday two in the Premier League in the reverse fixture, yet found themselves in a 2-2 draw at the end. They should have smashed Newcastle away in the league at the end of November, yet finished gridlocked in that match 2-2. They also drew 2-2 a little over a month ago to a reeling Crystal Palace side who did little to deserve any result out of the match, and they nearly blew a 3-0 lead in their semi-final match-up against Manchester United in the Carabao Cup during the same period by playing similarly to the matches we just described. The story of the season for them, to date, has been poor moments in defence coupled with an inability to score on routine, easy chances. Those two issues have persisted no matter how many times it's looked like they may be starting to turn the corner. It's not all down to personnel either. It's affected the chemistry and mentality of the squad as well.
Fortunately, this break may be just what the team needed to be able to hit the re-set button, and refocus themselves on the difficult tasks that lie ahead. City's season, though disappointing by the lofty standards they've set for themselves, is by no means lost, at least not yet. In fact, there's an amazing amount of success they can still achieve over next four months. They have a very winnable final looming against Aston Villa in the Carabao Cup. They're already in the Round of 16 of the FA Cup, with lower league opposition on the slate for their next match-up away at Sheffield Wednesday. They also find themselves with a daunting, but potentially massive opportunity in the UEFA Champions League to finally plant themselves at the head of that competition with current Spanish leaders, Real Madrid, lurking in their Round of 16 match-up in that competition. A domestic cup and European Cup treble is more than doable, even if the club have been struggling to play at the level that's required to achieve such a feat so far.
Having this time away allows the players and staff to do a few crucial things. One thing it does is give the players some much needed rest. For most in the side, they've been playing football almost non-stop for the past 18 months. No matter how fit and skilled you are, not having any kind of break will eventually takes its toll both physical and mentally. There have been signs of that occurring across the team this season, especially as the season has progressed. Having a couple weeks rest should help the players recover their fitness a bit. It also gives everyone a chance to step away from things momentarily and re-set mentally. The chemistry on the pitch has been off for a while now: players are missing chances they'd have ordinarily have buried in the past. Defenders are slipping up at vital moments, allowing the opposition to pounce on mediocre chances. Tensions have been rising between players on the pitch, and between the coaches and them because of these mistakes and the results they're leading to. This break should allow some of that to settle down.
This is also a good time for fans to put their frustrations to rest. If City are going to win any silverware this season, they'll need the Etihad to be a fortress, especially on those vital European nights. Having the enthusiastic and vocal backing of every blue, both home and way, can help propel the team, especially in crucial moments. They'll need their fans to do their part as well in lifting them up. Given the talent this team has, they're more than capable of closing this season out on a very powerful note. We'll see if this break has helped them prepare for the tough road that lies ahead.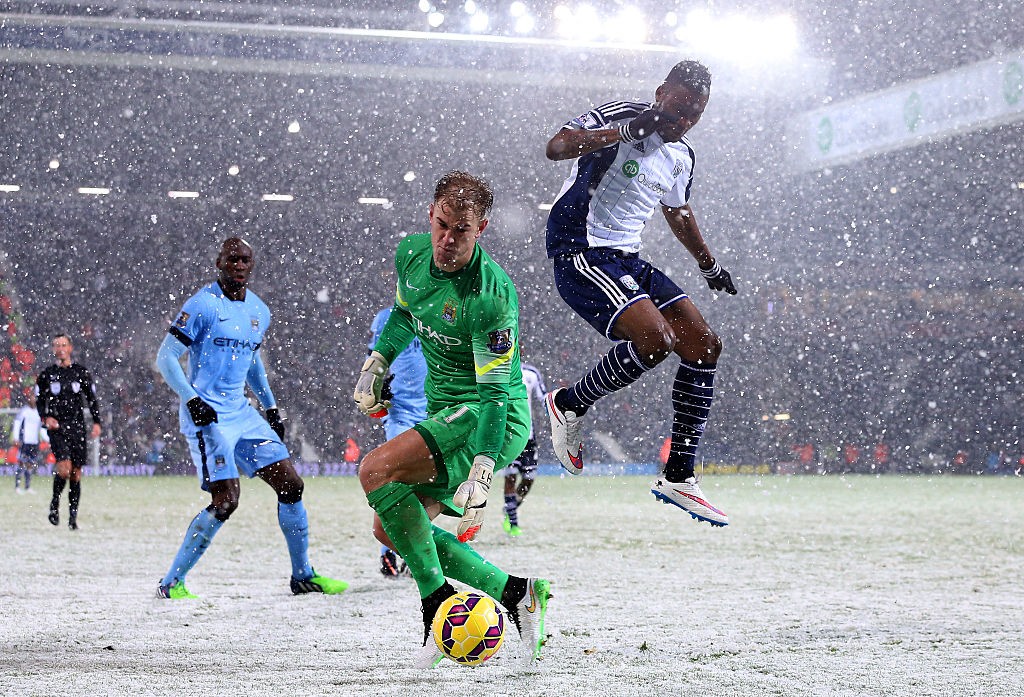 (Photo by Scott Heavey/Getty)