Aymeric Laporte's Much-Needed Return
By Dan Larsen | 30 January 2020
Dan looks at the stats to reiterate how important Laporte is to City.
(Photo by Catherine Ivill/Getty)
He may not have made the match-day squad against Manchester United during their midweek Carabao Cup semi-final match-up. However, it does appear certain that Aymeric Laporte, barring no further set-backs, will be available for the other key fixtures that Manchester City will face in the coming weeks. Laporte's return couldn't be coming at a better time for the club. With their Round of 16 tie in the UEFA Champions League looming against La Liga leaders, Real Madrid, at the end February, a Round of 16 match lurking in the FA Cup, and a League Cup final on the horizon, having a healthy and in-form squad will be critical for them to sustain a run at a potential domestic and European cup treble this season. No where in the team will that be more crucial than in the back-line, a line that has struggled in the absence of their best defender.
Though other parts of the squad have been performing below-par this season relative to the extremely high standards they set for themselves over the previous two campaigns, no area of the team has struggled more than the defensive line, particularly the centre-backs. The team's advanced stats in the Premier League tell a powerful story in this regard. A season ago, all of City's centre-backs to feature in the league posted an average rating of 6.87 or better, with Laporte leading the team with an average match rating of 7.05. The team conceded just 23 goals all season, one off what Liverpool's league-best total was (22). Their expected goals against (xGA) was a league-best 25.73, nearly four goals BETTER than Liverpool's xGA total (29.15). For all the attention that their rivals got for their elite defence, it was the Champions that boasted the most dominant one when looking at the complete picture.
This season has been a complete contrast from the previous campaign. Though Laporte's average form rating in the league remains virtually unchanged through his five appearances so far (7.03), every other central defender has seen their form rating slip in a significant way. Nicholas Otamendi's average match-rating has fallen from a 6.98, which was second best on the team in that position last season, to a 6.81. John Stones has seen his rating fall from a 6.87 a season ago (lowest on the team) to a 6.72. Only Fernandinho, who has moved back into the central defence to replace Vincent Kompany's spot in the back-line, has a comparable form rating (6.90) to what Kompany had a season ago (6.93). The most telling statistics that demonstrate their defensive slide, however, are their goals conceded and expected goals conceded stats. City have already let in four more goals this season (27) than they did in the ENTIRETY of their previous league campaign. Even more, their xGA is already at 24.87 through just 24 games, less than a goal off of their xGA total from a season ago. This isn't comparable to their performance in Pep Guardiola's first season in charge either. City are conceding more goals per game right now (1.125) than they did in 2016-17 (1.02). Their xGA is ONLY about five goals less than it was throughout the whole of that season too (29.65)
These stats show that City are not only conceding far more goals this season than they have in the past, but they're giving up far more quality chances for their opponents to score from. Much of this has come from the drop in form from their centre-backs. It's extremely difficult to go on any kind of winning run when your defence is essentially conceding over a goal per game. It's the single biggest explanation for why City find themselves 19 points back of their rivals with 14 league games remaining. Laporte could be just what City need to steady the back-line. His defensive skills are basically unmatched in the squad, and are on par with any of the best in Europe. Even more, his vocal leadership and level-headedness help steady the rest of the squad when he's on the pitch. So many of City's defensive issues this season have stemmed from a lack of communication and understanding between their defenders, especially the centre-back pairings. Nicholas Otamendi's inexplicable foul on the edge of the 18-yard box on Wednesday night, near the end of the game, was a perfect example of this, joining a long list of poor moments he's had this season.
If City are going to salvage what's been a let down of a season to date, they'll need to improve at the back. A healthy Aymeric Laporte is just what the doctor ordered for them do exactly that. We'll see if he can spark the team back into top form in the weeks to come.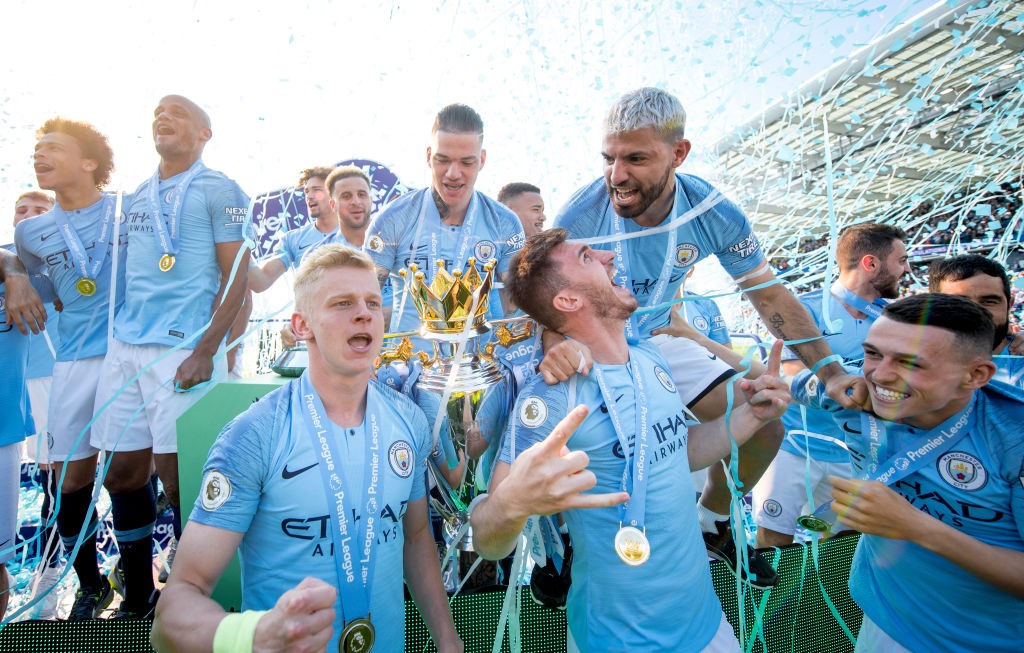 (Photo by Michael Regan/Getty)