The Stats Are Clear: Nicolas Otamendi Needs To Go
By Dan Larsen | 03 January 2020
It will surprise few that Nicolas Otamendi's time at City should be coming close to an end.
(Photo by Clive Mason/Getty)
It's safe to say Manchester City have had their fair share of issues in their defensive line this season. Much of that has stemmed from the loss of their best central defender to injury, Aymeric Laporte. Already short on talent at centre-back entering the season after the departure of club legend, Vincent Kompany, over the summer, Laporte's loss really put the crunch on the team given their already fragile depth at that position. Unfortunately, that decision to not to replace Kompany with an established player has proved fatal for the team's title hopes as City enter the new year 13 points behind Liverpool.
City's defence has been a constant liability in Laporte's absence. John Stones has suffered a series of injuries himself over the past three months, and has struggled in the few instances in which he's played. His injuries have left City with just one senior option whose natural position is centre-back. Fernandinho's move to the back-line has proved to be a shaky proposition as well, with his loss of pace proving fatal in many counter-attacking situations. Though he's had strong performances, such as the game City just played against Everton, he's had his fair share of stinkers to go with it. Some of his rash moments at vital times have cost City points. Worst of all, however, has been the performance of the team's veteran most defender, Nicolas Otamendi. Already seen as the most volatile of City's defenders when it comes to consistency in his level of play, Otamendi has met and exceeded that reputation since being called into action.
On the surface, Otamendi's stat-line for the season doesn't appear to be THAT bad. His form rating through his 13 Premier League matches to date, according to whoscored.com, is a 6.78, which is 14th overall on the team. A deeper dive into his numbers, however, reveal some major concerns. First, his form rating this season represents the second consecutive season in which his form rating has dropped. In their 2017-18 EPL winning campaign, Otamendi made 34 appearances in the league, 33 of which were starts, posting an average form rating of 7.13. That form rating placed him among the ten best defenders in the Premier League during that season, and put him number 33 overall among all players in the league that season. Last season, his form rating across his 18 appearances was a 6.98, another really solid line for a defender. This season's 6.78 rating a major drop from what his average rating was just two seasons ago.
Looking beyond his overall form rating and into his defensive stats, his decline becomes even clearer. He averaged a solid 1.7 tackles and 1.4 interceptions per game in 2017-18. Those numbers regressed just slightly to 1.4 tackles and 1.6 interceptions last season. This season, he's averaging just 1.2 tackles and one interception per game. His fouls have also increased to 1.1 per game, up from an average of 0.8 and 0.4 in each of his past two seasons. The stats also mask a lot of the mistakes that Otamendi has made. Though he's always had an element of rashness to his game, he's had far too many of those moments over his past few appearances. For example, his inexplicable decision to be several yards in front of the other defenders against Wolves a few days ago left the City line completely exposed to simple through ball over the top. The gap left by his positioning allowed a Wolves attacker to run at City's goal virtually unimpeded. It forced Ederson to come out and try and win the ball 1-on-1 outside the 18-yard box. Ederson missed the ball, and was sent off for making contact with the attacking player, leaving City to defend nearly the entire game down a man.
His defending in the few moments where Leicester City were able to attack the game before weren't much better either. Though he was not necessarily at fault for the goal they scored, he got absolutely obliterated by Jamie Vardy on a counter-attack in the first half that nearly led to a second just minutes after they snagged a first against the run of play. In City's 2-0 shock defeat against Wolves back in October, his awful defending 1-on-1 against Raul Jimenez on a counter-attack was the biggest contributor to City's concession of the opening goal of the game as well. His stunning decision to go to ground in a 2-on-2 to try and win the ball failed spectacularly, forcing Fernandinho to defend 2-on-1 which gave Adama Traore the space he needed to get the ball and score.
Perhaps his worst moment of the season occurred with the third goal City conceded in a loss at Norwich City. He had the ball taken off of him in the 18-yard box with little resistance early in the second half while City were trying to play out from the back. This turnover allowed Norwich to create an incredible goal-scoring chance which they didn't miss. Moments, such as those we've just described, have been pivotal in swinging games this season. Otamendi has been far from the only offender on the team (see Benjamin Mendy's shocker at Wolves), but he's too often been THE defender making the most mistakes. The rashness that has made him an infuriating player to watch in the past has unfortunately been THE defining characteristic of his season to date. It's inexcusably poor play from the man who's supposed to be the senior leader of the back-line.
These mistakes, when combined with what appears to be a decline in key areas of defending, paint a pretty clear picture. City need to part ways with him as soon as possible, and bring in another world-class defender to replace him. The bad moments are far too often outweighing whatever positive he provides. If they're going to regain their form, and compete for a European title, they can't rely on him to be a first-choice option anymore.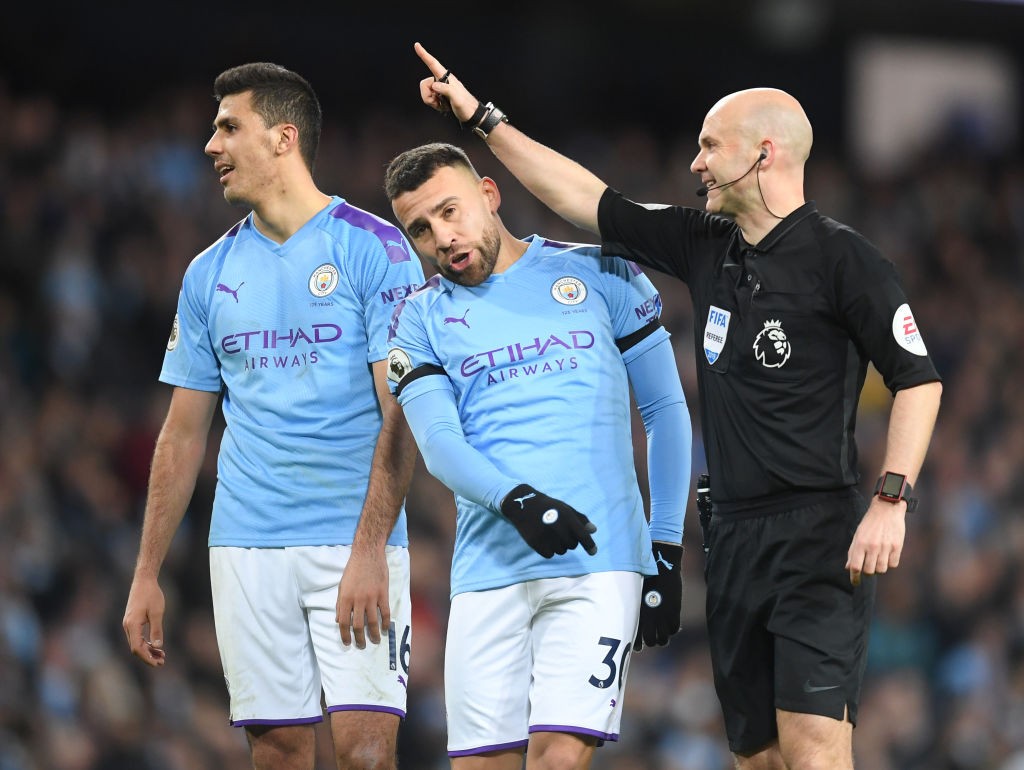 (Photo by Michael Regan/Getty)