Why Manchester City could benefit from their tough Champions League draw.
By Dan Larsen | 18 December 2019
Dan argues that drawing Real Madrid could be a blessing in disguise.
(Photo by Andrew Yates/AFP)
Manchester City will not have the benefit of having an easy Round of 16 match-up in the UEFA Champions League this season. It was announced on Monday that the defending Premier League champions will face off against Spanish giants, Real Madrid, when the knockout stages begin next year. On the surface, the draw looks like a nightmare scenario for a team that's been in a (relative) state of disarray recently. Real Madrid won three consecutive UCL titles before their run came to an end last season. They possess one of the most talented squads, top-to-bottom, in world football. The San Bernabeu is one of the toughest venues to go to and win at. Out of all of the teams to finish second in their group, Real was arguably the best of the lot.
Having such a difficult draw, however, could be exactly what City need in order to go on a winning run in the competition. With easier draws having failed to set them up to weather the latter stages of tournament in the past two seasons, a tougher draw to start might be the kick in the pants that the team needs to finally reach their potential in Europe's premier club competition. City had the benefit in each of the past two seasons of landing a relatively easy draw in the Round of 16. In 2017-18, they drew FC Basel, a team which they dispensed of with relative ease after hammering them in the opening leg of their match-up. Last season, they drew a struggling Schalke side. Though they faced a major scare in the first leg in Germany, City annihilated them in the home leg in what may have been their most dominant performance in Europe this decade. Neither easy draw, however, was of much aid when the team got to the next round. Liverpool dismantled City over the two legs of their quarterfinal tie two seasons ago, leaving the team to wonder how things went so wrong in Europe during a season where they broke records domestically. Last season, City put in a much better performance against Tottenham in the quarterfinal than they did against Liverpool the season before, but still found themselves going out to an inferior side based on away goals.
City were unaided by the easier ties that preceded their quarter finals. Though those match-ups virtually guaranteed that the team would make the final eight, neither posed the kind of test that the team was in need of. They were able to get by those ties without having to play at an elite level, or experiencing the kind of tough to play in environments they were going to encounter in the next stage. It should be little surprise, then, that City played a vital part in their own demise in the next round. Their self-inflicted errors in each of their past two quarter final ties played as big a role, if not more, in their losses as the quality of their opponents did. City appeared to be mentally fragile in those ties, especially in the away legs. They made mistakes unbefitting of a team as talented as theirs. The same merciless streak in attack that they imposed on those teams in England was missing in their European ties as well with the exception of their home leg against Spurs last season.
The size of the moment appeared too much for them to cope with, which is a shocking thing to say about a team that, in those very same seasons, was obliterating their competition domestically. The coolness and confidence that defined their domestic play was absent on the European stage. Perhaps that's a reflection of the fact that no player on this team has ever won a Champions League, though many have made it deep into the tournament before. The pressure on the team to finally win a European title is a more likely explanation.
With Real looming, City cannot afford to be as off-kilter in Europe this season as they were in each of the past two seasons. The only way this team will get comfortable playing on Europe's biggest stage is by being tested against Europe's best teams, and in the most difficult environments a team can play in. If they can beat Real now, it may be exactly the shot of confidence they need to prepare themselves for a deep run. They need to prove it to themselves that they can do it in Europe. This Manchester City team has been one of the best the world has ever seen. The one thing missing from their dominance, though, is European glory. Facing a tough tie against Real Madrid right away in the round of 16 is exactly the kind of the test they need to face if they're going to finally get over the hump in Europe.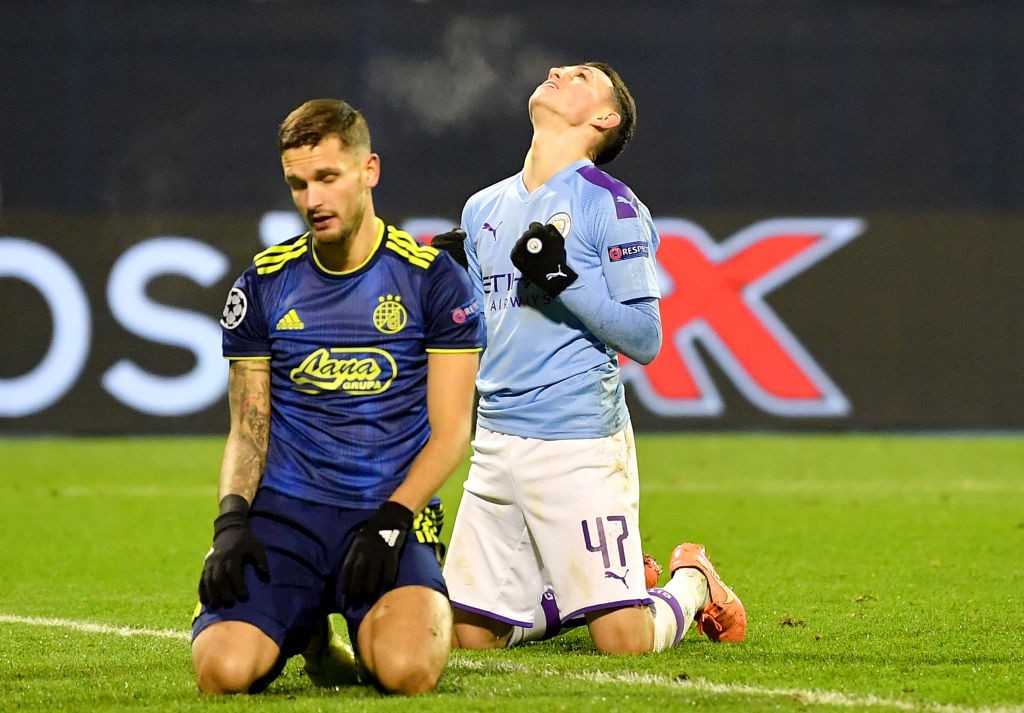 (Photo by Andrew Yates/AFP)