What's Gone Wrong For Manchester City So Far?
By Dan Larsen | 12 November 2019
Dan looks at the stats to show where City have gone wrong this season.
(Photo by Laurence Griffiths/Getty)
It's gut-check time at Manchester City. City were on the receiving end of a major loss on Sunday that could already prove decisive in the Premier League title race. It wasn't the first time, however, that the club has lost a league game this season. Through 12 Premier League games so far, the team has lost three of them. That's just one fewer loss than they had in the entirety of their previous league-winning campaign, and is three more than they managed to get in their record-shattering 2017-18 season. Overall, heading into the final international break of 2019, City have accumulated just 25 points. That's the fewest points that any Pep Guardiola coached side has ever managed to get through 12 games of a league campaign.
The team also find themselves heading into a busy end of the year nine points behind the team they pipped to the title a season ago (Liverpool), and behind a rebuilding Chelsea and surging Leicester City side, both of whom are being managed by individuals who are in their first full season in charge of those respective sides. Whilst some of City's disappointing results so far can be chalked up to poor luck (see their home opener against Spurs on matchday two), much of it cannot be. In fact, the reigning league champions have largely themselves to blame for their teetering league campaign so far.
Problems At Both Ends
The club's problems in their league can be summarized by their poor play in both boxes. While their advanced stats suggest that they've played quite well overall, mistakes in the final moments in both boxes have taken several of their games off course. Let's start with their defensive issues. Through 12 Premier games to date, Manchester City have conceded 13 goals, or 1.08 goals per game. That's their worst goals conceded per game rate since Guardiola's first season in charge of the club, when they conceded 39 goals over 38 matches (1.03 per game). They conceded just 0.71 and 0.61 goals per game in each of their previous two seasons.
City's expected goals against, which takes into consideration the quality of the chances they've conceded, suggests that the 13 goals they've given up so far is a fair reflection of their defensive play. Their xG against is 13.48, which is 5th best in the league. Compared to previous seasons, the club are conceding far more high-quality chances than they have in any season in which they've been coached by Guardiola. To put their xG against number into context, they're conceding a much higher rate of goal-scoring chances per game so far this season (xG per game of 1.12) than they did in Guardiola's first season in charge of the club in 2016-17 (.78 xG against per game). That was a season where the team was plagued by significant defensive issues, both in their back-line and in goal.
Their expected goals against per game this season is also nearly double what they conceded per game in 2017-18 (.65), and 2018-19 (.68) too. An even deeper dive into the numbers, however, shows that some of the goals the team has actually conceded have come from very low-quality chances where they've made terrible mistakes. For example, in their home opener against Tottenham, the team conceded two goals in a game where their xG against was just .07. Two awful errors were what gave away goals in that game. Sunday's game at Anfield was another good example. According to understat.com, City's xG against in that game was 1.33. Yet, the team managed to concede three goals in all, including a long-range effort from Fabinho, and a header off of a cross. Both goals stemmed from mistakes that individuals, and the team made.
It's extremely difficult for a team to win a title when they're conceding the amount of goals and chances that City are at the moment. That becomes almost insurmountable when they're conceding cheap goals too. The last team to win the league while conceding more than a goal per game were Manchester United in 2012-13 (43 goals conceded). Every team since then which has won the league conceded fewer than a goal per match. Several things have contributed to their defensive slide. There have been a few atrocious mistakes from their goalkeepers which have cost them goals. Both Claudio Bravo on the weekend, and Ederson before that, have a great deal of blame to shoulder for some of the goals City have conceded to so far in their league campaign.
There's also been some awful defending from everyone in their entire backline. Kyle Walker has been beaten on a more than a few occasions, especially on set-pieces. Their entire center-back rotation, since Aymeric Laporte got hurt several weeks ago, has played a role in the several of the chances they've conceded as well. That was an entirely foreseeable development, even before the season began. Even the midfield support in front of the back-line has often been lacking. On Sunday, in particular, City's midfield trio found themselves leaving far too many gaps for Liverpool to exploit on the counter. Much of that has stemmed from the team's lack of pace in those spots, but much of it also came from a lack of cohesion and understanding between the players. There hasn't been the same level of comfort between them that there's been in previous seasons.
The Attack
Defence, though, hasn't been the only reason why City find themselves several points behind in the title race. They've also been quite poor in front goal themselves. Through 12 games so far, City have created an average of over three expected goals per game (3.13). That average exceeds the high water mark they set for themselves just a season ago (2.47). City, however, have scored nearly three fewer goals (35) than they would be expected to score based off of the chances they've created. That's a big contrast from the previous two seasons, when the club scored more goals than they were expected to.
Three games specifically leap out when it comes to their inability to finish off chances. Those three games were also ones where City dropped points. In their 2-2 draw against Tottenham, City's xG was 3.2. In their 2-0 loss to Wolves, they created 1.62 xG. This past weekend, their xG (1.48) was better than Liverpool's (1.33). In all three games mentioned above, City missed several chances they'd ordinarily score. Throw in the defensive mis-haps that led to cheap goals at the other end, and you have a recipe for a team underachieving their overall level of play by quite a bit.
Conclusion
To get back on track, City are going to have to be much better in both boxes than they have so far. In offence, that means finishing off the best opportunities they create for themselves. In defence, it means conceding fewer high-quality chances, and cleaning up the sloppy mistakes that have cost them far too many goals. Given that they're nine points back now, there's no more margin for error. If they don't improve, and fast, they'll likely find themselves out of the title race before the new year. We'll see if they can respond to the position they've gotten themselves into.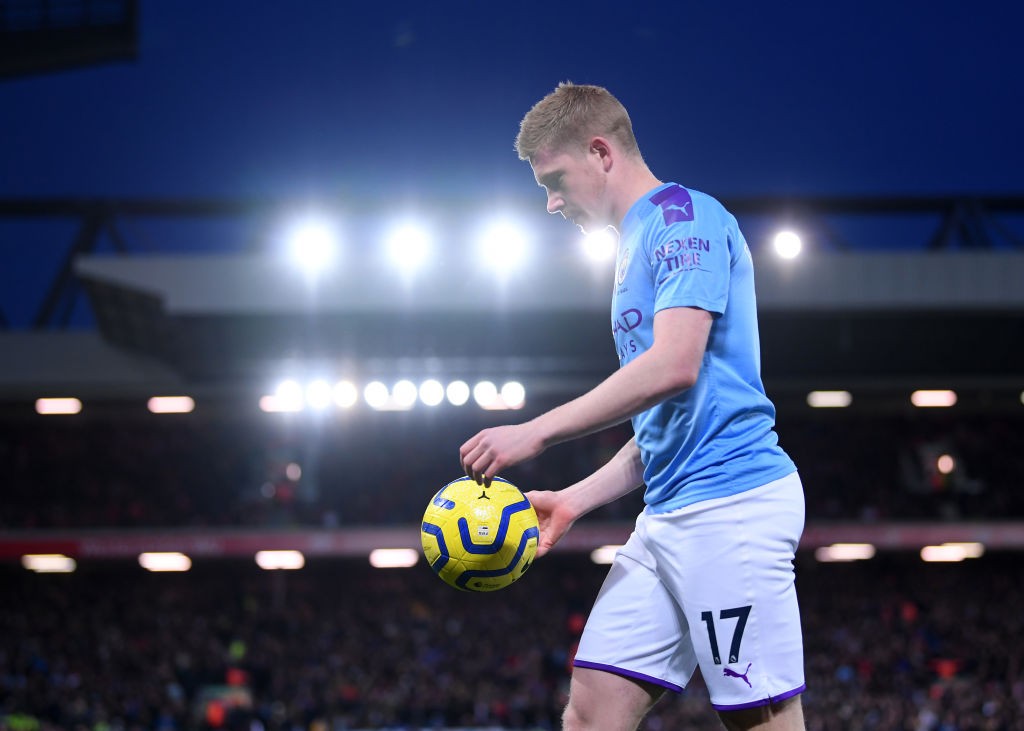 (Photo by Laurence Griffiths/Getty)