Manchester City Enter A League-Defining Stretch
By Dan Larsen | 09 November 2019
Dan looks at a tough run of fixtures for Manchester City.
(Photo by Catherine Ivill/Getty)
Could the team's season already be on the line in the league? If their upcoming fixture list is any indication, then the answer is a resounding yes. Manchester City are set to embark on an extremely difficult stretch of games in the Premier League over the next eight weeks. Given that they enter this crucial run already six points behind Liverpool, any additional slip-ups could prove decisive in the title race. City kick off this pivotal period with a trip to Anfield this weekend. They'll enter that game without several of their key players.
Ederson, who picked up an injury in their drab mid-week performance in Italy, will be on the sidelines this Sunday. The team will also be without Leroy Sane, a man who played a key role for them winning the decisive game against Liverpool this past January, Rodri, who was signed over the summer to play in exactly this type of game, David Silva, and Aymeric Laporte, their best center-back. With Liverpool entering that game at basically full-strength, optimism for the team getting anything more than a draw is pretty close to nil heading into that game.
What makes this run so important, however, isn't just the team's match-up against Liverpool. It's the games that follow in the Premier League once they return from the final international break of 2019. Between their return to action on November 23rd, and the end of 2019, the club will play eleven games in all. Eight of those come against Premier League opposition. In those eight games, the team will face the following fixtures in order: fourth place Chelsea (11-23), at 15th place Newcastle United (11-30), at 14th place Burnley (12-3), 10th place Manchester United (12-7), at fifth place Arsenal (12-15), third place Leicester City (12-21), at 12th place Wolves (12-27), and home versus sixth place Sheffield United (12-29).
If we base those match-ups on where the teams could potentially be in the table based on the overall quality of their performances to date using expected points, that list (including Liverpool), sees City facing the second (Liverpool), third (Manchester United), fourth (Chelsea), seventh (Leicester City), eighth (Wolves), ninth (Burnley), tenth (Arsenal), and the 12th place (Sheffield United) teams. Newcastle (19th) is the only team City play in the bottom quarter of the League in expected points between now and the end of the year. That run of games is a daunting task for any team to face. In between those games, City also play two more UEFA Champions League group stage fixtures, and have a quarter final to play in the Carabao Cup against Oxford United on the road. With their qualification in the UCL elimination stages still unsettled because of the points they dropped mid-week; the team will likely be forced to field a full-strength side when they play Shakhtar Donetsk after the international break. Those games only further complicate their ability to focus on catching Liverpool as the year draws to a close.
City are in real danger of falling well out of contention for the League title during this run. Their fixture list is extremely difficult. They're also entering this run after the break where they'll be playing a game every three to four days. That kind of fixture congestion is hard to navigate as is, let alone for a team that is missing several key players due to injury. City won't be able to rely on the kind of squad depth that allowed them to weather these intense runs in each of the past two seasons this season. The one saving grace for the team as they enter this brutal stretch, however, is that their underlying stats in their recent performances suggest that the team has played a bit better than it appears that they have. City are nearly two points below their expected points total (26.80) for the season so far, but they lead the expected points table over Liverpool by over four points. Even though they had to work hard to win their past three games since dropping points to Wolves at home, their expected goals in those games show that they were deserved winners. This suggests that, despite having some issues to date, City have actually been putting in better overall performances than Liverpool.
The next eight weeks are about survival for the team. So long as they can keep themselves within six points of the league-leaders, they'll be well-positioned to make a run at a third consecutive league title. If they fall any further back, though, then the league will very likely be out of reach for them. We'll see if Manchester City are capable of staying alive long enough to get themselves the critical reinforcements they need in January, both internally and in the transfer market.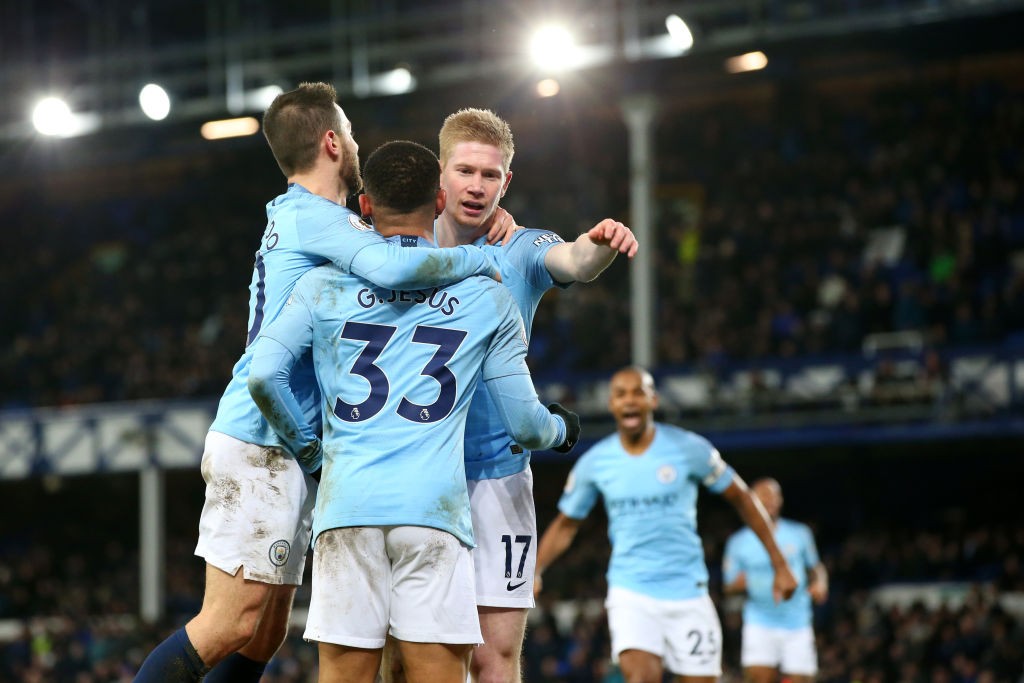 (Photo by Andrew Yates/AFP)