The 9320 Podcast's Awards For 2019 - Part 2
By Howard Hockin | 30 December 2019
Howard hands out further awards for 2019.
(Photo by Andrew Yates/AFP)
In Part 2 of 9320's Awards Ceremony, the big issues are dealt with.
Part 1 can be found here.
Least Surprising Comments Of The Year
Joint winners for this cherished award, from your grumpy uncle in the corner, sat there on Xmas day muttering about how we got our sovereignty back.
First up is Neil Warnock in January – asked about Brexit he said: "I can't wait to get out, if I'm honest. We'll be far better off out of the bloody thing. In every aspect. Football-wise as well, absolutely. To hell with the rest of the world."
Wise words Neil. And to hell with your job too. Let's hope it's good riddance to you as a manager. Then you are free to eat a full English in The Red Lion, Benidorm, whilst complaining that a lot of the locals "talk funny".
But hold on, because you only get the award for six months of 2020. Here's Ian Holloway in August – calling for Brexit to sort out our handball rules. Yes, you read that correctly. "I don't think that's our boys making up that new [handball] law. I think that's people telling us what to do with our game. Now they should stop doing that. I hope we get out, Brexit, because that's what people are voting for. You cannot have someone telling us how to do our own game."
Bloody foreigners, coming over here and telling us how to play the game WE INVENTED. Makes me sick, it really does.
Neil Custis Customer Service Woes Award
For the 4th year in succession, Neil wins his own award. Neil had another tough year arguing with incompetent companies on Twitter, for which he had my full sympathy. His tour de force was complaining to Cross Country trains for cancelling his train. The only problem was, it was one of the few days of the year when they hadn't actually cancelled any. His golf clubs are still thought to be missing from Manchester Airport, and were last seen strewn across Airport Carpark C, as a seagull pecked at the remains of his 3 wood cover. All that is left now is for Neil Custis to sign for The Athletic in 2020, his opening article a philosophical look at the link between metaphysical poetry and the terraces of St Pauli football club.
False Equivalency Tweet Of The Year
David Conn blew this one out of the park by suggesting that whilst it was right to make a stand against Bulgarian fascists, it was an odd time for England to be leading the fight when our national policy was to leave the EU after an anti-immigrant campaign.
Double-Take Tweet Of The Year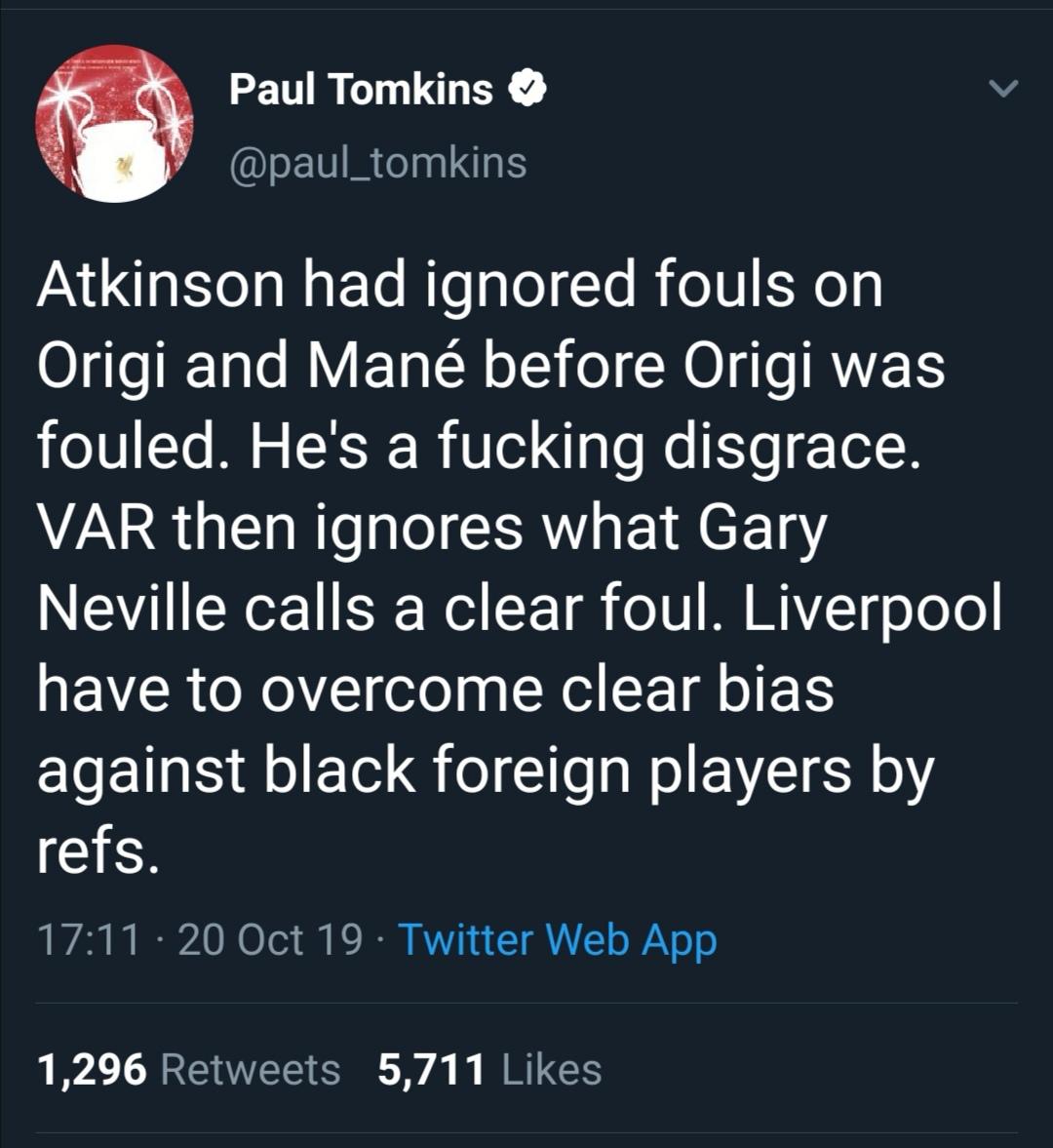 Steve Coppell managerial award
Congratulations to Paul Scholes, once of Oldham. In a move that made Gary Neville resemble Bill Shankly, notoriously shy family man Scholes decided that a month was enough trying to turn around the fortunes of his beloved Oldham Athletic. Sources tell me there was sadness in his eyes.
But Oldham's loss was punditry's gain, and Paul was soon back on our screens saying nothing of interest whatsoever.
Unwanted trend of the year award
The worst thing about 2019, and I include war, famine and Piers Morgan in all of that, was 16 year old spotty virgins typing from their box room their "unpopular opinions" on Twitter. You know the sort, how Ozil was actually better than Kevin De Bruyne using the metric of corners won on the left on a Tuesday in autumn. Virtually every single opinion put forth was staggeringly tedious and banal.
So here's a popular opinion for you – go out and do something useful rather than obsessing over getting social media RT's, you *****.
P.S. Please RT this article. Thanks.
Funniest moment of year
Discovering that United had appointed Ole on a permanent deal. Ed Woodward and his merry gang did not have to do it, but simply wait until the end of the season before deciding. But no, they saw an opportunity, and went for it. Solskjaer was cheap, would not kick up a fuss if not backed in the transfer market (though money will surely be thrown at the team once more) and there was enough support from the fan base bedazzled by DNA talk and nostalgia, that when/if it goes wrong, Woodward can claim it's not his fault. Occasionally, my resolve that the appointment is a disaster that will hinder any possible progress for at least another couple of years, whilst City and Liverpool ride off over the horizon, is tested when Ole pulls out a big result or two. But a bad result inevitably follows, and the good results come with the added bonus of ensuring he keeps his job whilst Mauricio Pochettino sits at home twiddling his thumbs. Should United win their next two games against Arsenal and Wolves, I reserve the right to destroy this entire article.
Liverpool Echo moment of the year
Claiming that despite losing the penalty shoot-out in the Community Shield, they didn't really lose and could claim a moral victory as Liverpool players' penalty shot placement was better. As always Liverpool never deserve to lose any game. There has to be a caveat.
Runner up: their repeated articles on how Liverpool's brilliance caused a butterfly effect that had huge consequences elsewhere, from the UK winning the Olympic bid to causing Mauricio Pochettino to be sacked. One of those is true.
Best Source for Manchester City Updates Award
The Liverpool Echo
(the irony is not lost on me mentioning Liverpool. Again. #rentfree)
Most important issue
Racism. Perhaps it finally dawned on white men like me what many have endured and continue to endure. Not all white men like me, but there have been hopeful signs that baby steps are being taken in the right direction. This year, I spent 10 minutes learning the history of blacking up, I read and thus understood the nuances of Bernardo's tweet, as I am sure he has since done too, and I began to treat an issue that does not directly affect me with the seriousness it demands.
The problem is that despite the coverage racism in football is now receiving, has it had much of an effect yet? I'd argue not, as UEFA plough onward with futile gestures like fines, closed stadia, hashtags and banners. Only when they kick clubs and countries out of competitions, will the FA's of those clubs and countries be forced to act. And they need to be forced to act, as many can't even comprehend the fact that there is a problem to deal with. When some even comment that monkey chants are a form of respect. As stupid an argument as claiming that a Uruguayan using the word negro is a term of endearment "from where he comes from".  We should be thankful did not don a T-shirt in support of Bernardo.
And so in 2019, it turned out it was the players who were forced to act, and confront the issue head-on. It really shouldn't be up to them to deal with this, but it seems that is where we are heading. And the future should include players and teams walking off, and an absolute commitment to dealing with the issue across the sport, globally.
Most Crow-Barred Raheem Sterling Reference Award Of The Year.
And proof that there is still work to be done. The Daily Mail, reporting on John Stones leaving his partner, included an image centre stage of John Stones talking to….Raheem Sterling. You may think this is desperately trying to find offence, but you would be wrong, as I gradually learned this year. Only one of the two players' faces was fully visible in the central photo – and it was not the player that was the subject of the article. The inference is clear – connecting Raheem to infidelity and relationship woes, no better than the casually racist stories that used to circulate about him having multiple children as a teenager.
Most Crow-Barred Manchester City Reference Award Of The Year.
Shout out to David Conn, who when writing about the demise of Bury FC took a mere ten words before mentioning Manchester City, and another 30 words or so before referencing Abu Dhabi oil wealth. Bravo!
This was a common theme at the time when discussing Bury and the similar struggles at Bolton. Bury had been destroyed by the actions of their owners, and by overreaching in their previous promotion campaign. The riches of the Premier League may be obscene, but they have nothing to do with City, the only argument available the one that suggests there should be more of a trickle-down of funds form the top. But that wouldn't guarantee clubs' survival either, as clubs and owners would still continue to over-stretch themselves and takes risks in an attempt to climb the league ladder and reap greater financial rewards. The issue was the EFL's fit and proper criteria, and the fact that owners can get away with asset-stripping the likes of Bury with little or no comeback. And those that suggested City or United help out struggling sides were the most ignorant of all. Not only do the EFL rules not allow such gifts, but doing so would be seen as carte blanche for all sides to overspend safe in the knowledge a rich neighbour would bail them out if times ever got really tough.
Faux Media Outrage Of The Year
Strong, strong competition, as always.
For me, it has to be the video that emerged of City staff and (some) City players having a sing-song on a plane as they celebrated a rather successful season.  The song they sang was a re-working of the Allez Allez song that Liverpool fans think they invented, and the City version is shit, and hardly one of my favourites. That rather misses the point on this occasion. It was an impromptu rendition of a City song on a plane most certainly led by staff. After all, do you really think Sergio Aguero started it up, and has any idea of its context? John Stones maybe, and the song was perhaps ill-advised whether everything is recorded nowadays or not, but it was no huge deal, it was not worthy of week-long coverage, but in a way such coverage was inevitable when you consider the factors involved. What was of course overlooked was the odious and quite vile inclusion of Sean Cox and his family in the story, when the song is clearly nothing to do with him. Some people literally have no shame.
Still, the best response to situations like this is often sarcasm, so there was a silver lining. I got involved in a twitter discussion over what other City songs were also deeply offensive. It was agreed that "without a love of my own" was a clear dig at the breakdown of the first marriage of Graeme Souness. And whilst we're at it, Liverpudlians will always rally round to help their own, and their help for Sean Cox was truly heart-warming. Let's all hope his recovery continues at full pace in the future.
The Jumping The Gun Award 2019
The articles that decried City's football was ruining the sport, due to the anti-competitiveness it would create. How did that pan out for you lads? And more to the point, when are you planning to write similar articles about Liverpool?
Journalism In-Fighting Of The Year
The launch of The Athletic in the UK this year certainly shook up journalism. With someone else's money burning a hole in their huge American pockets, they waded into newspaper sports desks across the country, head-hunting their finest talents, and James Pearce. For the price of a pint of Holts each month, we had access to some proper coverage at last, which had felt thin on the ground in recent times. Those that were left behind were not always impressed with the new, brash kids on the block, and their endless cross-promotion. Most kept quiet though, either because they had no problem with the site, or because they did not want to burn their bridges in case one day the call came for them to double their wages overnight.
By the end of the year though, I felt it got a tad jaded. There were too many articles that followed a similar theme – along the lines of "I travelled to Zimbabwe to spend the week with the mother of Benjani, 11 years to the day after he scored in the Manchester derby". A bit more variety is needed, as subscriptions will only go one way if there is not continual reinvention in what is offered.
Either way, it's great value, it's good to read original, bias-free in-depth content (if you ignore the Liverpool stuff), and paid-for journalism should be encouraged, not dismissed. We have to stop expecting everything for free. And what's more, they finished the year strongly with some great content.
Investigative Journalism Of The Year Award
During the summer, I began to suspect that my Instagram account stories were being leaked to the press, by a "so-called" friend. My account was private, so it had to be someone I knew. My suspicions were first raised when The Sun ran a story about my addiction to Scampi Fries. I had only talked about this candidly on Instagram. A month later they ran a front-page exclusive about the birth-mark on my right butt cheek that resembled Antoine Sibierski. Again, a detail that only my Instagram followers, partners and Archbishop Desmond Tutu would know about.
After a long time of trying to figure out who it could be, for various reasons, I had a suspicion.
To try and prove this, I came up with an idea. I blocked everyone from viewing Instagram except ONE account. Over the past five months I have posted a series of false stories to see if they made their way into the Sun newspaper.
And you know what, they did! The stories about my third nipple, supporting Chelsea before 2008, and a torrid affair with both of the Krankies.
It's been tough keeping it to myself and not making any comment at all, especially when the stories have been leaked, however I had to. Now I know for certain which account/individual it's come from.
I have saved and screenshotted all the original stories which clearly show just one account had viewed them.
"It's……… the Anfield Wrap's account."