The 9320 Podcast's Awards For 2019 - Part 1
By Howard Hockin | 01 September 2019
Howard doles out awards for those that went that extra mile in 2019.
(Photo by Andrew Yates/AFP)
As the end of another eventful year in football approaches at some speed, it is time to hand out some awards for those that contributed the most to the sport we all love.  For those that went the extra yard to entertain us, to shock us, or simply for those that made us question humanity itself – this is your time.
The Lack Of Respect Award
This of course goes to Manchester City, for their disrespect in continuing to score against an inferior Burton Albion side in the semi-final of the Carabao Cup. Not my words, but those of Mark Ogden. Sadly, Mark must have been without internet access when Leicester City repeated the score-line in the Premier League at Southampton, for no tweets were forthcoming. Strange that. For years, journalists have (rightly) peddled a narrative of managers disrespecting domestic cup competitions by fielding weakened teams. When Pep Guardiola does the opposite and respects an opponent by putting out a strong side, he gets criticised. If only football journalists managed teams, then we'd get the perfect balance – teams strong enough to win by a respectful two or three goals, every single time.
Goalkeeper of The Year, Left-Back Of The Year, Right-Back Of The Year, Central Defender Of The Year, Defensive Midfielder Of The Year, Central Midfielder Of The Year, Attacking Midfielder Of The Year, Wide Player Of The Year, Striker Of The Year, Manager Of The Year.
See Liverpool's squad list.
Underwhelming Domestic Treble Of The Season.
Fighting off stiff competition, from, erm, absolutely nobody, ever, the award goes to…..Manchester City. Again, not my words, but Paul Wilson of the Guardian, who argued that failure in Europe made the domestic treble rather "bittersweet". Yet again, a football journalist demonstrated in stark terms that they have the flimsiest of grasps on reality, and a staggering ignorance of what is involved in being a football fan. The most successful season in a club's 125 year history cannot ever be considered bittersweet to anyone with at least two functioning brain cells in their head.
Empty Seat Of The Year
The one in the VAR studio when Mohamed Salah scored against City at Anfield. Toilet break? Power cut? Whatever the reason, I can say with absolute certainty that Salah's goal did not receive a full and proper VAR check in one of the most important league games of the season. Which brings us nicely to….
Incorrect VAR decision of the year
One of the most strongly-fought awards of the year, and the competition was tough as we saw over the festive period as endless armpits were once more called offside. But surely Aymeric Laporte's hand ball against Tottenham (graze off elbow, sorry), that set the tone for the season for City and for the Premier League, should take the award. The authorities could not even tell the truth when excusing such decisions, the media narrative put forward that any hand ball by an attacking team prior to a goal was now deemed to be an infringement, and thus the goal must be disallowed. But that is not what the laws of the game state. They state an infringement if a player wins ball possession after it comes off their hand or arm and then scores, or creates a goal-scoring chance. So Laporte was deemed by VAR to have won possession and/or created a chance.
No one wanted this. This level of fussiness and forensic examination of City's goals. Even the Spurs players could not believe they had got away with it. And thus one bang average ex-referee slowly turned Premier League football in England into a joke. Well done Mike Riley, well done indeed.
Highest Internet Bill Award
Miguel Delaney
Highest Blood Pressure Award
Ewan McKenna
Biggest Contribution To "The Cult"
Only one winner, that put all the others in the shade. With the launch of Liverpool.com in 2019, the bar was raised, and it is unlikely it will ever be lowered again. The site plays so readily to the cult followers it is trying to attract, it is surely inevitable one day that we see helicopter shots of their offices on the news, as their messianic editor burns the place to the ground, whilst his 17 children are shepherded to safety.
Such headlines as these should give you the gist of what they gifted the world in 2019:
The moment Harvey Elliott bettered Lionel Messi to show big his Liverpool future is.
Pep Guardiola's embarrassing sob story reflects vast difference between Liverpool and Man City
How Liverpool's unrelenting brilliance has crushed Man City's morale and form beyond repair
The one man, tackle and minute which has put Liverpool on verge (of) being the best ever
Liverpool are managing something the rest of Europe isn't, which is driving success
And that's just from the last fortnight (seriously).
Because for Liverpool and their fan base, being great is not good enough. That does not sate the insecurities of millions who really cannot tell you enough that their team is not just better, but somehow transcendent too. That Liverpool are unique and what they do and achieve is above what any other club does and achieves. And they need their fawning media to keep reminding them this too, lest it slip their minds for a single minute.
Of course, THOSE Anfield Wrap match reports come a worthy second, but I am loathe to mention them again lest one of the AW gang call me a gobshite again. To be fair, they've got a point. So here's a tiny screenshot instead.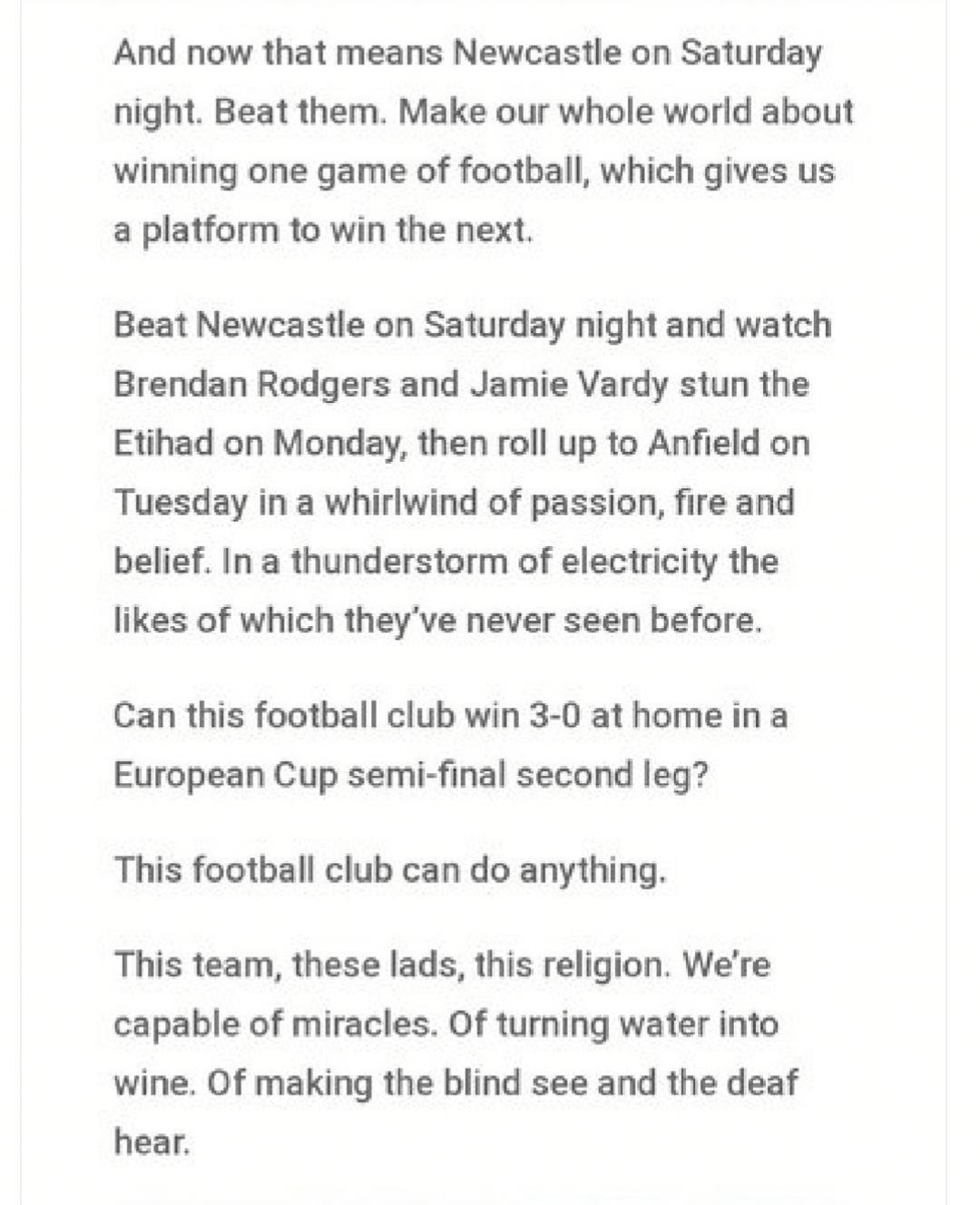 The Once A Blue, Always A Blue Award
Runner-up was Yaya Toure, who after finally ridding himself of arch-fuckwit Dmitri Seluk, after it finally dawned on him his agent was an arch-fuckwit, was full of love for the Citizens on social media all year. It cannot be long now before he uses that life-long season ticket he was given when he left the club. Expect to see him queuing for a half-time Bovril sometime soon.
There can only be one winner though, and that was Kelechi Iheanacho, who knew there was little to gain by scoring late on in City's game v the other City, scoring surely denying the title for his old club. That was the moment when it most likely dawned on Liverpool fans that it was not to be. Give him a lifetime season ticket too, please.
Most Controversial Canteen Entrance Of The Year
Raheem's scuffle may well have cost him the Sports Personality Of The Year title, which went to Ben Stokes instead, a man who would never get involved in such tomfoolery. Sterling was stupid and deserved punishment, and it gave swathes of Liverpool fans the moment they had waited years for. Now they could resume criticising their ex-player without being accused of ulterior motives.
Genius Attempt To Work Way Back Into England Squad
Kyle Walker. Gently guided by Ben Mendy ahead of him, Walker put in one of the great goalkeeping performances of recent years in Italy, giving Gareth Southgate food for thought when he next announced an England squad. Sadly, Nick Pope got the nod on that occasion, and Kyle returned to right-back duties.
Cup Draw Of The Year
The Carabao Cup Quarter Final. This year's draw once more saw Carabao redefine cup draws, to the astonishment of all. The draw took place in a cage suspended over a pool of hungry crocodiles. It was hosted by Rod Hull's Emu, and the balls, which were the size of coconuts, were drawn out by Russ Abbott and Howard from the Halifax adverts. The teams drawn out of the "hat" were not read out by the assembled celebrities, but were instead beamed onto Mimas, one of Saturn's moons.
Ties will be played the week commencing 16th December.
Football365.com Letter Of The Year Award.
This goes to the Liverpool fan who wrote in to note that City had an advantage over his team as they had no real rivals. It's hard to know where to start with that. So I won't.
Football-Related Injury Of The Year
The Achilles injury I mysteriously obtained the day after City beat Liverpool. Worth it, even if I couldn't walk for two months.
Hot-Take Of The Year.
I mean there's thousands of possible nominations here, as we saw another year of your Savages, Collymores, Mills and more spew out shit ill-thought out opinion after shit ill-thought out opinion. But using non-recency bias I am going to give this one to Stan Collymore, who suggested in February that City should solve any defensive issues by signing…Virgil Van Dijk. He suggested offering £150m plus John Stones and Nicolas Otamendi, and to keep raising the price until Liverpool could not say no. There's nothing more to say really.
Still, Tony Cascarino suggesting United should sign Phil Foden ran it very close indeed.  Or Stan suggesting that City's captain should be the usually non-playing John Stones as City's captain – because, amongst other reasons, he is northern.
And such was the competition, as always, that some crackers miss out. A nod must be made towards Henry Winter though, who criticised the booing of Virgil Van Dijk during a match because he was a supporter of the Red Cross who had paid for a Christmas party for 120 kids suffering from cancer. Because of course when a fan boos a player, they always do a full Wikipedia check before proceeding.  It's common courtesy after all.
How Far They Have Fallen Award
In the Guardian's half-season review article, the United fan asked for his moment of 2019 picked Pep Guardiola when he found out Sterling's last-gasp winner against Spurs in the Champions League had been disallowed.  Imagine submitting that and lacking the self-awareness of what you had done. And imagine picking a moment that involved your cross-town rivals, who went on to win a domestic treble.
Well imagine no more.
Drawn-Out Stories Of The Year
There were so many, the Isco rumours only added a mere 29 pages to the existing Bluemoon forum thread. The Leroy Sane saga of course had all us all tearing our hair out. I summed up the situation in one handy paragraph.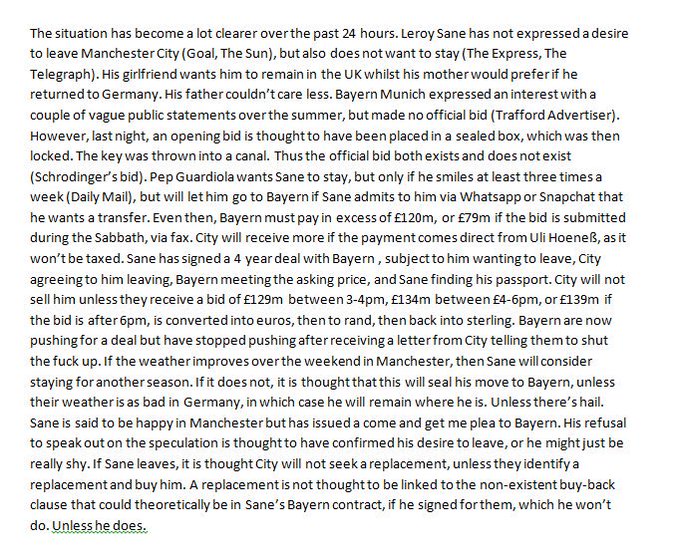 The winner though must be City's imminent ban and also non-ban from future Champions League campaigns. In March, a ban was imminent, but by December a non-ban was almost imminent, but a decision had been put back until the end of January 2020. Expect a final decision on the same day Isco announces his retirement.
Swept Under The Carpet Award For 2019
The contenders that share the award include the news that a shirt sponsor, Standard Chartered, had been fined for money laundering, before Private Eye reported further news of laundering of funds from the UAE, wherever that is. Also a football club tried to trademark the name of their club, even though that name was that of the city in which they existed. They failed. Finally, news broke, briefly, of Manchester City being paid off after having their scouting system hacked by staff of a rival club.
All these stories related to the same club, which was *checks notes*  – Liverpool FC.
Sponsorship Deal Of The Year
Manchester City are pleased to announce our new partnership with sports service developer, Superbloke to become the Club's Official Blockchain-Based Gacha Partner in Korea, Japan and South East Asia.
About time!!!
​
Part 2 to follow tomorrow….