Sven-Goran Eriksson: The Charmer Who Under-Stayed His Welcome: Part 2
By Howard Hockin | 30 September 2019
Part 2 of the look at the life and times of Sven-Goran Eriksson
(Photo by Clive Mason/Getty)
Part 1 can be found here.
The 2007-08 Season
Expectations were high as the season began. Free curry in Albert Square and a sing-song with Shinawatra after City lost the Thomas Cook trophy to a David Silva-inspired Valencia was the rather unique appetiser for the new campaign. First up was West Ham away, and City were excellent, winning 2-0. They followed that up with a 1-0 win over Derby County, and next up was the Manchester derby. At a rain-sodden V festival, I listened in the back of a car as Geovanni put City ahead with a slightly-deflected long-range shot, and despite huge pressure and missed chances from the visitors. City held on. They had won the Manchester derby, and their reward was to sit top of the Premier League with maximum points. They hadn't even conceded a goal yet. Old blue eyes was back, with a Manager of the Month award for good measure.
It couldn't last, and it didn't. City lost their next two games by a single goal to Arsenal and Blackburn Rovers. But they did not slip down the table, and 4 wins and a draw from the subsequent 5 games ensured they remained in the upper echelons of the league table, for now. But it wasn't really on the field where the trouble was brewing. Eriksson quickly realised that football knowledge was not top of Thankin Shinawatra's skillset. Nor was he well equipped to run a football club, irrelevant of his past. Shinawatra would regularly call before matches to offer advice – advice that usually consisted of demanding the team played aggressively. The phone calls were an irritant, as shown by Shinawatra describing the team as very bad after they fell to their first defeat of the season at Arsenal, a game in which City dominated. And by now, the stories were quickly emerging about Shinawatra's past, putting the image of the club and its manager in a very awkward position indeed. Assets were being frozen back in Thailand, talk of corruption under Shinawatra's watch as Prime minister of Thailand (2001-2006) rife. And then there were the stories of the drug hit squads from back in 2003. Such stories brought to the surface the tribalism of a fan base that could excuse Shinawatra's desire for decisive action in all he did, having promised to remedy the drug problem in Thailand in three months. It was only evil drug dealers being shot after all, eh? It turned out that defending our club owners would become a full-time job for many as the years progressed in the most fascinating period of the club's history.
Despite all this, Sven was intent on concentrating on his job. He had settled into Manchester life and was enjoying his time here, the goal being to finish in the top half of the table come May. The team of many nationalities and skills had settled well and were getting great results, all things considered. Micah Richards, Michael Johnson and Stephen Ireland were three young additions with enormous promise.  As were Joe Hart and Kasper Schmeichel, Joe eventually picked as 1st choice after he returned from injury, Schmeichel in goal for the opening 7 games. Andreas Isaksson would eventually make his name for all the wrong reasons, but for now he was considered too quiet to be the go-to keeper. As for Sven, he was holed up at the Radisson Hotel, and whilst committed to the football side of things he still had time to meet with one new love during his year on Manchester. Her name was Malin, and she would visit Manchester regularly from her home in Stockholm. "It happened that I met other women, too," he recalls casually in his autobiography. Add to that his long-time love Nancy Dell'Olio causing him regular bother despite them now being separated, and Sven was clearly being kept busy. He would allow Nancy to reside in his London property for years to come.
More and more problems were brewing though. On the pitch, the issue was goals, a problem inherited from the previous manager. In the first Manchester derby, Bojinov suffered a serious injury which would have huge ramifications for the team and his own career. Rolando Bianchi never settled and was sent off on loan within a few months. Darius Vassell was still there, but he was not of the quality required to get City where they wanted to be, and he needed more support anyway. The lack of attacking prowess would eventually hit home.  City were in 4th position after starting 2008 with a 2-0 win at Newcastle, but despite the arrivals that month Felipe Caicedo and Benjani, City would soon slide down the table. City would not win any of the next four games, but amazingly arrested the slide to complete the double over Manchester United on 10th February 2008. Prior to the game, the 50th anniversary of the Munich tragedy would be commemorated, and all week in the build up to the match, the talk was that City fans would ruin the minute's silence prior to kick off. In fact, many were condemned ahead of the event. One tabloid hack suggested having one policeman PER City supporter on the touchline to deal with any potential trouble. City themselves warned of lifetime bans for anyone disrespecting the occasion. Tensions had been exacerbated by the disruption of a minute's silence at an England game just days before. "I think the only thing you have to worry about is the minority of City fans who might want to cause trouble," said Paul Scholes.
There was nothing to worry about. The silence was impeccable from all sides, the managers laid wreaths on the pitch prior to kick-off, the teams played without sponsors on their shirt, and 2 first-half goals from Darius Vassell and the shoulder of Benjani put City in control at the half-way point. A late goal from United was merely a consolation, and it seemed the occasion got to the home team, City walking away with all three points. Alex Ferguson did not turn up for the traditional post-match glass of wine with Eriksson.City had done the double over United for the first time in almost 40 years.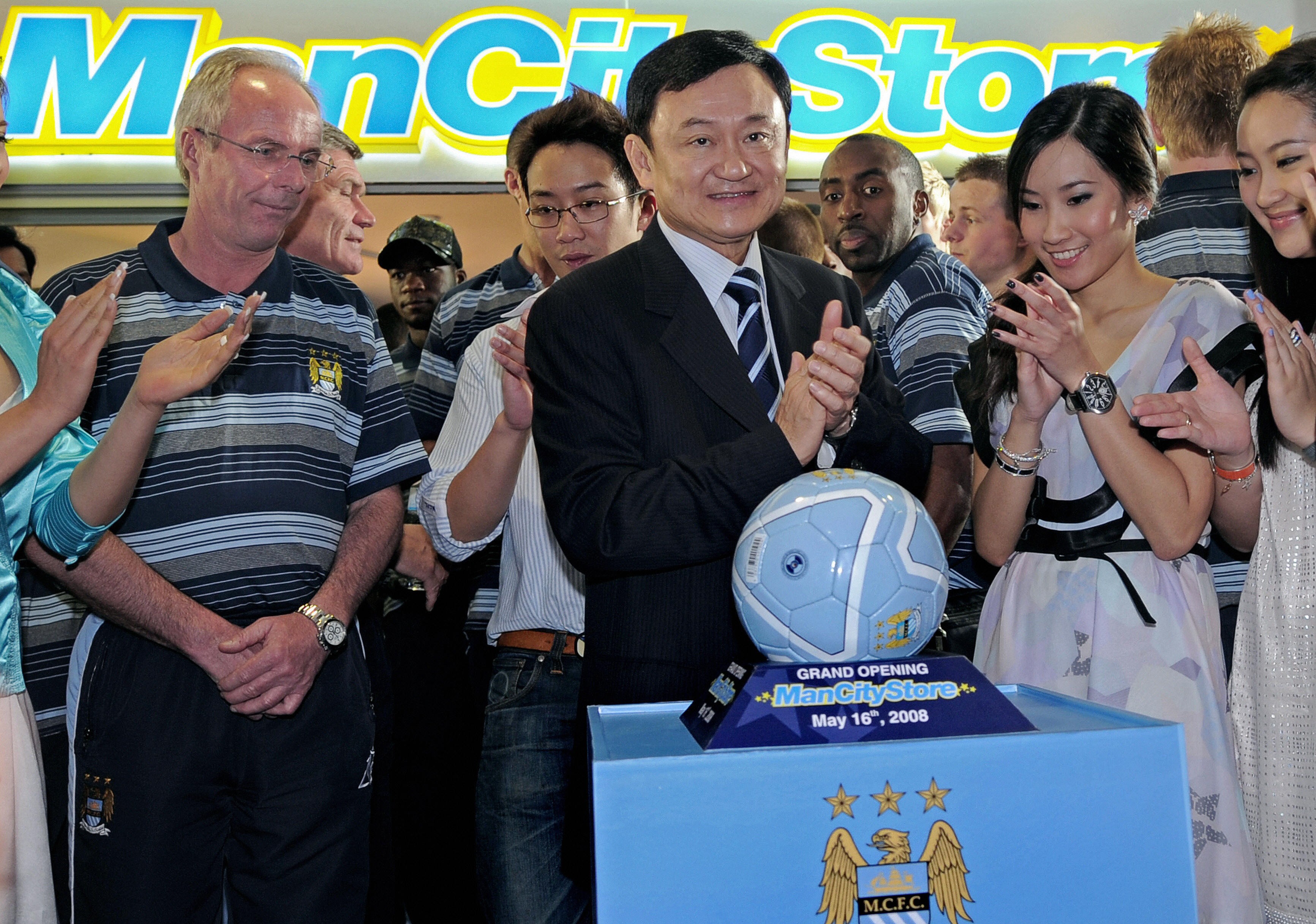 (Photo by PORNCHAI KITTIWONGSAKUL/AFP)
Sour Times
For the City team, that was the last true highlight of the season though. The victory could not be built on, as City won just one of their next seven games. Off the field, the relationship between owner and manager had pretty much broken down, Shinawatra acting like a petulant child that had not got his own way. He could not tolerate defeats, and had walked into the cub expecting instant glory. He stopped calling Sven, which perhaps was no bad thing. There were other things on his mind too. By now, Thaksin could and did return to Thailand in an attempt to clear his name. He was back in Thailand for the first time since being ousted as Prime Minister in a military coup in September 2006. On his arrival, he was taken straight to court to face charges of abuse of power during his time in office before being granted bail and told not to leave the country without permission ahead of his trial in March. The club's name was being dragged through the mud. Astonishingly, he was joined in Thailand by two City players, Kasper Schmeichel and Kelvin Etuhu, who coached local children and trained with the Thai national side. Schmeichel told BBC Radio 5 Live: 'We are out here supporting our chairman. We will have to wait and see what happens but football-wise, and as far as City are concerned, he is a very good chairman, very generous and passionate. He wants the club to progress. Will he be distracted by all this? I don't think so. He is a very genuine guy with very genuine feelings for the club. City lie very close to his heart and the way he has supported the club since he came in has proved that.'
By now, Eriksson had the suspicion that he would be fired at some point soon. After all, his owner wasn't talking to him, and when things were going badly would often even blank him when walking past. City were still in the top half of the table, but thoughts of future European glory were a distant memory, unless they could qualify through the Fair Play league. City's season was petering out, to a satisfactory end for all except the owner. A remarkable win by Fulham, who were two down at the break soured the relationship further. That win would help keep Fulham up under Roy Hodgson. The result didn't matter to City, but to the owner it was probably one defeat too many. The BBC reported that week that Thaksin Shinawatra told Eriksson he was "not the right man for the job" at a meeting on the Sunday. Shinawatra's ignorance at what constituted progress for the club was summed up with his reported comment that an "avalanche of very poor results which is unacceptable at this level". City were on their way to a top half finish and their joint-highest Premier League points total, despite losing the final three games. At Anfield the following week, City would lose once more, and the fans knew that their manager's job was on the line. They sang with gusto:
"We don't need no Mour-rin-ho,
We don't need no Sco-la-ri,
Hey, Thaksin, leave our Sven alone!"
The players of course knew too. Sven-Goran Eriksson was hugely popular with the players, and talk of him being dismissed was met with considerable anger. It was reported in the press that Sven had informed the players of the Sunday meeting the following day, but was not going to resign. Why would he? Micah Richards said in his BBC Sport website column that the players were "100% behind" Eriksson. "I think it is crazy that his job is even being talked about as being in danger – he has been good for everyone at City," said Richards. In his autobiography, Sven recalls how Richard Dunne informed him that the team were so dissatisfied with talk of Sven being sacked that they were prepared to go on strike, refusing to play the final game of the season at Middlesbrough. Sven talked him out of it, feeling it would be unprofessional.  The talk of mutiny was clear proof of his popularity though, and of the dissatisfaction with an owner whose knowledge of football could be written on the back of a postage stamp. The question is why? Sven was quite clearly a pleasant individual, and easy to like. But was the love from his players because of the freedom he gave them to express themselves on a football pitch, or was it because that freedom allowed them an easy life? Either way, the player's support would not be enough to change the mind of Thaksin Shinawatra.
And so to that final game of the season, and of the reign of Sven-Goran Eriksson and Thaksin Shinawatra. A game that could not have summed up the club more perfectly.  It was now clear that if City could just steer clear of any disciplinary problems, they would indeed qualify for European football via the Fair Play league. It was thus inevitable that Richard Dunne would get himself sent off after just 15 minutes. As for the rest of the team, they may not have officially gone on strike, but they effectively seemed to have downed tools in protest. It was only 2-0 at half-time, but should have been double that, and even a lovely Elano goal could not mask the embarrassment of City's greatest ever Premier League defeat, 8-1. Still, later that week, City would discover that they would indeed be playing European football the following season. Only a fool would have suggested at that time that Robinho would be part of that squad. For Eriksson, the journey was not quite over. There followed a post-season tour to Thailand. Thankfully Joey Barton was not there to scrap with fellow players, but Thaksin and Sven were. Thaksin, a proficient singer, belted out 'Should I Stay Or Should I Go?' at a club function before leaving the stage, and finishing the song as he hovered over Sven's table.
Sven was gone the next day, Shinawatra's reason being a "feeling" he had. The decision did not go down well with the City fan base, their patience with Shinawatra at breaking point. A protest march was organised for outside the ground, whilst a petition with 14,000 signatures was handed into the club. Within days, City had approached Blackburn Rovers requesting permission to speak to their manager Mark Hughes.
Sven would keep moving on to new challenges. It has been suggested he needed, to, his adviser Samir Khan wasting millions (ten, to be precise) of his money down the years. But Sven rarely wanted for anything.  His next role would be as manager of Mexico, then bizarrely director of football at Notts County, whose new owners had designs on global domination. Kasper Schmeichel and Sol Campbell would follow him there. Even Roberto Mancini was briefly linked with the manager's job before plumping for City. It didn't go well, the promised funds never appearing. He moved on, to manage the Ivory Coast, Leicester City and 3 clubs in China. The Chinese second-division club Shenzhen effectively sacked Eriksson via the medium of poetry, publishing a poem on their website to welcome the return of Wang Baoshan as head coach.
And then finally club number 17. Sven was appointed as Philippines manager last year, the successor to Terry Butcher. A tough ask in the former American colony where billiards, boxing and basketball rule the roost. It may not surprise you that his tenure did not last long. Who knows where he will end up next, though remaining in Asia seems logical in a continent that values "grey hair" in its managers over young blood. And for a man whose life read like a soap opera script at times, he had but one regret: "I should have taken a mental coach for the penalty shootout with England in 2006. I thought we were experienced enough and we had players who were specialists in penalties. It is history now."
Perhaps talk of a single regret is not strictly true. His autobiography from six years ago, paints a rather different picture. He recalls cycling along a river in China, when thoughts popped into his head.  It is 2013 and he had just finished reading his autobiography manuscript. Emotion swept over him and he felt depressed. "Where had the years gone? My children? Friends? The women? Time? It hurt to think back." Despite the melancholy, he was sure about one thing though – that he was one of the world's greatest managers ("you have to believe that, otherwise you might as well give up"). I'm not sure whether that is true, not that it really matters to rank him after all this time. He won 17 titles after all, but Lazio was his last. Whatever challenges the 71 year-old faces next, his life has certainly been a roller-coaster ride that rarely lacked entertainment or interest. At City, a more competent and knowledgeable owner could have ensured his life went in a very different direction considering the takeover just months after his departure, but Eriksson holds no grudges and just took another crazy episode in his life in his stride. Like everywhere he went, old blue eyes certainly left his mark in Manchester, during a memorable and exciting season that would be merely a taster of things to come.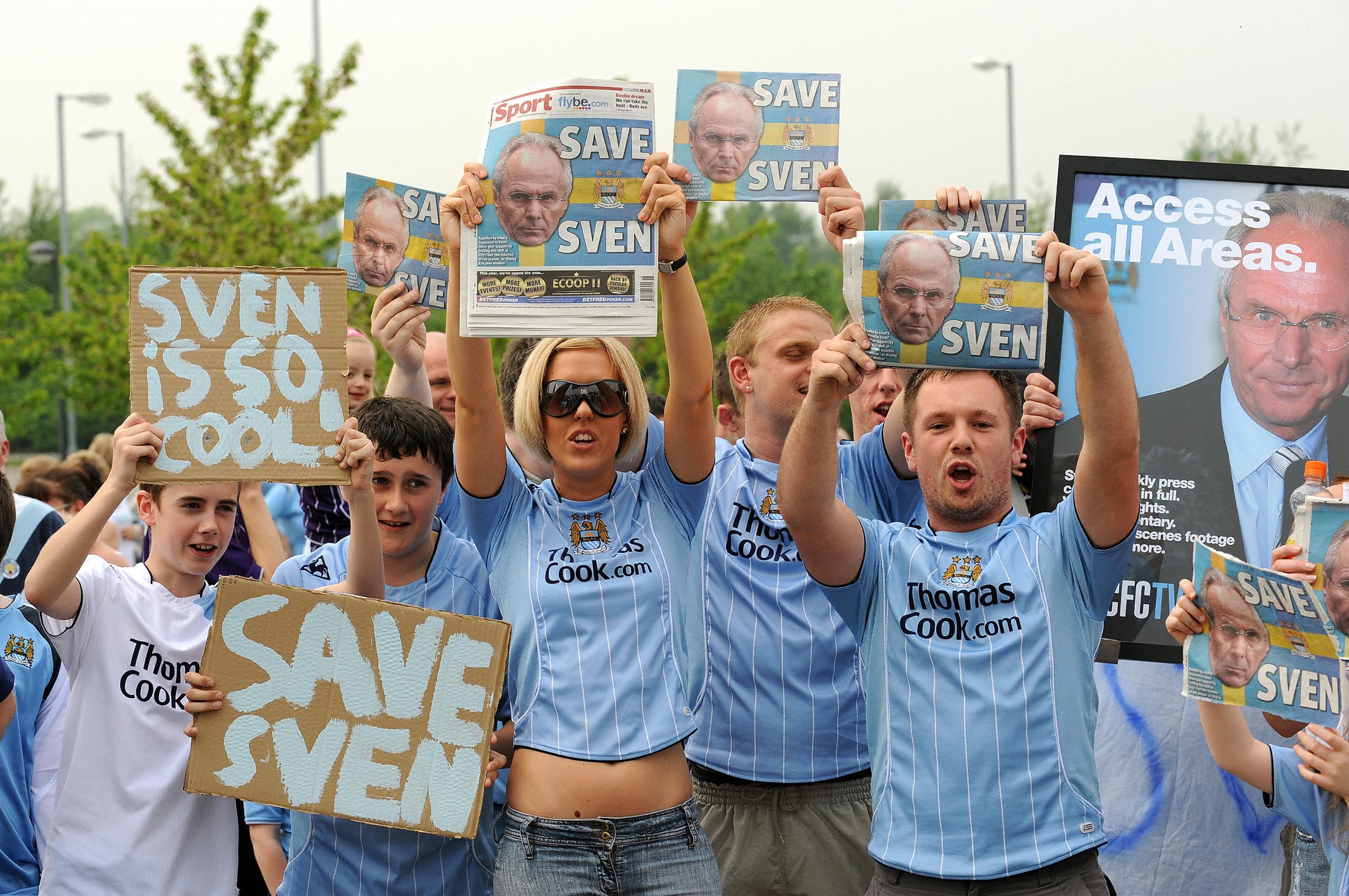 (Photo by Andrew Yates/AFP)