Sven-Goran Eriksson: The Charmer Who Under-Stayed His Welcome: Part 1
By Howard Hockin | 30 September 2019
A look at the life and times of Sven-Goran Eriksson
(Photo by PORNCHAI KITTIWONGSAKUL/AFP)
We don't need no Mour-rin-ho,
We don't need no Sco-la-ri,
Hey, Thaksin, leave our Sven alone!
Sung by City fans at Anfield to the tune of 'Another Brick In The Wall'.
Mention his name, and what's the first thing that springs to mind? His modest playing career? His vast experience as a manager, gained via 17 different managerial positions across the globe, including England, Lazio, Roma and even the Philippines? Forget for that, because for some it'll be his reputation as a ladies' man more than anything achieved in football. Sven-Goran Eriksson has certainly led an interesting life, a life that greatly interested others too. and his year at Eastlands was one of the most eventful in his and Manchester City's history.
Born in Sweden in 1948, Sven-Goran Eriksson never made it as a top level footballer, retiring at the age of 27 having hung around the Swedish lower leagues. A competent and reliable defender, he never broke through to the top level. As a manager however, it would be a rather different story. Two years after retiring from playing football, Sven was offered the assistant manager position at Degerfors IF under Tors Grip. When Grip went to work with the national team a year later, Eriksson got the manager's job, which he would keep for two years. A promotion at the 2nd attempt meant he started attracting attention, and he surprisingly was announced IFK Göteborg manager in 1979. His tenure was not always a smooth one, his playing style leading to a drop in attendances, but the trophies soon followed, finishing with the UEFA Cup, the first ever for a Swedish side. By now Eriksson was being courted by some of the bigger clubs in Europe, and he would go on to manager Benfica, Roma, Fiorentina, Benfica again, Sampdoria and then Lazio. Sven was the littlest hobo of the footballing world, never hanging around for too long. Maybe tomorrow, he'll want to settle down. But until tomorrow, he'll just keep moving on.
A league title with Lazio was a huge coup for the club and it was then then that he drew the attention of the English FA, after the departure of Kevin Keegan. Both managers would of course end up at City at some point – they just didn't know it yet. So in 2001, the FA controversially appointed its first ever foreign manager, on a 5-year contract. Sven would do what most England managers specialised at– qualify for finals, then get knocked out at the quarter-final stage, usually on penalties. His cool demeanour on the touchline did not go down well with the English fan base, who still demanded passion and Winston Churchill rhetoric in the changing room. Qualification for the 2002 World Cup finals was secured with a last-gasp free-kick from David Beckham as England drew with Greece 2-2, the point meaning they avoided a play-off. I was in the ground that day, and Beckham was the only bright spot in a poor team display. It was even reported that the FA were worried that details of Sven's private life could have an effect on their bid to win the 2002 World Cup. This was after the revelations of an affair with Ulrika Jonsson surfaced. Qualification for major finals would no longer be a given once Eriksson was gone, but the FA decided to let him go in 2006. Instead, they hired the guy who showed more passion on the touchline when he was Eriksson's assistant, the wally with the brolly, Steve McClaren.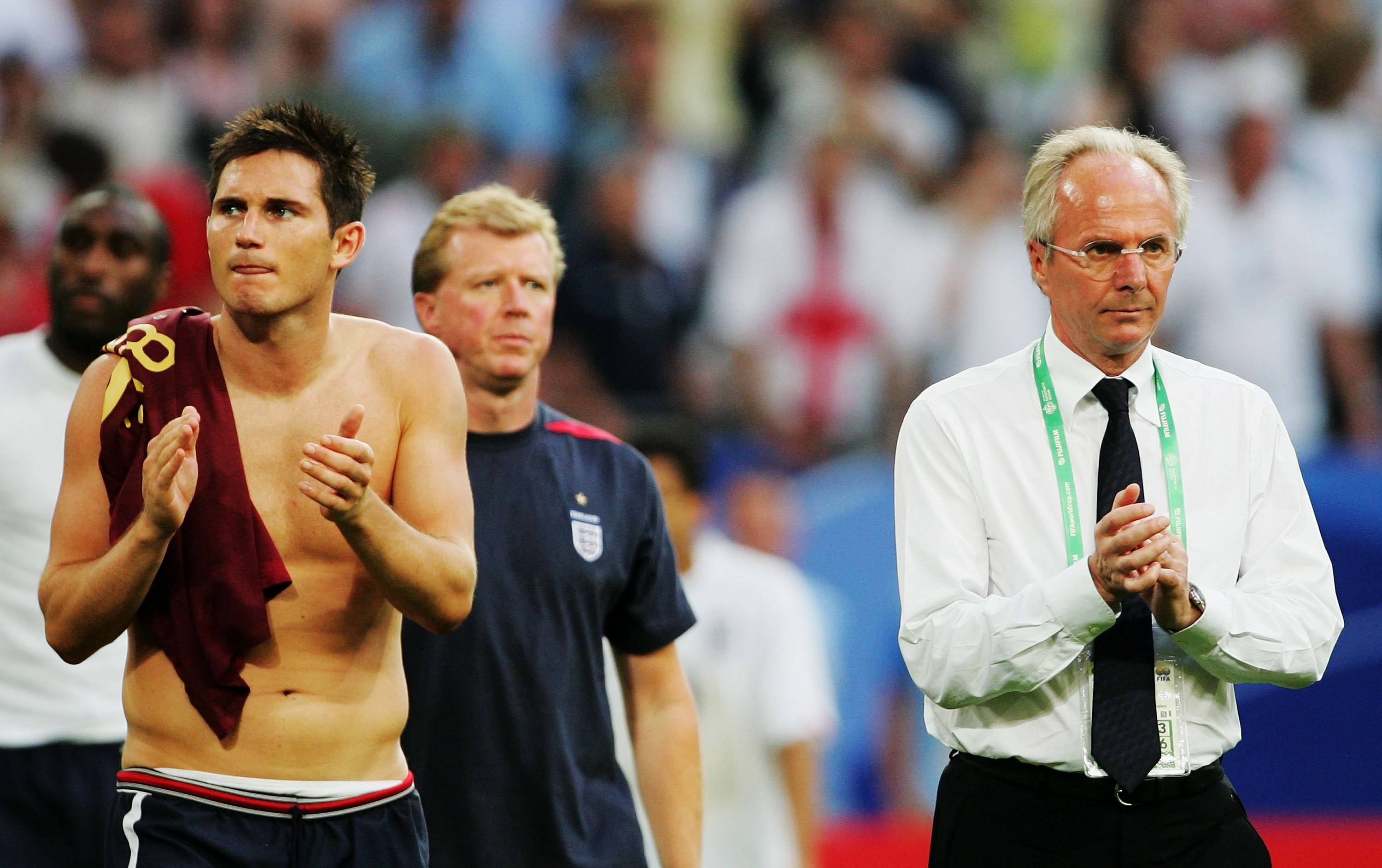 (Photo by Alex Livesey/Getty)
Rattle & Roll
Before Sheikh Mansour rolled into town (once), there was a fake sheikh, a.k.a. Mazer Mahmood of The News Of The World, who would lure famous people into traps whilst secretly filming events. Sven was one of his victims, and would probably have allowed himself a little smirk when Mahmood was later convicted of perverting the course of justice for a separate investigation. The comments Eriksson was caught making on camera were hardly explosive, but enough to make up the FA's mind and end his reign as England manager. The feeling from up high was that Sven has simply displayed bad judgment on one occasion too many, but he has always claimed he would have left anyway if England hadn't won the 2006 World Cup. Sven had earned £20m during his time as England manager, and few could argue he had provided value for money. That judgment involved also sharing FA secretary Faria Alam with Mark Palios, the Chief Executive of the FA in 2004. Alam would later sell her story to the tabloids. We were informed that sex with Palios was unsatisfactory, while Eriksson, in marked contrast, "was a master of the art of love-making. It was all so erotic, so passionate."
Ah yes, the gossip columns were fully stocked when Sven was in town. Sven-Goran Erikkson was a man who featured on the front page of newspapers almost as much as he featured on the back. His personal relationships fascinated Fleet Street hacks, and sometimes the football almost seemed to take a back seat. Sven believed in free love, often sharing girlfriends and rarely interested in any sort of commitment. Sven's autobiography, "Sven: My Story" mentions nine romantic encounters after his divorce from his wife Anki. He even rented villas for his trysts. Ex-gymnasts, hotel workers, TV presenters, air hostesses, FA secretaries, City bloggers at club functions and more would be mesmerised by his blue eyes and receding hairline. A man who moved between women as often as he moved between clubs. What's more, the stories of his private life distracted from his role as a football manager. He was a hard man to define. He was a good manager, but was he a great one? He was amenable and popular with most he worked with, and yet he rarely stayed long in any post. His teams' playing style was easy enough on the eye, but lacked definition. Just what was his philosophy? It's hard to tell. What the man himself would claim he improved on in time was his flexibility as a manager, from the early days of a fixed 4-4-2 formation for every team.
The constant examination and exposure of his personal life never seemed to bother Sven, but what would we know? He has pointed out that those from his home town of Varmland don't talk about themselves much (except in autobiographies), rarely revealing their true emotions. The newspaper tittle-tattle certainly was a burden to his mother, keeping her awake at night. His dad said he would prefer to read about the football occasionally. And thankfully for him, occasionally Sven found the time to squeeze in some football management around the romancing. What's more,after he had been relieved of his England duties, he would have a year to decide his next move. He tried and failed to invest in some real estate deals in the Far East, and considered writing a book. There were offers to manage Dynamo Kiev amongst others, but when he was approached by the agent Jerome Anderson on the instruction of new owner Thaksin Shinawatra to manage City, he said yes immediately. On 6 July 2007, he was duly announced as City's new manager, on a two-year deal. The City job would be his first with a club side for six years, and Eriksson quickly regained his love for the daily routine that came with such a role.
What Sven hadn't considered was his new owner. Quite simply, he knew nothing about him. He may not have taken the job if he had, though many a manager does not concern himself with such matters. However, during Sven's year at City, he would have no choice but to be involved with the turmoil of his and City's new owner. But Thaksin's takeover of City had been approved by the Premier League, so he saw little to worry about. Instead, his immediate worry was building a competitive side with just five weeks until the start of the season. This was Stuart Pearce's band of shoestring non-entertainers, and Eriksson knew immediately the squad needed major surgery. With time of the essence, there was little or no time to extensively scout players so instead Sven and his team watched a pile of videos to scout potential targets. Having put together his management team, which naturally included his wing-man Tord Grip, and Hasse Backe, soon the players would arrive too. Sven felt up to ten players were needed, but that was being rather optimistic. First in was Rolando Bianchi from Reggina, the 4th top scorer in Serie A the previous season. The day after, Gelson Fernandes arrived, a young Swiss midfielder also with a largely unknown pedigree. A hastily-arranged training camp in Sweden was followed by the arrival of Geovanni and Martin Petrov, best known for scoring in Vincent Kompany's testimonial. And then on one single day, three players were presented to the public at the same time – Vedran Corluka, Elano and the Spaniard Garrido. The next day? Just one player, Valeri Bojinov. Sven did not have his ten players, but he wasn't far off. The City fans would not have been overly-familiar with many of the new arrivals, but these were exciting times. The club seemed to be showing some ambition for once, and was throwing a bit of money around. The huge influx would be challenging for the new manager though, and expectations needed to be tempered. To make room for the new arrivals, Joey Barton and Trevor Sinclair departed for pastures new, whilst Thaksin Shinawatra commented that initially he was looking merely for a modest improvement from the days of Stuart Pearce.
Sven was ready for the new season. Little did he know just what lay ahead for him and his team.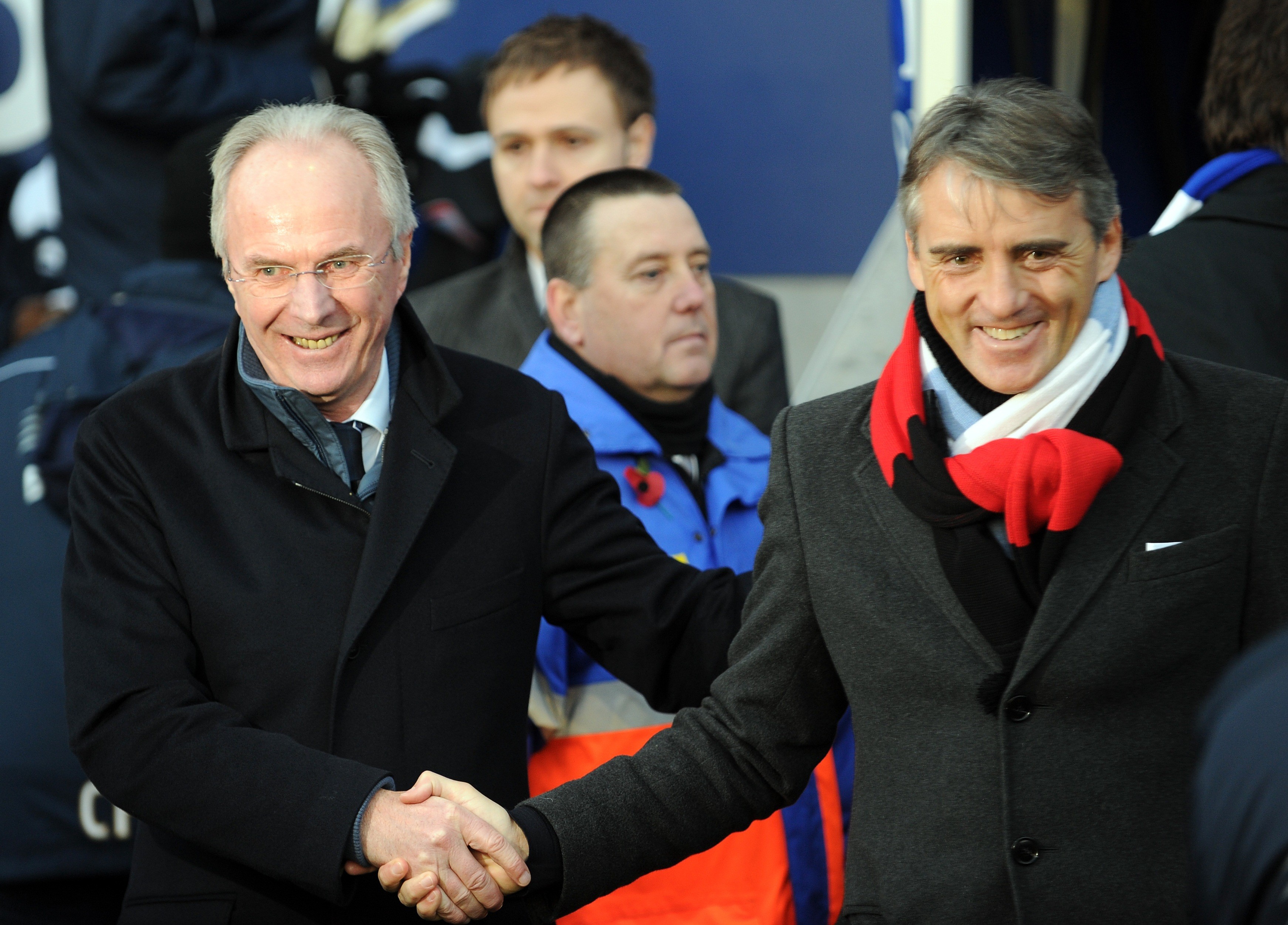 (Photo by Adrian DennisAFP)