Now is the time for Manchester City to field their promising young talents.
By Dan Larsen | 16 December 2019
Dan argues that it is Phil Foden and Eric Garcia's time to shine.
(Photo by Alex Livesey/Getty)
There may be a lot to play for still in the 2019-20 season. However, one thing is for certain: Manchester City will not be competing for a third consecutive Premier League title.Given that things have gone off the rails a bit in recent weeks, it's worth discussing what City's focus should be in the league given that the title is now well out of reach. The club finds itself nine points ahead of fifth place Tottenham Hotspur after this weekend. Though that isn't an insurmountable point total for Spurs to overcome, the quality gap between the sides and 6th place Manchester United does remain quite large, even if United got the better of City last weekend. Unless City continue to flounder, it's very unlikely that the team will find themselves in a competition to hold onto a qualification spot for the UEFA Champions League come April and May.
It's also becoming more difficult, though, for City to position themselves as the second-place team. With Leicester City in red hot form (Norwich apart), the club will have to make the most of their upcoming match in the league against them next week if they want to run them down. Failure to win that game could see Leicester City move as many or more points ahead of Manchester City as the club were behind Liverpool entering the second half of last season. It would be hard to envision them running down Leicester, like they did Liverpool last season, if they drop further behind them given their volatile form in the league. With the team mired several points back of second, but remaining several points ahead of fifth, City don't have any discernible goal at the moment when it comes to the league. Being in that position, however, may be a blessing. It means the club can afford to play some of their young and upcoming stars much more frequently in the weeks and months ahead. Phil Foden and Eric Garcia, in particular, should be used in a more significant capacity in the Premier League moving forward. Foden has already put in some high-level performances when called upon as a starter this season. His mid-week performance in City's 4-1 win over Dinamo Zagreb in the UCL may have been the finest he's put in at the professional level to date. He dominated the game, especially in the second half where his bursting runs and pinpoint passes created several of City's best chances.
He looks every bit the player that should be the successor to David Silva when Silva leaves the club over the summer, and the game against Arsenal did little to change that opinion. Pep Guardiola would be wise to give Foden a major run of starts to confirm this is the case. Failure to play him now could see him reconsidering his options over the summer. Eric Garcia should get a run of games as well. As we know, City's centre-back situation has been a complete train-wreck. Between wildly inconsistent performances, and injuries affecting the availability of two of the team's three senior players in that position, the team has been unable to rely on anyone who gets called upon to start in that position. With the team unlikely to add anyone in the upcoming transfer window, if their public statements are to be believed, it'd be worth it to see if Garcia is ready to take on a starting role now.
Garcia could represent an improvement over their current crop of players. Though he is a bit undersized for the position, he has shown a comfort-level and understanding that's well beyond his years. His fundamental play is very strong. His distribution skills are solid too, which is something City could stand to benefit from. Even if there would be growing pains associated with starting him, giving him playing time now could be a substantial boon for his development. The only way for a player to truly acclimate to the demands of the league is to play first-team football in the league itself. Beyond the fact that the team can afford to try both players out because of their position in the league, playing Foden and Garcia more could have additional benefits for the club too. Both have shown a hunger and desire that appears to be lacking in other parts of the team right now. Playing these two guys, who are eager to prove themselves, with the rest of the senior team could pick-up the level of others, especially those players who they would be competing against for playing time. It's also a way for the team to evaluate whether they actually need to invest in these positions in the months ahead. Given that the team appears to have several positions of need that they'll have to address through the transfer market, it would be extremely beneficial to them if two of those positions could be addressed by playing individuals they already have in the side. It may not be feasible, even for a club with the revenues that City have right now, to spend major money on transfers at every position of weakness that they appear to have on the pitch right now.
One final benefit that could result from such a move is that it would show to others in the youth academy that there is an actual path to making it into the first-team. The team has lost some of their best prospects, like Jadon Sancho, because of this obstacle.  Showing that there is viable path to becoming meaningful contributor from the youth academy is vital for City to demonstrate if they want to continue to attract and retain the world's most promising footballing talents. Given that the stakes of the league season are low, there's no better time for City to give their young players a shot to earn a key role in the team. It could provide the spark that they need to begin a renaissance at the club.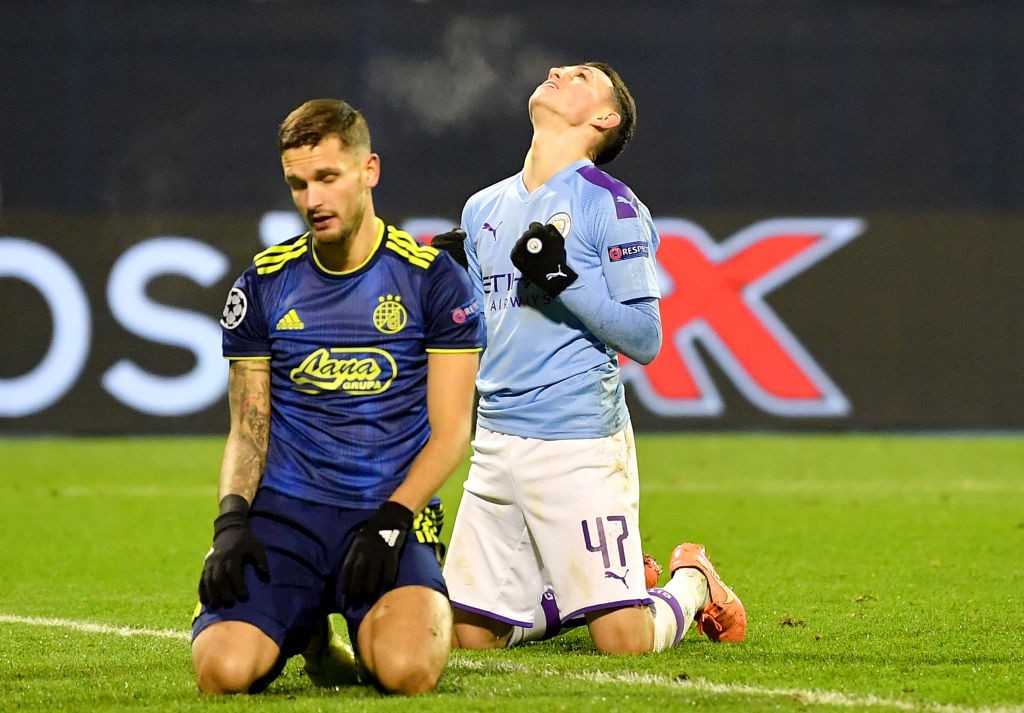 (Photo by Andrew Yates/AFP)