It's Time To Start João Cancelo At Right Back
By Dan Larsen |21 November 2019
Dan looks at Kyle Walker's stats, and concludes that it's time for change.
(Photo by Michael Regan/Getty)
Manchester City have had their fair share of problems so far in their disappointing start to the 2019-20 Premier League season. Last week, I highlighted how the team have had issues in both boxes, especially in the games in which they've dropped points. This week, we want to move our attention to a specific position that's been a bit of a problem area for the team: right back.
The defending Premier League Champions have received less than stellar play from the right end of their back-line so far. In particular, Kyle Walker has struggled to provide them with the kind of high level of play that the team has come to expect from their full-back. On the surface, Walker's start doesn't appear to be that bad. Through ten league games to date, Walker has racked up one goal and two assists, a decent return for a full-back. His lone goal was a crucial one too in the final minutes of their 2-1 comeback win over Southampton a few weeks ago. A deeper dive into this numbers, however, reveals that his overall performances have left something to be desired.
His average form rating through their ten leagues games to date, according to whoscored.com, stands at a 6.78. For context, Walker's average form rating in his 33 appearances in the league last season was a 6.96. In 2017-18, his first season at the club, he posted a 7.05 average form rating in the league. Walker's drop-off in form has come from deficiencies in two critical areas of his responsibilities. The first is in his passing. Though the 29-year-old full-back has never excelled at the attacking side of the game, he has been serviceable when he's in form. Walker provided the club with six assists in the league during his first season at the club. That season, he also averaged 0.9 key passes per appearance in the league, and he completed 87.8% of his 73.8 passing attempts per game. This season, Walker's key passes per appearance has plummeted 0.5. He's also averaging nearly 12 less passing attempts per game.
Walker's inability to provide width on a consistent basis has become a real issue for the team. Without Leroy Sane to partner with Raheem Sterling on the wings this season, City haven't been able to break defences down with the same bursting runs that both players provided them with in each of their previous two title winning campaigns. Walker has the speed to get past most defensive lines, but his deliveries on his crosses are quite poor. Thus, defences don't have to worry about him picking them apart if he gets into space to cross the ball the same way they would if Sane or Sterling can. To compensate for this, manager Pep Guardiola has instructed Kevin De Bruyne to link up with Walker and the right-wing out wide when the team gets closer to the 18-yard box so he can provide the team with deadly crosses if he gets into any kind of space. However, moving him out into this area has left the team with less passing options in the center of the pitch when they have teams on the back foot, and it takes away one the team's best shooters from range. This is causing attacks to stagnate, which often results in a reset pass to the center-backs, or a cross into a box which the defence can defend comfortably since they have vastly superior numbers to get to the ball first.
On the other end of the pitch, Kyle Walker has seen his defensive play drop off significantly as well. In 2017-18, Walker averaged 1.5 tackles and 0.9 interceptions per game in the Premier League. Last season, he averaged 1.2 tackles and 1.1 interceptions in the league. This season, he's averaging just 0.6 tackles and 0.5 interceptions per game, and his foul frequency has increased to 0.9 per game after being 0.5 per game in each of the previous two seasons. Those are the worst numbers he's produced over any significant stretch of games in his career by far. As his defensive numbers suggest, Walker's play at that end of the pitch has been awful compared to what he's capable of providing a team with. With his success at tackling and intercepting falling off a cliff, it's created more pressure on an already fragile center-back pairing to pick up the pieces from his mistakes. Thus, it shouldn't be that big of a surprise that John Stones, Fernandinho, and Nicolas Otamendi have all gone through their fair share of tribulations when they've played next to him.
Fortunately for City, they possess a world-class full-back that they can turn to at that position. Though João Cancelo hasn't been given many starts yet since coming to the club over the summer, he has been solid in the minutes he's been given. In his five games to date in the league, three of which have been starts, Cancelo has produced an average form rating of 6.98. He's completed 88.8% of his passing attempts, is averaging at least one key pass per appearance, and has vastly superior defensive stats (2.4 tackles and 0.6 interceptions) to Walker. His electric runs and crosses, in particular, could the key to stretching the pitch without the team having to pull their wings and midfielders out wide. Those defensive stats are also highly suggestive that he'd be a major upgrade on defence over Walker.
Things can still turn around for Kyle Walker. However, the body of evidence we have right now is strikingly clear: João Cancelo should be given the starting right-back job over him. We'll see if Guardiola is willing to make the switch when the team returns from the international break.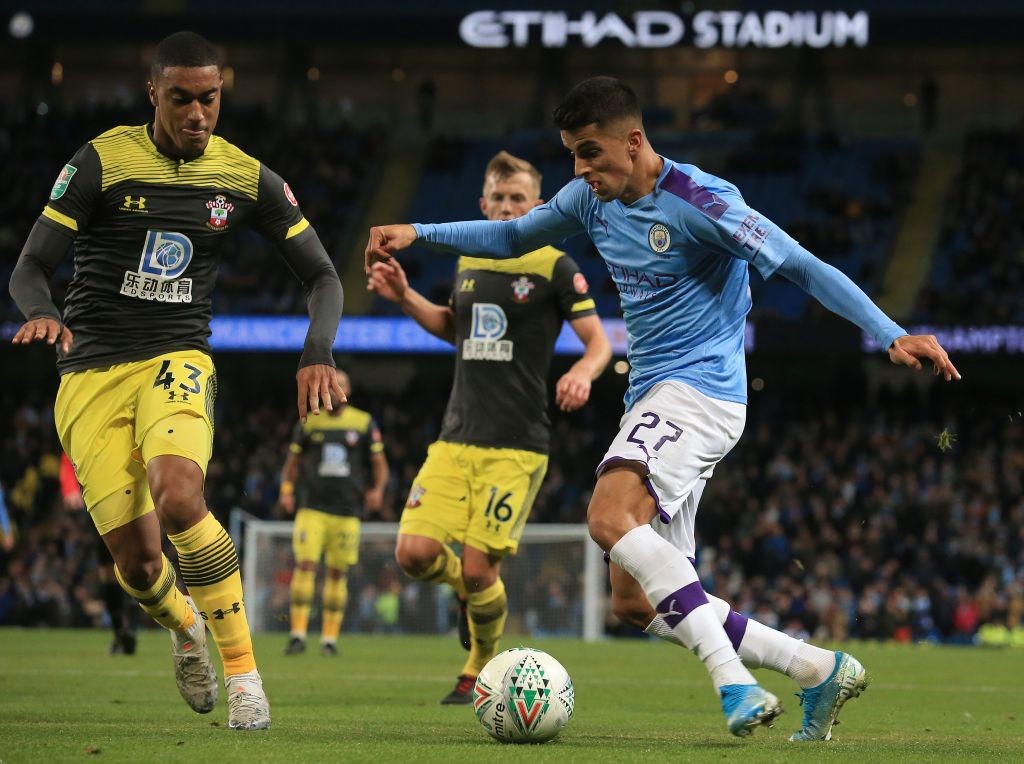 (Photo by Lindsey Parnaby/AFP)