Changing Moods, Mad Mario & The Luck Of The Draw: Weekly Thoughts
By Howard Hockin | 05 December 2019
Howard looks at this week's many talking points.
(Photo by Andrew Ellis/AFP)
Football Moods
It's weird how one result can change the whole perspective that you have for your club. And one result could no doubt change it back again. After the draw at Newcastle, City were close to being written about in the red tops next to a cracked badge. David Silva was finished, Pep's time was coming to an end, the team was in need of major surgery. And then they run rings round Burnley and all is well again. Nuance is often is short supply when discussing a football team's fortunes. The truth as always lies somewhere in between. This squad will need surgery, but every squad does periodically. After a much lower number of arrivals in recent windows, transfer activity needs to be accelerated once more. But this squad is still in rude health irrelevant of what happens on the pitch.
The atmosphere in the dressing room after the match showed what it meant. I needed that result badly, and so did the players and Pep. I've seen him less happy after winning cup finals. Even athletes with their elite mentality have their doubts, and wonder if things just aren't going to go their way. At Burnley, it was a timely reminder of how this team can play, irrelevant of the standard of the opposition.
As for Burnley, it is rather pathetic that prior to a Premier League match they cannot even provide lighting in the away dressing room. Naturally, the lighting was fine in the home dressing room, which makes you wonder just how much of an unfortunate accident this was. Anyway, I won't miss Burnley's "style" until we have to play them again. Sean Dyche has done a tremendous job on a limited budget, and nothing would make me happier than to see him successfully leading Burnley in the National League North.
Mario Balotelli
Over in Italy, Brescia's club president has said that Mario Balotelli is free to go in January. And almost inevitably, with the paucity of City's striking options (in some people's eyes), a few blues think it makes sense to perhaps bring Balotelli back to City. It makes no sense whatsoever, and that's even after we ignore the issue of home grown slots and the need to kick another player out to make room for him. Balotelli is the perfect example of how character can take you a long way. We need characters in football after all, the sport would be poorer if it was played by robots. But robots are what have brought City so much success in recent years. Robots are what make Pep's teams tick, constant and unremitting excellence on the pitch. Any drop off sees the system fall apart. There is no room for passengers, except perhaps in the domestic cups. And Mario Balotelli was not half the player at City, on a regular basis at least, that some City fans seem to think he is. We all loved the guy, rightly so, and he helped create some iconic moments, but he is not the answer to City's problems, and never will be. Talent-wise he has it all, but that talent is not replicated on the pitch every time he played. Still, it was a good week for Jesus to resurrect his career three says after the disappointment at Newcastle.
The thing is, we can't have fun anymore. It's gone from our lives as football fans. That's the downside of the takeover –we live at Barcelona/Real Madrid levels of expectation, without the white hanky waving.  We're expected to compete for every trophy, and failure to win them leads to accusations, forensic analysis of past transfer window dealings, criticism and added scrutiny of the "bald fraud".  Even unprecedented domestic trebles are described as bittersweet. We can't afford to "have fun" with Mario Balotelli either, and nor would I want to anyway. And Pep certainly won't show a shred of interest. Mario Balotelli is at Brescia for a reason, and he is being released for a reason. Maybe his release has more sinister undertones, in a country that has the loosest grasp of what constitutes racism. I really want him to be happy and forge as much success out of his career as he can. But that won't be in Manchester.
FA Cup Draw
It's pathetic and rather predictable that I even have to point this out, but it is not particularly good luck to get a favourable draw in the 3rd round of the FA Cup, but rather it's bad luck when looking at some of the draws other teams have got.  There are 63 other teams left in the competition, so the chances of getting a Premier League team are over 1 in 3. You all know the score of course, and Mark Meadowcroft has helpfully broken down City's "luck" in this excellent article.
There are exceptions of course. Burton was a 1 in 3 stroke of luck for the semi-final of the Carabao Cup last season, and getting Schalke in the Champions League was pretty favourable too. Some good luck, but nothing extra ordinary, when winning domestic leagues and champions league groups only assists teams further, as it has done for many others before City came to the fore. And of course any luck is simply an evening out after the bad run of draws that preceded 2018.
Elsewhere, Liverpool should beat Everton, especially considering they have been drawn at home. The irritation for Klopp is that at the busiest time of the year, he will feel obliged to field a stronger side than he would have done had they drawn Port Vale at home.  But as Klopp has regularly shown disdain for domestic pots in recent seasons in committing to the bigger prizes, he or the club's' fan base are hardly in a position to bemoan City's luck in draws. You get out what you put in, hence why City have won 6 cup competitions this decade.
Fernandinho Contract.
News has emerged that City are not considering, yet, extending Fernandinho's contract, which runs out at the end of the season. This has understandably raised a few eyebrows and caused a few cold sweats too. But it's not really that contentious. Maybe.
As I share a birthday with the Brazilian maestro (about the only thing we have in common), I know that he will turn 35 as the season draws to an end. Every human being is unique, and we have no idea when his body will truly begin to show its age. But reading between the lines, it seems Pep already thinks the process has begun. And we cannot argue otherwise, as for him to get a new contract, he perhaps has to prove he can still cut it as a defensive midfielder, not a central defender. Having not played in midfield recently, we do not know if he is still up to it. In a Pep team, it is the most demanding position of all, and I find it rather unlikely that he could perform that role next season, at his age. The caveat is that he is a man that has never suggested a decline in performance, so anything is possible. But we must get away from thinking that players should only leave when they have literally got nothing left to give. I don't want to see every club legend decline before my eyes. Sometimes it's best to say goodbye just before that happens.
But even if it is universally accepted that it was time for him to go (and it isn't), ideally we need the exit of our most important players to be staggered. After what is turning into a difficult season, the last thing we need is to lose the core of what lifted the club to great heights all at the same time. One every summer is easier to handle. Zabaleta, Kompany, Silva, Aguero……..Pep. It is surely best that he gets an extra year at the club, as even if he was not a 1st team regular, as he must surely have plenty to offer until 2021.
Derby Day.
And so it's THAT day again, the one I despise as much as any. Hopes for a comprehensive victory were raised after the performance against Burnley, then tempered after United beat Spurs. The caveat is that Jose Mourinho has turned failing to win at Old Trafford into an art form, so we should have expected little else. The concern for this match is that anything can happen in a derby, and that United actually benefit from being dominated, possession-wise. They can benefit most from their pace on the counter attack, but if City perform as they did in the last match, then confidence has to be high. I'll just be glad when it's all over, as per usual. As a final thought, I hope the team from Tuesday is not altered too much either, as I feel stability is needed right now, and those that needed to perform most during the week did so. They deserve further chances.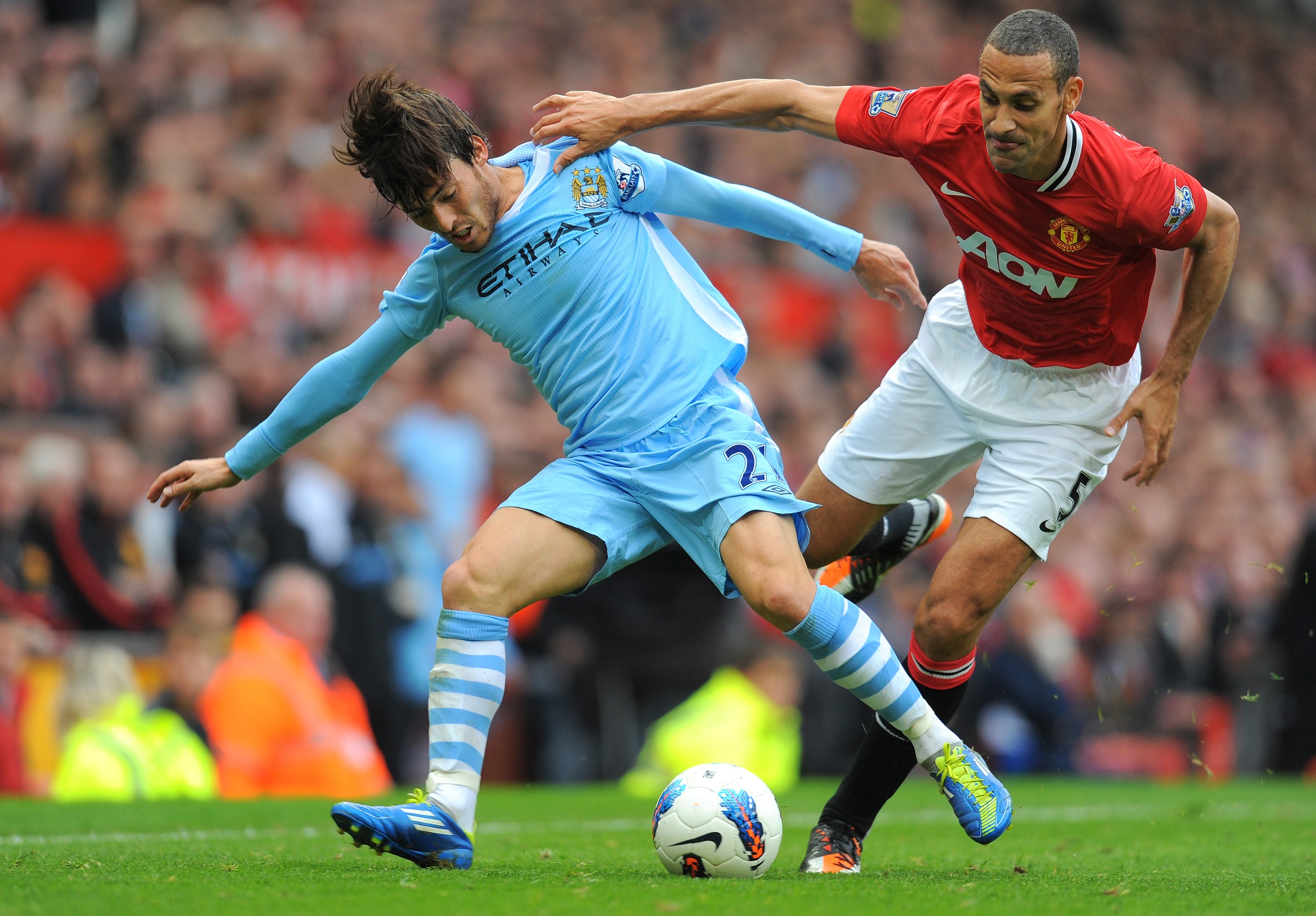 (Photo by Andrew Yates/AFP)