An Examination Of Raheem Sterling's Drop In Form
By Dan Larsen | 07 February 2020
Dan looks at Raheem Sterling's stats.
(Photo by Laurence Griffiths/Getty)
It wasn't all that long ago that Manchester City star, Raheem Sterling, looked to be staking his claim to be considered as one of, if not THE top winger in the Premier League. Those days feel distant us right now. For example, I wrote at the end of September that Sterling was a clear winner in the battle between him and Sadio Mane when doing a head-to-head comparison. In fact, the stats showed that Sterling's performance, from the start of the 2018-19 season through the end of September this season, was virtually on par with Mohamed Salah's during the same period. It looked as if he was reaching the lofty ceiling that his immense talent suggested he could get to. He looked every bit the part of a PFA player of the season, and potential Balon D'Or winner too. Unfortunately, Sterling has hit a rough run of form in recent weeks. He looks a shadow of the player we saw breaking teams apart at-will from August to October.
Sterling's slide in form started shortly after his most impressive performance of the season, a three goal and one assist showing against Atalanta in City's 5-1 win in the UEFA Champions League at the end of October. Up until that point in the season, he had arguably been City's best overall performer. He had logged six goals and an assist through his first eight Premier League games. If you include the Atalanta game, he had posted a form rating of seven or better in nine of his first 11 appearances across all competitions as well, and was above an eight in four of them. After that game, he posted a form rating below a seven in three of his next five games across all competitions despite logging a goal in two out of five of those matches.
Following that five-match dip in form, he did manage to stabilise his performances a bit from their November 23rd game against Shakhtar Donetsk to their December 27th Premier League match against Wolves. Though he failed to reach a rating of eight or above in any single game, Sterling did manage to finish with a seven or better form rating in seven out of City's eight games across all competitions. He was able to bag six goals during that run as well when factoring in his two goals against Oxford United in the Carabao Cup. He may not have been playing as well as he was capable of, but he was still giving the team enough for them to get by on most days. Since City's loss to Wolves on December 27th, however, his form has fallen off a cliff.  In his last four starts in the league, his form rating has hovered between a high of 6.86 and a low of 6.24. When factoring in his three other appearances as a sub or in other competitions, he's also gone seven consecutive games across all competitions without a goal or an assist, far and away his longest stretch without recording one of those stats all season.
Sterling's lack of success in recent games isn't coming from a shortage of chances either. According to understat.com, Sterling has recorded an expected goals total of 1.72 over his past three Premier League appearances, capped by a .77 xG showing against Sheffield United. He's been missing chances that, when he was in form earlier in the season, he was burying. Those misses have derailed some of City's best attacking sequences. Sam Lee wrote in the Athletic this week too about how he has been getting into the right positions, but is not finishing off opportunities that come his way. Perhaps more concerning than the bad misses he's had, though, is how disappointing his overall play has been. He's struggling to influence City's build-up as consistently as he was before. He's looked a half step slower. His dribble moves are often resulting in easy tackles instead of putting defenders on their heels and drawing people out of position. Even his passing hasn't been as sharp as it once was. All of that is causing City's attacks to fizzle at crucial moments.
It appears that the heavy workload that he's carried over the past two plus seasons may be taking its toll. Just this season alone, he's featured in 35 games for Manchester City so far, almost all of which have come as a starter. He featured in 51 games a season ago, and 46 matches the season before. With Leroy Sane having been sidelined for basically the entire season due to injury, and others in the front-line having been out for weeks at time, Sterling has been asked to start AND carry things up front a lot more often than in seasons past. That's put more of a burden on him to produce. It also appears his confidence has slipped in recent games. Some of the misses he's had have been rough. The continued inability to get one of those chances to hit the back of the net is only creating more pressure on him to score.
The silver lining in his struggles, though, is that it shouldn't take much for him to get back on track. Despite this rough run recently, he's still logged 20 goals and six assists across all competitions. His xG total for the season in the EPL is third best in the league at 13.31, and his expected assists total is eighth best at 5.88. As long as he keeps putting himself in great positions to score, and is creating good chances for his teammates he should be able to turn things around with ease. And, if fatigue is an issue, the ease in the number of fixtures City face over the next two weeks should help him get back on track too. Manchester City are going to need an in-form Raheem Sterling if they're going to progress in Europe. We'll see if he can get back into form in the weeks to come after his return from injury.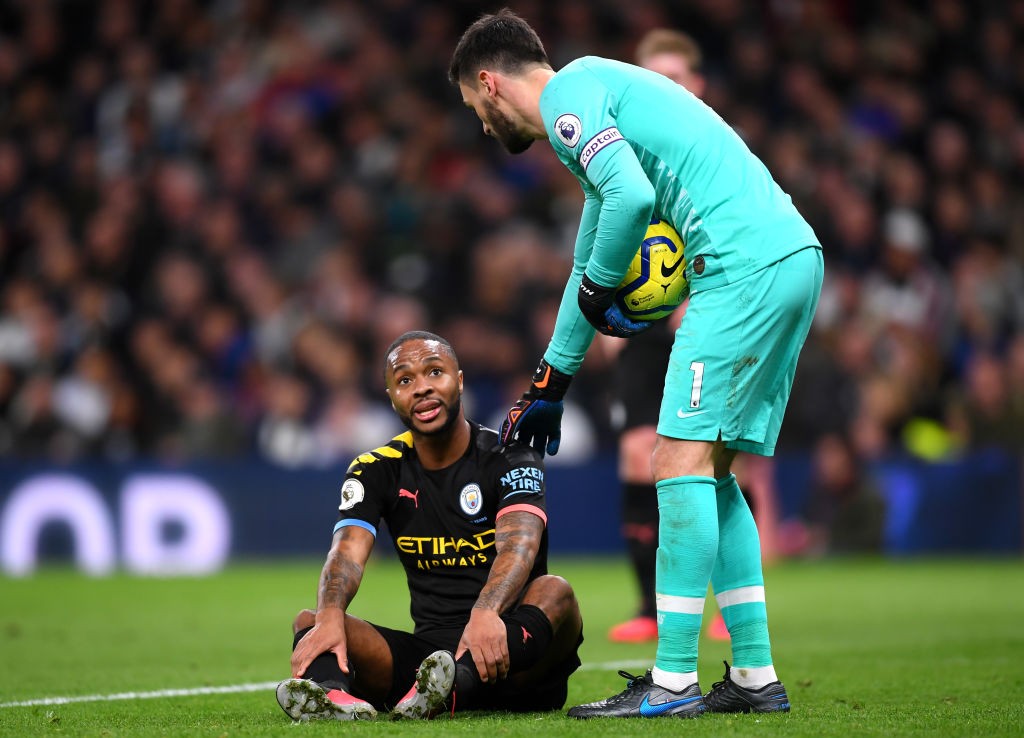 (Photo by Laurence Griffiths/Getty)