Women's Football Is Doing Just Fine: And That's OK
By Howard Hockin | 09 September 2019
Howard takes a look at the development of the women's game, and the fury it has caused.
(Photo by Catherine Ivil/Getty)
A friend is visiting Manchester at the moment, and was telling me about going to the first ever Manchester derby in the Women's Super League. She asked if I was going, to which I replied no.  
The next question was, "Why don't you support the women's team?"
The only answer I could muster was, after some thought, "Because I just don't."
She seemed to accept that vague, mumbling reply, but the truth is much deeper than that of course. Because I think it was generally mystifying to her, not an avid follower of football, that I showed little interest in the women's team of the football club I have supported all my life. But for most of you reading this, it is not mystifying in the slightest.
I care about the men's team because it's all I have ever known, ever since I was old enough to comprehend what was going on. I have 40 years of memories floating around somewhere in my brain, and that can't be replicated with another team. It is ingrained in me, and always will be. Now that I have sat and watched a few women's games, I can't just make them matter to me as much. That is something that will develop over time, for some. For me, I am already more involved in the team than ever before, but my current level of interest is probably close to where I will flatline. A passing interest, and a genuine desire for my club and country to do well. But the world won't end if they don't. I cannot begin a journey with a football team at the age of 45 and be enveloped as much as team I first saw as a 5 year old.
There's just not the time either for me to process much more sport. I'm wrapped up in cricket too, and next summer I'll be glued to the Olympics, a sudden interest developing in horses walking sideways if it gets Team GB up the medal table. Even the rugby world cup may catch my attention, briefly.
And let's cut to the chase. I cannot commit to two football teams, even if they do wear the same shirts.
After all, the stress of last season following the men's team almost finished me off. The stress of the 2012 title run-in greyed me, and I'm pretty sure I suffered hallucinations for a few days too. A penalty shoot-out in a pre-season friendly gives me palpitations. Imagine doubling the tension? 
What has absolutely stunned me though is that some (men) seem to be offended by the mere suggestion of watching a women's game. Here's the thing, and it may shock you to the core – if you don't want to watch a single game of women's football for the rest of your life, you don't have to. That's OK. It is not a crime, and you will not be ostracised for it. Just understand that others feel differently and enjoy the experience, often as a family event.  You are not compelled to try and like women's football in the same way I am not compelled to keep trying to like olives.
Have no doubt, there are swathes of men across the UK, and I can guarantee in every country worldwide, that cannot cope with the thought of women's football becoming much more popular as a spectator sport, cannot cope with an iota of media coverage or any limelight for its participant. Swathes of men that are reduced to jokes about ironing, their own masculinity under grave threat. Know your place, women. It doesn't take much to get the veins popping out of the forehead. A female commentator, a female pundit in the studio, a female assistant referee. It's political correctness gone mad, after all. Bloody quotas and the liberal bias of the BBC. Lefties, that's who's to blame. All words currently being used on the BBC message board as I type. These will  often be the same men that quietly seethed as more and more women started turning up at City matches.
Compare & Contrast
But Saturday's match at the Etihad was a huge leap forward for the women's game in England. And that can only be a good thing. As you will know, Manchester City defeated Manchester United 1-0 in the first derby in the Women's Super League. City were disappointing in the first half, and only a great save from Ellie Roebuck saw them go into the break level. They improved in the second half, and a Caroline Weir strike was enough to seal victory, in front of a record 31,000+ crowd. The next day Chelsea also won 1-0 against promoted rivals from the same city, in front of over 24,000.
Ask someone why women's football is not important, and you can rest assured that the quality of play will immediately be quoted. So if you really must focus on the quality of the football, then the best time would be in a decade or so, when the development of the game in the UK and elsewhere should show much more clearly. As a City fan, it does not help though when the men's team is the greatest in its history, doing things on a regular basis that most other men's teams globally could only dream about. The other week I found myself getting frustrated and annoyed at the quality in a Championship match, because I am spoilt. It's why being a Manchester United fan is so hard to endure right now because they have seen what their team can be, what they should be. Still, Caroline Weir's winning strike was a beauty, as was Chelsea's winner the following day from Beth England.
The quality is there, but with time, there should be more of it. And if quality was the overriding issue when following a football club, then most old-school City fans would have abandoned their club 20 years ago, and many more across the UK would be doing so right now. Unless you are a glory-hunter, that is not why you follow a football team. You will see some comment that a good U16 male team would wipe the floor with the best women's teams. That's rather irrelevant. This is not a battle of the sexes, it is a separate game, which is developing and clearly improving before my eyes. There are physical differences of course that make comparisons pointless and tedious. A good standard, male teenage 100m runner would beat any woman in the world over that distance, so let's bin off the women's athletics, right?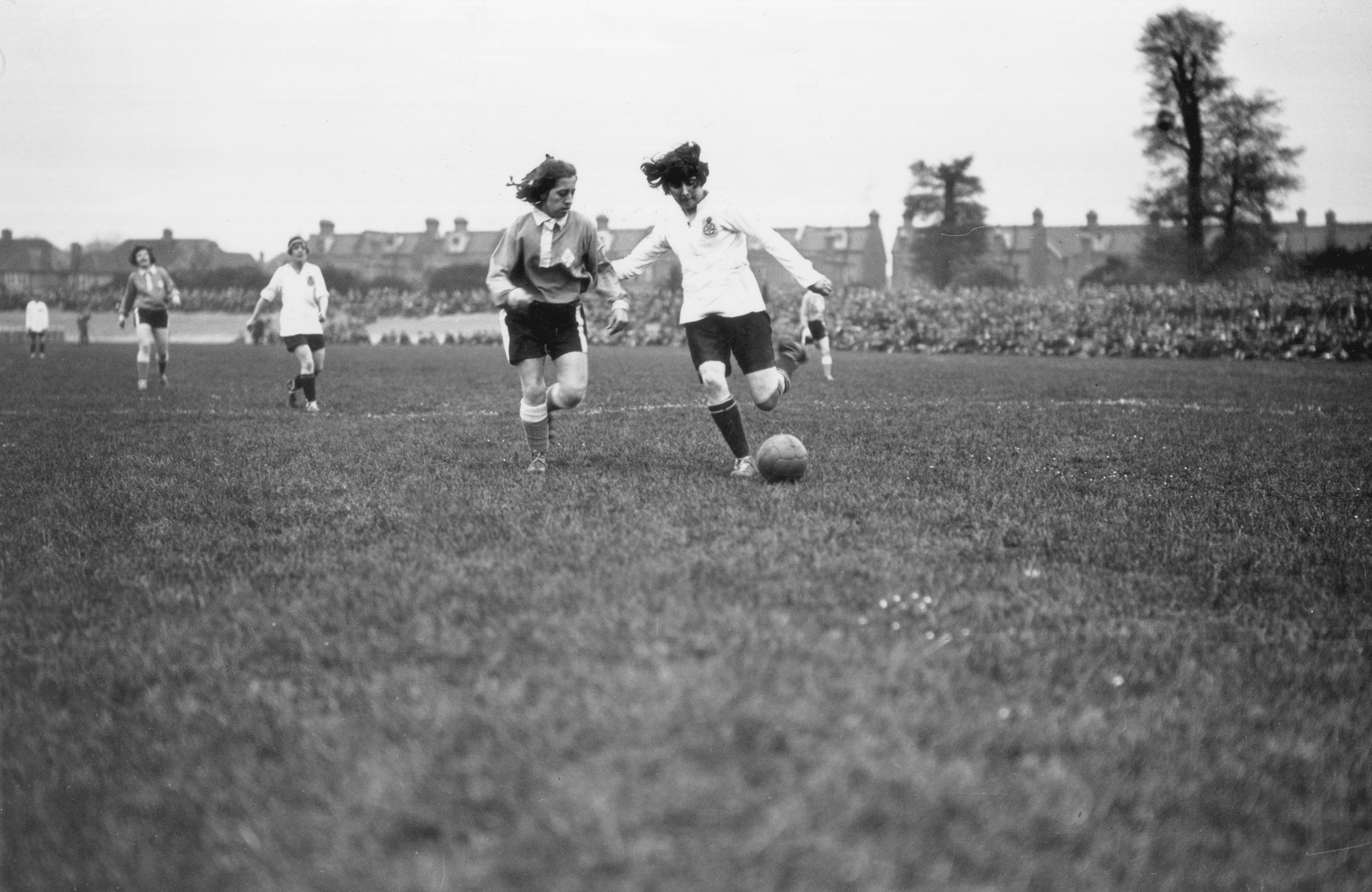 (Kerr Ladies' football team (in white) from Preston take on the French Ladies International team at Herne Hill, London – photo by MacGregorTopical PressHulton ArchiveGetty Images)
History In The Making
The FA banned women playing football for 50 years, so it's hardly surprising that it still needs time to develop. The ban came into place in 1921, as the governing body was worried that the popularity of the women's game would affect attendances in the men's game. In 1920, 53,000 would watch a game of women's football at Goodison Park. 14,000 more were left frustrated outside.The FA released a statement in which it concluded that football was "quite unsuitable for females and ought not to be encouraged". Several doctors agreed that the sport posed a serious physical risk to women.  Men legislating on women's rights? Some things never change.
It would not be until 1971 that the FA lifted the ban. Half a century of progress and development and professional participation for women had been lost in this country. You don't repair that sort of damage overnight. So ask not how they would do against a current men's team, but against a team from 30 years ago, before sports science and an improvement in facilities, training and knowledge allowed the men's game develop to the level we see today. And at least allow the women's game to develop in a similar fashion. Because if you watched women's games a few years ago too at this level, you will surely have seen improvements.
What's more, there are aspects of the women's game that are refreshing and provide a welcome respite from their male counterparts. Little diving, cheating or dissent. No VAR either, at least not at club level. No match reports questioning the owner's human rights record, or empty seats banter or rival fans trying to force a rivalry. And above all, a freedom of sexuality, that allows players to be open about being gay without the fear of how they will be treated by fans and fellow players. It's a different world, away from the macho, male-dominated fandom that envelops the men's game to this day, though thankfully not half as much as used to be the case.
And there are many little things that collectively will help the women's game develop and grow. Little things like City's twitter account covering both teams under one banner. Playing a game at the Etihad. Rivalries forming including the obvious one this weekend. Manchester United forming a team, finally, will help enormously. Real Madrid likewise, though they will operate under a different name for a year.
Having the team as part of the trophy parade in May. Backing from the FA with hard cash, which is thankfully now transpiring. Free to air coverage helps – just look at the damage of Champions League football on BT or the cricket World Cup on Sky. In short, the sport needs to be treated as an equal. It needs more female coaches, better funding, better facilities, more support. Women's football is the 4th biggest participation sport in the UK, so that support is deserved. The success of the recent World Cup was a breakthrough tournament in helping achieve these goals.
Over at the Etihad, this was not a matter of life or death for those on the pitch and those in the stands. The crowd enjoyed the occasion without the toxic tribal-led sideshows that would accompany the male version. The players too at full time chatted with their rivals for a considerable time as they left the pitch, aware that this was, at the end of the day, just a game of football, and a historic day to be cherished and remembered when the history books are written. That is not to demean them, defeat would have hurt for the United players. It's just that they seemed aware of the wider picture and the possibilities for the future. You may think all of this is a good thing, or some of you may think it is a bad thing. It is different, and that spooks some.
I expect rivalry, hatred and toxicity; it's all I've known, especially since 2008. But for many, the female version of the game must be a welcome relief. And for families, a wonderful opportunity to introduce children to the sport, and to going to a football match. I know for many that is what happened at the weekend. That 31000+ crowd was over 6 times the previous attendance record for the league, and a positive sign of things to come.  If that's a problem for you, then look away, because this is a part of the sport that is not going anywhere, and will only get bigger. And for that we should be thankful. The key now is for the women's game to keep attracting healthy crowds, and avoid comparison with its male counterparts. It can stand on its own, and finally it has a bright future again once more.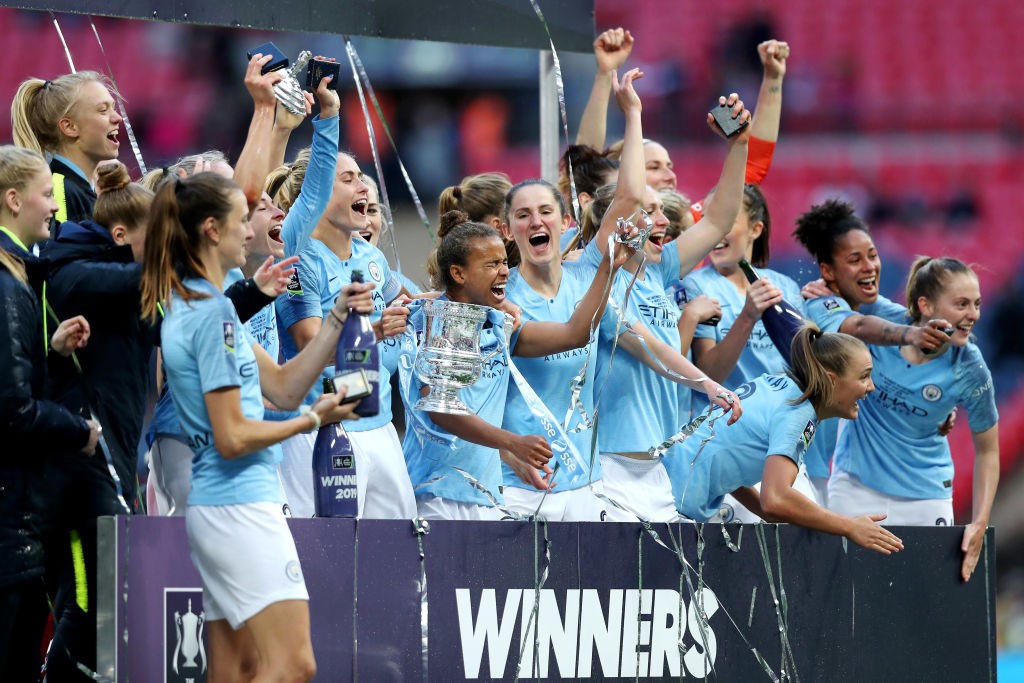 (Photo by Naomi Baker/Getty)