Wemberley, Managers' Treatment, Attendances & Social Media: Weekly Thoughts
By Howard Hockin | 31 January 2020
A return of Howard's weekly thoughts on all things City.
(Photo by Shaun Botterill/Getty)
Wemberley
So City are at Wembley once more, though financial demands means I shall be sitting this one out – sorry Pep. You will have read enough on that game by now I assume, so will not linger. City qualified, that is the important thing, though it is truly baffling that since half-time at Old Trafford, we failed to find the net again in 135 minutes of football. The highest scorers in Europe's major leagues struggling with profligacy – it's quite the dichotomy. But enough long words, because after the dust has settled, I appreciate that United barely troubled our goal most of the time, and despite the fact that there was a single goal between the sides by the end, the chasm between the two sides was clear to see. United's substitute manager was in puffed-out-chest mode after the 2nd leg having beaten City twice at the Etihad. It was no tactical masterclass however, but sheer fortune that City players simply refused to shoot, and the common sense to play your best goalkeeper. Pep's left-field formations may have had their merits but will hopefully be restricted to this competition alone.
At the same time, Liverpool were winning once more, and no one is even paying any attention any more. Records will be broken, and we all have to accept that. The run continues the debate of greatness however. Deciding if a Premier League team is one of the "greats" is so subjective it's essentially an argument that exists merely to fill column inches and twitter space. I'll leave that to others. But it was generally agreed that City had to retain a title to achieve greatness, so we'll see if Liverpool can maintain this ridiculous standard next season.
Managers' Treatment
There is little point asking managers about vile chants or airplane gestures. The interviewer doesn't need validation that these things are "bad", as it's fucking obvious, they're merely after a story. And a manager is hardly going to say they're fine with what's going on. It's whataboutery galore from me, but I don't recall Ole being asked about the chants stating Ed Woodward is going to die. Or about empty seats, obviously. Or their air plane goading gestures, thrown coins and flares or ripping out of seats. Did I miss that interview? Classic diversion tactics, Hockin!
Managers are treated differently by some journalists, we all know that. And the some is important, as there is nothing lazier or more inaccurate than lumping all of one profession into the same basket. But just imagine Pep putting kids out for an FA Cup replay, and not even bothering to manage the team when the tie came around. And then, with a straight face, tell me he wouldn't be ripped to shreds by the mainstream media. Now let's be clear, Klopp has received criticism for his decision. Even James Pearce was slightly critical in his Athletic piece. But relative to how others would be treated, it does not compare. Quite simply too, Klopp does not care about England's domestic cup competitions, and the Liverpool fan base accept this disdain with the blanket acceptance you would expect from Scientology convention. As a Livepool fan, I'd be enraged at such an approach, especially when they played Shrewsbury whilst 16 points clear in the league with a game in hand – so now 19 points. The Champions League is still a month away, and there was little if anything to lose by playing at least a slightly stronger side. If he had, then we probably wouldn't be forced to discuss a replay.
As for City getting easy draws, playing a full-strength Sheffield Wednesday side away is surely tougher than playing a Liverpool youth side. City can't get tough draws when the managers of the so many top sides treat domestic cup competitions with disdain.
Attendances
Pep still doesn't get it, and I guess we just need to accept that and move on. After the "outrage" over his brief comments after the Fulham match, he apologised and commented on how he hoped that the quality of football would get fans into the stadium.
No, no, no.
Ticket sales have nothing to do with the quality of football. Well, not on this occasion. If City were flying in the league, I'm not sure that would transmit itself to how many people turned up for a Sunday lunch time kick off live on BBC against a weakened Championship side. This is not about what's happening on the pitch. It's pointless trying to ram this home anymore, as a brick wall would have a more nuanced understanding of the situation.
But this is not just on Pep. Against Fulham, we saw the drip drip effect of raising season ticket prices for 9 of the past 10 seasons.  The rises were affordable enough for most. In fact there are even fans that think raising prices is fine, the price to pay for our success. But the fact is, and I have seen this from personal experience, the effect of rises has been that many have renewed their season tickets, but made sacrifices or for some, taken a stand, elsewhere. And so many simply stopped subscribing to the cup schemes. I stopped for the League Cup. Others will have done both cups. And now we start to see the consequences of this. Still, at least the increased attendance for the United match brought with it the superior football that Pep wishes to seduce us with. Oh, hang on…
The Joys Of Social Media
Footy Limbs seemed like a good new addition to Twitter. Clips old and new of fans going "crazy" after their team scored a goal, the name of the account self-explanatory. But there was a clear caveat from day one. The clips in question were scored out of 10, and for me it was obvious what the end game was. And so it came to pass. Because this was not an account existing simply to admire great goal celebrations, but to do the opposite too. To be snide, to denigrate fans, to open fan tribalism. This, after all, is Twitter. Naturally it has succeeded in its aims.
And what greater proof of this than the clip they posted for the United v Norwich match. Look away now, I'm going to stick up for our oppressed neighbours. The clip showed a seemingly underwhelming reaction to United going 2-0 up against Norwich from the penalty spot. The reaction was normal for the circumstances, but when has logic ever mattered online? The thing is that with a penalty, you are already primed for the possibility of a goal – you know that your team has a very good chance of scoring a goal shortly (unless Gabriel Jesus is taking it), so the emotion of a goal is somewhat removed, unless the game is delicately balanced of course, or it's a shoot-out.
What are the banter kings of Twitter expecting the reaction to be therefore when United go 2-0 up at home to what are clearly a passive, poorly performing Norwich team? Grown men sobbing in the aisles, fans catapulting over seats and down three rows due to the enormity of the situation? Friendships and bonds forged for life? Mini-pitch invasions, and fans kneeling on the grass to kiss the hallowed turf? Flares being let off, with calls for calm over the tannoy?
They scored a fairly meaningless goal (in the scheme of things) in a fairly meaningless game and the reaction was exactly as you would expect at any Premier League ground. So if you think that a clip of the goal celebration is something HILARIOUS or TRAGIC, have a serious word with yourself.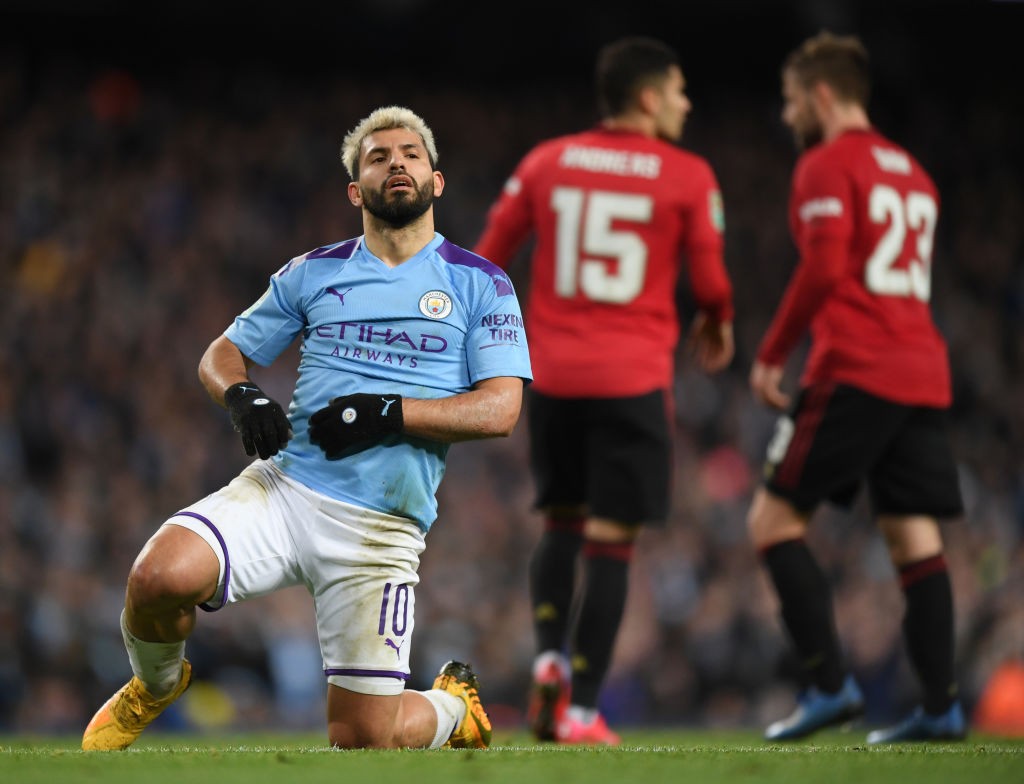 (Photo by Shaun Botterill/Getty)