The Pre-Guardiola Era: Who Would Have Made Pep's Squad?
By Mark Meadowcroft | 28 October 2019
Mark takes a look at which pre-Pep era players would be best suited to his coaching.
There's little doubt that Pep Guardiola is a Manchester City manager like none before. Don't get me wrong, I think Brian Horton did a better job than he was given credit for, Howard Kendall was obviously a class act managing City at the height of his powers, Sven knew exactly  what he was doing, as did Manuel Pellegrini, we have a huge debt to pay Joe Royle and Roberto Mancini was the game-changer who taught has how to win and to dine at the top table. If Guardiola gets a statue at one end of the Etihad, Mancini deserves one at the other. But Pep is the Mozart of his trade. He simply operates under different rules. This allows us to also cast Jurgen Klopp, another coach of extraordinary talent, as Beethoven and for lovers of the wonderful movie "Amadeus", Duncan Castles as Salieri, the bitter rival who claimed his nemesis's music had "too many notes".
This set me thinking – what could Pep do with a team of players from before his time in Manchester? The only rules were that I need to have seen the players live – which is why Colin Bell, Rodney Marsh and Bert Trautmann don't feature, so you'll be able to guess the landmark birthday that is hoving into view – and for reasons that become obvious and because I want to replicate Pep's attacking instincts, we are building the team from the front and not the back. I have also gone with a 3-5-2 formation to suit the available players – not Pep's favourite but not one he discounts either. And don't worry, the wing-backs have the attacking dynamism needed, so sorry Danny Mills and Ben Thatcher, please don't get your hopes up.
Attack
Beginning in attack, Dennis Tueart was a player of great quality but not just that, he was – and is – an intelligent man keen to learn and experience new things. We all know how tactically demanding the wide attacking roles in a Pep team are, and Pep will need someone with the brainpower and open mind as well as the technical chops to do the job.
His partner is Trevor Francis, an obvious Pep player, not just in quality but in style. Very quick but also clever and capable of the spectacular, when he signed for City, even the 11 year me was astonished because he was simply far too good for us. He only lasted for a year before setting sail for Italy and the chance to play with and against better players. But at least the transfer fee received paid for the odd-shaped roof on the main stand at Maine Road.
Midfield
Behind those two, it starts getting serious. If I didn't put Gio Kinkladze in the team, subscriptions to 93:20 would be cancelled, and don't worry, he's there, surrounded by players befitting his talents. Not only that, I'd try and play him as centrally as possible as the players ahead of him, Tueart and Francis, would naturally gravitate to wider positions and I can see huge holes being created for him to run into. When Kinky was playing for City, the likes of Alan Ball never cottoned on the fact he was either shunted out wide which allowed teams to double up on him, or was dribbling straight into the opposition traffic that was already positioned there to deal with Niall Quinn and Uwe Rosler, good players both but neither of whom ventured far outside the width of the goalposts.
In the free 8 role, it's the wonderfully talented Ali Bernabia, who would find space in a slightly deeper role. He'd be running the show and looking to link with Tueart in particular at every opportunity. A shy but inquisitive man, his character looks from a distance similar to Kevin de Bruyne. And he could play, even though he was the same age David Silva is now when he signed for City.
At this point, we do need to consider the issue of defensive cover, rigidity and discipline because let's be honest, neither Ali nor Gio bring the qualities associated with Gerry Gow or Nigel de Jong to the party. That's why Gareth Barry would be a perfect fit. When Mancini turned up, most of us assumed that he would insist on an Italian centrocampista – but we were wrong. Famously, Barry was never injured and always played. And rightly so. And in this team, almost never ahead of the ball, Barry would thrive and help others thrive too. Fernandinho probably was an upgrade in 2013, but not by so much that he's unable to live in this company. He was very important to Roberto-era City.
Wingbacks
The wing-backs are crucial to this system, and I'd like to thank Kevin Keegan at this point for playing Shaun Wright-Phillips in this role, because he can reprise it now. He'd absolutely have the attacking potential Pep demands and while under Keegan he wasn't a great defender, he certainly tried and the lessons he learned stood him in good stead. I have also chosen the right-sided player in the back three with care.
On the left, and taking the armband, is Paul Power. Another academically able footballer who would be capable of understanding Pep's instructions and of playing as both an inverted midfielder in the Zinchenko-Delph manner and as a touchline-hugging flyer like Benjamin Mendy, he was also the heavy goalscorer of his era. But was he a good player? When he understandably tired of the shenanigans of Swales era City, he was signed as a 33 year old by Everton. He started 40 out of 42 games for the Toffees as they won the league by 9 points. City were relegated. Case rested.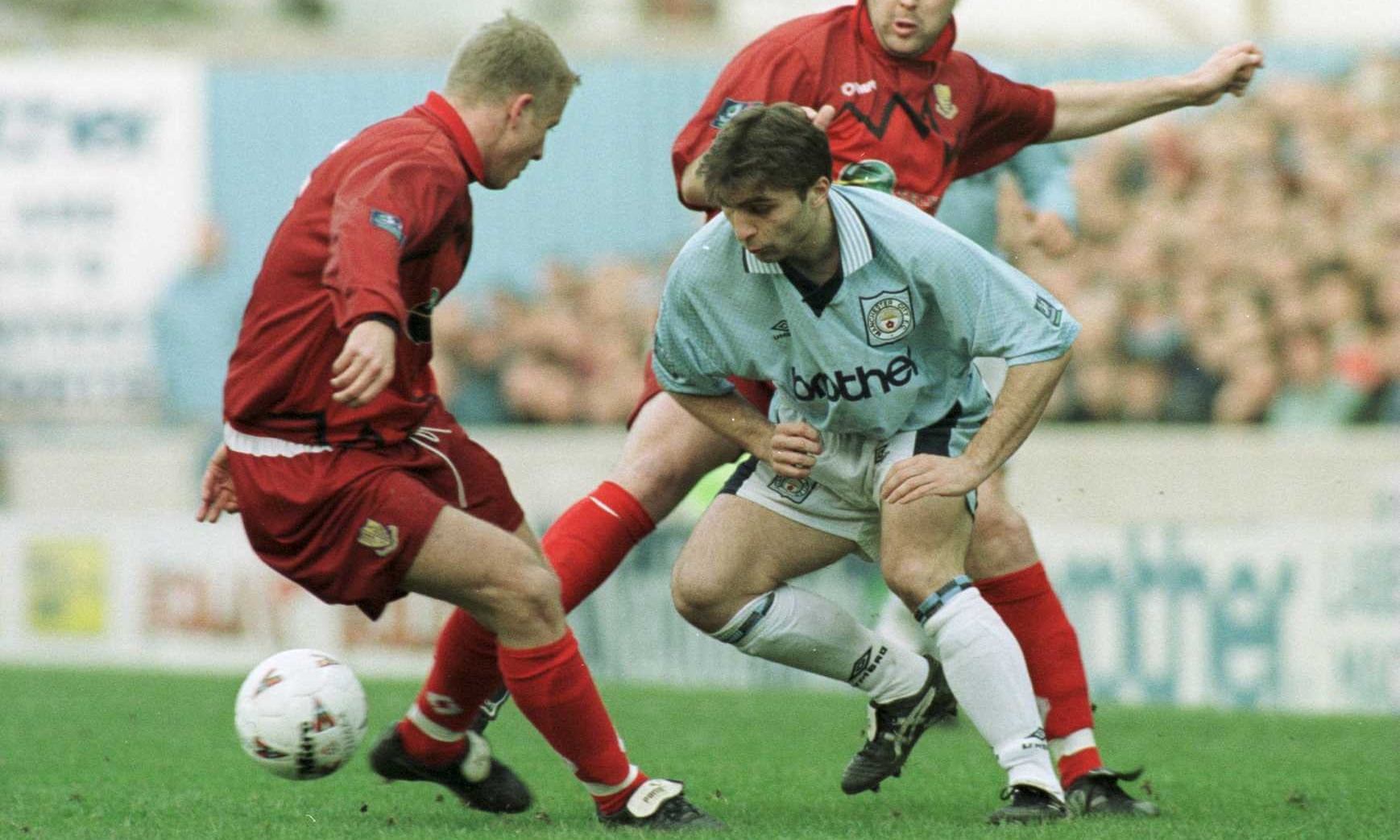 (Photo by Alex Livsey/All Sport)
Back 4
Now for the back three. On the right, it's Micah Richards. Had he developed and avoided injury, he would surely have become a commanding centre back and he's just the sort of player Pep would improve. For obvious reasons, it would not be a problem for him if he is dragged into wider positions to help out SWP.
On the left, Andy Hinchcliffe would also move more centrally and offer the left-footed passing option out of the back that Guardiola demands. Another intelligent man, he is the sort of playing raw material the Catalan genius needs, and just like Richards, it's not hard to imagine how Pep would improve him over time. Any City fan under the age of 25 may think he is just a supply co-commentator who is mysteriously allocated City matches. But he's more than that. He was some player, and on September 23 1989, scored one of the great Manchester City goals.
And in between them, the lost player of my youth, dictating from the back, Paul Lake.  A player so good he could play anywhere but one wasted on the periphery of the pitch. The player Howard Kendall and then Peter Reid wanted to build the team around but could not. The player that had he stayed fit, Alex Ferguson would have tried to entice to the dark side.
To a greater or lesser extent, all of the back three had careers curtailed by injury. None of them entirely fulfilled their potential, although Hinchcliffe came closest and Richards still won the league and the cup – and on 93:20 day played a crucial and under-appreciated role in getting Joey Barton off the pitch and away from the City bench before he was able to start even more ructions. Lake's injury remains a source of wistful regret and one of the great "what ifs" of City's history. But that's another long read.
All good so far but it then all goes wrong with the goalkeeper. It's not that there aren't some good players to choose from. Joe Hart – technically a Pep-era player but we all know what happened –  Nicky Weaver and Alex Williams all served with distinction and are of historical significance to the club. David James was also quality at a difficult time. But the two that stand out, in ascending order in my pre-Pep lifetime, are Tony Coton and Joe Corrigan.
But none of these keepers are Ederson-style sweepers. Guardiola has so revolutionised the game that all of these players, fine as they were, are now dinosaurs. Corrigan in particular was a commanding presence and a wonderful shot-stopper who deserved far more than nine England caps – but did he ever exchange passes around the penalty spot with Tommy Booth and Kenny Clements? Coton was cut from the same cloth, not quite as good perhaps but still an excellent keeper in a bygone age.
So it has to be Big Joe, because there is really was no-one to compare with him from Trautmann to Ederson. It's just a shame that with the ball at his feet, I'll be watching with my eyes closed.
The Bench
Pep needs a strong bench, so if we go with Coton as the reserve keeper as he was the next best between Trautmann and Ederson then after briefly considering Glauber Berti, I would take a punt on Vedran Corluka as back-up defender. In one season at City, he was a stylish if somewhat sedately-paced defender. He's got the raw materials Guardiola likes, there's little doubt he would have improved him and I'm gambling on there being enough pace around him to nullify his obvious weakness. He's also the tallest player in the squad, so he can look forward to a guaranteed start against Burnley.
We forget how good James Milner was for City. I am aware that this is a selection that will appeal more to the head than the heart, but I'm not here to be popular and we all know that this is the right decision and would be an exceptionally useful substitute. I considered handing an attacking midfielder's bib to Elano, David Rocastle, Maurizio Gaudino or Eyal Berkovic – and would have been happy enough with any of those – but I can't resist throwing the extravagantly talented Kazi Deyna into the mix, the first City player I saw who was clearly out of the ordinary.
As for attacking subs, Anelka, Tevez, Dzeko, Walsh, Robinho, White and Bennett all made the shortlist. Bernardo Corradi, Bob Taylor and Roque Santa Cruz did not. But I chose three that would offer something different. To make something happen, Mario Balotelli is the footballing equivalent of playing a joker. There isn't (with the arguable exception of SWP) an out and out winger in the 18, so I am rectifying that with Peter Beagrie. I will then lie awake a night worrying that Pep watches him once and decides that he would make an excellent left-back. The thought of Corrigan playing the ball out to Beagrie inside our own penalty area does cross my mind at this point and yes, it terrifies me as much as you.  And because I am slightly worried that the team doesn't have an out and out goalhanger, I am making a big call, but one that I am very happy with. The last place on the bench goes to the man most likely to score a goal in the next five minutes, Shaun Goater. Heaven knows there are enough players in that team capable of feeding him and his mate Bernabia will be able to tell the more technically proficient players exactly what he likes to dine on.
Would they beat City 2019? In a moment of honesty, I seriously doubt it, but I am predicting goals at both ends.  City 2019 (and Liverpool) would press mercilessly high and target the movement of the ball out from the goalkeeper. It's tough on Corrigan, my first real City hero and an outstanding player but our current team didn't get where it is today by being sentimental. However, when Lake breaks the press, finds Bernabia, Tueart and Francis do something cute and suddenly Kinkladze is running directly at speed at a retreating defence with Power and SWP on either side of him, it's going to be fun finding out. I'd be pretty confident going into a Derby match with this team against the current United rabble, and that, as we know, is the first test any City team has to pass.