The Media, Tactical Fouling, Net Spend, Size & More: Weekly Thoughts
By Howard Hockin | 07 February 2020
Howard takes a look at all things City this week.
(Photo by Andrew Yates/AFP)
Pep & The Media
On the brand spanking new 93:20 Wednesday debate podcast this week, we looked at the media and their treatment of City. We discussed a variety of topics on whether it was fair, the same as other clubs, and so on. But one point I made off the cuff stuck with me, and so I'm going to briefly mention it again now. The theory is this – whilst a major reason why City are dealt with differently to other clubs is down to the ownership model and how success was attained (in their eyes), another factor is the figurehead of specific clubs, by which I mean the manager.
Swathes of the media will consistently peddle the tiresome romance angle of the likes of Liverpool or United being back "where they belong" as if they have done God-given right to be successful because they used to be and this have loads of fans. But could it be that they get an easier ride too simply because their managers give better copy? Twinkle-eyed Solskjaer is presumably easy to deal with if you're a football reporter. As far as the media are concerned, the sun has always shone out of Klopp's behind, seemingly swayed by a winning smile and excitable touchline antics. Pep, on the other hand, is something of a closed book. Tetchy, awkward, intense, irritable. He's hard work at press conferences, and if he's not going to help reporters, then why should they help him? A generalisation, as most reporters give fair copy on our club's manager, but you do wonder if his attitude rubs others the wrong way, those that need little encouragement to create an "angle". After all, as I mentioned on the podcast, would Solskjaer, Klopp or a host of other managers be questioned on attendances, vile chants or misbehaving fans in general? Rarely, I reckon. It seems those questions are reserved for one man only, along with historical club malpractices, and it all ties in nicely to how the club is portrayed by the media in general, and how achievements are downgraded.

Tactical Fouling
Ah bless. The footballing world has suddenly discovered tactical fouling, which, and some of you may not know this, was invented by Pep Guardiola in a secret meeting in Tast in 2017. During that meeting, Pep came up with a dastardly plan, the likes of which the sport had never witnessed. And it seems it has taken over 2 years for the footballing world to have worked out his evil plan, and demanded law changes to ensure it never happens again. Now what will the bald fraud do?
The latest journalist hot-take was an absolutely beauty, as Michael Cox (Zonal Marking) argued that all tactical fouls should be an automatic red card. It's hard to offer a counter-argument (as Cox kept asking incredulous tweeters to do) against a take so hot it would melt steel beams. Imagine handing out red cards because a player tugged someone's shirt on the edge of the opposition's own penalty area. More to the point, deciding what a tactical foul was (they are not all blatant and clear to see) would be an added nightmare referees do not need, and would lead to more controversy than VAR. And to five-a-side football. Tactical fouling has been around for decades, and no one seemed to care until now. I wonder why that is? Alex Ferguson used to instruct rotational fouling on Shaun Wright-Phillips during derbies without any comeback. The future of the game will be no contact of any sort, no heading, no handballs, no controversy. Sterile and joyless.
Of course in the old days, tactical fouling consisted of the likes of Graeme Souness knee-capping an opposition player, before getting a stern talking to by the referee. The game has moved on, and is better for it. A bit of cynicism in the game is to be expected, and adds to its spice. If you are so intent in removing all acts of cynicism from the game, you cannot simply pick up on tactical fouls because it is suddenly trendy. Players try to cheat throughout a game of football, from claiming corners and throw-ins they know are not theirs, to diving, faking injury, trying to influence the referee and much more. You either deal with it all, or accept the game as it is.
Big Clubs
There's only one topic more tiresome than empty seats, and that's club size. Virtual willy-waving for those that are lacking in the trouser department.  To cut to the chase – if you brag about the size of your club you are basically holding up a huge sign to the world that you are a glory hunter. You are admitting that you support your football club not because of any true love for the club, some emotional attachment or attachment to the location. No, you chose the club so you could bask in their glory and somehow think you could take some of the credit for any success, as if you personally pop in 20 goals every season. You think the merit of a football club is judged on number of fans. No real football fan, who fell in love with the sport for all the great things it represents, would ever talk about size. True football fans don't talk about stuff like that.
More to the point, big is undefinable. It is subjective. Its definition is "of considerable size or extent".  Manchester City are a huge club compared to Stoke City. Stoke are huge compared to Rochdale, who are huge compared to Biggleswade United. You get the idea.
Net Spend
Exciting news for Liverpool city centre, with news emerging of new developments springing up near the Albert Docks, a revamp of Anfield, and huge investment of Stanley Park – and it will all be paid for with the Coutinho money!
As you know, Liverpool FC have to be the best at everything. That is why in the Athletic last week there was an article on the pitch, and how that has helped transform results. Is there anything they cannot do? It seems not. Even their shirt sponsors launder money better than anyone. So having the best team is not enough for them, far from it. No, it has to have been achieved in the most noble, organic way too. Just enjoying the best team of their lifetimes is not enough to sate the "family". Instead we are supposed to believe that it was all achieved exclusively through money spent from sales and promotion of youth. Their rise has been impressive, I'm just not sure why we need to be told relentlessly that it surpasses anything that has happened in football before.
Let's deal with simple facts here. A £500m football team should be expected to compete equally with another £500m team even if one was bought with owners' money whilst one was bought from player sales (not that such a situation exists). They're still two football teams that cost £500m to put together, irrelevant of the money trail. The trail is irrelevant, so Liverpool's form and achievements are amazing, but that does not alter the fact that they spent large amounts of money to get where they are. The only difference is they spent the money much better than the previous couple of decades and more when they wasted hundreds of millions of pounds on bang average footballers.
In conclusion, net spend has no bearing on how well a football team should do. If City had managed to sell Yaya Toure for big bucks and Samir Nasri too, would we not be expected to do as well because our net spend over the past 5 years would be less? No, of course not, that would be ridiculous, even if everyone agreed on a time-frame for net spend to be relevant.
Finally, some transfer gossip
Just a heads up – City are not signing Lionel Messi. Not this summer, next summer, or ever. Glad to be of assistance.
(sorry Sam & Ahsan for the cynicism)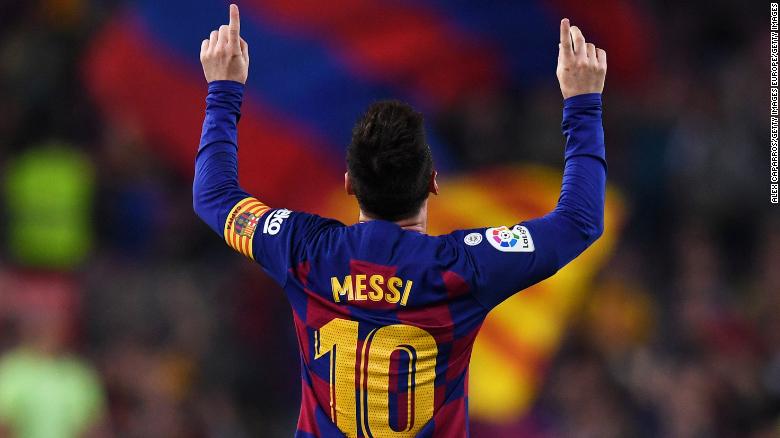 (Photo by Andrew Yates/AFP)