The Media, Bobby Madley, Moyes & City: Weekly Thoughts
By Howard Hockin | 03 January 2020
Howard takes a look at the week's talking points.
(Photo by Andrew Yates/AFP)
The Media.
It may have been Christmas recently, but I've seen a lack of festive spirit online, but then what is new? The latest spate of online squabbling revolved around the coverage City get, namely regarding whether they do not get enough credit. I think they have had plenty over previous, but get plenty more negative stuff said too, for all the reasons you will know already.
The thing is, we know as fans how well our team is doing, we do not need validation from a Guardian sports writer or an Arsenal fan in Epsom. It's irrelevant, white noise. We can judge our own history. It's not as if we were scoring the goals or clearing shots off the line anyway. We're all just voyeurs, and we want our football teams to give us joy. Bragging rights though seems a strange term for something I did not contribute to. Perhaps my season ticket has helped pay for Sergio's shin pads, who knows? Either way, what Miguel Delaney thinks about my team is not going to keep me asleep – and he'll have his own problems to deal with now that he has suggested that Liverpool's run of form is anti-competitive, He'll be living in a safe house within weeks.
The fact is, that for so many reasons, it will be considered better for Liverpool to win the league. Not for 10 years in a row, though some may disagree, but certainly this season. The same team winning the league three years in a row is not good for the "brand". Or for general interest in the league. What's more, if Pep had secured a third title, that may have broken the resolve of Liverpool in the future, though they seem pretty mentally tough. And of course there is the romance. Liverpool have more fans, and the media must kowtow to some extent to their needs, and that's not really a criticism from me.  It is what it is, it's how the world works.
Nevertheless, some may get offended and cry foul play every time the club, team or manager are criticised in any shape or form, but it is blatantly clear from the sanest of minds that City's coverage is not the same as that of other teams. The reasons are obvious – wealth, owners, competitiveness, blah blah. The case study of Manchester United proves to be a perfect example. United's disastrous running has received a bucket-load of criticism over the past few years, but has still not received as much as it should, or would if City's owners ran their club in the same manner for a seven-year period. Just imagine if City did the following, then try to imagine, if your imagination is vivid enough, the press coverage that would follow:
The owners leech a billion pounds out of the club, sacked three managers in 5 years, sack a manager under a year into his tenure (see Mark Hughes dismissal for comparison), then have to keep paying him for five years because of the ridiculous contract they gave him, let the ground rust away without any improvements, to the point that one of the biggest clubs in world history does not even have a big screen, and only recently created a women's team. Spent over one billion pounds on players to end up with a mid-table side. Hired a manager purely based on nostalgia. Created the biggest wage bill in world football despite being incapable of finishing in the top four in their own league. Wasted hundreds of millions of pounds on a seemingly endless parade of underachieving players, almost destroying career after career after career, from Fred to Sanchez to Shaw to Schweinsteiger to Schneiderlin to Lukaku to Januzaj to Macheda (who?) to Dalot to Matic to Mata to Bailly to Lindelof to Pogba to Mkhitaryan to Darmian to Depay to Di Maria to Blind to….well, you get the idea. City have hardly been blameless in the transfer market, no team is, but no one gets close to United's mistakes, and their vast spending for little or no reward. Yet you'll see more coverage of how City have distorted the market than United. Go figure.
Match Of The Day.
I assume that editing matches in just a few hours is quite a difficult task. But a task nevertheless that should be easily achievable if it is your job to do so. And yet whenever I watch City on Match Of The Day I get annoyed, and rather frustrated. This is mainly because Match of the Day have an annoying tendency to hold back on chances and incidents to use them in the post-match studio highlights. It is infuriating. When fans sit down to watch match highlights, that is what they expect to see. The match highlights. In chronological order. Not some of the highlights, then some more afterwards. It warps the feel of what happened, and distorts reality. What's more, the tone of the match is ruined by them regularly omitting talking points altogether.  There was no viewing of Foden penalty appeal, or proper coverage of the Mahrez VAR check. What a waste of time the programme thus becomes, when you can get your own highlights on Youtube or simply go to the City site.
West Ham, New Stadium, Pellegrini.
And so it's goodbye to Manuel Pellegrini, with little fanfare as per usual. He is a strange beast. Even after 3 years at City, I've no idea if he's a great manager or not. The brilliant first season followed by a 2 year decline. Always the caretaker, in his defence. Success in Spain, in relative terms. But his poker face dealings with the press helped develop the perception of an enigma, about whom I know little, apart from the irrelevance that he used to be an engineer. I'm not definite on what his philosophy was and is, or what he was like to work with. And I just cannot grade him as a manager. I would wager West Ham fans will find that particular task much easier.
And for those fans, a grim reality comes to fruition. The whole point of the new stadium was that it would move the team on, that is the point of any new stadium. It was not a popular move, so the fans had to be sold on a vision. Fair to say that vision failed.  A new stadium can really work of course – City would not be where they are today without the 2003 move, though no one could have anticipated that it would pan out quite like it has. West Ham's owners did not move across town to then end up appointing David Moyes as manager. Twice.
Still, what do I know? Moyes describes himself as a winner, and quickly backed is statement up by masterminding a 4-0 victory over Bournemouth. But really, let's not kid ourselves that a glorious chapter in West Ham's history lies ahead. Moyes will do a job, and West Ham will no doubt be playing Premier League football next season. But the club should have higher aspirations than that. And for the life of me I cannot see Moyes taking the club forward long-term. But he will be OK for them, and that seems to be the aim right now. They deserve better.
Bobby Madley.
If you read the story of referee Bobby Madley's plight over the past 18 months and not feel a great deal of sympathy or shame that such things are allowed to happen (not that it's your fault), then you're not someone I'd ever like to chat to. If any one event summed up the internet, social media and sections of our national press over the past decade, then it was this. And there is not even the smallest of signs that anything will change for the better in the foreseeable future. In fact, it is far more likely to get even worse. Fake news, "pile-ons", shaming, and the woeful need to punish any misdemeanour and protect a "brand" – this had it all. Plus the ability of the press to once more destroy an innocents life. A (crap) joke sent privately costs him his career and leads to sick rumours and mis-truths in print and across the internet. And many will think it's hilarious. Just like the video someone posted of a skier losing control and wiping out a child on an Italian slope. Classic! That was the general tone of the replies, without any knowledge of whether the child was seriously hurt or not. We're deep into the banter age now, dominated by lads lads lads, and if people's lives have to be destroyed along the way, then so be it, seemingly. What a shit world to live in. I hope Madley gets to move on and make a success of the years ahead.
City.
And so for City, it was not quite the disastrous Xmas period that some had feared. Four wins out of five in the league, and if Mendy had cleared one particular ball into Row Z, it may have been a clean sweep.
Just look who was missing for the Everton game – Ederson, Kyle Walker, Aymeric Laporte, Nicolas Otamendi, John Stones, Bernardo Silva, David Silva, Raheem Sterling, Sergio Aguero and more. That's quite the roll call, with the odd exception. With that in mind, a game I was truly worried about proved to be closer than it should have been at the death, but overall I was impressed with the performance the team put in.
City have little to play for in the league of course. Liverpool have dropped 2 points in over half a season, and there's not much you can do about that. They are at their peak, and at some point they will wane as City have, as such levels cannot be maintained indefinitely. Grin and bear it, if some of our records are beaten, so be it. I'd rather they were not, but the last decade has been so kind to us, so there's little to complain about in the scheme of things. Three of our four title wins were won by very fine lines indeed and one miracle, so the trophy haul will do me, thank you very much. And I say that safe in the knowledge that City are not going anywhere, and the next decade will surely see another significant haul of trophies. Best get that new cabinet built.
But for now, the early January distraction of the cup competitions. And if you thought this weekend was going to give you a welcome break from VAR, I have some bad news for you. It will be in operation at all Premier League grounds.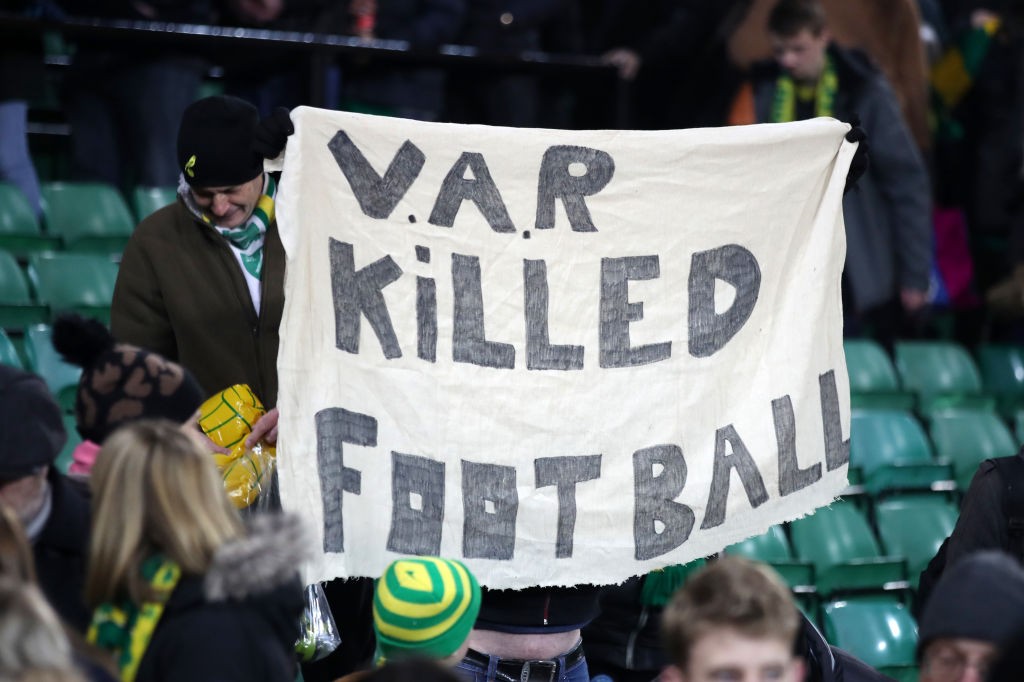 (Photo by Marc Atkins/Getty)