THE FINAL CHAPTER :- ADIOS, DAVID SILVA.
By Howard Hockin | 17 August 2020
Howard pays tribute to his favourite Manchester City player.
It wasn't supposed to end this way. Not like this. Anything but this. We couldn't say our goodbyes in person, due to a virus that has changed everyone's lives. There are bigger issues in the world, so it was something we just had to accept. We were supposed to hang around after thrashing Norwich to hear him say his thanks, to receive the season ticket for life and unveil the mosaic. And I say with great confidence that at some point in the near future he will return, for a proper adios. For a player that shunned the limelight, it was perhaps fitting for him to slip away into the night.
But there could have been a big consolation if one of the club's greatest players could bow out at the top, as part of Manchester City's first Champions League winning squad. But no. Instead, after 436 appearances, David Silva's Manchester City career ended with an ineffective and rather pointless six minutes on a Portuguese pitch in an empty stadium as City contrived to shoot themselves in the foot as they always do in this competition. Ineptness, farce and ill-discipline, and that was just from the video referee. David Silva deserved a better ending than this, we all did. But it was not to be, and now one of the most glorious chapter's in the 126 year history of the club has ended. David Silva will soon no longer be a City player. An inconvenient truth, thanks to Lyon, VAR, Pep's tinkering and the ravages of time.
How do you define David Silva, as a City fan? Well, it's hard to know where to start, but let's begin with the football itself. Quite simply, he was a virtuoso on a football field. A magician, a bundle of joy, of perfect ball control, body feints, delicious passes, a player that purrs and makes you happy to pay to watch the game. A metronome around whom many attacking phases focused. The odd journalist with a tenuous grasp on what makes Silva a great will point out that El Mago has only ever once won the club's Player Of The Season award at City. That is because it has been consistent brilliance that has made him a favourite, not stand-out seasons. There is no season to match the Yaya Toure of 2013/14, or Kevin De Bruyne this season. There are just plenty of seasons where he has come close, and perhaps a taken-for-granted attitude from us City fans has not helped his cause. We vote for a breakout debut season for Bernardo Silva over genuine excellence we expect as standard. We are swayed by certain stats too, and he is not about that. Silva has actually suffered for his consistency. It seems for the media to focus on you away from your last games in England, you need to have a stand-out season, to make your mark over 9 months rather than 9 years. There's little place for steady brilliance from David or Sergio Aguero. He was Premier League Player Of The month just twice.
Ah yes – "no outstanding, defining moments" cry the football intelligentsia. Because that's the only way some can judge players. Their analysis is completely limited to snapshots. By moments. That's why Edin Dzeko's equalizer against QPR is remembered a lot more than the player who placed the corner onto his head. Some of the reluctance to accept Silva's brilliance is naturally pure tribalism that can never admit that a City player is one of the greatest, not even for a two-week period. This becomes more difficult for someone like Kevin De Bruyne when your eyes witness balls flying into the top corner, and whipped crosses being tucked home week after week. It's easier with David Silva though, as you can pluck out some stats and ignore his understated brilliance. Even when his form dipped briefly, we later learned he was playing with a niggling ankle injury.
His many moments of magic would involve splitting the defence to set up an assist for a teammate, rather than a goal. This is why sometimes stats tell a story, and sometimes they barely scratch the surface. I'd rather my team possessed a player that contributed massively to title-winning seasons and multiple other trophies rather than providing a nice montage of individual moments, though there is plenty of room for both types of players. David Silva was not a video reel player. His career is not a collection of 30-yard screamers or scissor kicks, because goal-scoring was not at the centre of his skill set, and goals are essentially the essence of most Youtube footballer compilations.
He had his moments still, of course he did. The greatest assist of the past decade and more at Old Trafford, the beautiful debut goal against Blackpool, and a crucial goal against Hull when City's title push threatened to collapse after a Kompany red card. David Silva calmed the nerves with a beautiful goal soon after, and City would triumph come May. He is the league's top assister of the past decade, he has scored many more beautiful goals along the way, even if goal scoring was not his forte. He controlled games with an ethereal beauty from just outside many an opposition's penalty area. You want more tangible proof? Then look at his international career and listen to how some of Spain's greatest ever players talked about him. At times it seemed almost as if they were in awe, like the rest of us mere mortals.
He was not perfect. He may be Spain's 4th highest goal-scorer, but if there was one criticism of him, it was that he could have scored more for City. Like many around him, the desire to score the perfect goal could be his undoing. For such a sublime footballer, he was still heavily left-footed, and it may surprise you to learn that he was not dominant in the air. Yet despite his Top Trumps card showing various average scores, he would still often be the best player on the pitch. Because what he did do well, he did better than anyone else. Awareness, intelligence, discipline and a complete control of a football combined with the natural gift of finding space for himself and others was is enough.
Was he THE best? That's not a question I need to answer. Your favourite player does not have to be your team's best player. They may be the same guy, they may be two different people. David Silva is undoubtedly my favourite Manchester City player of the past decade, and probably ever. I stumble somewhat when deciding if he is City's greatest player though. It's a tough call. He is one of a select group of players that have brought so much to this football team over the past decade that I find it immensely difficult to rank their achievements. Just enjoy them all and let others bicker.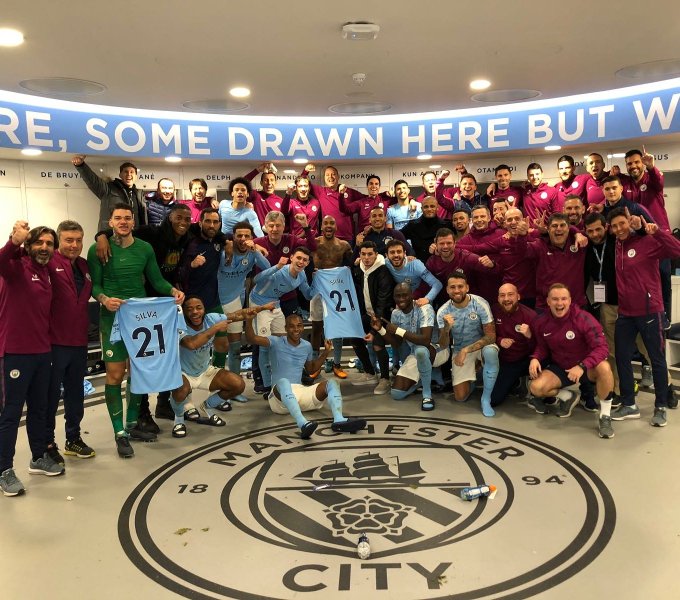 But to talk about what David Silva means to me, to City fans, to Manchester City football club, then we must talk too about the man off the field as much as on it. He played without ego, which for a player of his quality should never be taken for granted. He courted no controversy, I knew little about him, and I did not even know what his voice sounded like for a couple of years. He was never going to appear on the front pages of a newspaper, I knew nothing of his private life, nor did I need or want to. Which is what made the events of December 2017 all the more surprising, events that would define David Silva not only as a footballer, but as a human being.
Over the Christmas period of that year, Silva was absent from a number of City squads, an absence that extended well into January 2018. The usual scurrilous rumours swirled around the internet, as they always do. It turned out that David was a father, but sadly his son Mateo was fighting for his life after being born very prematurely. Silva would struggle to eat due to the stress and did little training. And yet still on 2nd January 2018 he would star for City as they defeated Watford 3-1. His performance levels in sporadic appearances did not falter at a time most of us would struggle to dress ourselves, as he flew from Spain to England and back multiple times wondering if his son would live. Mateo would eventually be fine, a beautiful young boy for David and partner to dote over. But that period only made my respect for David even higher, if that was possible.
He had not been at his best this season, time catching up with him as it does with us all. And yet after the lockdown, he has come back as strongly as ever. That makes it all the more of a shame that with the focus on two cup competitions once football got back under way, City would eventually exit both competitions with a whimper. It is right for me that players leave before we witness their inevitable decline though, so it is for the best. That if what happened with Yaya Toure, and it was painful to witness. That said, I still think there is another season in David Silva at City, if used sparingly. We will never know, unless his unwillingness to answer the frantic calls from Lazio provides an interesting plot twist.
Whatever. We should not mourn his moving on but rejoice at his City life. We should be grateful we got to witness it, and drink it all in. He wore that shirt for ten long years. One by one, club legends say their goodbyes, and leave for pastures new, and we should look back and be thankful, not wallow in the present.
"I would like to be remembered as a good guy, who enjoys football."
You'll be remembered for so much more than that, David. So, so much more. Thank you. Thank you for everything. For your football, your humanity, for shunning sunshine for a decade.
And for now, adios.