The Day We Caught The Train: Part 1
By Howard Hockin | 01 September 2019
An irreverent look back at the build up to Sheikh Mansour's takeover of Manchester City on September 1st 2008.
(Photo by Andrew Yates/AFP)
Thai Balti Pies!
August 2007. Manchester United are in phase two of winning the Premier League for three consecutive seasons, resulting in absolutely no one bemoaning the death of top flight football. Despite this dominance, the hope brought by a new season is apparent once more among Manchester City fans. Perhaps with good reason, on this occasion. The team had promise, and the depths of years previous felt like a distant memory.
The memories of Stuart Pearce were still quite fresh, but City felt like a proper top flight team at last. Little did we know that the subsequent nine months would present to the world the textbook definition of typical City, with an owner on the run and a team ending the season with an 8-1 defeat to Middlesbrough under Sven Goran Eriksson. City needed to avoid any disciplinary problems that day to qualify for the UEFA Cup via the Fair Play League, so naturally had Richard Dunne sent off after just 15 minutes. It's what they do. It's what they did.
Manchester City fans could not possibly envisage what lay ahead. For now, a new owner named Thakshin Shinawatra had rolled into town, probably saving the club from administration. In fact he had helicoptered into town one rainy night, mysterious sightings reported near Car Park C next to The Etihad. The former Prime Minister of Thailand had big plans too, but first, let's eat.
After City relinquished the Thomas Cook trophy for the second successive year, after falling to defeat to Valencia, the solitary goal scored by a certain David Silva (whatever happened to him?), Thaksin had a gift for City fans. There was an informal gathering in Albert Square post-match, when free curry was served to all, as Thaksin appeared like royalty, greeting his loyal fans. Sven and the squad were there on stage too, fulfilling contractual obligations, along with Ricky Hatton. Shinawatra performed Blue Moon to a crowd of 8000 (Liverpool would have brought over a million) before everyone enjoyed a performance from Thai pop star Mai Charoenpura. Or so Google tells me – I got so drunk in a sports bar I lost my season ticket before the season had even begun.
Of course the next nine months did not go entirely to plan. A fan base desperate for success wanted to believe our new owner was unfairly chastised, but once the arrest warrants rolled in and Shinawatra was harder to locate than Donald Trump's tax returns the game was up, and the club was lurching once more between incompetence and disaster. Still, he was the link to the events of the following summer, the conduit, so inadvertently played his part in everything that followed. After being deposed in a bloodless coup in 2006, Shinawatra would travel the world in his private jet seeking deals and power. The UK was one stop-off, but decrying the lack of a good barber he was soon on his way once more. He would later exile himself in Dubai, where he remains to this day.
The Road To El Dorado
And what followed all began for us fans on September 1st 2008. Behind the scenes, negotiations that had been going on for weeks were drawing to a close before due diligence was performed. Key to negotiations was a certain Amanda Staveley, who hit the headlines more recently with one of the many rumoured takeover proposals at Newcastle United, a club that themselves could have been owned by ADUG, had Mike Ashley bothered to turn up to an arranged meeting, so the rumour goes. Staveley, who once wisely turned down a marriage proposal from Prince Andrew, was a key negotiator in the weeks leading up to the takeover. She was also at the heart of tense negotiations between Sheikh Maktoum and his Dubai International Capital (DIC) investment vehicle, and the American owners of Liverpool football club at around the same time.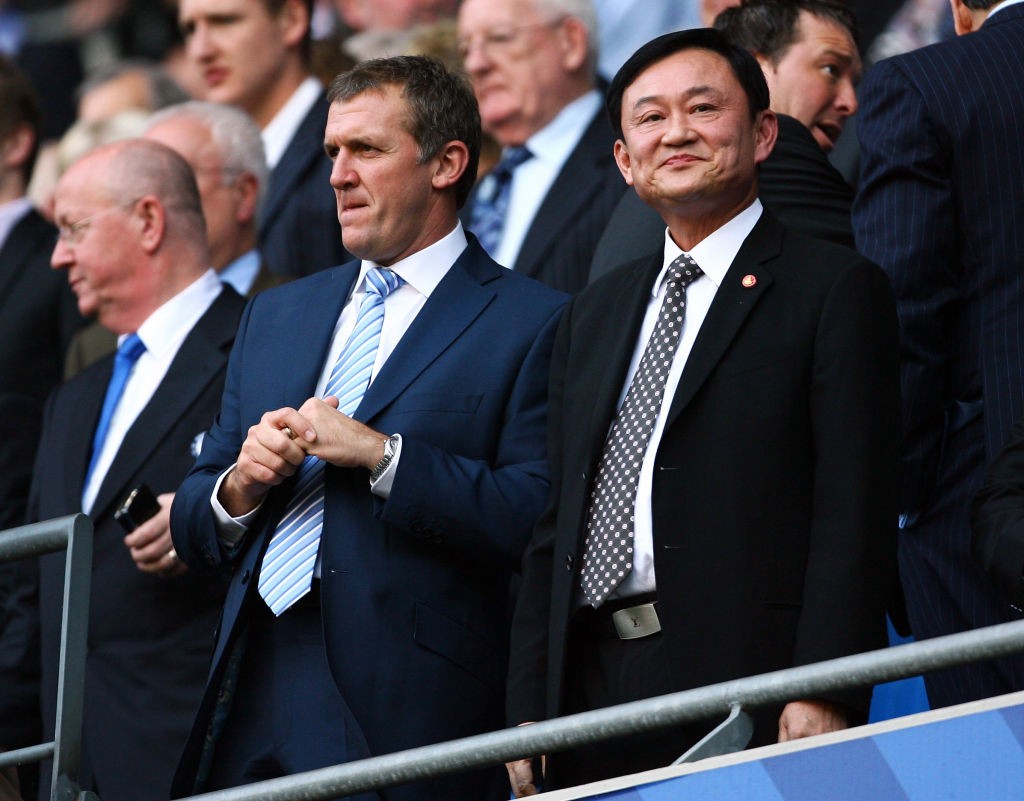 (Photo by Alex Livesey/Getty Images)
Key too was one Garry Cook, City's CEO for the previous season, the man who would help lead the club to the promised land, but managed to antagonise a few City fans along the way. Introducing Uwe Rosler into the Manchester United Hall of Fame at a function did not help, nor describing fugitive Thaksin Shinawatra as a "nice man to play golf with". An email gaffe involving Nedum Onuoha's mother eventually did for him in 2011, but his role in City's rise should not be underestimated, and was sorely missed by staff at City long after his departure.
The book The Club, by Joshua Robinson and Jonathan Clegg has chronicled the takeover process in one of its chapters. Some of its details are certainly open to debate. According to the segment on City, in a meeting room at the City of Manchester stadium on August 24, ahead of City's opening home fixture against West Ham, Cook delivered a 45-minute presentation that lay out why buying the club made sense. The £150m price tag was incidental, he told Staveley and Ali Jassim, the third person involved in negotiations. Ali Jassim was Sheikh Mansour's "man", a close adviser. That same year Staveley would earn £30 million for her role in helping to secure Sheikh Mansour's £3.5 billion investment in Barclays in 2008, a deal on which Mansour later made a profit of more than £3 billion. As for Shinawatra, he was advised not to attend the match, his safety not assured. His seat was left empty. It was just two days earlier that the Guardian had reported that he was open to offers on the club. The truth was, he had been for a while.
We blues knew nothing of this. The morning of September 1st began with the usual fears for our club on transfer deadline day. Our concerns had always been modest and rather depressing, with hindsight. Would we finally get Mido? Would Benjani fall asleep in the airport? More importantly on this particular day, why were we selling Vedran Corluka? He was slower than the half-time bar service, but he could play a bit. But like Shinawatra, he was just passing through. Despite the previous season's shenanigans, there was plenty of optimism though among the ranks. A few even suggested that not much work was needed as this was already a team of potential. OK, a couple did.
The potential was definitely there though. The last line up before the takeover was Joe Hart, Vedran Corluka, Richard Dunne, Michael Ball, Stephen Ireland, Did Hamann, Michael Johnson, a certain Vincent Kompany, Shaun Wright-Phillips and Jo. Some guy called Pablo Zabaleta had arrived too, to compliment the returning hero that was Shauny Wright, Wright Wright. The City fans that had travelled to Denmark were dancing in the streets of Midtjylland pre-match as news filtered through about a returning hero. Add to that list Jo, who was City's record signing, and a Brazilian record signing had to be good, right? There was a need for further strengthening, but we'd seen much worse squads than this. The spree of the previous summer still gave us hope.
September 1st 2008: Mid-Morning Matters
So the thought that morning was that with a canny deal or two on the final day, preferably a striker, there was plenty to look forward to. City had two successive 3-0 wins under their belt, and had European adventures to cherish at last.
And then.
And then……..
And then an innocuous thread was started on the Bluemoon forum, by marco.
Titled "somethings going on" it stated simply: dont know what but we aint going to be disapointed
Danish blue speculated if he meant something weird like winning an away game in the league? A mooted move for Thierry Henry was shot down by one poster as he did not like his attitude. Another poster suggested Robinho as a better fit. Michael Owen links caused nausea with a few others.
It was all very vague, and to be honest scepticism abounded. But we did not have long to wait. Later in the morning, the news dropped in the mainstream media. The club was subject to a takeover from a UAE investment group. It seemed a deal was not only likely, but imminent. In fact an Arabian business site had usurped the UK media with all this news, but it seems none of us noticed in those days.
The City manager Mark Hughes was playing in the academy's golf day at the Marriott hotel in Worsley, when calls started to come in telling him that Sulaiman al-Fahim had announced an Abu Dhabi takeover of the club. Sky News arrived on the scene to probe him for details, but he seemed as much in the dark as the rest of us.
But an alternative drama played out on Bluemoon and other internet forums as the news sank in – as its magnitude sank in. After all, one spokesman from Arabiannews.com described the owner's wealth as Chelsea x 10. One poster exclaimed that we were richer than in our wildest dreams. Or, more to the point, our football club was. The club that had no doors on toilet cubicles and gym facilities that you wouldn't pay £1 a month for. The gym was ripped out within weeks of the takeover. As news filtered through, there was much discussion about the source of the funds, a discussion that you may have noticed continues to this day. There was only one issue that needed clarification though – would the takeover mean Corluka was not leaving as rumoured?! A Stoke fan chimed in, commenting that he wouldn't mind taking Sturridge off us. Corluka had gone, but we soon forgot about that.
The day progressed, and the giddiness rose and rose. Work duties were abandoned. There was a lot to take in. There was caution too – after all, no official announcement had been made, and it could still go horribly wrong. This was Manchester City after all. A club where players hold the ball in the corner when they need to score to avoid relegation. But fans were already celebrating, most notably those who had gone to the ground, including a few with tea towels on their heads cavorting behind the Sky Sports presenter. He probably hadn't envisaged a day like this when his alarm clock activated earlier that morning. None of us had.
And then the confirmation we craved, from the club itself.
Manchester City can confirm that a Memorandum of Understanding has been signed between the Abu Dhabi United Group (ADUG) and Manchester City Football Club. A period of due diligence for all parties, including the FA Premier League has now been entered. A further statement will be released by the Club in due course.
It was ON.
Nothing would ever be the same again.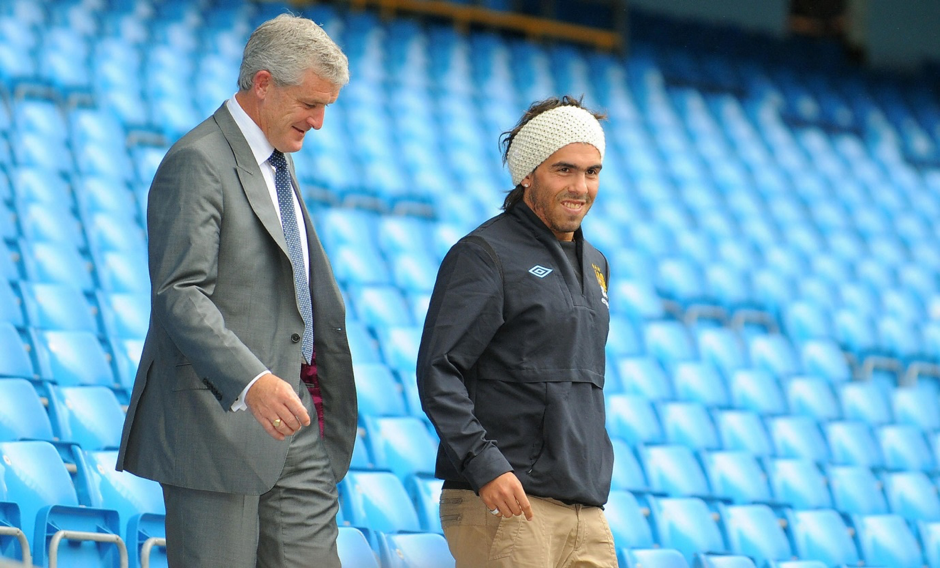 (Photo by Andrew Yates/AFP)