The Curious Case Of Manchester City At Old Trafford
By Dan Larsen | 09 January 2020
Dan examines City's excellent record at Old Trafford.
(Photo by Andrew Yates/AFP)
It used to be one of the most intimidating places to play in world football, on par with the reputation that's associated with Anfield now. Yet, the mystique associated with playing at Old Trafford seems long gone, especially for Manchester City. City cruised to a comfortable 3-1 victory on Tuesday night in the first leg of their semi-final match in the Carabao Cup against Manchester United. That victory continued a trend of City getting the better of their rivals on hostile ground, a trend that's run nearly a decade now.
Starting with their famous 2011 league win there, City have now won seven of their last ten trips to Old Trafford across all competitions. Six of those wins have come in the Premier League, including two of which played a critical role in deciding title races in 2011-12 and 2017-18. Things didn't use to be this way when City travelled across town for the derby. Prior to their win there in the autumn of 2011, the club had won just once when travelling to the red side of Manchester after a league win there in April of 1974, even accounting for both league and cup match-ups. Though City were able to muster some draws against their chief rivals there, they found that getting more than that result was a near impossible task.
The perception and reputation of City being the "little brother" to United, a widespread view at the beginning of the last decade, was fueled, in part, by the Red Devil's ability to win whenever the two teams met, especially at the "Theatre of Dreams." Moments, like the Wayne Rooney bicycle kick in their Premier League match there in 2010, were what demonstrated the gulf in success between the two sides. It showed, to United fans, and everyone else outside Manchester, that United "owned" the city. What changed the dynamic of the rivalry, however, was that fateful autumn day in 2011. In a match-up of the two teams expected to slug it out until the final games for the Premier League title that season (something that would end up proving true), City laid a 6-1 thumping on United. They stunned their opponents and everyone else watching that day. It was an absolute demolition job by City at both ends of the pitch, leading to a tie for the biggest winning margin either team has ever managed in a Manchester Derby. The margin they won by that day ultimately proved to be decisive in the title race.
That 2011 game appears to swung the pendulum of power firmly to the blue side of town, something City have, with few exceptions, failed to relinquish since. Manchester United have seen the blues come to their home fortress, in nearly every match since that day, and continue to run them off the pitch with their play. Here are City's results at Old Trafford, in order, since their 6-1 win there in 2011: 2-1 win (April 2013), 3-0 win (March 2014), 4-2 loss (April 2015), 0-0 draw (October 2015), 2-1 win (September 2016), 1-0 loss (October 2016 in the League Cup), 2-1 win (December 2017), 2-0 win (April 2019), 3-1 win (January 2020). Some of the score-lines from those results fail to show just how big the gulf in class was between those sides in City's wins, especially their recent ones. City have thoroughly controlled the past three matches they've played at Old Trafford. If not for some brief moments of sloppy play at the back, and some bad misses at the other end of the pitch, City could have easily found themselves winning by four or five goals in each of those three games. The gap in talent and play between the two teams couldn't have been starker.
What's been baffling about this incredible run City are on at Old Trafford, though, is that they've actually been WORSE at home in derbies during that run than they have been on the road. In the same period that City have gone 7-1-2 at Old Trafford across all competitions, they've managed to go just 4-1-5 at home against United, including a 2-1 loss in the Premier League just a few short weeks ago. Having a losing record at home in derbies, while winning almost every game at Old Trafford, is quite an anomaly!
How long City can keep up their good run of results when they travel across town remains to be seen. However, there's no doubt that the blue side of Manchester has been getting the better end of their rivalry as of late when playing United in their friendly confines. We'll see if both trends continue when they face off again soon.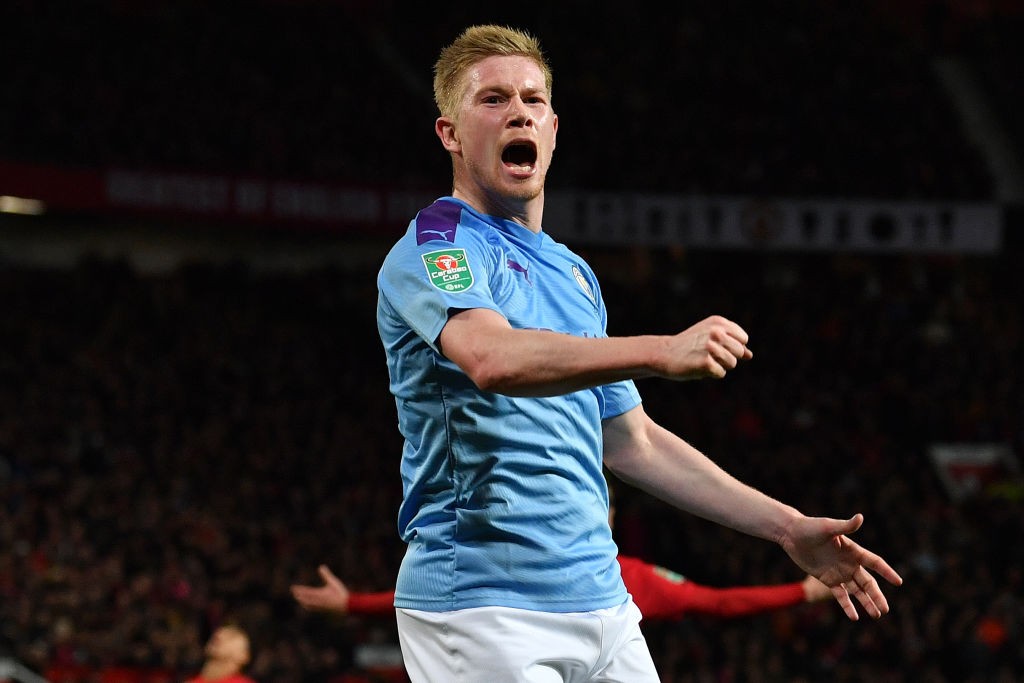 (Photo by Paul Ellis/AFP)