The 93:20 Podcast Mailbox - Your Favourite "Forgotten" Goals
By Howard Hockin | 17 March 2020
A selection of our followers recall their favourite "forgotten" goal
In our first ever mailbox here at 93:20, we decided to set a topic as there was no actual football to talk about. So we asked our Twitter followers three simple questions, and here are the answers we received to the first: what is your favourite "forgotten" City goal?
Callum Hadley
I have a few for this one.
Michael Johnson's goal against Derby (1-0), not only a lovely goal but our first at home for 227 days. I was about 7/8 when Johnson scored this goal and ran into school the next day to tell my friends about the player who was going to be better than Lampard & Gerrard combined (I probably cursed him).
Shaun Wright-Phillips goal against Portsmouth (6-0), first time I ever saw City really take a team apart. Emphatic finish from Shaun from an angle Sergio would be proud of. His homecoming brace away at Sunderland also deserves special mention.
Samaras against West Ham (2-0). Can't put my finger on why, just a nice goal to watch!
Karl Florczak
Paulo Wanchope's header vs Newcastle at the Etihad, tail end of 2002-2003 season. Saved us from the threat of relegation in our first season at our new, shiny home. How 'Typical City' would *that* have been? Atmosphere that day was electric. The sense of relief when that header flashed in was palpable.
Dan Mertcalf.
Jim Melrose – 1984 v Notts County.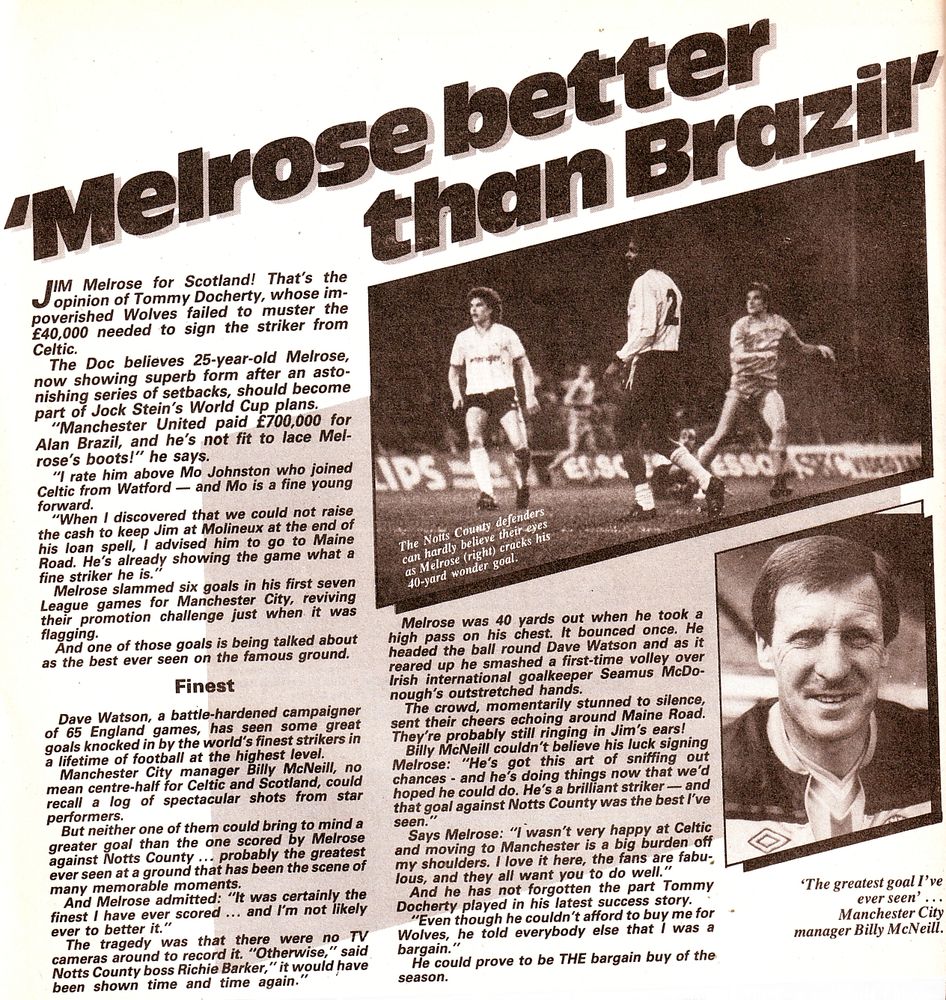 Bobby
Steffen Karl 1994 – Southampton (away)
Match report: https://www.independent.co.uk/sport/football-karls-late-show-calms-city-nerves-1368066.html
Lee Glynn
Andy Hill header from the left-hand side of the box v Nottingham Forest. He was right back, so it was one of those "wtf is he doing there?!" type of goals.
https://www.youtube.com/watch?v=O2n05OiBf5M
Gareth Norris
Alan Kernaghan's 40 yard "chip" in 1994.
Marvel at it here: https://www.youtube.com/watch?v=1AKqsEuTx_I
Sam Fisher
Shaun Goater v Notts County (away) – 1999
If he hadn't have scored that goal, I never would have seen us do what we have done since. The only time my uncle has ever turned to me and gone ' I can't do this anymore'. I still remember the speech:  'look you have a choice here, you can choose City, you'll see us play most weeks, but you're going to see us win nothing, although you'll feel a part of something. Or you can support the other lot, win everything but never get to see them play and feel no part of what they do'. As he said it he stood up in the 90th minute and went I can't do this anymore, we got a corner in the last seconds of the game and stood on the stairs near the exit, we watched one last corner that Goater scored from. That was the day City became more than a passion.
Dan Smith
Ali Bernarbia scoring his first Premier League goal against Tottenham at Maine Road. Not a particularly memorable goal in a game we lost 3-2, but it was really well worked and so smoothly finished. It's always stuck in my mind. 2002/03 was the first season that I'd really started following City. A fandom I casually picked up from my uncle when I was about 14 and he bought me a City shirt for Christmas turned serious when I finally had access to games on subscription TV in the early 2000's. I really loved that team, from Anelka to Berkovic, Bernarbia, SWP, Goater and the rest. They all had personality that you could get behind.
https://www.youtube.com/watch?v=KNzewq81Fqk
John Rogers
March 1968.
Away at Old Trafford for an end of season game, a rearranged Manchester Derby with both teams at the top of Division One. Stood in the lower section of the United Road Paddock when George Best escapes and scores early to give them an early lead. All around burst into euphoric chants of "Georgie, Georgie, Georgie."  Colin Bell equalises and then George Heslop powers a header past Stepney to give City the lead. Heslop didn't score many but City fans singing his first name with vigour filled the stadium with a familiar chant, but from a Blue perspective. A City centre-half scoring a header in an end of season derby to set up a title chance run in – never thought I'd see the likes of it again!
Les Daly
My favourite forgotten goal has to be Paul Power's curling strike in the semi-final of the F.A. Cup at Villa Park in 1981. We'd managed to reach both cup semi-finals whilst courting relegation under the guidance of John Bond with a mixture of youth and old headed mercenaries such as Gerry Gow and Tommy Hutchison to name but a few. We'd felt robbed by refereeing decisions over 2 legs in the League Cup against Liverpool, so this was our last chance to reach Wembley. We'd drawn Ipswich who were chasing the treble with a team full of household names and internationals. As expected we had to battle and ride our luck with goal line clearances and timely blocks et al, but somehow we managed to force it into extra time. It was in the first period of extra time when we were awarded a free kick a couple of yards outside the box, Power who'd scored in every round but one took the short pass from MacKenzie and curled it high into the top corner, and as they say the rest is history.
Derek Kilgallon
17th December 1969, League Cup Semi Final Man Utd v Man City, 2nd leg at Old Trafford.
Francis Lee indirect free kick which Alex Stepney decides to palm out to Mike Summerbee who rams home to make it 2-2. City win 4-3 on aggregate.
Chris Booth
Hatem Trabelsi – Man United 3-1 Man City
As a kid growing up, the Manchester derbies were the biggest game of the season and so if you scored against them, particularly at Old Trafford, you were etched firmly into my memory. My favourite forgotten goal is from Hatem Trabelsi. We lost the game but when a right-back, average at best, squared up Rio Ferdinand, chopped onto his left foot and smashed the ball in off the bar vs Van Der Sar, my teenage mind was blown.
Oli Coulson
When you hear someone mention QPR at home 2011/12, you think of the Aguero moment. Every commentator dreams of having a line so defining, but it would never have happened without the other Argentine in City blue that day, Pablo Zabaleta. Everyone remembers Aguero, and many will go to lengths to point out Dzeko's towering header 2 minutes earlier, but Pablo Zabaleta's beautiful dipped effort in the first half is where every Manchester City fan knew for certain the Premier League was getting sky blue ribbons for the first time, before a second half that could've ruined it all. Pablo Zabaleta, THE man!
Chris Semple
Nasri vs Chelsea, 2012. Carlos Tevez had literally minutes earlier returned from exile when he turned in a tight area to play a sublime reverse ball in to Nasri, who made Petr Cech look foolish. The noise when that goal went in is one of the best that the Etihad has ever experienced. For large parts of that game we looked down and out, but in the end I think we partially won the league that day.

Tom Potts
The 1981 FA Cup Final replay – everyone remembers Ricky Villa's goal, but Steve MacKenzie's was at least its equal because of the technique needed to control the shot. Villa just got lucky as he stumbled through the weak challenges.
Simon Mullock
Kazu Deyna's winner against Nottingham Forest in 1979. Forest had just won the European Cup and would retain the trophy. They had lifted the title in 1978 after being promoted the previous season and were winning cups under the genius Brian Clough that City fans believed would be coming to Maine Road after a second-placed finish in 1977 and the £300,000 arrival of Mike Channon.
It didn't work out that way. City would finish that season just six points above the relegation zone under Malcolm Allison and were humiliated by Halifax in the FA Cup.
Forget winning the derby, beating Forest was the highlight of the season for me. Only one word can describe the scenes when Deyna fired a late winner past Peter Shilton at the North Stand end: limbs.
TraVerse
Jim Melrose – v Notts County at home in 2-0 win in mid-80s. Incredible volley on the half turn from the half-way line. It was during a dispute between Football League and BBC & ITV, so there were no cameras in the ground to record it.
Neil
Carl Griffiths vs Ipswich, Maine Rd, 1994 – meaningless and not an amazing finish but in the pre-Kinkladze era, probably the first but of 'world class' skill I saw at Maine Rd. Rocastle teasing the ball towards the opposition players before bursting at down the wing and swinging a pinpoint cross for an easy finish by Griffiths.
Craig Oddie
Emile Mpenza scored a few important goals for City under Stuart Pearce. The narrow win at Newcastle was vital in us staying up that god awful season.
Mark Meadowcroft
Kevin Horlock vs Gillingham 30.05.1999 and Edin Dzeko vs QPR 13.05.2012. Both finishes – particularly Horlock's which was a real test of technique under pressure, are under-rated, but both are also followed by the most important goal (non) celebrations in the history of Manchester City.
The ball was gathered back immediately, and while Horlock puts his head down and runs back purposefully to the centre spot communicating that yes, there is time, Dzeko positively sprints, gesticulating to his team-mates. We know what happens afterwards but these goals are of equal value to what followed. Without them, Dickov and Aguero would have scored bitter, useless consolations. Both goal scorers are rightly revered. They had other great moments – there is a blog to be written comparing Horlock's to pass to Goater for him to equalise at Blackburn in 2000 to David Silva's through ball to Dzeko at Old Trafford in 2011 – but these are the moments from which legends are created.