Super City From Maine Road: An Ode To Football Grounds
By Howard Hockin | 31 October 2019
(Photo by John Chillingworth/Hulton Archive)
Night games were always the best. But they were better at Maine Road not because it was a better ground than its successor, but because it was hidden. Hidden in the middle of a maze of terraced houses and dark, dank alleyways. Better because you were not overloaded with football in "those days". You could sense the ground, because there was a huge light source casting shade somewhere in the distance, like a UFO rooted on a forest floor. The floodlights were massive, after all. And then you'd turn a corner, and there it was. The ground as you always saw it, according to the direction you approached it from. Maybe the Kippax looming large behind the brick turnstiles. Or the main stand and entrance in front of the forecourt. Better too because I was younger, and despite nostalgia clouding how good things really used to be, a night game was less of a chore, once the white dog poo had been wiped off your soles on a kerb.
Have you ever stopped to consider why it is that you love football so much? What is it that means the result of 22 people (plus subs) kicking a ball around on a patch of grass can make or break a weekend? Why can this sport supply you with some of your greatest moments and so many gut-wrenching lows? Is it the sport itself that excites you more than a game of tennis or watching cars go round a track? Is it the accessibility of it that made playing it growing up so easy, so much fun? Jumpers for goalposts, rush goalie, 3 and in. Is it the football itself? After all, who can resist the thrill of kicking a football?
But just maybe there's another reason that the beautiful game, the biggest sport on the planet, enthrals so many of us. Just maybe part of the charm, one factor that makes starry-eyed kids devoted for life, is the sporting arena itself – the football grounds in which games are played. Try and collate all your footballing memories. Thoughts will turn to classic matches, memorable days at Wembley, favourite players, the lows of relegation, the key moments down the years. For me though, some key memories did not occur on the pitch. Some memories are not footballing moments at all. They are structures.  There was the first time I walked out the concourse and saw Wembley laid out before me in 1999. What a dump, but it was Wembley, it meant something. It meant A LOT. The symbolism of hearing Abide with Me played before MY team played there. Leaving Maine Road for the final time, and the emptiness I felt that day as confetti blew through the emptying stands. Taking my seat number with me, one tiny memento of 25 years of my life. The misshaped Maine Road stands. The Gene Kelly Stand, and my guilt at chuckling at its inhabitants on a rainy day, decked out in cheap macs. The cantilever roof. The massive floodlights. Outside toilets. And of course the Kippax.  The preferred position in the ground: behind the goals or down the side? Low down or in the gods? Entering the Etihad for the first time, and marvelling at this modern new structure, and beginning to understand why we'd moved.  Ticking off a new ground, or ticking off all 92 football league grounds.  The goose bumps of walking past a ground during a match. The Lowry-like procession of people shuffling towards our sporting place of worship. And often shuffling away.
Some struggle to let go. It's why a rusting blue seat can be found in many a Manchester back garden. Why I have an oil painting of Maine Road up on the wall. After Maine Road closed its doors for the final time, there was an auction for pieces of the items that remained. Prized memorabilia on offer included the boardroom table which fetched a modest £460, the gates from the players' tunnel (£40, if you're wondering), the front doors to the stadium, the City squad's dressing-room door and the door to the manager's office. That's a lot of doors. And some seats of course. And partly it's because every sporting arena in the world is unique. It also looks different to anywhere else, even the identikit stadia. Especially from the air. After all, who doesn't like a nice aerial shot of a football ground? Who hasn't got a little bit giddy looking out of an airplane window as a stadium drifts by underneath? OK, maybe that's just me. There's just something captivating about seeing a stadium. A ground. An arena. An amphitheatre. Call it what you wish, though I'd prefer it if you avoided the last two. This is why I still gaze longingly at Walsall's humble Bescott Stadium every time I'm approaching Birmingham on the motorway. Beats looking at the RAC building. It's why no foreign jaunt is complete without spotting a few new grounds. Do we really go on club tours to look at trinkets and cups? You've seen one, you've seen them all. No, you want to experience the ground itself, and breathe in its history. It's why the opportunity to visit the San Siro for the final time this season really means something to so many. A football club is a part of its city or town's fabric, and thus by natural extension, so is the ground. It is why Coventry City playing in a different town or the birth of MK Dons goes against everything fans tend to stand for. Why American franchises, sold off to the city with the best inducements, involve sports I could never embrace.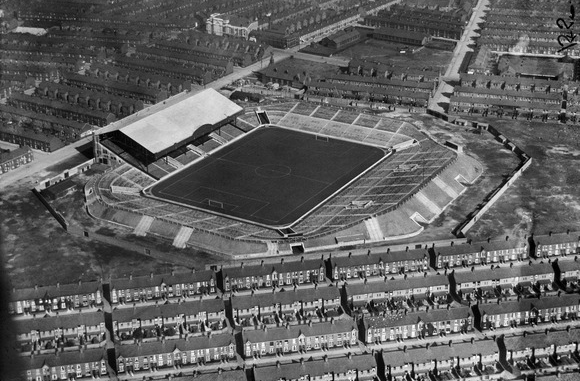 (Photo courtesy of Historic England)
I've written before about how even an empty stadium can captivate me. How I have sat in many a boring meeting daydreaming, staring out at an empty pitch, visualising a spectacular volleyed goal, curling free kick or fingertip save. The bright green turf, the stands rising up around it, and the work that goes in daily to making it ready for match-day. But for every football fan in the world, the home ground of their team is special. It's why moving is such a painful and emotive experience. Read how Sid Lowe in The Guardian describes the lead-up to the recent Basque derby: "As much a portal as a street, Pozas is narrow, noisy, tight with people, a pace and direction of its own. On either side, every other entrance is a bar, flags hung over doorways; at the end, the football stadium rises in the sunset, drawing you in irresistibly but without hurry as if there's no way out, nowhere else you could possibly go and nowhere else you would want to go either, especially not today. The Cathedral, they call it." The Cathedral. It's got a better ring to it than The Emptyhad. But comparing grounds to places of religious worship makes sense, the masses converging on one place to pray and seek contentment. The ground represents a club's and its fans' identity. Just look at architects' descriptions of new stadium plans, from the Allianz to the abandoned new Stamford Bridge. It would have used brick and reinvented it for a stadium for the future. It represents its surroundings, the locality. It's why Bury's groundsman has kept the pitch mowed and maintained since the club lost its fight to stay in the Football League, as winding up orders are processed through the courts. Many are giving up their spare time in the hope that one day soon the pitch will witness football matches once again. Matches played by Bury FC.
Names too are evocative, hence the chill at a sponsor's name attached to a ground. For new grounds it can be endured, but for historic grounds, less so. Not all names are evocative as a result. Livingston's Tony Macaroni Stadium has been jokily renamed the Spaghettihad. And the less said about the Theatre of Nightmares down the road, the better. You may prefer The Swamp, but that has been the home of the University of Florida Gators football team since 1930 (The Ben Hill Griffin Stadium). But a name alone can evoke memories and thoughts of historic events.
So what makes the perfect football stadium? It needs character, but it needs to serve its purpose too for all that enter it. The right size for its fan base, the right mix between modernity and classical features.  The Royal Exchange theatre in Manchester is a beautiful place. And its designers, who got to work after the original was somewhat dented by an IRA bomb, ensured that no seat was more than 9 metres from the stage. This is a principle that a perfect football stadium should adhere to (more than 9 metres is acceptable though). The perfect football stadium does not have a running track around the pitch. The perfect stadium allows all fans to feel connected to the action. This is why West Ham's London Stadium is beautiful but not right for football. It's why the City of Manchester Stadium was more suitable from 2003 onwards by adapting itself for a single sport. And when architects get to work on a new design, a new stadium, their brief will always contain certain provisos. A ground that connects. Connects to the fan base, connects to its surroundings, to the history of the club and the local community and area. The perfect ground has a standing section, ideally covering an entire stand behind a goal. It has good transport routes, it keeps the bad weather away, it surrounds itself with facilities for the match-going fan. It has character, which is subjective, but is probably best achieved by linking to the club's history. But maybe you can't list how to make the perfect stadium. Maybe it's not possible. Maybe it's just your stadium, the one that your team plays in. That's why it's perfect.
The wholesale migration of clubs to new grounds was probably necessary to ensure a better environment for those that go to matches. It is also often pushed as a necessity for a club to "push on", to move to the next level. It's a sign of ambition and a brighter, shinier future. City are the perfect example of this. But we all know you lose something, something of your club's identity, when you move to a new ground. You are creating the ground's history from scratch. Many a City fan will talk about the excitement of going back to Villa Park this season, a proper ground, somewhere top of the list for away fans. But why? The ground itself is nothing special anymore. It shows its age, and the last time I visited for an FA Cup match a couple of years ago, the cramped concourse was a death trap. But all that rather misses the point. You would never design a new stadium in the mould of Villa Park, but as an old ground it retains its history, and has its stories to tell. It's where I catapulted down four rows after Micah Richard's last-gasp equaliser as 17 year old in the FA Cup. It has a million other stories for other people. It's about history, and about character. You can't just replicate the Holte End in a new stadium.  That's why Wembley, which has an allure because of what it represents and what it has been, has not got the modern stadium quite right. That's probably because it is a very expensive stadium designed to recoup the large amount of money it cost to build. It is designed as a cash cow, as illustrated perfectly by the corporate ring around the ground that divides sets of noisier fans.
But whatever, because a sporting arena should be cherished whatever its circumstances. It's where the history is formed, where memories are made. It's the focal point of every football club. It's where we've all experienced every emotion known to man (and woman). Some good, many bad, but that is what we signed up for. Where I made friends for life, saw things I thought I'd never see, and drank it all in.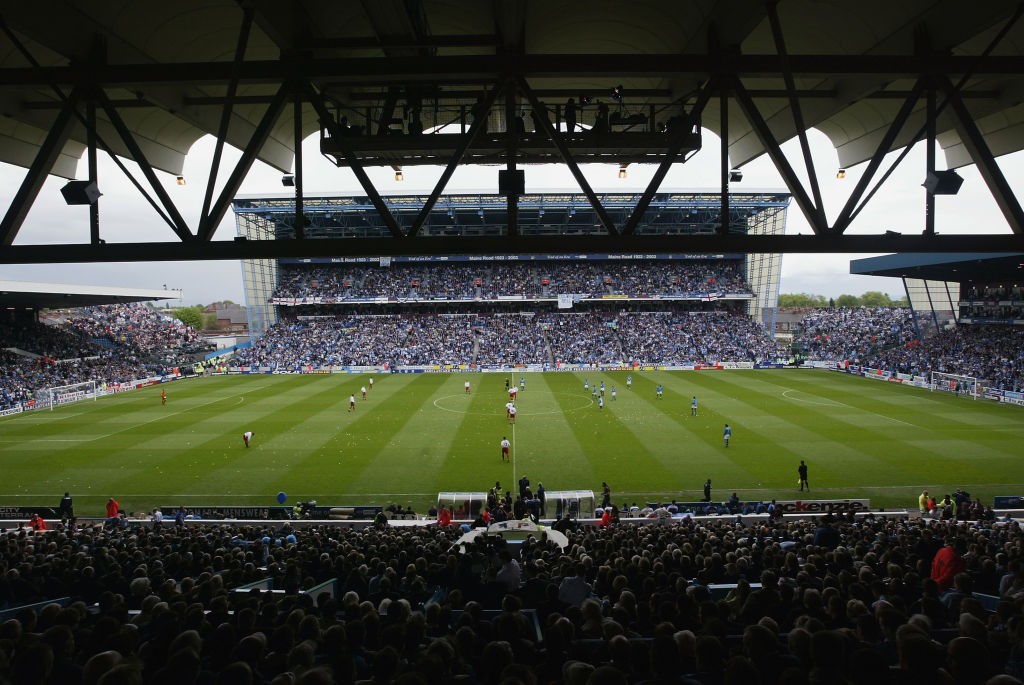 (Photo by Alex Livsey/Getty)