Seeing The Wood For The FFPs Part Deux - The Double City Do Not Want.
By Stefan Borson | 19 February 2020
In Part 2 of his analysis, Stefan examines the previous agreement between City and UEFA.
(Photo by Andrew Yates/AFP)
UEFA's announcement of City's ban on 14 February 2020 confirmed (for the first time publicly) that the Adjudicatory Chamber had held its hearing on 22 January 2020. Coincidentally (….what?), on the evening of the very same day, David Conn ran an exclusive and highly detailed piece entitled "Revealed: the scale of Manchester City's FFP breaches before 2014 UEFA deal" (https://www.theguardian.com/football/2020/jan/22/manchester-city-financial-fair-play-breaches-2012-13-accounting-sponsorships-uefa-champions-league). In the article, Conn revealed the details of the status of the negotiations between City and UEFA in the lead up to the signing of the 2014 settlement agreement. Conn also stated that the Adjudicatory Chamber was hearing the charges made against City that week. We now know, in fact, it had already heard them that day.
In summary, Conn detailed that in the lead up to May 2014 when the 2014 settlement agreement was signed between City and UEFA:
UEFA had concluded City had made losses totalling approximately €180m in 2012 and 2013 (vastly exceeding the €45m FFP maximum deficit allowed);
City's submissions for the 2012 and 2013 financial years were questioned in relation to £118.75m in sponsorships from companies in Abu Dhabi;
PwC, UEFA's investigating consultants, concluded Etihad, Aabar and Etisalat were "related parties" to City because Sheik Mansour was the chairman of the investment funds which owned them. City rejected this arguing UEFA needed to show Mansour had substantial influence over their management, not just that he was the chairman of the funds owning them;
UEFA had asked specialist sponsorship consultants to consider whether the money being paid to City by the Abu Dhabi companies was "fair value" (in other words UEFA worked on the basis that all were related parties). The Etihad deal is thought not to have been considered too excessive even where considered on this, worst case, basis; and
PwC added £31m to City's deficit after rejecting allowances City had claimed for the cost of players signed before June 2010 and a further £28m was put on to the club's deficit by PwC regarding the formation in January 2013 of two companies, City Football Services and City Football Marketing.
In the 2014 settlement agreement, according to Conn, City committed "not to seek to improve" the value of two of the secondary sponsorships, which were not named, and UEFA agreed not to press the argument that the companies were related. City also undertook to repay €20m from the 2013-14 Champions League revenues, have a European squad limit of 21, constrain transfer spending, not increase their wage bill until 2016 and make a maximum €30m loss for 2014 and 2015. So forensic and extensive were Conn's disclosures that it is surely reasonable to infer the matter had been briefed to him by a party other than City itself.
Either way, it represents the best public record of the circumstances in which the 2014 settlement agreement was entered into and clearly shows those areas of future compliance to which consideration would have been given before entering into the settlement. In short, to use its own terminology, UEFA believed then that City's "sponsorship revenue in its accounts and in the break-even information submitted to UEFA" was overstated. Indeed, according to Football Leaks (eg https://theblacksea.eu/stories/football-leaks-2018/ffp-eastern-europe/) UEFA encouraged the settlement from the very top despite being fully aware of the scale of the alleged (but disputed) breach: "In the case of Man City, Infantino brokered yet another settlement. On 8 May 2014, he travelled to London to talk directly with Man City's CEO, Ferran Soriano, in what the businessman described as "a 'secret' meeting in London to try to agree the final deal." When approached by EIC to explain this discussion, Soriano did not respond to requests for comment. Infantino denied being involved in secret negotiations: "No, No," he said, "I was involved in the concept, the rules and so on," In a written response later, FIFA answering on Infantino's behalf, said the purpose of financial fair play was to "improve standards of financial management in European football, to reduce indebtedness, and to help clubs operate on the basis of their own resources, so they can be run as stable and sustainable businesses." In this regard it has "been an economic success story for European football."
Despite CFCB investigators determining that Man City's contracts with the Emirates cheated the Financial Fair Play rules, by saving the club from a €233 million deficit, it still put a deal in place that let the club keep taking sponsorship cash above the permitted level. But both sides agreed to limit the financial doping to €26 million per year above the contracts' real price. This, too, was kept secret."
Commercial View
By all accounts, City disagreed with UEFA's analysis but took a commercial view and entered into the 2014 settlement agreement. On 21 April 2017, UEFA announced: "The CFCB Investigatory Chamber confirmed that … Manchester City FC [and PSG] …. whose settlement agreements were signed back in May 2014, have fully complied with all the requirements and overall objective of their agreements. Consequently, they have all exited the settlement regime." City also received a formal notice of this position. It is already clear from "CAS 1" (as it is pejoratively described by some) that City argue that this was a final and binding decision and closed the chapter on the 2014 settlement agreement and those matters it covered. UEFA has not, at least not publicly, retrospectively alleged that the 2014 settlement agreement was in fact breached and there has been no public suggestion that UEFA's case relates to overturning its binding closure of the settlement regime in 2017. Conn's article referenced a spokesperson for City stating: "The 2014 settlement agreement resolved all open matters between the parties and was based on comprehensive information disclosure. The settlement agreement contains confidentiality provisions that prevent Manchester City from commenting on both the agreement and the investigation that it settled."
During the monitoring period, it was open to UEFA to find that City had failed to comply with the 2014 settlement agreement. Indeed, UEFA did just that in one of the other settlement agreements entered into on 16 May 2014 which was the subject of follow on sanction by UEFA – Galatasaray's. On 18 January 2016, the Investigatory Chamber referred Galatasaray to the Adjudicatory Chamber for breaching its settlement.  https://www.uefa.com/MultimediaFiles/Download/OfficialDocument/uefaorg/ClubFinancialControl/02/34/35/81/2343581_DOWNLOAD.pdf). The Adjudicatory Chamber ultimately upheld the recommendations of the Investigatory Chamber after a formal hearing and found that Galatasaray had breached its settlement agreement and banned the club from one season of European competition. Galatasaray appealed to CAS on 11 March 2016 and on 23 June 2016, CAS announced it was upholding the Adjudicatory Chamber's decision and dismissed the appeal (https://www.tas-cas.org/fileadmin/user_upload/Media_Release_4492.pdf). This is an interesting example of the possible timetable City can expect.
Questions Remain
All of this begs the question how this has got so far because the precise allegations relating to vastly overstated sponsorship contracts were already understood by UEFA in May 2014 before they entered into the 2014 settlement agreement and before UEFA released City in April 2017 from the settlement regime. That is not to say breaches of FFP in the periods before 2014 didn't occur, just that whether they did or not, they have been dealt with by UEFA in the 2014 settlement agreement. Furthermore, it is beyond reasonable doubt that UEFA's monitoring in the subsequent periods would have taken account of its pre-settlement view of City's sponsorship contracts and finances.
Whilst the hacked emails made for interesting reading none of them appear to have actually introduced any new areas of suspicion to UEFA or its consultants. As in any litigation/dispute, there is no requirement on the parties to hand over every possible relevant document. Instead, detailed rules in each territory require a different disclosure regime but almost always they require parties to swap documents from a proportionate search of certain key figures with legally privileged documents remaining private and confidential. In other words, hacked/newly found emails in themselves make no difference to the enforceability and binding nature of a historic settlement agreement. We know that City were found to have failed to co-operate with UEFA but we will have to await details of what this amounted to. In the absence of any detail about the Adjudicatory Chamber's consideration of "all the evidence" (as UEFA described it in its 14 February 2020 announcement), a review of the Adjudicatory Chamber's historic judgments highlights its typical process and, clearly, extensive deliberations. A body of the Adjudicatory Chamber decisions can be found on UEFA's website (https://www.uefa.com/insideuefa/protecting-the-game/club-financial-controlling-body/). (NB: Presumably, because the Adjudicatory Chamber's decision in PSG was overturned, the decision was never published. None of the May 2014 settlement agreements (City, PSG, Galatasaray etc) are listed either).
Historical Cases
Each Adjudicatory Chamber decision states that, pursuant to Article 20(1) of the Procedural Rules, the club in question was invited to submit its written observations. Some clubs such as FK Vardar submitted nothing leaving the Adjudicatory Chamber to make "uncontested findings". Others such as Levski Sofia only requested a time extension. Galatasaray made full submissions and presented arguments in person at a hearing (albeit to no avail).  It would be surprising if City failed to make any submissions to the Adjudicatory Chamber although that would explain both the accusation of a lack of co-operation and have led to uncontested findings. But such a move would have been petulant, ill-advised and inevitably have led to a severe sanction. As such, it is surely the case that City gave the Adjudicatory Chamber its "observations". We don't yet know if City were invited to, or attended, a hearing in person on 22 January 2020.
City have steadfastly refused to outline any details of its defence but CAS 1, as I explained in Part 1 of this article, sets out some of the key legal arguments. It is likely those arguments formed the basis for the submissions made to the Adjudicatory Chamber. The Adjudicatory Chamber has heard similar arguments to City's before, for example in case AC-04/2018 Olympique des Alpes SA (Sion), the Adjudicatory Chamber (in rejecting Sion's claim) stated that "the rule of ne bis in idem is a broad principle aimed at protecting the finality and the stability of judgements." Ne bis in idem, translates literally from Latin as "not twice against the same [thing]" and is a legal doctrine to the effect that no legal action can be instituted twice for the same cause of action i.e. double jeopardy. It appears that Sion attempted to argue that a Swiss Football League disciplinary matter meant UEFA could not take action but this was rejected by the Adjudicatory Chamber. Broad application of ne bis in idem would clearly assist City but begs the question, again, how the Adjudicatory Chamber overcame this legal principle. Likewise, the legal concept of res judicata is also relevant. The Adjudicatory Chamber was asked to consider res judicata in AC-04/2016 FK Partizan although it did not find it applied in that case.
Res judicata is the doctrine which prevents a party from re-litigating an issue which has already been determined or settled. Typically, public interest in the finality of litigation/settlement favours a broad application of this concept even where fraud or concealment is involved by one of the parties. This presumption of the finality of the litigation/settlement is particularly so where such concealment was of a matter that was in contemplation or generally known to the other party i.e. it is not easy to overturn a legally binding settlement. CAS judgments have endorsed the applicability of res judicata and stated that it is to be determined by the triple identity test i.e. it applies only if the identity of the parties (UEFA and City), the subject of the matter (overstated sponsorship contracts), and the legal grounds (FFP) are the same. I would assert, as City no doubt already have and will again at CAS, that this applies to the 2014 settlement agreement. Both ne bis in idem and res judicata will be relevant at CAS and CAS 2015/A/4343 Trabzonspor v. Turkish Football Federation (TFF), Union of European Football Association (UEFA) & Fenerbahçe usefully set out summaries of both concepts http://jurisprudence.tas-cas.org/Shared%20Documents/4343.pdf.
In the match fixing case, CAS 2013/A/3256 Fenerbahce SK v. UEFA (https://www.uefa.com/MultimediaFiles/Download/uefaorg/CASdecisions/02/47/25/28/2472528_DOWNLOAD.pdf) CAS had to deal with some of these principles as summarised on page 35 of that judgment where it asked a) whether the legal principle of res judicata was violated by UEFA? b) did UEFA and the appealed decision violate the ne bis in idem principle? c) was UEFA estopped from instigating disciplinary proceedings against Fenerbahce because of an earlier binding decision? In addition, CAS was also asked to consider the merits of the case and the proportionality of the sanction. CAS set out useful guidance on the applicability of res judicata in its judgment and part of UEFA's case did fall away on this basis. The review of the applicability of the ne bis in idem principle is lengthy and detailed but given the close overlap between the subject matter of the 2014 settlement agreement and this latest matter (as far as we can tell from the public information), it seems likely to me that City will prevail on this basis. That is not to say UEFA will not make strong and well-articulated arguments to distinguish the 2014 settlement agreement and this new case.
In the KF Tirana case, the Adjudicatory Chamber reaffirmed that the FFP rules are underpinned by the principle that all clubs must be treated equally (in this regard, see also paragraph 100 of case AC-01/2016, Galatasaray Sportif Sinai ve Ticari Yatirimlar A.S.; see paragraph 51 of case AC-01/212, Malaga CF and paragraph 47 of case AC-06/2014, Panevézio Futbolo Klubas Ekranas). The Adjudicatory Chamber went on to say: "This principle is of particular importance when it comes to assessing the eligibility of clubs for UEFA Licences. All clubs are subject to the same requirements and all clubs must be assessed on the same basis. To show undue leniency to a club that has not satisfied UEFA's club licensing criteria would be inconsistent with the inherent equality of the licensing system and must be avoided in order to maintain the value and integrity of the process."
If City did make observations to the Adjudicatory Chamber, City are bound to have pointed to the treatment of PSG and this explains the recent statements that City had collated documents relevant to other licensees – in other words, other clubs. Again, no doubt this will be raised in appeal. City's complaints to the right to a "fair hearing" appear to be irrelevant as it is long and well established in CAS jurisprudence that even if there were any procedural failings the nature of CAS proceedings cures all procedural defects in lower decisions.
Finally, I have already observed that reference to 2012 (and indeed any period before May 2014) in UEFA's announcement was odd because even if UEFA jump the hurdle of the 2014 settlement agreement, they will still need to show why Article 37 of the Procedural Rules on FFP (which institutes a limitation of five years from any breaches) does not apply to the alleged breaches. The double City don't want has some way to go.
Part 1 of Stefan's look at the UEFA ban can be found here.
The author is a more than 20 year English qualified lawyer, current public company Chief Executive Officer, former General Counsel, former financial adviser to the Board of Manchester City and an experienced litigator including in matters of complex accounting. He knows little or nothing about CAS jurisprudence or the Swiss Civil Code and freely admits he could be completely wrong on all of the above given the scarcity of public documents relating to these matters. His previous article/fan blog/ramble was described by Miguel Delaney, Chief football writer at The Independent as a "very badly written" and "awful" piece that he still decided to send on to "people involved [in the case]" who "similarly found it impenetrable and irrelevant". He decided to write part 2 on that basis.
P.S. It's only a game.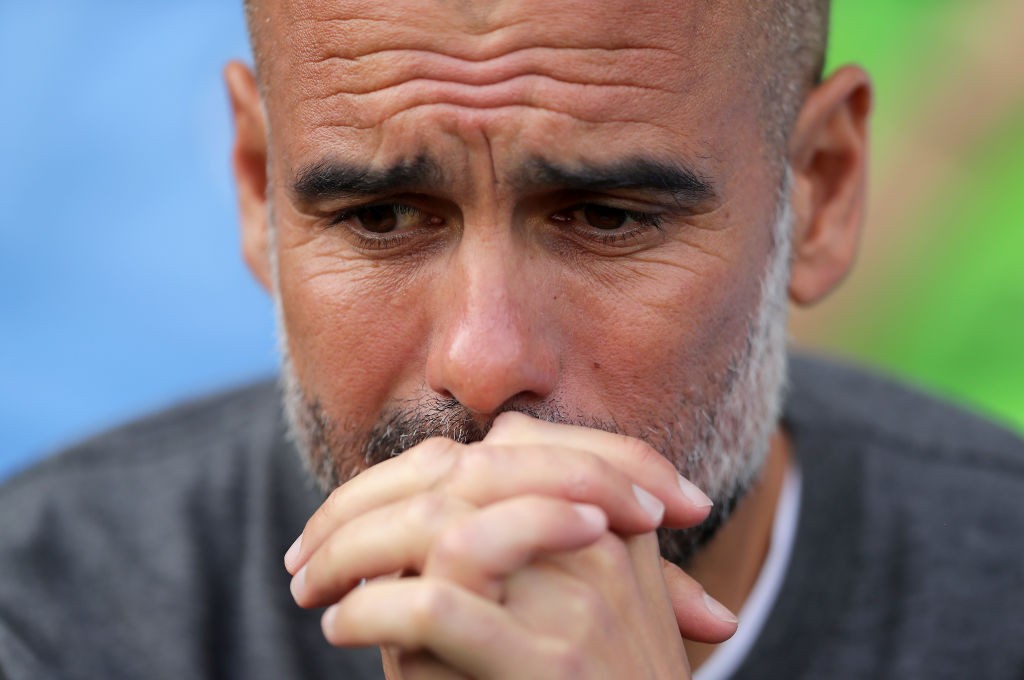 (Photo by Richard Heathcote/Getty)