Riyad Mahrez's Hot Start Is Just What Manchester City Needed
By Dan Larsen | 18 October 2019
Dan takes a look at Riyad Mahrez's much-improved form this season
(Photo by Michael Regan/Getty)
It's been a rocky start to the 2019-20 season for Manchester City Football Club. However, one player has shined bright in the midst of their disappointing start: Riyad Mahrez.
Mahrez has shown through his first several appearances so far this season why he was worth a club record transfer fee in the summer of 2018. Through his first eight appearances in the Premier League, five of which have been starts, Mahrez has managed to rack up two goals and three assists. His incredible 7.74 average form rating trails just Kevin De Bruyne in the League to date. What's more, Mahrez is excelling at doing some of the things he struggled with consistently last season.
In the 2018-19 season, he had trouble adjusting to the system that Pep Guardiola had implemented at the club. Too often, he got caught overdribbling, and holding up the ball too long after it was passed to him. This caused him to be an uncomfortable fit in a side which has made a large part of their footballing identity reliant on quick and precise passes and decisions, especially in the final third. Though it is a small sample, it's clear in his passing stats this season that Mahrez has a much better comprehension of what Guardiola wants him to do. Last season, across 27 total appearances in the league, Mahrez averaged 29.5 passing attempts per game while completing 84.7% of those attempts. His key passes per game was less than one. This season, through eight games in the League, he's attempted an average of 33.1 passes per game with a completion percentage of 89.1%. He's averaging an elite 2.5 key passes per game as well. Only De Bruyne has averaged more key passes per appearance (4.1) than him on the team in the League.
His statistics in both of City's first two UEFA Champions League games are even better than his numbers in the League. In his two appearances in that tournament, both of which were starts, Mahrez has scored a goal and assisted two others. He's posted an 8.27 form rating, which is the sixth best rating of any player to appear in the tournament so far, and is also best on the team. Mahrez has been an integral part of why the club has won their first two games in the group stage. Much of the creative play that has led to goalscoring chances for the team has come from him. He's averaged 3.5 key passes per game in the tournament so far, with two of those passes ending in goals for his one of his teammates.
His link-up play, in particular, with Kevin De Bruyne and Kyle Walker has been fantastic in both competitions. He's been making better use of one-twos with them, and has been moving the ball much quicker and more efficiently than he did a season ago.  He's also been better at making dangerous runs on the ball towards goal in a way that draws defences out of position and creates chances. Too often last season, his runs were confined to wide positions where he would get in a spot to try and cross the ball across the 18-yard box. The few times he did try to cut inside towards goal, opposition defences flooded numbers at him to prevent him from getting off a long range shot with his strong foot, and he failed to make the right decision with the ball to punish them for doing that.
This season, he's been much more selective in his moments to run at defences, and it's improved the utility of those runs in the rarer instances that he makes them. He's also made much better decisions with the ball when making those runs, picking out the right pass instead of trying to keep it himself for a long-range effort at goal. When Mahrez has really shined has been when he's started matches. He's been the team's highest rated player in three of his starts, and was tied for that honour in a fourth in City's eight goal demolition of Watford a few weeks ago. Overall, he's posted a form rating of nine or more in three of those games, and eight or better in five. His only sub-par performance in a game where he started was in City's shock loss to Wolves just before the last international break.
There's still room for Mahrez to improve a bit too! Though he's been playing with much more confidence than he was a season ago, he's still getting dispossessed far too often when he's on the ball (1.6 times per game compared to 1 per game last season). He needs to keep his head up and be more aware of his surroundings. He's missed quite a few runs from his teammates into space, especially from the full-back spots. If Manchester City are going to be real competitors this season, domestically and in Europe, they'll need Riyad Mahrez to keep playing at an elite level. We've seen in his time at Leicester City just how much of a game-changer he can be. Now it's time for him to carry that high level consistently over the course a season on one of the best teams in Europe.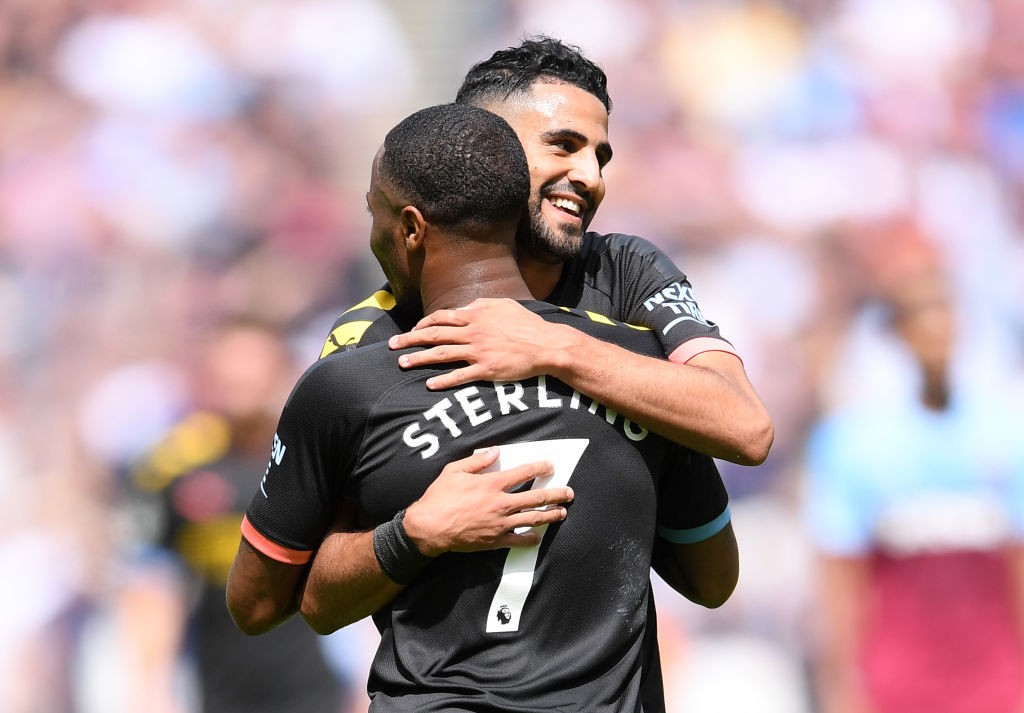 (Photo by Laurence Griffiths/Getty)