Phil Foden: The Greatest Player We've Rarely Seen?
By Joe Butterfield | 08 September 2019
Joe takes a look at the prospects for Manchester City's young gem.
(Photo by Shaun Botterill/Getty)
The international break is now upon us. The action-packed excitement of the Premier League season makes way for the misery of watching England coast past Bulgaria as talkSPORT has to make do with hosting shows centred entirely around the discussion of "who is England's best right-back?" because, let's be honest, international breaks don't offer up much else to talk about.
Amongst City fans, however, the first four games have brought up the subject of the relative (okay, almost complete) absence of a certain "Stopfordian". When David Silva announced this year would be his last at Manchester City, there was a lot of crying alone in cold showers whilst I insisted to anybody who dared to ask what was wrong that I was absolutely fine. Yet despite this, there was a sense of the baton being passed on. The old making way for the new. Step forward, Phil Foden.
Many City fans' first glimpse of Foden, as mine was, was probably the pre-season game against Manchester United at the start of the 2017/18 season, in which he comfortably ran rings around the likes of Ander Herrera and, despite being only 17 years old at the time, looked incredibly mature. Those who follow the academy closely will have known this was coming for some time as the trio of Foden, Brahim Diaz and Jadon Sancho were being hyped up as they rose through the ranks, culminating in a season in the U21s team in which Foden and Sancho, 17 and 16 years old respectively, dominated the majority of games in which they featured.
Of course, of those three players, Foden is the only one who remains. Whilst Sancho decided that he wanted guaranteed first team football, and flew to Germany to prove to the entire world that his decision was absolutely the correct one for himself, whilst Brahim decided that Real Madrid offered better chances of first team football than Manchester City (they haven't), Foden decided that City was where he saw his future. The decision to stay and to sign a deal tying him to the club until 2024 with the midfield talent ahead of him, especially considering the media noise surrounding the chances of youngsters breaking into City's team, is a brave one.

The Stockport Iniesta
It helps that Foden is a blue. Having joined the club at the age of eight and having been a City fan up until that point, born and raised in Stockport, he has an affinity for the club which few others before him have possessed. He wants to break into the team, and being a fan of the club may give him patience where his counterparts would have none.
So, back to this season. We find ourselves five games in and we've seen Phil Foden play a total of 11 minutes. He got himself a 10 minute cameo at the end of the West Ham game we were already comfortably 3-0 up in, and a solitary minute at the end of City's Carabao Cup win (though he did take a penalty in the shootout). Last weekend when City were 3-0 up against Brighton with 20 minutes to play, Ilkay Gundogan was preferred to replace Kevin De Bruyne. Another 10 minutes later, Bernardo Silva took David Silva's place and another weekend with no sight of Foden was secured.
This would not be an issue for some blues were it not for just how at odds this involvement is with the praise heaped on him by Guardiola whenever he is asked to comment on Phil. At the start of this summer's pre-season tour, he said the below in a press conference: "I have said many times in press conferences, but maybe not said it in front of him, Phil is the most, most, most talented player I have ever seen in my career as a manager."
Now, we all know that Pep loves a bit of hyperbole, particularly when it comes to talking about his players and their performances. He's an emotional man – often the passion of the moment can take over him and he says things which are a bit over the top. However, this isn't an irregular occurrence for Pep when it comes to Foden. In April, he said the following: "I see many players as a manager – so many – and this guy has something that is so hard to find. He is special."
And in December 2018, he said: "I would never have doubts about the quality of the guy – not just with the ball. He looks skinny, not strong, but he's really, really strong. He's an outstanding young player. I think England has a diamond."
There's plenty more where this came from going back some years but you get the idea – Guardiola thinks he's good. This is not new information.
Despite Pep's willingness to hype up his own players whenever given the opportunity to, and therefore the unsurprising nature of the praise being heaped on Foden, it does irritate fans to hear one thing in press conferences and see the opposite on the pitch. There are ways and means of complimenting Foden without calling him the most prodigious talent you've ever seen in your life, a life which has seen you coach Andres Iniesta, Xavi and Lionel Messi. If you put one of your players on a pedestal higher than players of that calibre and then don't play them, the words become have less impact and, most frustratingly of all, you create a rod for your own back and the media will happily oblige.
The frustration of City fans is a pretty simple one – Phil is one of our own. Khaldoon Al Mubarak has been championing the academy ever since the CFA was built, once saying he would like to see "the maximum number of first team players coming out of the academy," and when asked if the ambition was to have half of a team of home grown talent, he answered "yes". For a long time we've been teased with the nearly-men – Lopes, Maffeo, Adarabioyo, Brahim – and now we have a bona fide Guardiola-approved talent who was born about ten miles down the road from the Etihad. Of course fans want to see him regularly on the pitch – who wouldn't?
So here we are, five games into the season with only 11 minutes played. But what should we expect, realistically?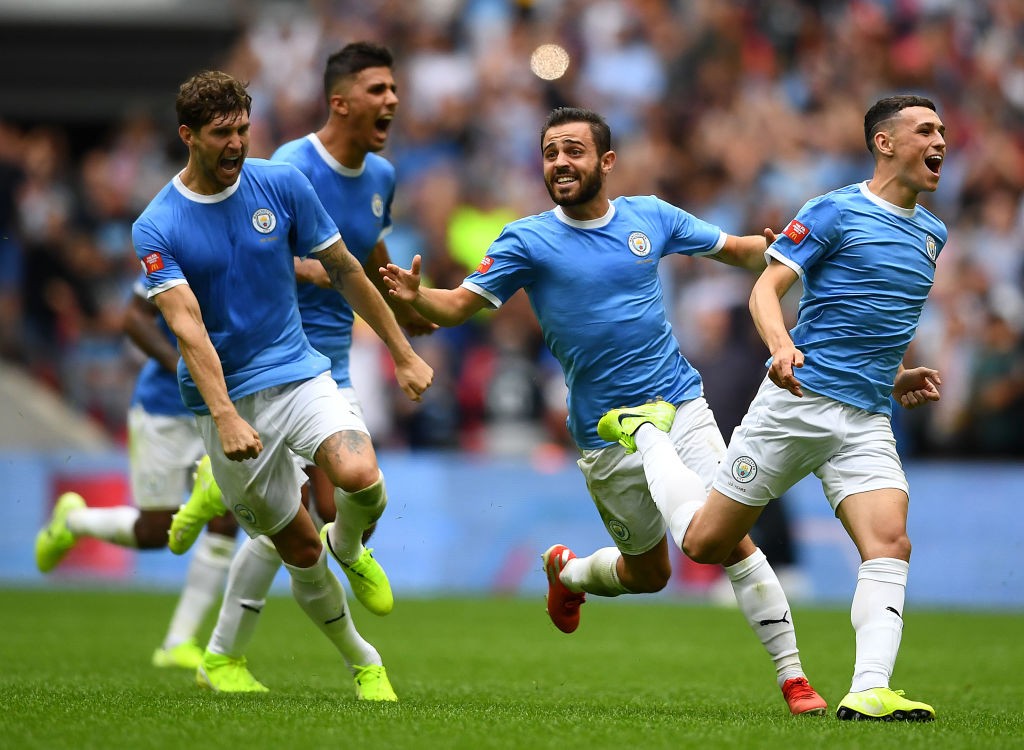 (Photo by Clive Mason/Getty)
The Story So Far
If we go back to 2017/18, the season following Foden's breakout performance against United in pre-season, he played 328 first-team minutes for the club. This was spread over a couple of Champions League dead-rubbers, some Carabao Cup game time and five substitute appearances in the Premier League once the league was won, the longest of which was an 18 minute cameo. Of course, Foden was aged 17 at the time and so this kind of game time is absolutely fine. It's more than most players that age get, especially at a club like City.
Onto last season, 2018/19, and the numbers accelerate rapidly. Foden's involvement in youth competitions is scrapped entirely as he becomes a true first-team player for the club. He started in the Community Shield and played in every round of the Carabao Cup up until the final, getting two goals and an assist along the way, including his first ever goal for the club against Oxford.
He was involved in four Champions League games, including the full 90 minutes in a pivotal home game against Hoffenheim in the group stage. He played in City's first three rounds of the FA Cup, scoring three more goals, and, most importantly, he featured in thirteen Premier League games, with full starts against Cardiff, Leicester and, most notably, an absolutely crucial game against Tottenham following the club's Champions League exit, which saw him score his first Premier League goal to give us a 1-0 victory.
His game time in all competitions nearly trebled from 328 minutes in 2016/17 to 1,107 minutes in 2017/18. In the first five games of last season, Foden had accrued 8 minutes of Premier League game time. He had started the Community Shield then but with wildly different circumstances, not least of which being the fact that half the squad had barely returned from the World Cup, it's hard to hold this season's omission against Pep.
What City fans want to see is an upward trend of Foden's game time. It's the start of the season and Guardiola wants to get his big players into the rhythm of regular game time as quickly as possible but, as far as the midfield is concerned, it seems that this includes everybody except Foden. Gundogan, De Bruyne, Silva and Rodri have all enjoyed multiple starting selections since the beginning of the season, whereas Foden has had none.
It was naturally assumed that, with David Silva making his way out of the club at the end of this season, that Phil would transition into that position and start to fill in the gaps whenever Silva was rested. However it looks like Silva is still very much the go-to player in that position alongside De Bruyne and that Gundogan is the first replacement when Silva isn't picked.
However, in defence of Foden's current game time, there is an element of the knee-jerk surrounding this. We are, ultimately, five games into a season of at least sixty games. There is a lot more football to be played and plenty of competitions in which to get his game time in.

The Future Is His
Foden should start every game in the Carabao Cup. There's no excuses for him not to. He played in every round of the competition leading up to the final last season and, should we repeat this achievement again this season, I'd expect him to do the same again. Only this time I think he should be rewarded with a start in the final, no matter who the opposition is.
The same should apply for the FA Cup. Last season it was very clear that Guardiola wanted to add the trophy to his personal list of accolades and I completely understand that. However this meant that he played his strongest line-ups in the competition when often it was not necessary. Now that we've already won the competition, I would expect him to maybe take it (relatively) less seriously this season and so Foden should start every round up to and including the final should we have the fortune to get that far. Domestic cup competitions are precisely for players in Foden's situation and there should be no reason why he can't start.
The Champions League group has been almost comically kind to City and I expect that Guardiola will plan to blitz the group in the first three or four games, hopefully securing qualification for the next round as quickly as possible. I don't think that asking to see Foden involved in at least half of the group stage games, including both legs against Dinamo Zagreb and certainly at least one of the home games against Shakhtar Donetsk or Atalanta, is an unreasonable expectation. Going forward, his game time will depend almost entirely on the quality of opposition in the latter rounds.
The Premier League is where we need to see more noticeable improvement on his game time. Last season Foden made thirteen appearances, starting three times, for a total of 327 minutes. This should at least double. Twenty appearances in the league should be a realistic target this year which, with seven or eight starts along the way, should get him up to 700 minutes quite easily. It isn't a case of asking him to start every game and immediately become the new David Silva who's picked every week but by the end of the season there should be signs that he will be taking over that first team role.
Taking each of these competitions into account, assuming that a start means an average of 75 minutes game time and a sub appearance is an average of 15, my trusty calculator tells me that Foden should be looking at around 1,900 minutes over the course of the season. This is, of course, dependent on our progression in the Carabao and FA Cups but regardless it's surely not an unfair expectation.

Three Lions
On a personal level, Foden will be looking to next summer's Euro 2020 tournament and also at the likes of Mason Mount, a player who has just earned a call-up to the England squad after having spent two years out on loan getting regular football and having started the season well with Chelsea, becoming a midfield mainstay under Frank Lampard despite only being eight months older than Foden.
I would argue that, in terms of technical ability, Foden trumps Mount yet Southgate cannot justify calling up a player nearly one year Mount's junior who isn't playing anywhere near as much football as him. If that changes over the course of the season, however, then a call-up to the senior squad could be on the cards for Foden later down the line. Personally, I don't think he will make it to the Euro 2020 squad unless he plays virtually every game for City but what could have been will no doubt still be in the back of his mind.
Despite this, it's worth keeping in mind that, according to numerous sources, Foden is still very happy at City. He enjoys being so close to his family, he likes the fact he's playing for his boyhood club, he loves being alongside Sergio Aguero and David Silva, two players who he watched win City's first Premier League title as an 11-year-old and he is almost in awe of Pep Guardiola. There are a lot of reasons why he probably won't leave.
However, whilst this is true for now, many people seem to think that it'll all be fine because Foden is a City fan and that he'll just never leave. He'll remain content with his game time forever and he'll never look elsewhere to try and get the regular first-team starts he probably already deserves, just because he's a blue. This probably is the case for now but it won't be forever. He's still good friends with Sancho and he's a player who is almost certainly going to be on the plane to next season's Euros because he made the bold decision to leave. Eventually, much as we may hate the media for insisting that it's already happening, he will start to wonder if the grass is greener elsewhere.
If his playing time stalls or, heaven forbid, regresses this season and he is forced to watch his mates play in the Euros from his living room sofa, the doubts will start to creep in. It's up to Pep and the club to make sure that, if he isn't going to be on that plane, they can say they did everything they could to try and get him there.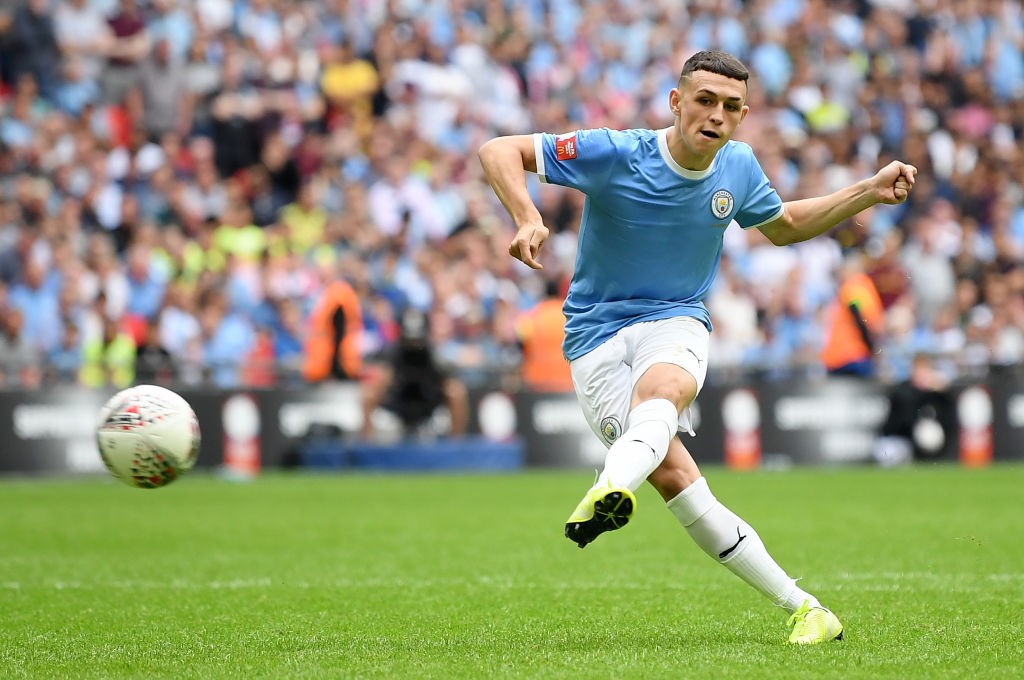 (Photo by Michael Regan/Getty)