Newcastle United v Manchester City - Match Preview
By Joe Butterfield | 28 November 2019
Joe previews this weekend's Premier League match.
(Photo by Michael Regan/Getty)
After a mid-week match against Shakhtar Donetsk which was more anaesthetic than aesthetically pleasing, it's a return to Premier League action this weekend in the form of St James' Park. A City side which has been somewhat out of sorts recently is up against a Newcastle side which looks desperately lacking in quality.
I've watched Newcastle a few times this season, on two of those occasions they beat Spurs and United respectively and looked genuinely impressive. Solid defensively, good on the counter-attack and able to frustrate opposition which, on paper at least, was expected to comfortably put them to the sword. However, I watched them on Monday play against Aston Villa and my impression couldn't have been more different. Going forward they appear entirely reliant on Allan Saint-Maximim, a flashy player who has real talent but not much in the way of end product. Defensively, without Jamaal Lascelles, they're incredibly weak with little to no leadership and similar levels of defensive stability. Aston Villa comfortably won the game and it was difficult to see where a goal would come from for the Toon. Having said all of this, prior to the international break they came out 2-1 winners against Bournemouth and the week before that they beat West Ham 3-2. Granted, at that time they had Lascelles available, whereas now they don't. Sean Longstaff is set to return to the squad as well, having served his three-match ban for a red card he earned against Wolves, which will be just as well for Newcastle as they struggled to deal with Aston Villa's midfield on Monday.
As for City, pretty much all of the fans will be praying for a better performance than the one they served up on Tuesday, which won't be difficult as I imagine the players will actually try this weekend. It was apparent to everybody watching that the players were all operating at 60-70%, safe in the knowledge that, in all likelihood, a draw would be enough. Pep certainly won't allow that to happen this weekend.Of course, last season we all thought that a trip to St James' Park would be a simple matter and it turned out to be anything but. Solomon Rondon punished us that day before a clumsy Fernandinho challenge gave away a penalty to allow them to seal the win during what turned out to be the season's nadir.
In terms of the line-up we'll see at the game, it's tough to really predict it. Just kidding, it's incredibly easy to predict it. It's a far cry from this time last season, when attempting to pick a Manchester City starting line-up was an impossible task as Pep was always likely to throw some kind of curve-ball on the day. Now it's almost a routine, the full-backs providing the only real question-mark. Ederson will start in goal. Fernandinho and Stones will start in central defence. Mendy will start at left-back, having been given the week off. Kyle Walker will start at right-back after Cancelo has played twice in a week.
Rodri will start at the base of midfield, despite having played most of the mid-week game after going off against Chelsea with bad cramp, clearly still showing signs of rustiness after a return from injury. Kevin De Bruyne will naturally start in midfield and it'll be David Silva, who looks more and more knackered every time he plays as the season goes on, alongside him. There may be a slight chance that Gundogan will start, rewarded for his goal in mid-week. However Pep will probably expect Newcastle to set up a low block in the penalty area and will rely on Silva's ability to control the tempo in such situations. Gabriel Jesus will start, with Aguero out injured. Raheem Sterling will play the full 90 minutes. Again. Despite his influence over games waning in the last month or so. Bernardo will start on the right for similar reasons to David Silva.
How do I predict the game will go? I think with a midfield of Rodri, Silva and De Bruyne we'll have a slow, ponderous approach to the game and we'll probably not create much going forward without whipping in a dozen crosses or so. After 45 minutes we'll be crying out for more energy in midfield, wondering why Phil Foden is still unable to get off the bench in the face of what is happening on the pitch. David Silva will be replaced around the 60 minute mark and be replaced by Gundogan, who will then sit as a double-pivot deep in midfield and leave us with even less going forward. Foden will finally get off the bench in the 80th minute, by which point the outcome of the game has already been decided and his impact can only be minimal at best.
City will win 3-0. Liverpool will drop points against Brighton. The title race is back on.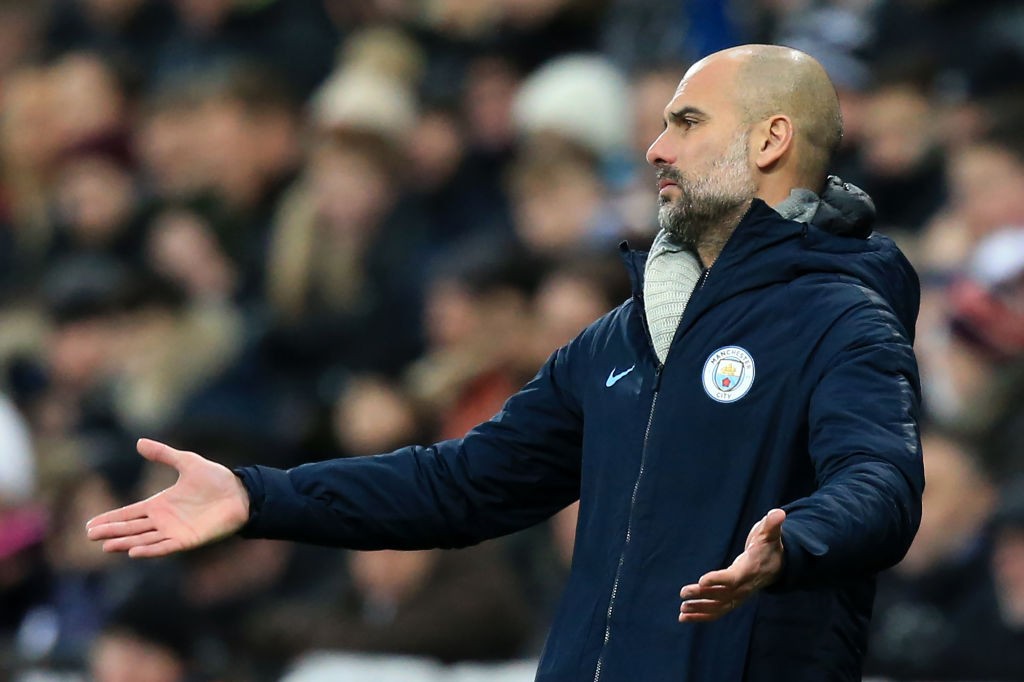 (Photo by Lindsay Parnaby/AFP)