My Football Manager Journey: Part 1
By Howard Hockin | 20 March 2020
Howard decides to take a journey – as manager of Manchester City.
(Photo by Andrew Yates/AFP)
I've always felt too guilty to play Football Manager. The guilt was from the acknowledgement that to play it would mean sacrificing a portion of my spare time to do so. And I always felt there were better ways to spend said spare time, like sitting on the couch in my underpants watching reruns of Friends. But in the current climate, time has now become abundant, something that needs filling. And so I decided to give it a go, after all these years. I've decided too that as the current season has not ended and perhaps never will, I will take over City, and see how I can do in charge of a bunch of mercenaries funded by dirty oil money.  I will undo all the mistakes Pep made this season, and carry City to glory. What could possibly go wrong?
What's more, I'm playing the newest version, rather than the classic 01/02 version. This may prove to be a bad decision as it will take up far more of my time and probably take years off my life, but I want to report about the finer details that newer versions offer – from the press, to agents, to me putting an arm round Phil Foden's shoulder after failing to pick him for the 27th successive game. If you want, you can play the 01/02 version with current squads, and FM20 is free to play for a week or so via Steam.
But before I get to flex my tactical and man-management muscles, I need to be appointed as manager. On FM20 you get to decide your appearance, so I take this opportunity to add a couple of inches to my height, and knock 15kg off my weight. I soon lose interest, so end up bald, pale and with a goatee beard. The grey hair has gone though, along with the beer belly. I've got a smart casual look, allowing me to dash straight from training to lunch at Tast without a costume change, should the need arise. No tracksuit with my initials on, for now.
I've already made my first mistake though, as self-isolation has fattened my fingers, and I have typed my name in as Howard Hcckin. I can't see where to change it, so it looks like I'm stuck with it. I self-identify as a Mancunian, so am expected to "get" the club and its fans. I'm on a 3-year deal at 250k a week, which will ding-dang-do. With money though comes responsibility.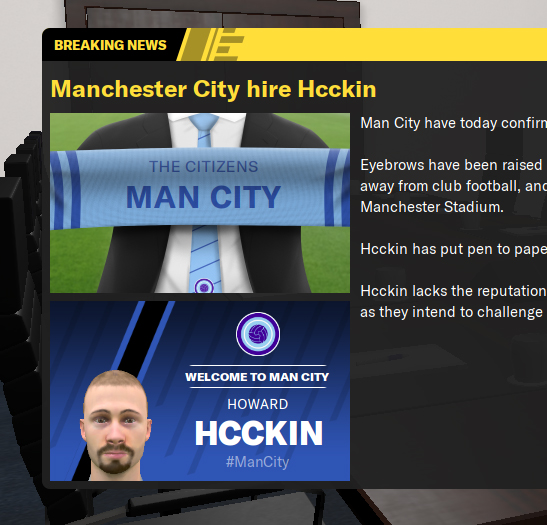 I have many, many more decisions to make before I can actually manage a game, and many tutorials to run through. The depth of detail is off the scale, and this is part of the reason I chose City – at least I know the players, and Pep's general tactics. I'm not going to spend hours changing training schedules or developing Otamendi into a DM (or a D). I trust my players to bring success whilst I sit on my arse doing very little.
Anyway, the game looks great. Slick, and smooth, even on my very old laptop processor. I miss some sort of music, but have no idea what would work with such a game. You'll have to make your own noise. The problem with a game that has "evolved" like this is that there is clearly too much to do. That is why many hark back to older versions. But you can delegate, and that is what I will do.
Back to the nitty gritty. What sort of manager am I? Well I plump for motivator, as I think that will dovetail well with an already hugely talented squad. The expectations of the board are made clear – I am expected to win the Premier League, get to the final of the Champions League and FA Cup, whilst the board couldn't care less about the Carabao Cup. Might play Ederson in midfield for that then. I'm also expected not to fail Financial Fair Play, though I fear that particular horse has bolted. The owner's aim is to make City the most reputable team in the world, with entertaining, possession football. FourFourTwo report that my appointment has raised some eyebrows, though they do not specify if said eyebrows belong to Carlo Ancelotti.
With a job tied down, it's down to the admin. My many staff run me through all the many facets of the job. Brian Kidd thinks Bernardo Silva should take penalties. Fair enough, can't do any worse than in real life. I take a team meeting, introduce myself, choosing a passionate demeanour. I do similar for my opening press conference. I swat away the questions with ease, though as none of the journalists are real names, I resist banning half of them. So far it's all going swimmingly. I stick with default tiki taka tactics (Pep would hate me calling it that) and plump for a 4-1-4-1 formation. My main mission this season apart from winning stuff is to use width. And keep Fernandinho in midfield, as reward for him taking up British citizenship 2 days into pre-season. He extends his contract too. As we share a birthday, he is automatically my favourite player.
I take a look at the squad. The problem I now have is that when you start a game of Football Manager, the first temptation is to wield the axe and go mad in the transfer market. But this squad is bloody brilliant. And mainly fit too, though there are injuries of course for Leroy Sane, Benjamin Mendy and some bloke called Scott Carson. So what do I do? I've got some money to burn, but not unlimited wealth as Miggles and his Whatsapp group may claim. Is there anyone I should sell?
My immediate thoughts are to get rid of Zinchenko, as he has no real place at left-back even though I love him, but Mendy is injured, and I want to give him a chance in his natural position this season if possible. The next option is to sack Bravo off, but away from real life he may actually be a suitable back-up, devoid of Tyrannosaurus Rex arms and hands, though he is taking up a non-home-grown slot. I'll see if there's any useful home-grown keepers knocking about.
That aside, it is still not time for an actual game. Pre-season friendlies have been arranged for me, as I would expect, including an academy game against the U23s. I've been signed up to a pointless social media feed, which does not allow me to follow Neil Custis and abuse him, so I will be paying no attention to that. The captain stays as David Silva with Serge as vice-captain. They wouldn't be my choice, but apparently changing them could cause players to have a strop, the divas. The coaching staff then run me through the social hierarchy at the club.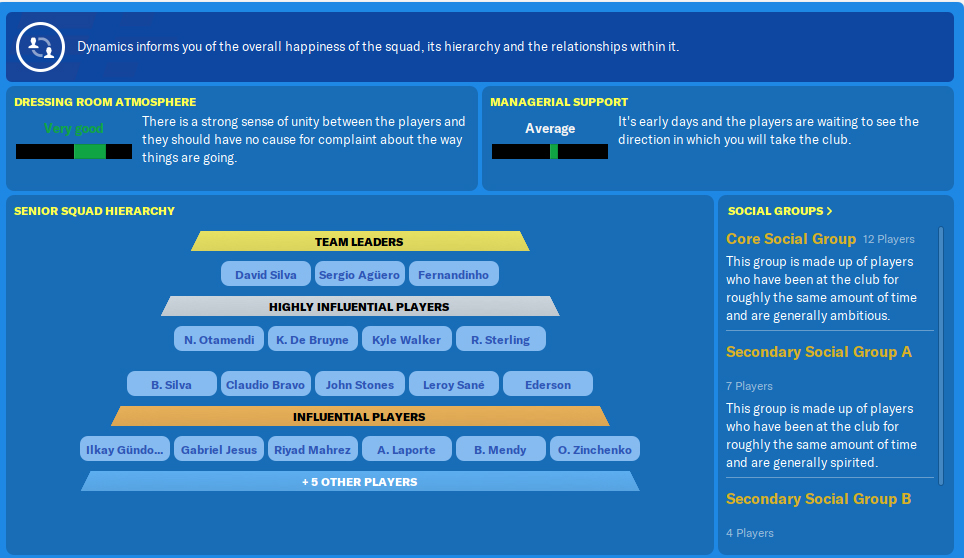 You've got to even take this into account, apparently. Seriously, it's like running a crèche. Now I understand why Pep scratches his head all the time and has a bit of a twitch. This social hierarchy is even a key component in scout reports when considering bidding for players. However, certain players can be introduced into groups as part of a mentoring process, so I may pair Foden up with David Silva. Coaches run me through the team's strengths and weaknesses. It may not surprise you that under weakness are listed defensive depth, heading, marking, tackling and aerial reach. Keeper reflexes don't score well too, plus the goalies' ability at one-on-ones. No worry, I don't intend the opposition to touch the ball, so there. Simples.
But at last, some football – it's a game v the U23s behind closed doors, but it will do. A lot of my players are still on holiday, so I pick a team with what I have got, and fill the subs bench mostly with youth players. The result is irrelevant, and I tell the uninterested players this. They are extremely profligate, and Raheem Sterling's finishing is already annoying me, though I was forced to play him up front. City beat the youngsters 1-0, and it's some much-needed fitness under their belts.
I get to see the game graphics for the first time, and I like them. Functional, but effective, and a world away from the moving dots of older versions. The movements of players is quite realistic, but there's still plenty of glitches, as players stand still next to each other before bursting into life. Not a big problem.
Quickly I move onto another friendly, a proper one this time, as a 32,000 watch a dour 0-0 draw at Eintract Frankfurt. My decision to to go without strikers is not a success, nor is putting Kevin up front for the 2nd half. Again, it's all about getting fitness up, but sadly I hit my first problem, as Bernardo Silva picks up an injury that will keep him out for 5 weeks. Still, probably the best time to pick up a knock. Also, I forget to pick more than 2 substitutes, so most of the players are knackered by the end of the match. You live and learn – we move on.
And so finally, I thought that with games underway, I would be free to rush my way towards that early August start of the season. Not so fast. There are more inductions to undertake, and a host of backroom staff to approach, makes offers to then hire. I am showed how transfers work, and Paulo Dybala is used as an example. Having negotiated a new transfer budget of £62m (by reducing the allowed wage bill), I immediately decided to spend it all on Dybala. Juventus come back demanding £90m, and whilst I am tempted, as he would make a good heir to Aguero's throne, I resist and withdraw from negotiations. I need a central defender, and that's where my attentions will focus.
So as my scouts recommend 12 players they think I should buy, including bizarrely Mo Salah and Kylian Mbappe (who would cost three times my transfer budget). I decide I'll do my own search, when I can be bothered. Maybe Jonny Evans isn't such a bad call after all?
Ignore that, I'm delirious from self-isolation. Time for a break, no more so when my chief scout recommends signing Isco, which almost results in a smashed laptop.  Next time I'll be heading into the season full of expectation and hopefully full of fit players too. Until next time……