My Favourite Football Photos
By Howard Hockin | 16 January 2020
I hate Facebook. I really do. And yet every day, there I am, scrolling through the same timelines with the same photos and the same arguments. Then there's the trends, or challenges. "I bet none of my friends will share this..".
Damn right I won't, sod off. But for once, there is a challenge going round that is actually palatable – picking a football photo that is special to you, without explanation, before nominating a friend to post their photo. And so on. And it got me thinking, after I had posted my photo, to rapturous applause (3 likes). What were the photos that mean the most to me?
You can take Sergio twirling his shirt over his head or Paul Dickov sliding across the Wembley turf as a given. I'll be looking at some other perhaps obvious choices, and some that bring back personal memories. So here, they are, in no particular order. And if you're on Twitter, I'd love to know your favourite(s) too.
Yaya Toure, April 2011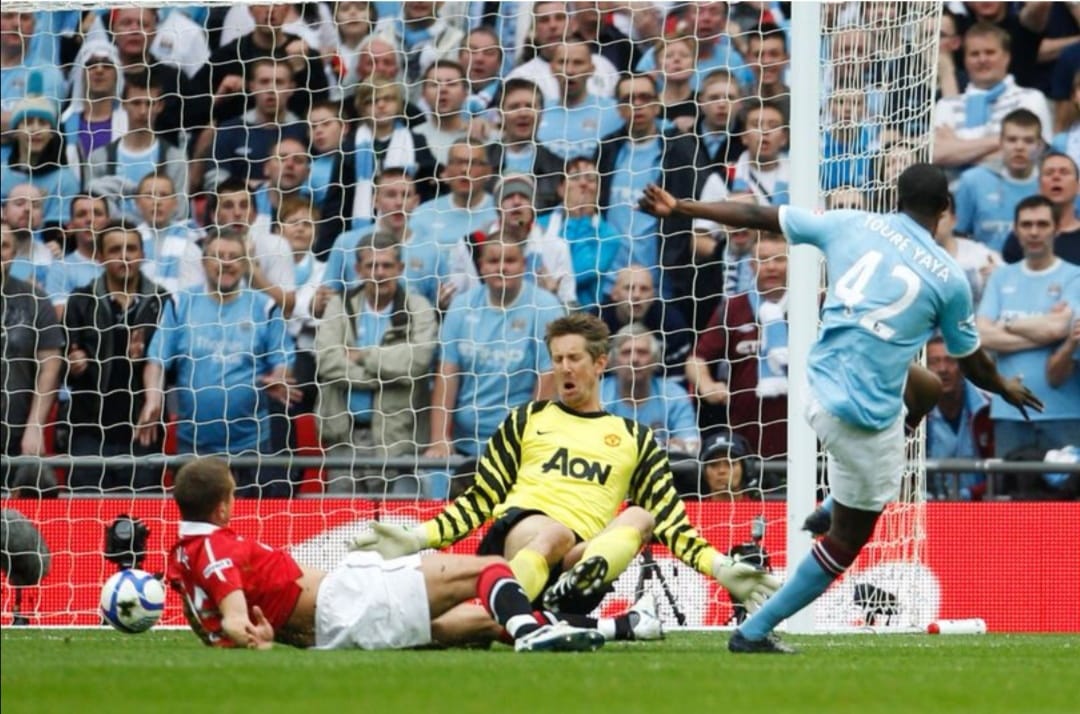 Let's start with my Facebook choice. I didn't put too much thought into the choice, truth be told, but it would be a contender however much time I took to decide. A key moment in the club's history, a turning point, a sign of intent, and the dawn of a new era. All from one misplaced pass and a nutmeg.  And all from a "Barcelona reserve" who scored heavy goals more often than anyone else. Despite Berbatov's 1st half glaring miss, City took a control on the match, even if the only goal was hardly a classic move. The sending off of Paul Scholes was the icing on the cake, and United's Men In Black were reduced to picking off children and women on Wembley Way. By the end of the decade, City were well on their way to finishing ahead of United in the Premier League for the 7th season a row. They stand a fair chance of making it to double figures. And it was down to players like Yaya. We owe them so many thanks. They've made my life more stressful, but better and more rewarding too.
David Beckham Free Kick v Greece – Old Trafford, 6th October 2001.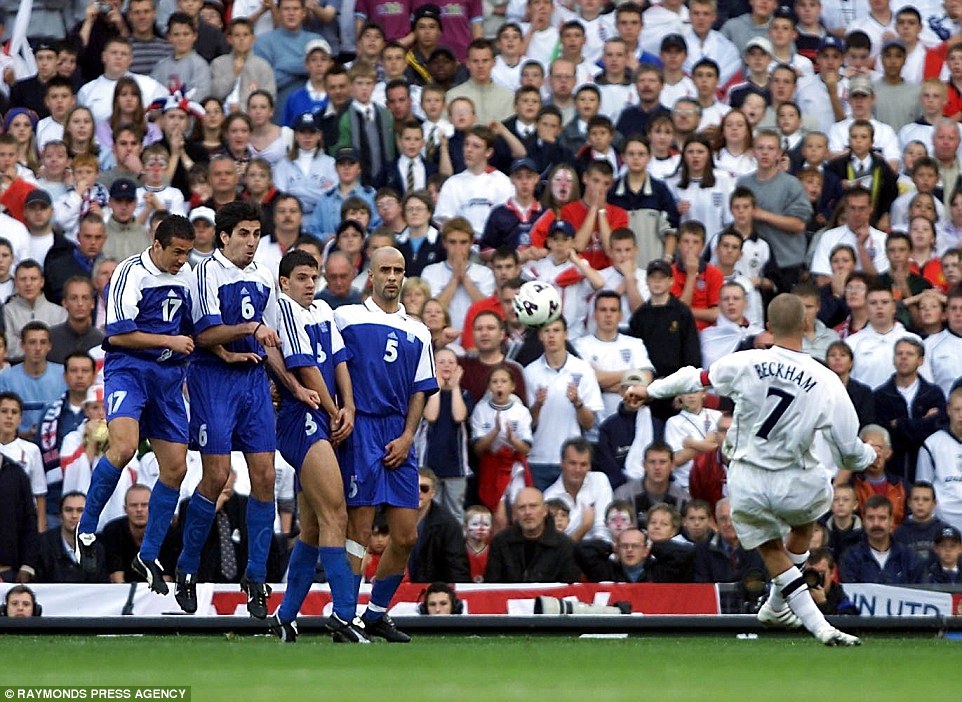 Let's go back in time, briefly. The left-field choice perhaps. But this was a wonderful day as a football fan away from my City bubble, and a rarity because of that. My relationship with the national side is a mixed one.  So was my relationship with David Beckham, for reasons that should not need explaining. As a child, the results of the England team meant something to me. I recall being close to tears after their exit in Italia '90. But over time, that love evaporated, my club more important, and the reputation of the fan base and the media coverage simply resulting in me finding better things to invest in. But this day was different, because it represented many of the key reasons that we follow a football team. Yeah I had to spend an afternoon in Old Trafford, but it was worth the cramped seats, warm Budweiser and over-priced match programmes in the end. Just.
I got to see England and get the tram home, and I saw an exhilarating late piece of skill that saw England qualify for the World Cup finals, at the expense of Germany, after an afternoon of toil. A 2-2 draw was enough as Beckham scored a late equaliser with a great free-kick deep into injury time. We'll ignore the fact he had already skied a previous five free-kicks that game. I took a friend's son too, and it meant something extra seeing the joy on his face, and the smiles when we got back to the Brook to talk about it with his family and friends. For a change, Beckham was my hero, one of the few players to put in a performance that afternoon, and he delivered when it mattered.
It was a stand-out day, a stand-out moment, unlikely to be repeated. The next time I would see England they would fail to qualify for the Euros, thanks to Steve McClaren, the "wally with a brolly", and a 3-2 home defeat to Croatia. I seemed to be surrounded by casually racist Cockneys, and got drenched getting back to my Watford hotel, where the snoring of others contributed to a sleepless night. Never again.

1976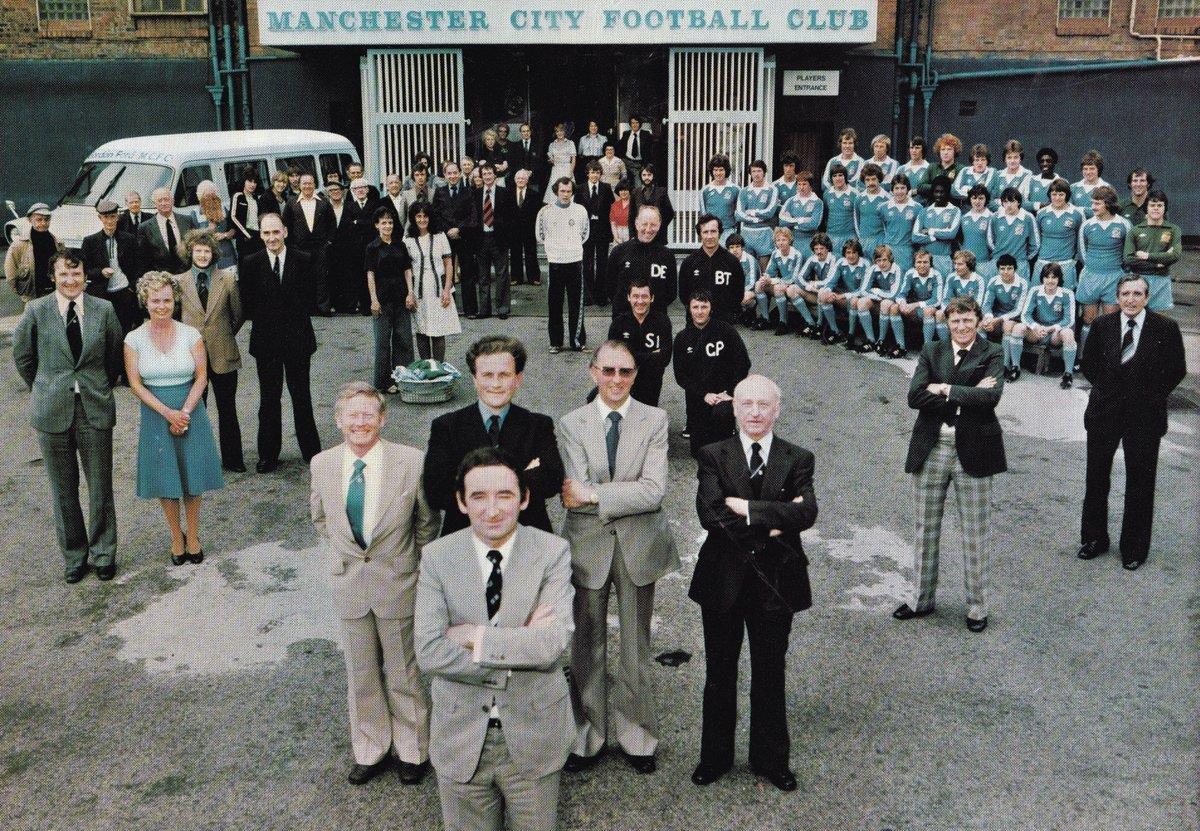 And now we really go back in time. Whenever I am down in the dumps, I like to think about this photo. I mean, just look at it. There's a lot to take in. The seemingly random van, the laundry, the strategic placement of everyone involved, Tony Book's trousers. If one photo summarised how much the world, and football, has changed over the past 40 years or so, it is this. Drink it in.
So when was this I hear you ask? Well it seems it was taken in 1976, ahead of the Nationwide programme that did a feature on City in 1976. "Saturday Heroes" followed the fortunes of City as they won the League Cup. Needless to say, they didn't win anything for quite a while thereafter.
But enough about that, because let's focus on the important details. Peter Swales is of course front and centre, and seems to have gone for a 45-16-1 formation. The actual players, the people on whose the club's fortunes rested, are squeezed in at the back, like the wedding guests that just about made the cut for the evening do. The random-not-random placement of everyone is something to behold. The fact that the ground is wearing away and need of some fresh tarmac is telling. And best of all, when I posted this photo on twitter, a fellow blue replied to say that it was his mother in the photo, stood next to Bernard Halford. She was his secretary.
Marvellous.

May 2012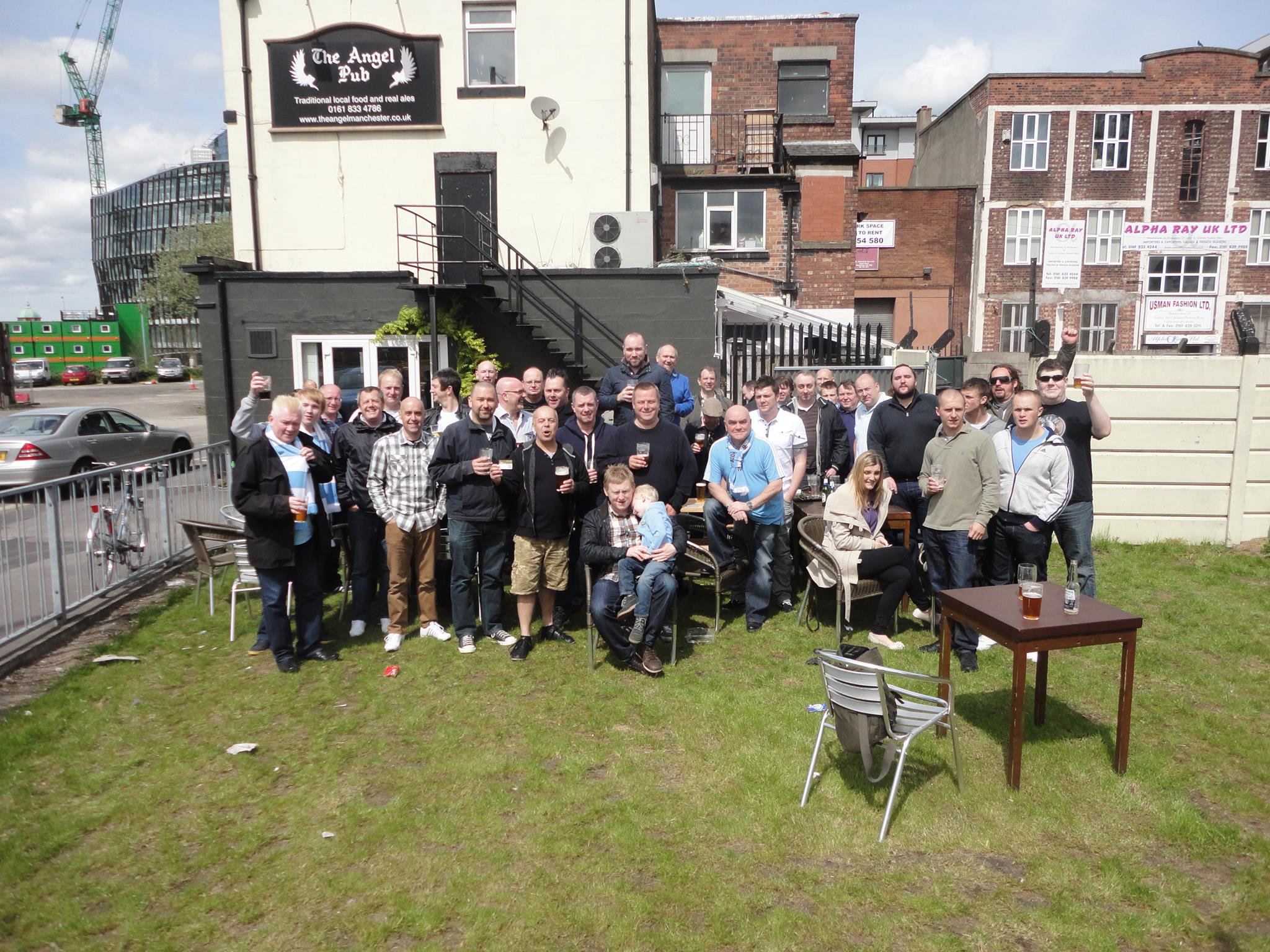 No one in this photo could have had the faintest idea of what was to follow that day.  Two hours that would provide my lowest and highest moments as a City fan, as a football fan. Just a bunch of degenerates waiting to see if their beloved football team would win its first top tier title in 44 years. The stress of the day meant that I could not finish even one pint. I was just too wound up, too on edge. I had been that way for a month. Since the moment United drew 4-4 with Everton. My mood did not improve when I saw Champions scarves being sold outside the ground on arrival. But as you're probably aware, it all turned out OK in the end. And what a night that followed, at least the bits I remember.
But the pub itself plays a part in the football journey I have been on over the past decade. The toilets might resemble The Somme, but the pub is still a great one, with great beer and above all great memories. Our meeting place before most matches, somewhere to put the world to rights and calm any pre-match nerves. On 13th May 2012, the nerves were not calmed, but it turned out alright in the end. This is the pub I returned to after we beat United 1-0 shortly before this photo. This was where I returned to toast the 2014 title triumph. And thus, this was the pub that I got the strangest of emails in that very same night….

May, 2014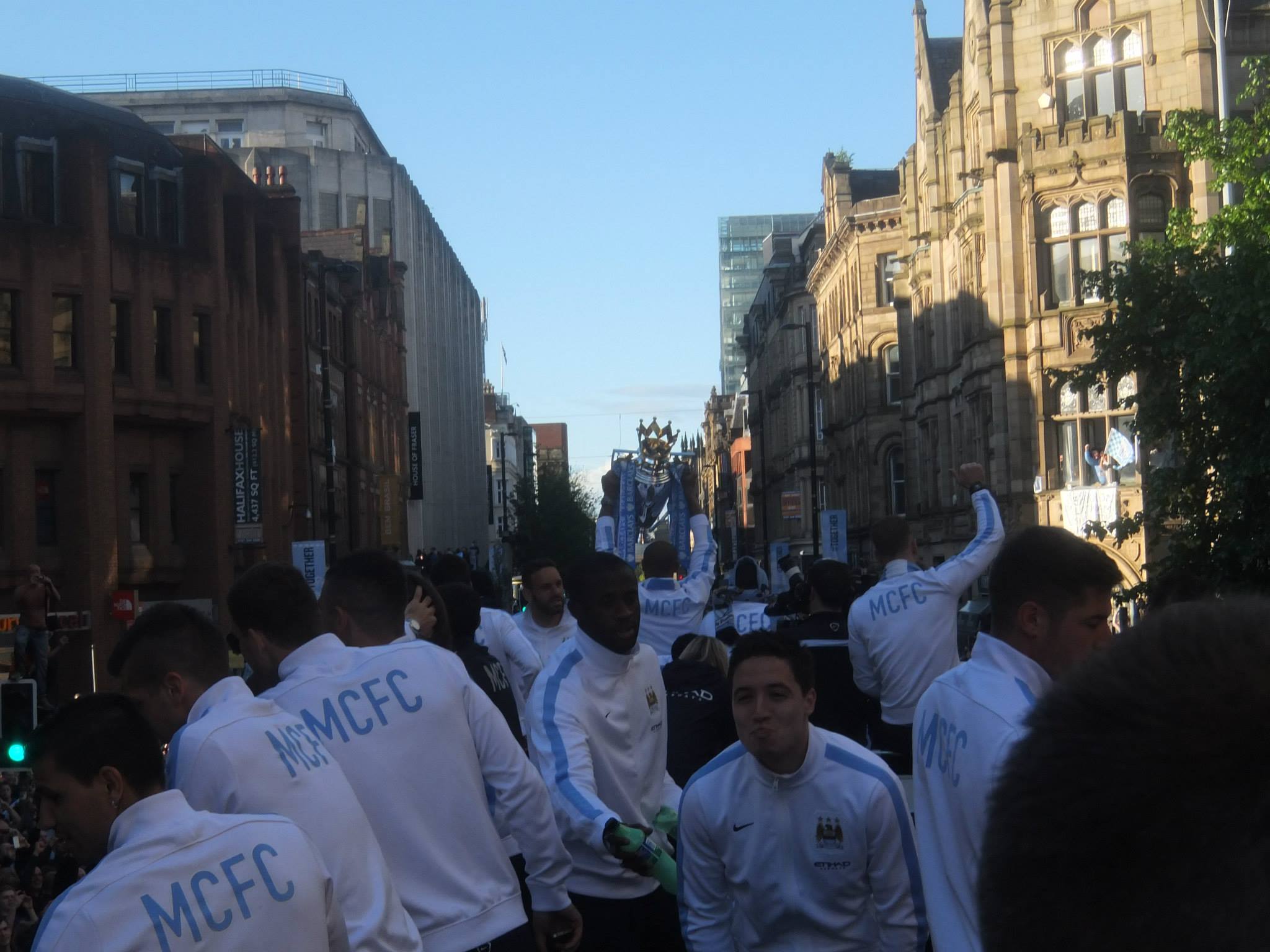 The email appeared to be from City, asking me if I wanted to ride on the trophy parade bus (Number 2) the following day. I naturally assumed it was a wind-up from one of my mates, but it looked very professional, and they were far too drunk and preoccupied with celebrating a title win to bother with something like this. I said yes, baffled as to why I had been asked in the first place. And yet the next morning, I almost decided not to go. The hangover was of record-breaking proportions, and I had a desire to spend the day doing what I had done after our first title win – devouring the internet and watching YouTube videos. But thankfully I went, and I shared a bus with other bloggers, City staff and presenters. And the lovely Bernard Halford. When the bus turned on to Deansgate, my breath was taken away.  A sea of blue as far as the eye could see. What a view, what a moment. Even the sky was blue, the morning rain clearing away to reveal a glorious day. And the photos I got! Both buses were bumper to bumper most of the route, and thus the players were yards away. A one-off experience I will never get to replicate. At one point Samir Nasri passed a trophy back and I held it feeling relevant for a short few seconds. Sadly, someone forgot to press a button correctly and take a photo.  At the end of it all, we alighted in the car park of the MEN Arena. The players jetted off to Abu Dhabi, Yaya had a strop about a cake, and I wandered home, the sound of vuvuzelas occasionally piercing the evening air, wondering if I had dreamt it all. But the camera never lies.
February 2019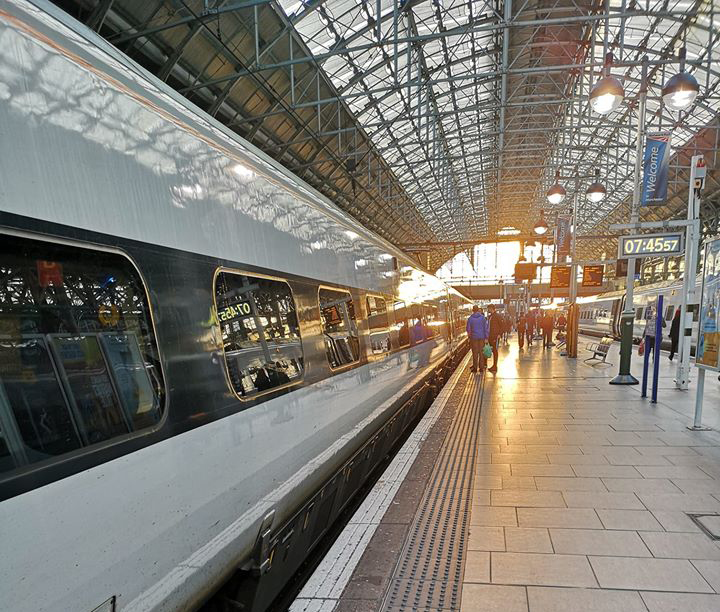 It's a picture of a train. Great. But there's only one reason I'd take a picture of a train, at 7:45am or any other time of the day. It means I'm off to Wembley, and whilst it may be City's 2nd home nowadays, after the sparseness of my first two decades plus supporting City, I'll never take such a trip for granted.

February 2008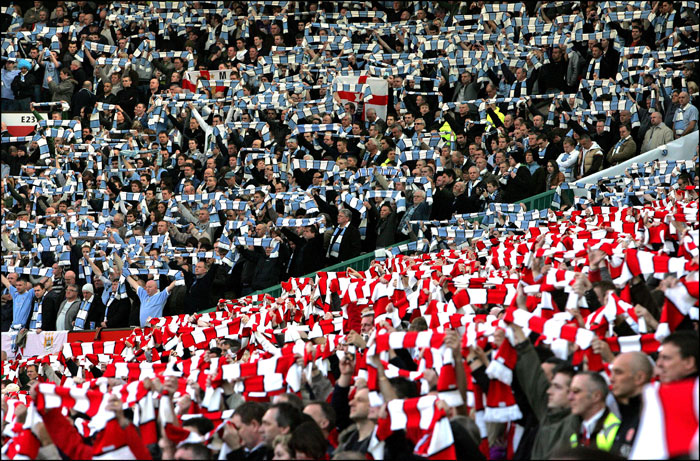 Sometimes you need a reminder of the power of football, and a reminder that not all football fans are scum. Who knew, eh?
It is of course 2008, and the 50th anniversary of the Munich air tragedy. City fans had been getting it in the neck all week in the lead up to the Manchester derby that weekend, and they hadn't even done anything wrong, yet. It was assumed however that they would. Daniel Taylor certainly wrote as if the pre-match silence would be tarnished by away supporters, and one imbecile wrote in a red top that there should be one policeman on the touchline for every away supporter. Such was the nature of reporting that week, I'd pretty much convinced myself that City fans would disgrace the club that day.
Thankfully, there was nothing to be concerned about. The tributes were touching, appropriate, and passed off without incident. A sombre occasion that seemed to affect the home side, as City won 2-1. And a powerful photo that says more than I ever could.

May 2011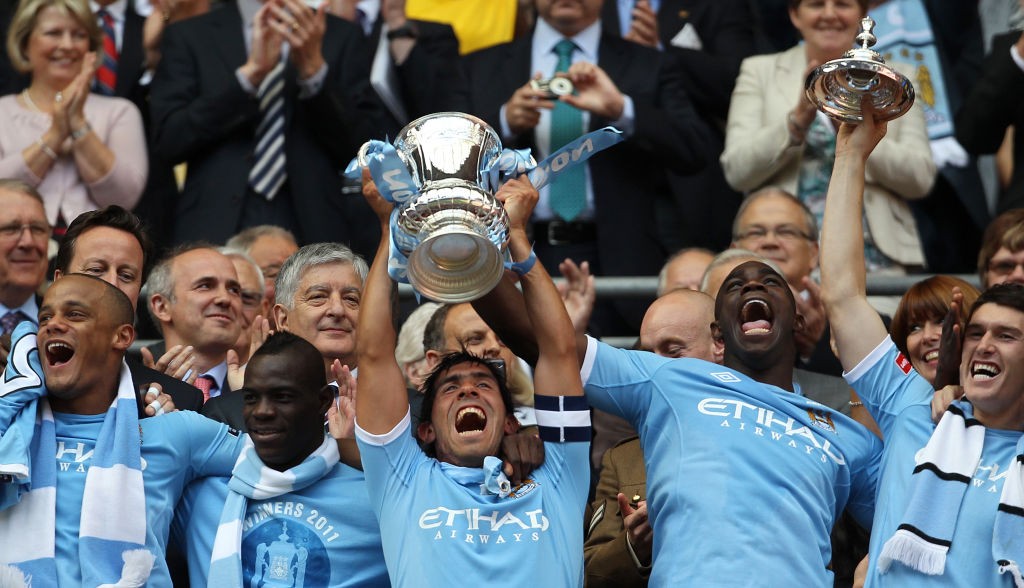 Adrian Dennis – AFP
I listened to Abide With Me. I watched my team in an FA Cup Final. I watched them win. I watched my team lift a trophy. A proper one.
And things would never be the same again.
Nothing more really needs to be said.