Manuel Pellegrini's Greatest Manchester City Matches: Part 1 (2013-14)
By Howard Hockin | 24 May 2020
Howard takes a look at Manuel Pellegrini's explosive debut season.
On a recent 93:20 podcast we looked at the reigns of City's last three managers, and it was commented on how in many respects Manuel Pellegrini is the "forgotten" manager at City, especially considering the personalities that preceded and succeeded him. So with that in mind, I thought it worthwhile looking back at the best matches for a man who brought three trophies to City in his three years at the club, and broke numerous records in his debut season.
And so in part 1, it is that debut season that I will take a look at. Here are City's best performances during the 2013-14 season, in chronological order, because trying to rank them gave me a migraine. It is telling how many great performances did not make it onto the list in what was a thrilling nine months.
Manchester City 4 Manchester United 1 – Premier League.
22 September 2013.
City's first eye-catching performance of the Pellegrini reign, and what a day this was. As a derby performance it is perhaps a tad forgotten, but it was one of the best ones of the lot, if not the most important.
It was a perfect performance, up to a point. An early-ish goal to settle the nerves, one on the stroke of half-time to enter the break buzzing, one just after half-time to settle the match and the nerves for good and another soon after to really turn the screw and relax with 40 minutes of the game still to go. The only shame was that City did not turn the screw further, but instead eased off. Still, with Rooney's late free-kick United fans could at least claim the moral victory by scoring the best goal of the day, just like in 1989. Even when they lose…
There are other aspects of the game that deserve attention. Yaya Toure's goal as half-time approached was surely the most underwhelming of his career, as he shinned in a Negredo header from a corner. Yes, a corner. And then there was Vincent Kompany's solo goal celebration after the fourth goal, a captain's celebration.
And in true typical City style, the next game would see the team lose to Aston Villa.
City would later triumph 3-0 in the return match, and perhaps that should feature on the list instead of this one, but for me the home game lives longer in my memory. Perhaps because I was there, perhaps because of the atmosphere that day, and the feeling that good times lay ahead.
Re-live it again, in the best possible way – with some over-excited non-English commentary.
https://www.youtube.com/watch?v=EcpgNaQDo7c
Manchester City 6 Tottenham Hotspur 0 – Premier League.
24 November 2013
By this stage of Pellegrini's debut season, it seemed pretty clear that this team was awash with goals. Three weeks previous, Norwich had been thrashed 7-0, and Alvaro Negredo, a player I did not know existed until City signed him, was striking up a lethal partnership with Sergio Aguero. And so when even Jesus Navas can score a brace, you know this is a team that was in the groove.
This game is not remarkable for the score-line alone, impressive as it was, but for its explosive start. This was a game that City led for 89 minutes and 48 seconds (plus injury time).  For once, Spurs keeper Hugo Lloris had a day to forget against City, and his mis-kick just seconds into the game resulted in him having to parry a Sergio Aguero shot before Jesus Navas pounced to fire the ball into the back of the net. His shot is quite amazing when you look back at it, somehow whipped in over Lloris from a tight angle. What a start.
Despite the clear domination, the goals did not flow for a while after the opening goal. But once the second goal arrived, the floodgates soon opened. That was with 34 minutes on the clock, when another Lloris kick found a City player, resulting in yet another save from an Aguero shot, but this time the ball fell to Negredo, who wellied it home from a few yards out via the legs of a Spurs player on the line.  With 40 minutes on the clock, it was three, as a lovely Navas low cross was deftly guided in by a predatory Aguero.  It was not long into the second half that the game was well and truly over, as Yaya did what came naturally to him more than ever that season, bursting up field, swatting away some guy called Kyle Walker, before laying it on a plate for Sergio Aguero. The best was yet to come though.
With 55 minutes almost on the clock, Negredo fired the ball home from the edge of the area after a delightful flick took it away from a Spurs defender. It was a magnificent piece of skill during a glorious four months or so for the player. After that City eased off, but there was still time late on for Jesus Navas to run through on goal and slot home for a near-perfect day for him, and the team.
To the excitable foreign commentary!
https://www.youtube.com/watch?v=6zLNQypfphY
On 29 January 2014, City would once again thrash Spurs. 5-1 was the score, not for the first time, in a game that is often overlooked, including by me for not giving it a section of its own. But hey, there's a lot to pack in. Danny Rose was harshly sent off for fouling Edin Dzeko early in the second half, when he appeared to get a touch on the ball. The game also featured a rare goal for Stevan Jovetic, and an even rarer one for Vincent Kompany, who finished off the rout in the ninetieth minute. The win put City top of the league, temporarily.
Bayern Munich 2 Manchester City 3 – Champions League.
10 December 2013
All of City's results/achievements/trophies have an asterisk next to them of course, because they were not achieved by ORGANIC GROWTH (and bullying), and that reminds me of this game, where many will gleefully exclaim that the game was not important, and thus counts for nothing.
Except they would be talking through their rectum in arguing such a thing. Yes, both teams were safely through to the knock out stage of the Champions League, City there having done the double over Viktoria Plzen and CSKA Moscow. But a game that didn't matter? Well no one told the players if so.
The Bayern team was strong, under their up-and-coming young manager Pep Guardiola, who notoriously doesn't take a lot of games seriously. As for City's team? Hmm, well judge for yourself.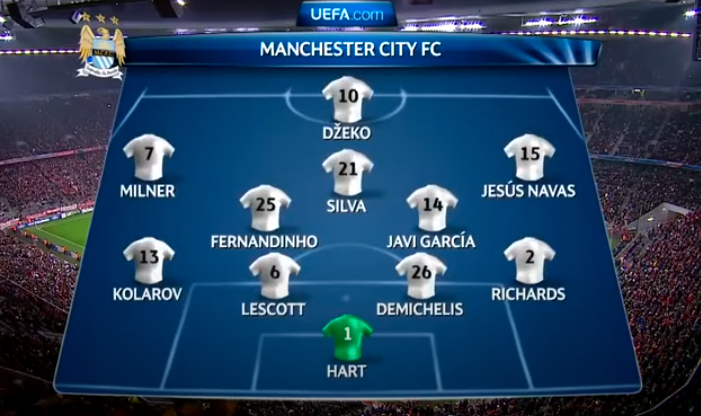 Within 12 minutes Bayern Munich were two goals ahead, and well on course to repeat their comprehensive win in the reverse fixture. Muller and Gotze were the scorers, and City were all at sea. This was no training session in front of a 60,000 capacity crowd. But then a delicious Jesus Navas cross (really) was headed back across goal by James Milner and David Silva stabbed the ball home. With 59 minutes on the clock, having stifled the home side's dominance, Milner went down after slight contact in the box and Kolarov slotted home to level the score. Just three minutes later Milner ghosted into the box to complete a fine night for him as he curled home a winner. The comeback was complete.
Of course, this being Manuel Pellegrini, there was still ample opportunity for criticism. On this occasion the criticism centred on the fact that he did not instruct the team to go for a fourth goal that would have seen City top the group. Fair enough, as protecting a victory for the kudos it brings rather than its importance is not something a manager should do, but City missed a good chance when ahead (Negredo), so it cannot all be blamed on the manager. Unfortunately finishing second meant being drawn against Barcelona, and that would be the end of City in that season's Champions League.
Manchester City 6 Arsenal 3 – Premier League.
14 December 2013     
Without any research and a memory that struggles to recall what I did two days ago, I'm taking a gamble by claiming this is the joint highest goal tally seen at the Etihad, one of three games to share that honour. Arsenal got a bit closer to City than Stoke or Burton, but it felt like City could go up a gear at will on a crazy afternoon of football.
Arsenal could have scored in the opening minute, but it was City who struck first. And once more the goal came from a corner. Martin Demichelis nodded on a Navas inswinger and there was Sergio at the far post to whip in a ball that had fallen slightly behind him, a goal reminiscent of the one scored against United due to the similar technique. This was the 58th home league game in succession that City had now scored in.
It was not a lead City seized on though. On 31 minutes, Yaya Toure's nonchalance in midfield was punished, as he was dispossessed, and the end result was a strange goal from Theo Walcott to bring the visitors level. His shot was not hit with much pace from the edge of the area, but Demichelis attempted to stoop and head it away and narrowly missed as the ball nestled in the back of the net as Costel Pantilimon stood still on his line. Many forget that Joe Hart was not always a natural starter for City under Pellegrini, even after he had made some crucial saves in Munich just days earlier.
Soon after Alvaro Negredo missed a great chance when through on goal, but he would soon atone, slotting home a Zabaleta low cross on 38 minutes. That's how it would remain until half-time. Aguero was soon off with a calf injury, but that did little if anything to slow the home side down in the final 45 minutes.
City scored a third goal from a fairly unlikely source, namely Fernandinho, who intercepted an Arsenal pass to beautifully curl the ball home from 20 yards out. Giroud then went close twice as Arsenal hit back strongly, before Walcott, marginally offside, halved the deficit. Amongst all the Tarquins moaning about injustices after the game had finished, they never seem to mention this goal, not surprisingly. Never mind, as City would soon restore a two-goal lead as David Silva flashed home another Navas cross. Giroud smashed the ball home, but the flag was already up, perhaps wrongly. Fernandinho then managed to equal his earlier goal with a delightful dink over the keeper to make it 5-2. Bendtner then had a goal disallowed for being millimetres offside. A Mertesacker header after Pantilimon denied Walcott a hat-trick made it 5-3. That was four minutes into injury time, and still wasn't the final goal of the game. James Milner flopped to the ground when clipped by Szczesny, and Yaya finished off the rout. What a game, on a day when defending was not high on the list of priorities.
This was only the third time Arsenal had conceded more than four goals in the Premier League. And this game meant City had already scored 35 league goals at the Etihad that season.
Manchester City 2 Liverpool 1 – Premier League.
26 December 2013
Sometimes history repeats itself and lightning does indeed strike twice, metaphorically at least. This is probably one of the most underwhelming spectacles on the list, and at the time its importance was perhaps not realised by most. It was an eventful game, full of incident, and yet next to some of the other games this season, almost seems dull. But in the end, it would turn out that a vital 2-1 win over Liverpool over the Xmas period, just like in 2019, would prove vital come the final reckoning.
It was a match that had many of the ingredients that define City over the past decade, a Vincent Kompany header being a prime example of this. Add Luis Suarez, the Premier League's biggest ever cheat up to his usual tricks, a Raheem Sterling sitter blazed over the bar and a goalkeeping error handing City victory, and this was not City at their best for sure.  Anyway, after Coutinho had put Liverpool ahead after Raheem Sterlng had rounded Joe Hart, Vinny headed an equaliser from a corner before Mignolet tried to swat away Negredo's bizarre outside-of-the-foot effort when put through on goal on the stroke of half-time. And that is how the game would end.
Joe Hart was back in the team and back in form, whilst as per the usual script, Liverpool fans could cry about the injustice of it all due to an incorrect offside call against Raheem Sterling. Interestingly the victory put City within 1 point of the Arsenal team they had recently routed, and already City had a goal difference (+32) at least 10 goals superior to anyone else in the division.
Manchester City 3 Sunderland 1 – League Cup Final
2 March 2014
It's easy to denigrate the competition, but winning a trophy should never be underestimated. It always means something. But if you need further reason for this game to appear on the list, the fact that within a couple of minutes City scored two of the best goals of the past decade is surely just cause?
Having reached Wembley with a 9-0 aggregate win over West Ham United, City were bang average in the first half, and went into the break behind, which raised a few eyebrows. However, it would take a moment of pure genius to turn the match, as Yaya Toure scored possibly his greatest (skill-wise) goal for City. A true cynic might suggest it was a mis-hit cross, but this was peak Yaya Toure, so we can discard that thought right now. And with Sunderland's resolve now broken, Samir Nasri would complete the swift turnaround with an exquisite curler with the outside of his right foot. A goal for the cameras, especially when viewed from behind.
The game also included one of my favourite genres of goals. Namely the late-counter-attacking-goal-to-establish-two-goal-lead-and-thus-allow-everyone-to-relax-for-remaining-few-minutes-and-enjoy-countdown-to-winning-another-trophy.
Another great day out, another trophy. It will never get boring.
Hull City 0 Manchester City 2 – Premier League.
15 March 2014
Your memory can play tricks on you, and that certainly applies to this game. A win at Hull City would not usually be considered a crucial victory (no offence), but at the time this felt like a must-win game. So to do so with 10 men for the most of the match made the result all the more impressive, and all the more important. It felt like a key day of the 2013-14 title race.
In fact it wasn't quite a must-win. The win saw City move into second place, 6 points behind Chelsea, but with 3 games in hand. It put them a point ahead of Liverpool with a game in hand. So even without a victory they could have made up the lost ground, but at the time it felt like a tide had turned. Many forget that this was often a four-horse or at least a three-horse race for the vast majority of the season. It would only be in the final week of the season that City moved into pole position, a perfectly-timed run.
After all, how can we measure how such a hard-fought victory emboldens an entire squad? Sometimes results and performances like these have consequences that reach far beyond the points gained alone. City would go on to beat Fulham 5-0 before an epic 3-0 victory at Old Trafford.
Anyway, to the details. Vincent Kompany saw red for bundling over Nikica Jelavic as the Croat ran towards goal inside 10 minutes.  Not a good start,admittedly. But the remaining 10 players dug in and it was sparked by a moment of brilliance, as just four minutes later David Silva curled the ball into the far corner from outside the area, to settle the nerves.  City kept the home side largely at arm's length, hit the bar through Zabaleta and sealed the victory late on through Edin Dzeko. Following on from a miserable week that saw elimination from the FA Cup and Champions League, the importance of this win cannot be understated.
Now, in a season of many highs, I have not included the subsequent 3-0 win at Old Trafford, and perhaps I should have done. So a few words in this section instead. This game is remarkable for its start, even more so than the 6-0 v Spurs. To spell it out, Edin Dzeko put City ahead within a minute, and that was AFTER David Silva had had a shot blocked AND Samir Nasri had hit the post. Dzeko would side foot home a seocnd from a corner in the second half before Yaya Toure slotted home to complete the humiliation for United late on, and City were comfortable throughout. The match was also notable for another Fellaini elbow, on Pablo Zabaleta, that not surprisingly he got away with.
This match really should have its own section, I'm an idiot.
Notable also for this rant going viral post-match. Andy was NOT happy.
https://www.youtube.com/watch?v=xmWXVHBo84A
Crystal Palace 0 Manchester City 2 – Premier League.
27 April 2014.
The day everything changed. And what an afternoon it was. A double header that mirrored the day when Manchester United drew 4-4 at home to Everton in 2012, whereby City's rivals faltered in the early game, then City took full advantage with a 2-0 victory. The early game on this occasion was of course Chelsea's win at Anfield, when Stevie G let it all slip. Don't worry Steven, no one noticed. A crucial day because Liverpool's superb run of form had seem them installed as favourites for the title, especially after the recent 3-2 defeat of City.
And so to Selhurst Park, and for once City did not make us blues sweat *that* much. As soon as Edin Dzeko headed home early doors from a delightful Yaya cross, City were in control. Later in the half, Yaya ,clearly fully recovered from a muscle injury, bulldozed his way forward, swatting away a Palace defender as if he was a mere inconvenience, before curling home a 2nd and the rest of the game was low on incident as City cruised over the finishing line.
A huge result. For the first time in a long time, and at the business end of the season too, the title race was in City's hands. Bizarrely though, City were still third in the table. But with just three games left for them and two for Chelsea and Liverpool, they were in prime position. Their superior goal difference would see them go top if they won their game in hand. That would be the 4-0 midweek win in the rain against Aston Villa, but before that, there was still at least one big obstacle still to overcome…..
Everton 2 Manchester City 3 – Premier League.
3 May 2014.
Much of the talk in the lead up to this match was about my fortieth birthday celebrations the same evening. But what other talk there was centred on whether Everton would lie down to deny their neighbours a first Premier League title.
*Narrator's voice* "They did not lie down."
What a match, what a 90 minutes, what an experience for all blues. The recovery from Ross Barkley's excellent opener, to the nervy last half-hour after Lukaku halved the deficit, to Edin Dzeko playing dead on the pitch, and a lot more besides. City showed mental strength and resolve, and that full-time whistle was perhaps one of the greatest moments of my life. It felt like everything, and at the time perhaps it was, especially as I could really enjoy my birthday now. As a small aside, whilst Edin Dzeko's best ever header in City colours is surely one scored at White Hart Lane, the one to put City ahead whilst standing still in this match must be right up there. There was only one place he could put it to score, and that's precisely where it went.
Two days later, Liverpool would play their final hand, and try and eradicate City's 8 goal difference superiority, with hilarious consequences. City won their last two home games comfortably, and a second Premier League title was theirs.
The Engineer had won the double in his debut season in England, and broken club goal scoring records aplenty along the way.
In Part 2, I'll take a look at Manuel Pellegrini's most memorable matches in his final two seasons at the club…….