Manchester United 1 Manchester City 3: A Pointer for The Next Decade
By Howard Hockin | 08 January 2020
Howard looks back at a night that featured two teams on a very different type of journey.
(Photo by Michael Steele/Getty)
It was the strangest of nights. A cup semi-final, against United, that I watched at home, alone. Who would ever have thought such an occurrence was acceptable? Well, there's a myriad of reasons for this, not least the desire to look after my body after the excesses of Christmas and the New Year. But also because this was the strangest of beasts, a match difficult to define, its importance also muddied by the need for a 2nd leg. But in the end, it was still a match that told us a lot. And occasionally it's nice to be reminded of where your team and other teams are, and that the future can still be very bright indeed.
Whatever that future holds, it's great to wake up and your first thought is that your team won a derby the previous evening. That feeling will never lose its power. If only City could win a match every night, I'd probably get up a lot earlier. And it reminded us blues, after the chastening derby defeat last month, that these are two clubs operating on two very different levels, heading in two very different directions. You only had to look towards the touchline for evidence of that. Pep, as always – tense, intense, passionate, frustrated, euphoric, tetchy, alert. And across the way, sat a man who appeared to have won some sort of club competition. A chance to sit in the dugout for a match, and experience the life of a top-level coach. The terms and conditions of said competition allowed him onto the touchline twice per half to make vague hand gestures resembling a man trying to manually close a lift door. Ole Gunnar Solskjaer may be at the wheel, for now, but the engine's shot, the suspension is on its last legs and the exhaust is dragging along the floor. He spent most of the match staring into middle distance like the man at C & A, with no idea how to stop what was happening. A man sat at a bus stop wondering why the number 23 has not arrived, processing in his brain whether he should just get a taxi. He did, to his credit, show some nous at half-time and alter United's shape and restore a modicum of pride, but the damage had been done. And he should be thankful more was not done. It should have been ten.
Still, when you put Phil Jones on the pitch for a Manchester derby, you get what you deserve. The City line up may have had me scratching my head and foolishly seeking help from Twitter, but the knowledge that whatever formation this was would be up against the "new Duncan Edwards" (Bobby Charlton's words, not mine) were as reassuring as it got, akin to a rich cup of cocoa next to a roaring log fire, or having just enough money for a chippy tea (with scraps). A shame that it would not be Sergio Aguero skipping past his startled face that would be the key photographs the following morning, but Kevin De Bruyne selflessly took up the mantle. It baffles me that we lost to that rabble a month ago. Granted their team was arguably stronger, but then so was ours. After all, Bravo was in net, there were no strikers in blue, and Raheem seemed to have had one wine gum too many. But perhaps this was just more evidence of how away teams have prospered in Manchester derbies, and to remind ourselves that the job is not yet done. The second half has removed the chance to put our feet up in three weeks' time and have some fun.
And that's the sole annoying aspect of the evening. We wanted more in that second half, for two reasons. Firstly, the chance to put the tie to bed. City have pretty much done that, but without an away goals rule and the memory of last month still fresh, there is still a bit of work to be done, and it did not have to be this way. Even as City eased off in the second half and the hosts discovered some fight and some shape, City wasted chances. Even in injury time they wasted a great opportunity.  But for the fans, the second reason we wanted more was the chance for humiliation. United have never been more open to embarrassment. They were there for the taking. For certain periods in the match, it seemed City could score every time they attacked. Sometimes City players seemed to have too much space, too many options, to the point of confusion. And of course this meant another glorious chapter could have been written into the club's history. This was a display more dominant than any derby performance before, including the 3-0 win and especially the 6-1. City could have had six by half-time, after all. And if they had, it would have felt rather difference to that stunning victory in 2011. That felt like a changing of the guard, a power shift. This would have just felt like reassurance. But City did not push home the humiliation, perhaps wary of a hot-take by a journalist, unwilling to show disrespect to a lesser team once more in this competition. Instead the team changed gear, and much of the second half had a similar feel to prodding an injured fly with a rolled-up newspaper, but not once administering the final, fatal blow.
But boy was this game telling. After all, when United's bitter-infused social media stalwarts are pointing to local connections for their goal, referencing oil and "Arabs" and questioning the absence of Phil Foden as their takes from the game, you know there's no way back for them, not in the foreseeable future. To be fair, they've had plenty of practice in recent years. The odd individual big victory cannot paper over the cracks, nor does it point towards a brighter future. City will finish above United in the Premier League for the 7th season in a row, whilst "they" will have their odd Pyrrhic victory and clutch on to nostalgia and the past as it is all they have right now.  With the emergence of Liverpool, every season wasted sees them fall further behind, and makes the path to redemption longer. Their vast wealth is no longer enough. It may take them a decade or longer to recover.
"We are still in our own heads the biggest club in the world," Ole Gunnar Solskjaer said in the build-up to the match. And that's part of the problem. Trophies are not won "in your head", but on the pitch. And it was 1997 when United last conceded 3 1st half goals at Old Trafford. And what's more, you can bet that after the savage 1st half, many a United fan will have drifted away into the night with a relief that it wasn't a worse result. That's how I used to feel as a City fan. Moral victories, because we only lost by a single goal to a clearly superior side, at home. Life moves fast.
For City, it is three years and three months since a game was lost in this competition.  City have needed the odd penalty shoot-out or four along the way, but for a competition in which the team has rarely hit the high gears, it shows the tremendous depth contained within the squad, and the willingness of City's last two managers to take the competition seriously, and accumulate silverware. When I saw the line-up, I wondered if that was really the case, and whether either manager really wanted to progress, but as is usually the case, Pep knows best. City will surely meet Leicester should they progress to the final, as they face an injury-ravaged Aston Villa, and because a meeting between the two sides at some point seems to be woven into the competition's rules. But what a great night to see once more what my club is capable of. And how great to see some of our players in the away end. Zinchenko clearly knows how to treat a lady, with a date night at Old Trafford. He's a keeper, for sure. It was great to see three players with the fans, and reassuring to know they all have a healthy number of loyalty points. Despite the importance of the competition not being the greatest, these are the sort of nights supporters remember.  And for all us fans, it's a night that reaffirms that over time the trophies will continue to flow, Manchester has never been bluer, and that under Pep, despite the obstacles encountered this season, there is so much to look forward to. Here's to another decade, and another wonderful journey.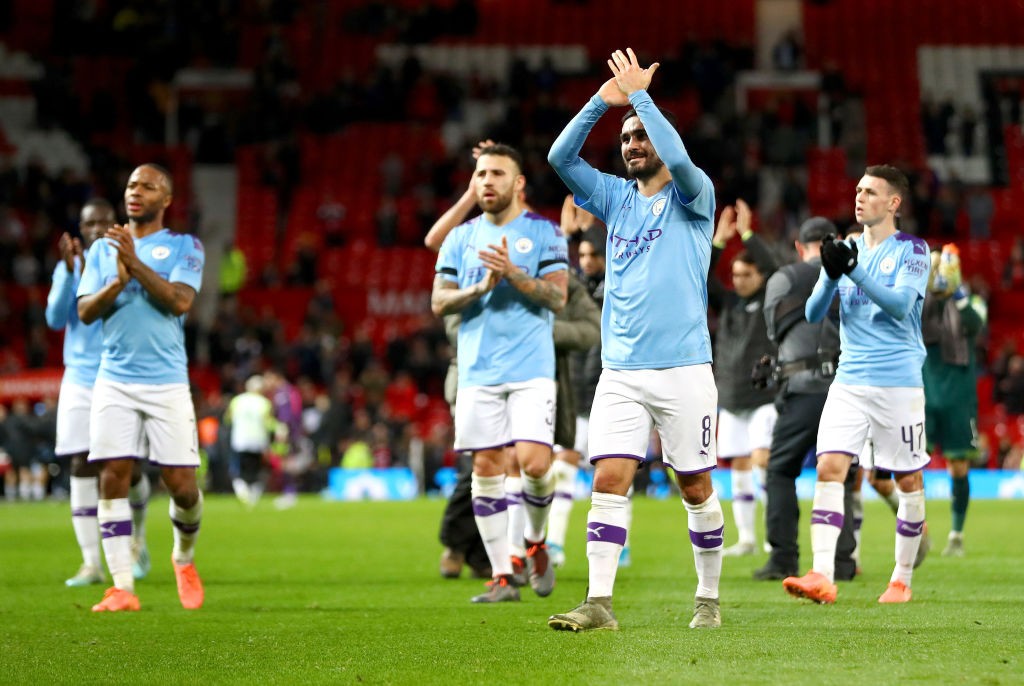 (Photo by Michael Steele/Getty)