Manchester City's Form, PR Guff, Der Spiegel & Racism: Weekly Thoughts
By Howard Hockin | 05 November 2019
A look at all things City over the past few days.
(Photo by Michael Regan/Getty)
Are City In Or Out Of Form?
It's the stuff champions are made of, right? After all, it's what Manchester United did, year after year. A gritty 2-1 win over Southampton should be something to applaud, surely, yet it seems the situation is a tad more nuanced than that.  The big question is, was it a great result or problematic? Was this a case of the reigning double champions overcoming adversity as they did against the same team two years ago when they collected 100 points over the course of nine months, or a sign of a malaise hanging over the team? A team by the way that has won 13 of their 16 games this season (and it should really have been 14).
With City, everything is judged against Liverpool, their clear title rivals. Whatever the league table suggests, in my mind it is, and will continue to be, a two-horse race. History may prove me wrong, but for now, it is a case of not allowing Liverpool to surge away at the top of the table. This was a situation discussed on this 9320 review podcast this week, and Ahsan's point about Liverpool only being judged on results was pertinent. If Liverpool are so good, why were they losing with 5 minutes to go at the weekend to a promoted side? If they are so good, why the need for all these late goals to win games? If they are so much more efficient than City right now, why are football365.com also talking about their profligacy in front of goal, just like we are about City? Why are fans discussing Salah's drop in form and his selfishness in attacking areas? Why has this team got no more clean sheets than crisis club Arsenal? Because, essentially, pessimism rules, and because Liverpool's underwhelming performances have not been reflected in results, at least domestically. But if you want to compare the title chances of both sides, then whatever camp you lie in you cannot simply cherry pick.
We have a weak mentality in our fan base, but it is partly linked to the league table, and the consequences of losing next week. If City had gone into the game with a 6 point lead, it would almost be like a free hit. But then we've been here before in January, albeit at the Etihad. City won, when they had to, and the rest is history. It's a strange state of affairs when the double champions are supported by swathes of pessimists, but then that has always been the nature of the fan base. Even with a league title secured in 2014, singing Championes was not permitted until at least the 89th minute. Of course, injuries do not help. With a fully-fit squad, especially with a fit Aymeric Laporte, there would be more bolshiness about City's chances next Sunday. Let's hope the mentality of the team is greater than that of the fans, especially after the scrotes have lobbed bottles of dark fruits at the team bus.
PR Guff
It used to be the week leading up to derby day that this would happen. You could set your watch to it. Notoriously shy family man Paul Scholes suddenly found his voice to inform the world that whatever the result, lickle old Manchester City would never be as big as United blah blah blah. City's players would be linked to other clubs, minor issues would be ramped up to resemble a full blown crisis, and we'd all pray for the moment all of this was over, at least for a few months. Of course nowadays, the situation is rather different. United may still consider themselves bigger, with their 2 or 3 billion fans or whatever number they've plucked out of thin air this week to pacify the shareholders, but City are infinitely more successful. Nowadays the chief rivalry is with Liverpool, and thus it is the lead up to these games where the PR guff can now most commonly be found.
It won't surprise you to know that Liverpool football club has a large chunk of the media on its side, fighting its battles. That's not paranoia, just look at the media over the past two days. It's there in clear sight, and once the Champions League is done with this week, it will only get worse. It will surprise you even less then to learn on Monday morning that Sky Sports are reporting Real Madrid interest in Raheem Sterling. Now, I've always suspected that one day Raheem Sterling would move to Real Madrid, and that day may not be a million miles away. His agent would certainly jump at the opportunity. But that's not really the point here.
Let's cut to the chase here. This story is pathetic. It is baseless, transparent drivel, whatever Sterling's intentions are. Its source could be one of a number of things, but probably emanates from agents playing games, most probably from Bale's side. Or from Madrid themselves, as they continue to ponder what to do with a problem like Gareth Bale, perhaps testing the market to see what drops. And part of the reason that Bale is a problem is that he is rather unsellable. He is thought to be on £600,000 a week, and he is not getting that anywhere else. City would not entertain giving him more than half that amount, and do you really think Gareth Bale is going to take a pay cut? He'll happily sit on his arse for the rest of his Real Madrid contract, if only to spite Zinedine Zidane. I doubt Gareth Bale would entertain the move anyway. It hardly paints him in a good light to be the makeweight in a transfer deal. The news that he doesn't even know who the British PM is might suggest he is thick as pig manure, but he ain't THAT stupid.
Sky Sports clearly think their readership is though. Nothing demonstrates this more than the following paragraph in their piece:  "Sky Sports News understands representatives from Real will travel to watch Sterling's performances for England next month, at home to Montenegro and away to Kosovo, before deciding on the final details of a proposal to City."
Because that's logical, right? Real Madrid want Raheem Sterling. Hey, they rate him so highly they'll pay over £150m for him, as they should. But hold on one minute. Just to make sure that this player that has been playing professional football for 7 years, has 55 England caps, and no doubt over 25,000 hours of video recordings of his performances available for viewing, just to make sure he is worth the money, Real will send some scouts to watch him play in 2 rather inconsequential Euro qualifiers first before committing to trying to sign him. Yeah, that makes PERFECT sense. One missed chance, one skewed cross and the deal is OFF. No pressure, Raheem. Throw in the news that Sergio Aguero could leave for free next summer and Bayern's renewed interest in Sane, not forgetting grumpy Pep's possible impeding departure, and it will be a good result just to avoid relegation next season. Yep, there's a big game next weekend involving Manchester City. Buckle up, or do yourself a favour and turn off the internet for a week.
Jadon Sancho Investigation
And so another of the myriad of investigations into Manchester City draws to a close. The FA could find no evidence of City paying an illegal fee to the agent of Jordon Sancho to entice him to City. Nevertheless, Dave from Aldershot is in possession of all the evidence and bemoans on Twitter how once more City have got away with murder, and have bought off another probe into their affairs. Dave can also prove that jet fuel cannot melt metal beams.
The lack of evidence is weird, considering the initial story by German magazine Der Spiegel, which claimed City paid Emeka Obasi £200,000 when they signed Sancho from Watford in March 2015. It's almost as if, and this will blow your mind, we should not take spurious stories taken from criminally hacked emails as concrete evidence, and actually wait until investigations have deciphered if an offence has occurred. Certain journalists might like to take note, not that they have any intention of, naturally. All of Der Spiegel's coverage was written in the style of a spurned 14 year old suffering from unrequited love. It devalued any potentially genuine evidence that may have been contained within their exclusives, whilst their clear prejudice in how they referred to City, and their "Arab" owners removed any lingering morsels of integrity. But try telling Dave from Aldershot that.
Racism Remains
Another week of rampant racism across Europe, another week of fuck all being done about it. As soon as the punishment for the Bulgarian fans' racist abuse of England players was announced, it was blatantly clear that nothing has really changed. A fine and a stadium closure for one game, and a banner to be on display during a match. Wow, UEFA just got serious, hashtag sarcasm. Meanwhile, over in Italy, a Verona fan posts a video that proves they racially abused Mario Balotelli, as proof that they did not. And that's the key point here. The fans don't see it, the various football associations don't see it, so they will not act on it. The problem is not just racism going unchecked, it's that it is so ingrained there are swathes of society across Europe and beyond that don't even consider it racism. And what this shows beyond doubt is that if football is to deal with this problem, and it must, it cannot be left in the hands of FAs and clubs. The unfortunate thing is that UEFA have already shown them self utterly incapable, or unwilling to deal with it too. Across Europe, groups of almost exclusively middle-aged or elderly white men make feeble attempts to deal with an issue way beyond their capabilities or comprehension. And so sadly it seems that to enforce change, it will be down to the players to make it happen. They may want to take control, they may change a generation, but it should not be down to them. It should not be on their shoulders, when all they wanted from a young age was to play football.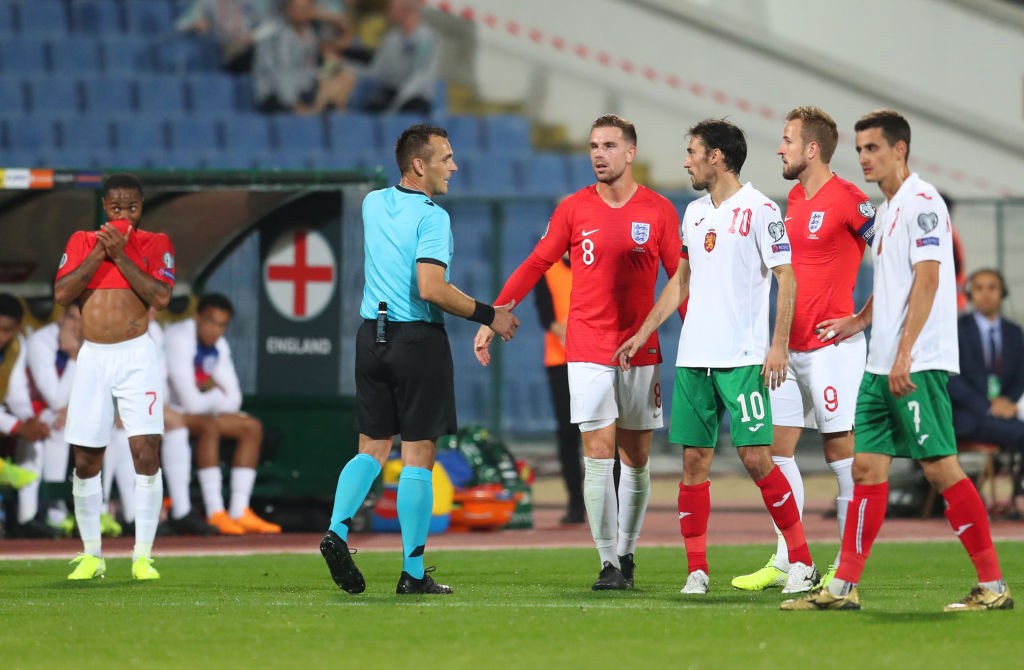 (Photo by Michael Regan/Getty)