Manchester City's 1998-99 Season: A Forensic Retrospective.
By Mark Meadowcroft | 19 April 2020
Mark takes a forensic look at a history-defining season.
So what was the 1998-99 third division season really like? Not Wembley, but the other 48 games? While a load of XG stats for that era would be hugely fascinating, there are no modern statistical tools available for football from the last century, but I did want to find a way of checking if nostalgia was playing tricks with me. But we do have records of matches, scores, goal scorers and line-ups. And our collective memories.
I cut out the cup matches – the 3,007 game against Mansfield was an irrelevance – which left 46 regular season matches, plus three play-offs, which I may even have called the post-season. A spreadsheet was created. I analysed it as I would a business plan. I looked for patterns. This is what I discovered:
1. Joe Royle really wanted to learn the lessons of the previous season
The early part of the season was dominated by Joe Royle trying to avoid the mistakes of the previous spring. When he and Willie Donachie stepped into the enormous mess they inherited, he had a couple of dilemmas. Does he try and assess every one of the vast squad, give them a fair chance and hopefully stumble across a team that will scrape together enough points to avoid relegation? Or does he forget about fairness, make brutal, immediate decisions, decide who plays and who doesn't. Does he risk missing out on the player the club is paying and could make a difference? Or does he prioritise consistent team selection and coaching a group of players to play as a team and not eleven lost souls? Additionally, does buying players help keep City up or just add yet more confusion? And Gio Kinkladze? Royle didn't have a consistent answer to that – but nor did we.
It was a hugely difficult call but Royle went down the route of giving everyone a chance and buying several new players – none of whom made a short term difference but some of whom made substantial long term contributions – and one who became a legend. City were relegated though – so it didn't work.
In the new season, Royle was desperate to give what he thought was his best team a fair shake. The opening weeks of the season saw him to stick with a basic plan through thick and increasingly thin. Team selection was frustrating but it was also consistent and he was clearly working hard on the coaching pitch to improve what he had.  Only when it had been tested almost to destruction did he change.
2. If it's going to go spectacularly wrong, it's better that it goes spectacularly wrong very early
The plan had been for the greatest spelling in City's history, Kakhaber Tskhadadze, to play as the defensive kingpin. His time at City had been dominated by endless injury, but he was physically imposing and as a current Georgian international, was clearly a competent player when fit. He lasted one and a bit matches before an injury that ended his season and his City career.  The whole strategy for the season had to be rethought from first principles on August 14th.
3. Nicky Weaver was really good
Weaver was the huge positive from the early season experimentation. At no stage did anyone feel that City needed an experienced keeper. With no backstory or fear of failure, he was the first player in the team to feed positively off the huge crowds rather than be intimidated by them. Royle showed that he would give people a chance but could also be ruthless. At no stage did it look like he would drop Weaver. By comparison, Nick Fenton and Gary Mason did their best and went on to have good professional careers, but we needed better, football is a ruthless business, and when they were replaced, results improved.
4. The squad was still awe-inspiringly unbalanced
The squad Royle inherited may have looked like a crowd scene from Ben Hur, but City still managed to start the season with only one senior specialist full back on the books. Richard Edghill was always going to play when fit, with one of a motley crew of fill-in midfielders or centre backs on the other side. Edghill himself started 41 times, was steady and at Wembley scored a penalty that secured his place in club folklore. After numerous players had a go, Royle found a solution on the other side of the pitch which we will discuss later that tightened the defence and didn't involve arguably the best player under contract playing out of position. Until Terry Cooke arrived, there were also no out and out wingers. The manager was making the least bad of years of dreadful recruitment.
5. Was Andy Morrison really that important? Hell yes.
When Morrison signed before match 16, City were conceding 1.06 goals a game. After Wembley (match 49) that was down to 0.73 goals per game.
In his first six games, City conceded just three goals before he succumbed to one of his regular injuries. There was an instant defensive improvement which was masked by a sudden goal drought, which he partially fixed by also scoring three of City's six goals in that six match run. So apart from tightening the defence, transforming the dressing room, being appointed captain instantly and scoring 50% of the goals, he was a bit of a damp squib. I am far too young to judge Tony Book, but Morrison and Kompany stand out of a mile as the two City captains of my lifetime who made a material difference to the fortunes of the club. Every plaudit is justified.
6. But did Gerard Wiekens help him?
Wiekens was a totally different player and character to Morrison. More technical, cerebral and diffident. But he was undoubtedly one of the better players at the club and 45 appearances out of 49 – more than any other outfield player – shows that Royle considered him an automatic selection. Defensively consistent and able to pass out from the back, he also scored a hugely important goal at Wrexham on Boxing Day. At the level we were at, Morrison and Wiekens were perfect for each other.
7. Jamie Pollock and Tony Vaughan played a lot of minutes and their commitment should be recognised
Pollock started more games (24) than either Bishop or Morrison and only one fewer than Dickov. While Bishop, Brown and Horlock eventually demonstrated that they were clearly the best combination in midfield, Pollock was still involved at the end of the season. A reasonable player forever defined by the greatest own goal any of us will ever see, he played his part.
Vaughan, defined not by a calamity but a ridiculous transfer fee, started 37 games thanks to a willingness to play at both full back and centre back. Another one who was good enough in terms of ability and character for what we needed at the time. His red card away at Millwall is also a highly recommended guilty pleasure.
8. And what of Ian Bishop?
Bishop's first start of the season was in the same match, Morrison made his debut, a 2-1 home win over Colchester United. The yang to Morrison's ying, Royle struggled to keep both men fit, but both added a lot of value, be it Morrison's leadership or Bishop's organisation, quality and ability to pass the ball to another blue shirt. At nearly 34, he was not a runner but he was also only recently out of the Premier League. That status was often obvious in the third division. At the time, my favourite piece of saloon bar match analysis was that Royle was desperate to have at least one of Morrison or Bishop on the pitch at all times. They added similar things in totally different ways. The data hints at that and of course at Wembley, when neither of them was anywhere near properly fit, Royle turned to  Bishop from the bench when Morrison had given the hour or so that was the maximum his body could give.
9. 12th at Christmas is slightly misleading
City fell three places after the York defeat and then climbed five to seventh after the Wrexham win on Boxing Day. The table was very tight, 12th was the lowest City were other than after the second round of matches and didn't really reflect the reality. After 39 or the 46 rounds, we were in the top 8 so could reasonably said to be firmly in the play-off race. After round 31, they entered the top 6 and never left. By Easter, the play-offs looked like the minimum City would  achieve and the main focus was on whether they had enough time to catch the team in the second promotion place – Fulham were well clear at the top.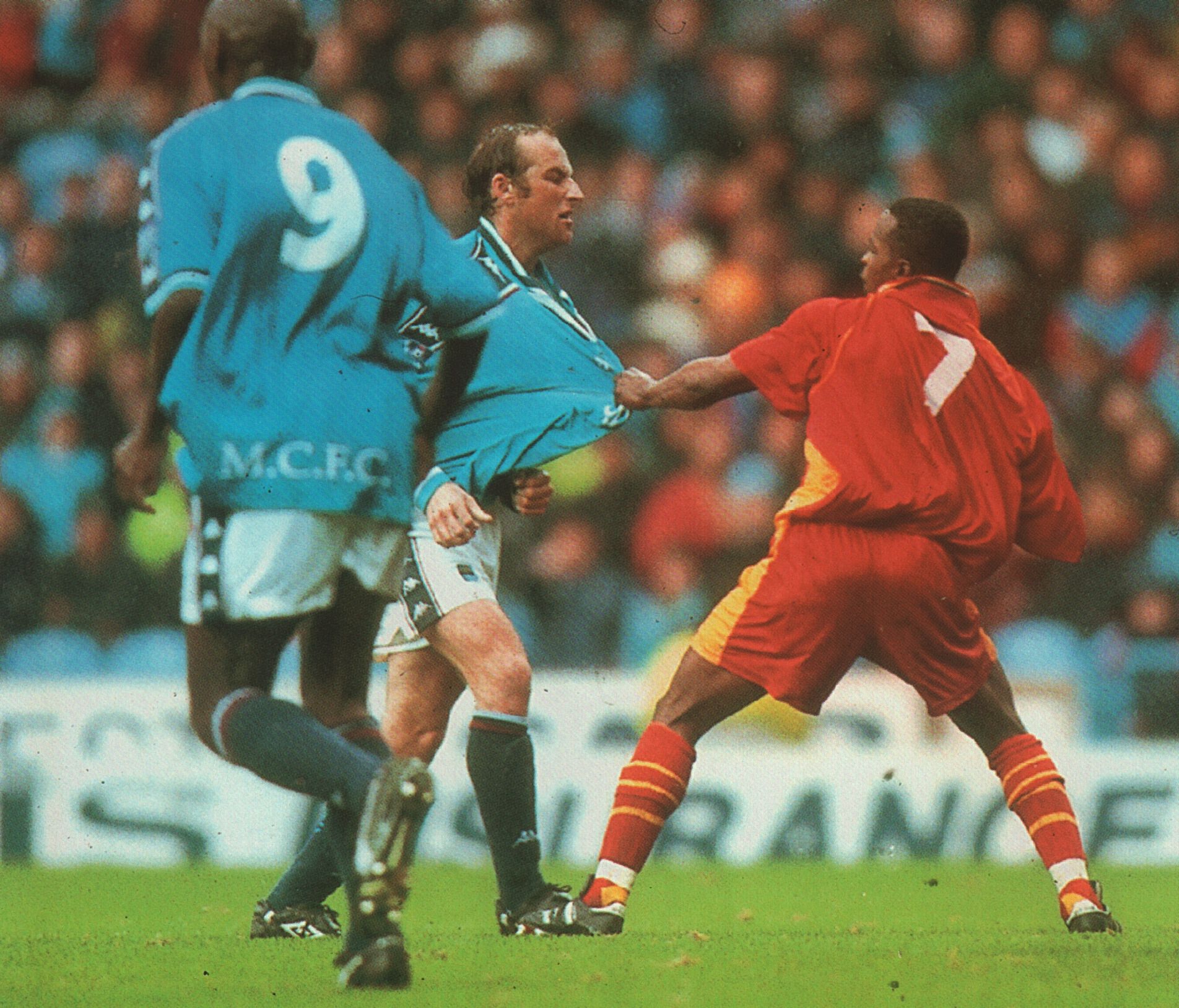 10. Lee Crooks – unsung hero
City tried a number of players as Edghill's full back partner, but Lee Crooks – theoretically at least a midfielder – played at right back at Wrexham on Boxing Day and kept his place. He wasn't the greatest player in the club's history but there was zero budget to spend on upgrading his position and he was good enough for City in the short term. He also scored a famous thunder-bastard at Chesterfield and was seen as a good guy. Hat doffed to a player who gave admirable service.
The only matches Crooks missed after Wrexham were the total shit-shows at home to Oldham and Wycombe Wanderers – the only matches lost after Christmas. Weaver, Crooks, Morrison, Wiekens and Edghill were established as the default back five after Wrexham with Vaughan filling in where needed. In the 21 games from matches 23 and 43, just 8 goals were conceded.
11. Michael Brown was a substantial upgrade
The York nadir was only his second start of the season. After that, Brown started every game, a classic example of a player being edged back to form and confidence by Royle after the year zero of Clark. The introduction of a player who went on to have a long career in the Premier League and at the top of the Championship was always going to considerably strengthen a third division team, and the correlation is clear in the statistics. He played like a drain at Wembley but for the 28 games preceding that was a very important cog in the wheel.
12. Kevin Horlock may have been City's best player
A sweet left foot that bore almost entire responsibility for balancing the team, ten goals, a solid defensive player, a universally popular character and a world class aggressive walker, there's an argument that Horlock was City's go to player in 1998-99. Things picked up when Royle stopped wasting him at left back – he was as good as anyone in the position at the club but that is not the point – and put his best player in his best position. It's a far from perfect measure but Horlock wore the number 6 shirt he became associated with for the first time that season at Wrexham – and he kept that number for the rest of the season and his career at City. At last, he was being used to maximum effect rather than fitting around lesser players. I can confirm to younger readers that he was central to digging City out of its self-created mess and that in 2020, while he wasn't the quickest, he is far too modest on Twitter about his capabilities. A cult hero and a top player.
13. Terry Cooke – baller
Famously, he was competing with David Beckham, Keith Gillespie and Jonathan Greening for game time at United – and then got a bad injury at the worst possible time. That ACL injury and a lack of extreme focus stopped him from reaching the very top, but he could play.
The best thing that could be said of Royle and the team-mates he joined up with in January is that by then City had an on-pitch organisation and structure that he could shine in. Had he turned up in the dog days of Frank Clark, he would have disappeared between the cracks but there was now a plan and a system and for the first time in his career, Cooke had regular minutes and a team set up for him to shine. He was also an out and out winger in a team that had minimal width until his arrival. At no stage that season were City the great entertainers, but with Cooke in the team they were not the ordeal to watch they had been before Christmas.
Before Cooke arrived, City has scored 28 goals in 25 games, or 1.12 per game. After he signed on loan, they scored 45 in 24 games, or 1.88 per game. At the same time, goals conceded fell from 0.88 per game in first 25 matches to 0.58 in the next 24. The analytics lads are going to say that this is a very crude analysis, but something changed and it was obvious to any observer what it was.
In those 24 starts out of 24 after he arrived, he scored seven goals and delivered many more assists. He was also a reality check for us. A United cast-off at this time was more than good enough for us. He was a player whose talent made us look at the stars while simultaneously reminded us of our deserved position in the gutter. The one question I'd like to ask Alex Ferguson about the Noisy Neighbours is whether he regrets letting us have Cooke – because if he'd sent him back to Wrexham, City would probably not have been promoted, we'd be stuck where Sheffield Wednesday or Nottingham Forest are now and he wouldn't have had to deal with Mancini, Yaya, the 6-1 and 93:20.
14. Shaun Goater had a very strange season
Goater scored 8 times in the first 13 games of the season, but from Wigan in October to Fulham three months later in January he didn't score a single goal. Then a hat-trick at Burnley in March was followed by a late season flurry. 18 goals in 44 starts sounds like a solid season. In truth, it was very up and down but we was without doubt the most likely source of a goal and by the end of the season was bonding with a crowd that liked a trier. But it was not until the following season, when most of us confidently expected him to be sold, that his career in blue really took off.
15. If Goater was having a strange season, Paul Dickov's was even stranger
Dickov started and ended the season as a first choice, but even more so than Goater, his form nosedived in the winter. You can be the most committed player on the pitch, but if you are a striker who only scores once between late September and mid-February, the conversation is only moving in one direction.
In 10 games between Lincoln away in October and Wrexham away on Boxing Day, City scored eight goals. Four of those came from centre backs, three from Kevin Horlock and there was an own goal. You can't base promotion on statistics like that and strikers have to be accountable for that, although it is important to recognise that it's not as if Dickov or Goater had a De Bruyne or a Bernabia behind them serving up a bottomless buffet of inviting chances.
We just need to be thankful that we only conceded eight in the same period but the standard of entertainment made Stuart Pearce's City look like Brazil 82.
25 starts out of 49 tells a story. At times during the season, he was a fringe player, struggling even to make the bench. However, 12 goals doesn't seem such a bad return from that, he scored an important equaliser in the Stoke match that constantly crops up and there was another one of mild importance at Wembley. The hat-trick he scored on a sunny spring Saturday at Maine Road in April against Lincoln seemed to remove some of the self-doubt that had enveloped him.
16. And Jeff Whitley's season was the strangest of all
Four starts. Two play-off matches, a play-off final and just one in the regular season –  a horrible defeat at Lincoln in October. Yet Whitley's form and focus returned just as Bishop and Pollock were struggling with injury. Maybe his energy helped get City over the line against Wigan in that very close play off semi-final, but once in the team, he was a regular both in the following promotion season and the year after in the Premier League.  He certainly grabbed his chance when it arrived, but his contribution was negligible until the post-season.
17. Even by City standards, our record against teams at the bottom of the table was impressively dreadful
The bottom six in the league were Macclesfield, Northampton, Lincoln City, York City, Oldham and Wycombe.  Played 12, won 5, drew 2, lost 5. The other promoted/play-off teams. Played 10, won 5, drew 3, lost 2. The teams seventh to eighteenth. Played 24, won 12, drew 11, lost 1. Don't ever change.
18. Landmark matches during the season were important and do tell a story
Most of the matches that stand out in the memory did move the narrative. Millwall away in September wasn't a technical success but the injury time equaliser in a horrible atmosphere did begin the process of bonding the team. Morrison's debut at home to Colchester was important, and also marked the return of Bishop to the team
The promotion team began to take shape in difficult circumstances on Boxing Day at Wrexham and the victory from behind against Stoke 48 hours later gave the team confidence and the crowd hope. Royle went into the New Year with, at last, an idea of what his best team was. Those two matches between Christmas and New Year stand out so clearly, even at the risk of confusing causation and correlation.
The improvement accelerated with Terry Cooke's arrival –  this was confirmed by the twin 3-nil home wins over Fulham and Millwall in January and early February. The aggressive walking match at Bournemouth showcased a team that if they couldn't win, wouldn't lose.
The big wins at Burnley and at home to Lincoln were important in that Goater and Dickov scored hat-tricks that infused them with confidence. The farcical home defeat to Wycombe showed that calamity was never too far away, and of course it was almost revisited at Wembley.
19. Finally, Royle and Donachie performed astonishing feats. In the 40 years I have supported City, only Guardiola and Mancini sit above Sir Joe as City managers.
It can be argued that Royle should be marked down for failing to prevent City's relegation – that when he was appointed there were enough games left to scramble clear from the bottom of the second division in the spring of 1998. But that fails to acknowledge the scale of the problem he walked in to. However, in just over a year he turned the super tanker around thanks to calm and consistently excellent day to day management, coaching and process-trusting in exceptionally difficult conditions.
He used the summer break and pre-season to build a strategy. That strategy was at best only partially successful and was almost immediately challenged by a serious injury to a key player. Without over-reacting, but still changing over time, he found a formula that worked and stuck to it. Team selections and match statistics clearly show the moments when the shoes dropped.
His old City team-mate Donachie was also fundamental to the turnaround. What service he gave as both player and coach.
It happened in the nick of time, but the quiet thrill of seeing City move, from our lowest position ever, in the right direction in 1999 will live with me and the series of matches from Wrexham on Boxing Day 1998 and to the aggressive walking match of Bournemouth on February 13 1999 are among the most important in the club's history. Played 8, won 5, drew 3, lost 0, scored 11, conceded 2. We went from looking at the abyss to being a club united and tentatively beginning to look upwards with players, fans and manager on the same page.
Had it not happened, then City would not have been relegated but apathy would probably have set in, and City would have been stuck, a heritage football club playing either in a crumbling Maine Road or a cavernous, semi-converted athletics stadium.