Keep Calm & Trust Manchester City
By Dan Larsen | 23 September 2019
Dan looks at the stats for Manchester City
(Photo by Jan Kruger/Getty)
Manchester City have not started the season as well as many would have expected. However, they've actually been quite a bit better than their early season results have suggested. The advanced analytics show that City have been the Premier League's best side so far.
City currently lead the expected points table in the Premier League through six games, according to understat.com, with 14.87 xPTS. Regardless of what Liverpool did this Sunday at Stamford Bridge, their expected points total will be at least one point behind City's after this weekend (they have 10.57 xPTS through their first five games, third best in the EPL). Their expected goals for (20.99) dwarfs anyone else in the league (Liverpool are next at 10.68 before Sunday's game). Their expected goal difference (just under 15) is also significantly better than everyone else's (Liverpool's is second best at just under six).
City have put in five fantastic performances in their first six EPL games so far in the 2019-20 season. In their season opener at West Ham United, City hammered West Ham five nil. Though the expected goals totals for both teams were a bit closer that afternoon than the final score line suggested (West Ham 1.2 xG to Man City's 3.18 xG according to understat.com), there was no doubt that City were the better side that afternoon, and were deserved winners. City were also quite dominant in their 3-1 win at Bournemouth, and their 4-0 win against Brighton in their third and fourth fixtures of the season. Their defence was a bit vulnerable in the game at Bournemouth (they had an xGA of 1.89), but they created far more chances and were expected to win based off of the expected goals they created from those opportunities (their xG that afternoon was 3.13). They were much more defensively solid against Brighton (xGA 0.86), but they didn't create quite as many clear-cut chances (xG 2.31). Once again, the were expected to win based off of their overall performance.
This past Saturday, against Watford at home, City put in one of the most dominant performances in recent Premier League history. Despite Watford possessing a relatively talented side, City obliterated them 8-0. They posted an absurd expected goal score of 6.83 to 0.34 in that match. It was one of the most clinical attacking showcases you could ever witness! 
Perhaps their most impressive performance of the season thus far, at least if we are accounting for the quality of the opponent they were facing, came in the game where they dropped points to Tottenham at home in their Premier League home opener. Manchester City absolutely took it to Spurs that afternoon, creating chance after chance while completely stifling an extremely talented attack. The expected goals score line finished at 3.2 to 0.07. Spurs expected points total from that game was just 0.03. In other words, Spurs should have had virtually no chance of getting a result out of that game, but did so due to City missing some of their high-quality chances, and City's defence making two awful mistakes that contributed to their goals.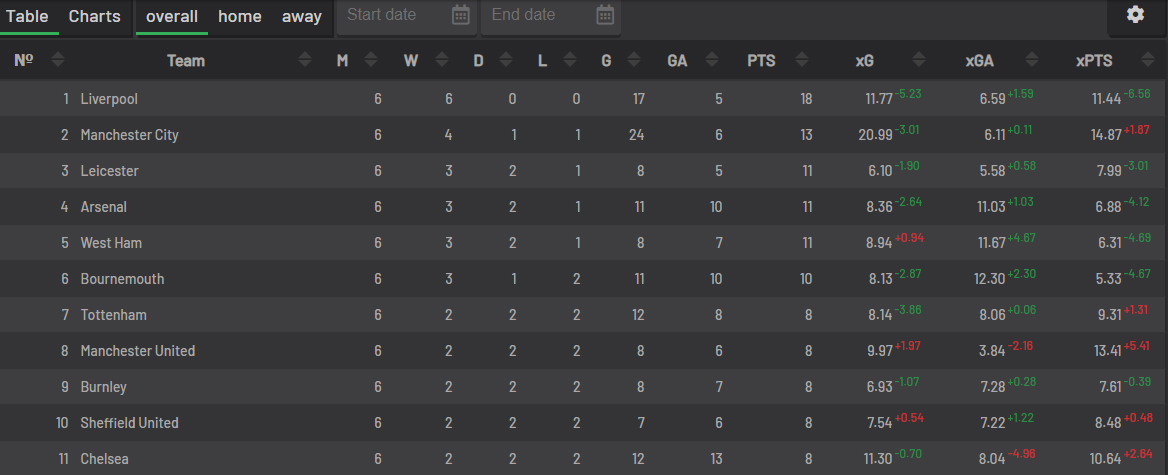 (Photo screenshot courtesy of understat.com)
Bad Day At The Office
The only game so far in the Premier League where City did not deserve to win was their 3-2 shock defeat at Norwich City. That afternoon, their defence made several atrocious errors that led to really good goal scoring opportunities for Norwich, and they made the most of those chances. However, City still generated a better expected goals total (2.34) than Norwich did (1.74). Their expected points total that afternoon, of 1.76, suggests that they should have at least drawn, and potentially gotten even more than that based off of their overall performance.
You may be asking why these stats matter. After all, isn't the only thing that matters at the end of the day the actual results? These stats are important because they can highlight just how good or bad a team is actually playing on the pitch. They can show us whether a team has been lucky, or is as good (or bad) as their results suggest. For example, a team which is winning matches, but is posting poor expected goal score lines. like Manchester United did during their long winning run last year, is very unlikely to be able to sustain favourable results like that over a prolonged period of time. That turned out to be the case, too, as United struggled significantly after the first two favourable months of results they got under Ole Gunnar Solskjaer.
This isn't to say, of course, that outliers can't and don't happen. For example, Chelsea's expected points total when they won the Premier League in 2016-17 was 75.74. Their actual points total was 93. Based off of expected points, City should have won the Premier League quite comfortably that season (their xPTS was 85.41, nearly ten points ahead of second-best Chelsea). Those stats, however, were an excellent indicator of how those teams would perform the following season, as Chelsea regressed to their expected points while City took a substantial leap up to win the league with 100 points. Liverpool also overachieved by a significant margin last season too. Though their expected points total was very good (83.45), they still got nearly 14 points more on the season than their performances suggested they should have. City, by contrast, were deserved winners of the league based off of their overall performances (xPTS was 90.64. actual points total was 98).
As the advanced stats show, City have been quite unlucky to have dropped five points from their first six matches. Their record right now actually reflects what Liverpool's should have been so far based off of their overall performances.Though there are legitimate reasons to be nervous about the City defence moving forward, people should remain confident in this side. Manchester City are still the best team in the Premier League. We'll see if their results start to reflect that in the weeks to come.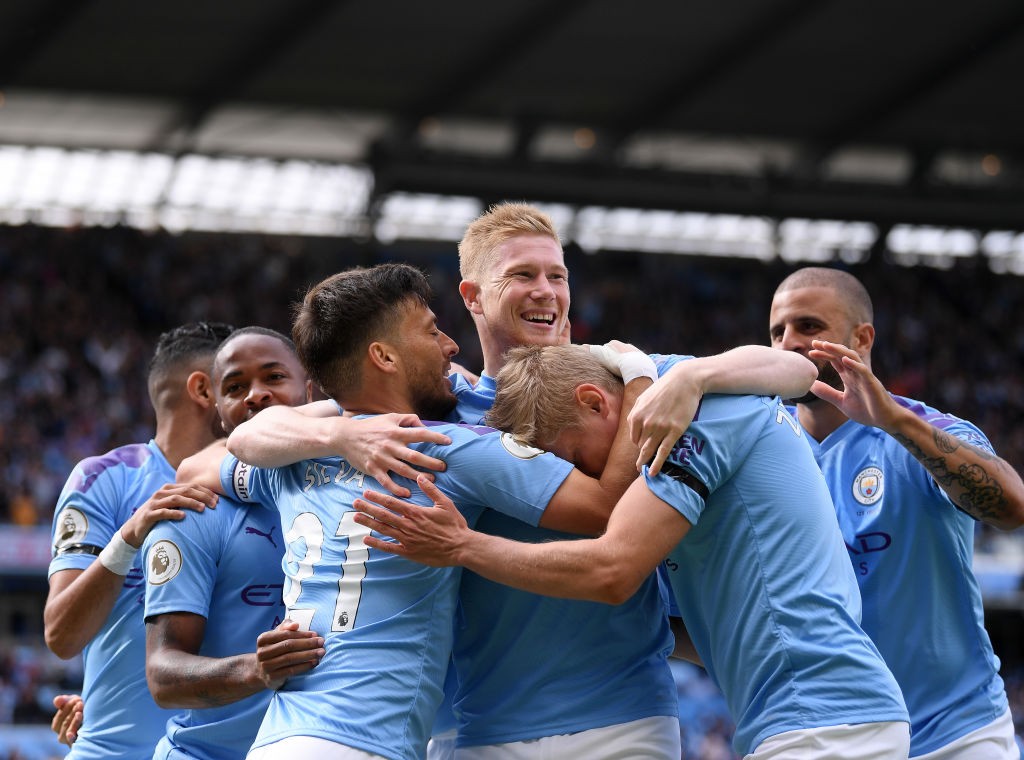 (Laurence Griffiths/Getty)