Manchester City v Wolverhampton Wanderers: Match Preview
By Joe Butterfield | 04 October 2019
A look at Sunday afternoon's Premier League fixture.
(Photo by Stu Forster/Getty)
Fresh off the back of a 2-0 Tuesday night home victory over Dinamo Zagreb in the Champions League, City now find themselves facing a Wolves team who will be slightly less fresh off the back of a Thursday night trip to Besiktas, and a late winner from Willy Boly.
After a win over Everton last weekend which, depending on your viewpoint, was either a really concerning display and a good indication of why we won't win the Premier League without Laporte, or "a win so I have no idea why anybody is complaining", it was good for the blues to put on a comfortable, dominant display in midweek to settle any nerves. It's an added bonus that our next league game comes against a struggling Wolves who, as previously mentioned, will be returning from Turkey in the early hours of Friday morning. The Europa League appears to already be taking its toll on the Midlands team, who picked up their first win of the season last week against a Watford team who, as we all know, have problems of their own.
From the outside, it's easy to point the finger at the Europa League and say that this is the reason why Wolves are struggling, and it might be true. However there's also something to be said about the transfers made last summer, two of which were simply buying danger man Raul Jimenez and defensive-mid Leander Dendoncker. Patrick Cutrone excited a lot of Football Manager players when Wolves brought him in, as did Jesus Vallejo, however neither have really made a huge impact on the squad which, on a weekly basis, looks basically identical to last season. Have they simply been found out? Last season's games against Wolves told two very different stories. At Molineux, Wolves frustrated the blues and held them to a 1-1 draw, though it was courtesy of a handball from Willy Boly. At the Etihad, Boly was instrumental once again, only this time he did so by getting himself sent off in less than 20 minutes, and City went on to win the game 3-0.
At the Etihad, City should be looking to dominate the game and secure a comfortable win. This is as long as the squad does not allow complacency from the fact that Wolves have played a game in the Europa League and thus think it'll be a walkover, if they stay focused and on their game, we should be able to take advantage of an opponent which will almost certainly not be operating at 100%. In terms of Pep's selection choices, Joao Cancelo looked promising in midweek and, to my eye (from one end of the pitch in the stand with no replay or bird's eye view of the game), it seemed to me that he was much more comfortable in the attacking third of the pitch than Kyle Walker. He also had no problems running across the whole front line, which may be useful for dragging players out of position should Wolves decide to sit back.
In midfield, the probable absence of Kevin De Bruyne means that the midfield trio which played against Zagreb will almost certainly play again. I personally don't think Gundogan is particularly great as an 8. On paper he's got everything, he's brilliant at intercepting play and cutting across the opposition's passing lanes to break it up and he can pick out a good pass if he's given the space to do so. However, I think he's much better playing from deep although he's gone on record multiple times to say the 8 position is his preferred role. Regardless, I don't see Foden starting even though he definitely should. He offers way more dynamism in midfield than either Silva or Gundogan, which was something we severely lacked against Norwich in the absence of De Bruyne. His cameo in the final 5 minutes on Tuesday night showed this, capped off with a brilliantly taken goal. If it were me, I'd play a midfield of Rodri, Silva and Foden. But it's not me, it's Pep, so expect Rodri, Gundogan and Silva yet again.
The front three presents more of a question mark than it has at any point in the last 18 months. Riyad Mahrez, a man who I was very quick to criticise last season (as were most City fans), is showing us all just what he's capable of. He's looking closer to the Mahrez we saw in Leicester's title-winning season and his goal involvements in his recent starts have been unbelievable. Bernardo looked good in midweek also, while Sterling's involvement off the bench is no better encapsulated than by the fact he got a goal and an assist. For me, Mahrez is undroppable right now whilst Sterling is one of our most dangerous attackers too. Gabriel Jesus will probably feel hard done by having been left out, however this may be in order to rest him for the weekend's game. Jesus is having a bit of a streak much more like the one which kicked off his City career – scoring consistently and being the nuisance for defenders he always is, even on his off days. Aguero is Aguero however, and it's difficult to keep him away from Premier League games for too long if he's fully fit. I'd personally keep Jesus in to maintain his form, though I wouldn't really have too much cause for complaint should Aguero play instead.
On the whole, I'd expect a City win. The European games are a huge factor in this and, for a team who's had the start to the season Wolves have had, we could be looking at scoring maybe 4 or 5 in this game. De Bruyne will be a huge miss but, with the right midfield filling his absence, we should be able to get the job done without him.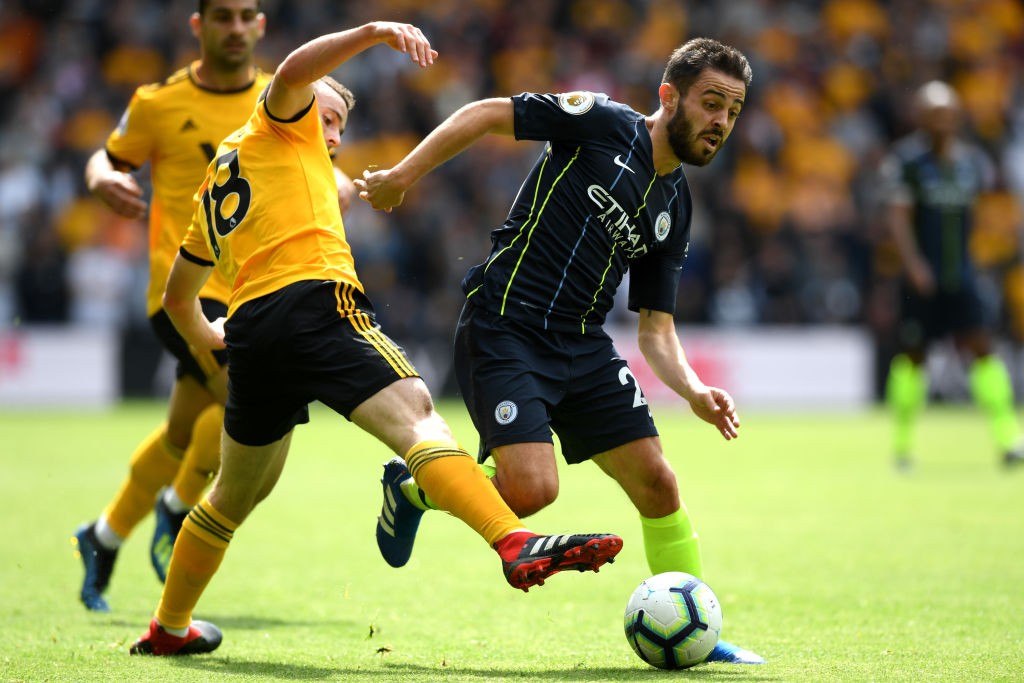 (Photo by Shaun Botterill/Getty)