Manchester City v Aston Villa: Match Preview
By Joe Butterfield | 25 October 2019
Joe takes a look at this weekend's Premier League match.
(Photo by Laurence Griffiths/Getty)
It's been a satisfying return from international football for the blues as they have taken 3 points in both the Premier League and the Champions League with an aggregate score of 7-1. A draw at Old Trafford saw Liverpool finally drop points, reducing City's deficit to 6 and putting any talks of a runaway Premier League champion firmly on hold. This weekend they will try to maintain the winning run as they take on Aston Villa at the Etihad, a fixture which is impossible to associate with anything other than a bursting Yaya Toure run from the halfway line before smashing it home past Brad Guzan.
Aston Villa, however, are currently enjoying a longer unbeaten streak in the League than City, having gone three games without tasting defeat. A draw against Burnley, followed by a comprehensive 5-1 battering of the bane of Manchester City, Norwich, before beating Graham Potter's Brighton last weekend, has seen them rise to mid-table early in the season, one point ahead of a certain Salford team. As with Crystal Palace, who I wrote about last week, they seem to come unstuck against teams of real quality, having suffered defeats to both Spurs and Arsenal, the only teams they've faced of the traditional top six.
The danger men to watch out for at Villa are obvious. Jack Grealish is showing everybody he is comfortably  Premier League quality and is finally being rewarded for his loyalty to his hometown club, having stayed in the Championship when he could undoubtedly have pushed for a move elsewhere. With two goals and three assists, his output in terms of pure numbers is clear to see, yet it's his ability to occupy opposition players and dictate the tempo of an attack which has caught the eyes of the neutral in these early stages of the season. The second one to watch is John McGinn, who appears to be a perfect box-to-box midfielder, one of the top tacklers in the league (joint 9th place with 29 tackles) but yet also Villa's second-highest goal scorer with three goals. He also covers an incredible amount of ground and it's no surprise that a midfield with the foundation of McGinn, combined with the potency of Grealish, is doing so well in the league. Beyond the obvious two, Wesley and Tyrone Mings have earned plaudits for their importance to the team, whilst City fans will be keeping a keen eye on Douglas Luiz should he get the nod to start the game.
Back to the home team and all of the talk is around central defence, as it has been ever since the injury to Laporte. Pep's experiment of a Fernandinho-Rodri centre-back partnership was cut cruelly, yet predictably, short in mid-week as Rodri picked up a hamstring injury against Atalanta. The seriousness of the injury is yet to be confirmed but it's typically a month if it's a hamstring injury and so Pep will now be relying on either the fitness of John Stones fitness or Nicolas Otamendi's brain cells to find a partner for Fernandinho, neither of which are a safe bet.
Despite this, at home City will be looking to assert themselves on the game and dominate the ball and it's for this reason that I would have expected the partnership of Fernandinho and Rodri to continue, as Rodri's ability to step into midfield when City are in possession makes him a surprisingly ideal centre-back option. It's for this reason that I'd expect John Stones to start alongside Fernandinho, which is presumably Pep's ideal partnership going forward. Stones is comfortable on the ball and is far less prone to chucking himself to the ground if he gets a sniff of a one-on-one situation, and as a confidence player who needs a consistent run to operate at full capacity, it's ideal to keep him in the team. Full-back is a bit of a coin toss. Kyle Walker or Joao Cancelo has been impossible to correctly predict since the return from the September international break but I personally feel that the level of control that Cancelo provides in possession on the right-hand side is much higher than that of Walker. Cancelo feels as if he can provide an attacking edge, and not just in terms of hitting the byline and making a cross, whereas Walker often feels he's playing it safe. On the left, if Zinchenko's injury persists then it comes down to whether Pep values Mendy's quality over the potential to overplay him, so Angelino may slip into the squad in his place. I doubt it, though.
In midfield, Gundogan has to continue playing the #6 role, which is where he seems to put in his best performances for City so that's a small mercy which Rodri's injury brings. Ahead of him, De Bruyne will obviously keep his place and I don't think that Phil Foden's exceptional mid-week performance will have done anything to sway Pep from starting David Silva, especially when he's had a full week of rest. In the forward positions, I'd personally go with Gabriel Jesus who has been brilliant whenever he's started a game for us this season, as his goal return when starting has shown. However, Pep made a point of singling out his failure to square the ball to De Bruyne and gifting him a tap-in against Palace last weekend and I think this might earn him a short-term slap on the wrist, meaning he might not start. Aguero did also score twice against Atalanta, which has probably earned him the Premier League start. On the flanks, Raheem is impossible to drop, especially after his three goals and two assists in a single game on Tuesday night. I think if Cancelo starts, Bernardo may start with him, though this would still be slightly harsh on Mahrez.
Aston Villa won't be an easy opposition by any stretch. They'll put up a good fight and, honestly, I expect them to score, maybe more than once. We need to be clinical and take our chances as they come but, with De Bruyne getting the much needed rhythm in his legs, he should have whatever we need to carve open any defence that Villa might put up against us. I'll tentatively predict a 4-2 victory for City, with City's fourth coming quite late.That would be a good game for the nerves…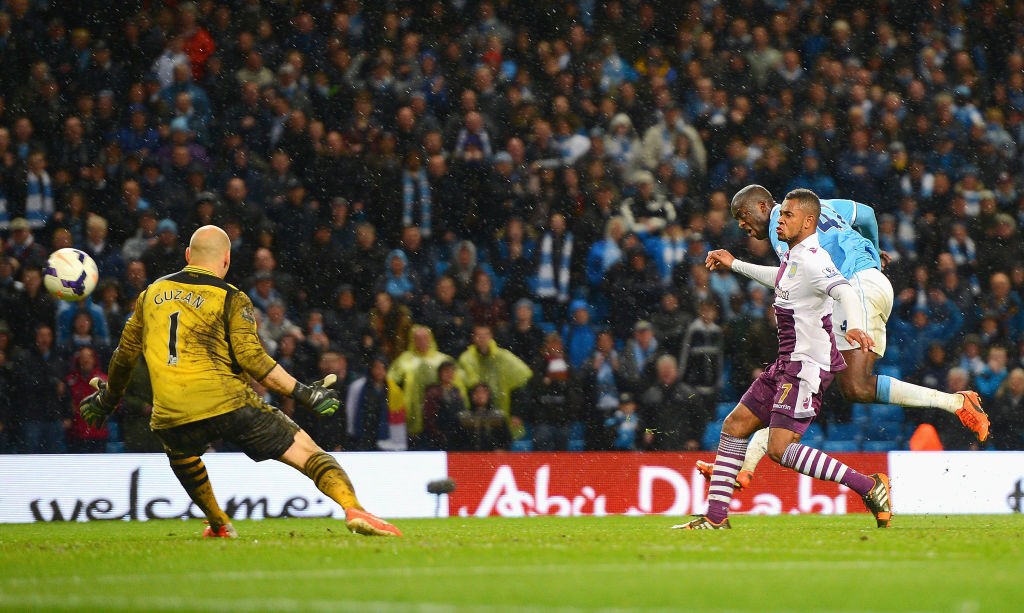 (Photo by Michael Regan/Getty)