Manchester City: My Weekly Thoughts
By Howard Hockin | 15 November 2019
Howard looks back at another interesting week at Manchester City.
(Photo by Michael Regan/Getty)
Sterling dropped from England team
I scrolled down the page, rather confused as to why Raheem Sterling was overly prominent on my Twitter timeline. It soon became apparent. You will of course know why too. Another day, another event where tribal battle lines could be drawn in the sand. Raheem was dropped for last night's game against Montenegro, but remained with the squad, just. Like the Bernardo tweet storm that I discuss below, there is no right answer to how Gareth Southgate should handle such a matter. He is manager for a reason, namely that he sets the rules and it is his decision. After all, his success is rather based on a clique-free, harmonious squad, as he is no tactical genius. You are allowed to accept that Sterling crossed a line, as I am sure he himself has done. In the scheme of things, this was no big deal, a news story that should be yesterday's news by midweek, but this is 2019, so of course it must run and run, especially during the tumbleweed period that is an international break.
The narrative for the story has followed a soul-sapping predictable arc. By Tuesday evening we are treated to stories about Joe Gomez's character and back-story, and it can only be a matter of time before The Athletic (who I think are excellent, for the record) send a reporter to the estate where Joe grew up, for some more searing insight into the man that was a victim of the unprovoked assault. Yet again, some stories are bigger than others, and we cannot complain that this hogs the headlines, it was always going to be that way. But it also shows the skewed world we live in, more often played out in political arenas, where this week I have seen two buried newspaper reports of footballers on drink driving charges, yet this is all we're all talking about. Because in case it's not immediately clear to you, drink driving is 100 times worse than a canteen scuffle.
Still, Sterling's transgression has been a lifeline to so many Liverpool supporters and journalists that they should be thanking him, having been forced to bite their lip for over 2 years now due to Raheem's "redemption". It must be terribly liberating for so many of them such as Dominic King at The Daily Mail to finally flex their muscles again. They've waited a long time for him to mess up in any shape or form. Time to make hay whilst the sun shines. Raheem showed his class by denouncing the pathetic booing of Joe Gomez at Wembley (if you've been to an England game, it probably wouldn't have surprised you), it's just a shame that it took 3 years for the media to do likewise for the booing of Raheem himself. As always, I hope corners have been turned with how we deal with players and with what is acceptable, but a quick look at the Twitter feed of a minority of Liverpool supporters will soon clear you of all doubt that little has changed.
And for Sterling, I wonder if a lot of this has stemmed from his eagerness to embrace social media. Because it staggers me that any footballer would go anywhere near the internet. They have a right to of course, the solution to the problem of online abuse is not to shrug your shoulders and tell the victims not to go online, but sadly there seems little other way as nothing is ever done about it. Sunday's result was clearly still playing heavily on Sterling's mind, as I would expect. But it seemed he carried certain grievances into the England camp, that Joe Gomez probably played no part in, social media memes possibly affecting him more than an on-field chest-bump. Whatever, it is done, and best that everyone moves on. Southgate could have kept it in-house, but there is a mole in every football camp. With her husband retired from international duty, I guess we can't blame Rebekah Vardy for this one.
City's transfer policy to change after Anfield defeat.
Essentially, my total analysis of the Liverpool v Manchester City game now the dust has settled is that what happened at Anfield is just what always seems to happen there, and there's nothing you can do about it when so much is stacked against you. When you have a 3rd choice left-back, an unsuccessful reserve keeper in nets and a 34 year old midfielder in defence, yet still have 13 corners to 4, more shots, more possession, hit the woodwork, miss at least 3 great chances and wrongly don't get awarded 2 penalties, one of which leads to one of their goals whilst soon after a goal does not seem to be checked for offside (it can't have been in that timescale), then I am not sure what more the manager could have done. History is written by the victors, so the reports will say Liverpool comprehensively won the game, but they did nothing of the sort.
Irrelevant of the performance levels and circumstances of Sunday's game, you wonder if the result will be a wake-up call for Pep, Txiki etc, if they are not already planning their exits, ahem. That it will focus their minds on the need to keep strengthening this squad, rather than taking a chance with what they have, good as it is. A move for a centre-half (or two) was surely inevitable anyway, it simply becomes more important with every passing week. I don't believe that the team put out at Anfield was a result of years of underinvestment – it was the result of an injury crisis. If Liverpool had a similar number of key players out, they'd be struggling to maintain a top 4 place. I'd rather focus more on whether these spate of injuries are mere bad luck, or something more? Either way, this squad clearly needs reinforcements as a raft of club legends near the end of their City careers, on top of existing squad weaknesses.
Bernardo Silva Ban
There is little point debating the harshness of the punishment as it is entirely subjective, and there is no correct answer to what the ban should be. It is arbitrary and achieves nothing whatsoever. Whether the FA ban him for zero or six games on Bernardo Silva as a person or his future conduct, nor I doubt on the conduct of anyone else. The random nature of the punishment is shown by the fact that Wayne Hennessey can use ignorance to avoid a ban after a Nazi salute, but Bernardo and Pep have not helped themselves either way – especially Pep. Bernardo's mistake in comparison to Hennessey seems to be that he took responsibility, which the latter was never going to do. So much for honesty, not that he had any wriggle room – we could all see what had happened and what was involved with Bernardo's case. The thing is Hennessey escaped a ban because the FA panel agreed he showed a (lamentable) ignorance of Nazism, fascism etc. And yet the FA also accepted that Bernardo Silva was totally ignorant of the wider consequences of his tweet especially considering the lack of awareness of the history of the character in his home country, and yet banned him anyway. It seems pleading ignorance only works for some, but the player whose ignorance is almost so lamentable is hard to believe, is the one that escaped a ban. Go figure. Nevertheless, this whataboutery doesn't really achieve anything, and the ban needs to be served and then forgotten.  Whatever City think of the punishment, and the assumption is they consider it to be too harsh, they will know that there is no point in appealing. The education part is more relevant to Bernardo, but he has been educated I would hope already by the whole affair. For him and City, with his form nowhere near the levels of last season, the key thing is that this is all behind him as soon as possible. He was brilliant for Portugal again this week, in what I assume was a central role, but then he tends to forget his problems when he pulls on that shirt. Maybe the position he played is as telling as the focus on the FA charge if we wonder when he will return to his best. Once he is available for selection after the Chelsea game that will hopefully be the case, though the education course means that in a way it will still hang over him for a little while longer.
This affair in a way as been a perfect summation of the season as a whole, whereby little incidents and big incidents snowball to chip away at City's past superiority, domestically at least. Yet again, it's been one of those weeks. Fire-fighting from fans at every turn. It's a tad early to be throwing white towels into the ring, but it does feel like it's not just one of those weeks, but that it's going to be one of those seasons. Having said that, I thought the same in January this year after the defeat to Newcastle.
(As for Hennessey, there's no accounting for some levels of stupidity and ignorance. After all, I used to work with someone who thought the sun and the moon were the same thing. "I thought the moon was just the name for the sun at night".)
Infamy, Infamy
Still, if the last few weeks have shown anything, it is that the world is not out to get Manchester City. If media reports were to be believed (and why wouldn't you believe them!?) over the summer, City were screwed. Since January, City have been facing an imminent Champions League ban. Scouse separatist Tony Evans suggested it may be for as long as 3 seasons. Now the Athletic have penned an exclusive suggesting City will get a fine, at most. The news did not only boil urine, it created a full urine water cycle. The bizarre thing is the glee from rival fans at the thought of City getting a ban. If they strive for domestic success, the last thing they want is City being banned from the only competition they have never won. Elsewhere, the investigation into illegal payments to Jadon Sancho's agent was closed with no evidence found, whilst City also recently avoided a transfer ban for discrepancies with a couple of youth players. The hysterical reaction from fans of other clubs was a joy to behold, most of whom could not even tell you what City were being investigated for, but knew they were guilty nevertheless. Perhaps next time they should source their football news from reliable sources, not from illegally obtained hacked emails that provide no context or deeper information. As for City, perhaps the world is not against them after all, and some things go their way, and some don't. Yeah they are hated, and let's not pretend there's a level playing field with many things out there, but that's life, it comes with the territory. I will still of course be moaning incessantly about it for the rest of the season. That's my birth right, after all.
​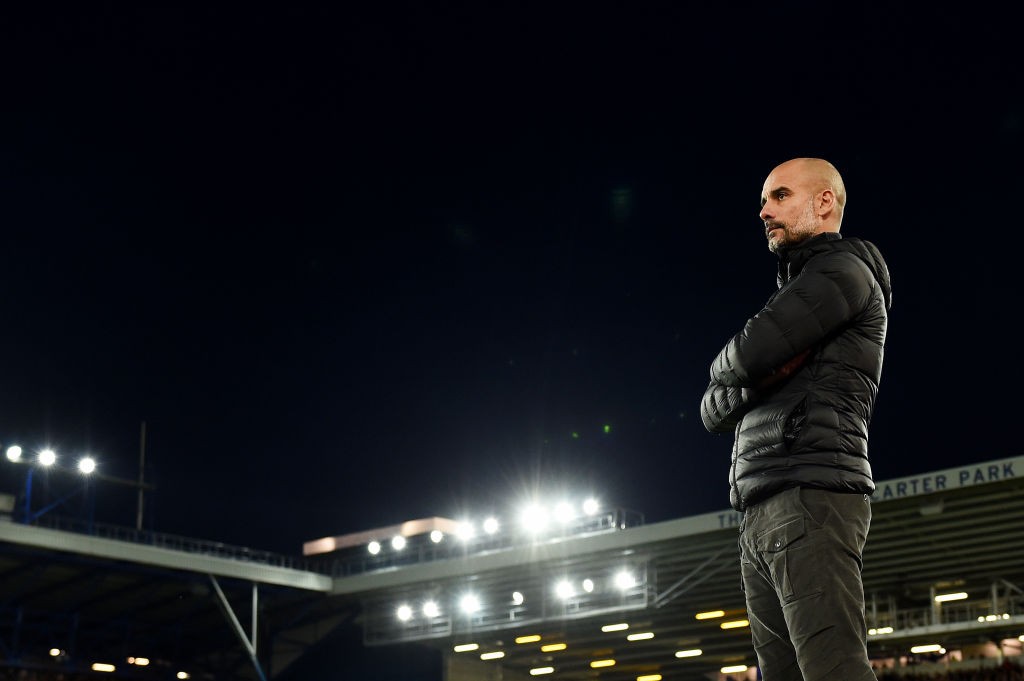 (Photo by Michael Regan/Getty)