Managerial M & M's: Weekly Thoughts
By Howard Hockin | 22 November 2019
Howard takes a look at all things managerial this week.
(Photo by Matthew Lewis/Getty)
Mauricio Pochettino
I'm digging a hole here, but here goes. I know it sounds like one of those godawful "unpopular opinions" spouted on Twitter every single day, but I just get a feeling Pochettino is not quite the genius that almost everyone seems to paint him as. In fact, if he were to tip up at City, I would hardly be cartwheeling around the living room. Not that I'd be unhappy either, but I'd be cautious with my expectations. Or maybe I'm just spoilt. Because every manager in the world, including Pep, including the greatest of all time (whoever they may be) have their flaws. They are human, after all.
First of all, let's hope that Pochettino's next gig is not at Old Trafford. Because for United, it is a no-brainer, a clear upgrade on what they currently have. At the wheel of a BMW series instead of a lightly-polished Trabant. But then perhaps the clearest sign of the diverging paths of City and United over the past five years or so.
So how good is Mauricio Pochettino? Spurs have won 25 points in their last 24 league games. How they got one of those points at the Etihad earlier this season will baffle me for years to come. The caveat for the poor form at the tail end of last season is that all eggs will have been placed in the Champions League basket, possibly. Nevertheless, by the end, his methods seemed tiring to many of the players, and this makes me think that he would bring with him a hefty injury list, one of the main things City need to eradicate. He's never won anything, he's not worked with many big egos, and seems unwilling to do so. And it's the little stats that make me wary. Losing points from winning positions (12, more than any other Premier League team this season), the long, long run without an away victory in the league (12, and counting), losing more games than any other top-flight side this year, the injuries, and his change of attitude this year. He had good cause to complain though, I'll give him that.
But then, what should we have expected him to win? What would Pep have won at Mauricio's last three clubs with his budget? We'll never know, but of course we cannot judge Pochettino on trophies won. When he manages a club that is expected to win trophies regularly, rather than hopes to, then we will see. And when he has a budget to suit, too. But the doubt remains for me – just how far can he take a team? Because to be honest, we don't really know. Still, if the alternative is Jose Mourinho, I'd rather take the chance and find out.
Getting to the final of a Champions League final is a tremendous achievement, but it is a cup competition after all, and I am not sure you can truly judge a manager on knockout tournaments. Spurs almost exited the competition on numerous occasions after all. Unai Emery was the don at Sevilla in the Europa League, but that's of little help to him right now at the Emirates. Pochettino's cup run masks a recent regression in my opinion, but that regression cannot just be pinned on him, far from it. You will already know of all the other issues at the club, and the feeling he has been managing with one hand tied behind his back for a while. The new stadium will not have helped his efforts to improve the squad.
The City narrative is a hypothetical one, as it seems a tad unlikely that paths will cross. Whatever the truth, Pochettino will be courted by many of Europe's elite clubs, and unless he takes an unlikely sabbatical will be back in employment soon. After all, almost all of the elite clubs (but not all) already have a manger of course, but many are on shaky ground and will be casting anxious glances over their shoulders in the coming weeks. He is clearly a great manager, but for me his reputation rather exceeds the reality. Then I remember that he took over a Europa League Tim Sherwood-managed team, and begin to wonder if I've been a tad hard on him. Of course it is pointless saying that because of my misgivings listed above, that City appointing Pochettino would be a risk, because any managerial appointment comes with risk. As would City promoting Arteta from within.
Mikel Arteta
No one can truly know how good Mikel Arteta would be as City manager. As a manager anywhere. Until he steps into those shoes, until the responsibility is his, until every team decision and every team sheet and every substitution and every disciplinary matter is his responsibility, we cannot know whether he will sink or swim, or somewhere in between. Even he cannot be sure. Those who know him best and work with him every day can only make what we hope are educated guesses. The question is whether you let him gain experience elsewhere. Should he succeed, he could be lost to City forever. Promote from within and he must learn on the job, and I'm not sure City is the best place for that, for transition and patience, as it is a club where there seems to be a constant insatiable demand for trophies, from all corners. Having Liverpool as a main rival does not help matters, the two clubs harbouring a deep distrust of each other at board level and beyond. The mutual desire to get one over the rival may well dictate future hiring policy. It was Pep's appointment after all that made United appoint Jose Mourinho against the better instincts of many within the club. That went well, but you would hope those in charge at City are rather more pragmatic than those overseeing the clusterfuck across the city.  My hunch is that Pep's successor will be an established European name, but we will see.
Jose Mourinho
And then there's Jose. The "One".
Is the Mourinho appointment more about getting them into the top four this season rather than creating a long-term legacy? Because apart from the luminous elephant in the room that is Mourinho poisoning clubs eventually and inevitably, there is the impending problems that Spurs will face next summer when they may lose many of their established stars, some for free. Even Harry Kane must be seriously considering whether he wants the rest of his club career to play out in this way. He could pretty much guarantee himself a hefty trophy haul at numerous other clubs. Mourinho will do what Mourinho does though. There will be a short-term bounce, and a domestic trophy will be won, which this season can only mean the FA Cup. This will give him the justification to continue his methods and cover any deficiencies, as it did at United. Either way, the Amazon documentary should be a fun watch.
But above all, the return of Mourinho to English football is just so, so tiresome. There is a schism here, and it will be in plain sight every time Jose Mourinho takes a new job, or says something "controversial" or falls out with someone. The reality is this – Jose Mourinho may well be an erudite, educated, charismatic dinner party or Super Sunday studio guest, but his football manager shtick is tiresome, outdated and utterly, utterly tedious. And I cannot be alone in thinking this. And yet the media portray him as the exact opposite. Box office. Never a dull moment. Good for the game. A character. No doubt he is good for them, as he makes their job easier, giving them constant copy and stories to embellish unlike the poker-face managers such as Manuel Pellegrini who are guarded and are cautious with every word uttered in public.
But please, don't treat us like idiots by trying to claim that the game needs a character like Jose Mourinho. It does not. It managed to survive during his 11 month absence, and it will survive when he inevitably departs from Spurs after freezing out Deli Alli and others. As Ahsan mentioned on Twitter, too often he is little more than a cancerous presence in the league, who treats clubs, players and most people he encounters with a kind of menacing arrogance which is quite frankly disgusting. But because he is considered box office by so many of the press pack, he gets far more leeway than any other manager would for his actions. This is helped naturally by his merry band of cheerleader(s). What's more, his methods once served a purpose, but those days are gone. It's all an act as it is with many managers who would not think of acting like this away from their day job. United showed that players are too savvy and we're all too long in the tooth to fall for his unique managing style any more. Nevertheless, as a pure manager he has been there and done it, and could be a big success at Spurs. I certainly wouldn't bet on it though. Still, it's a past reputation that still allows him to walk into a job as the 2nd best paid manager in world football.
The Special One. The Humble One. The Contrite One. The Great One. The Stinking Rich One.
Eff off.
City v Chelsea
And so back to the Premier League, and time for Pep to really earn his wage, not that he has been slouching previously. This is a match under the lights that appears far more difficult than it did a month ago. City find themselves behind Chelsea in the league, and with a big gap to make up on the leaders, who may well have three points in the bag by the time this game kicks off.
All the pressure is on the home side when you consider that the returning Frank Lampard has pretty much got a free rein for a year, and after that opening day shellacking at Old Trafford, has performed well beyond most people's expectations. The transfer ban and near-rookie manager has proved something of a handy deflection however, because the Chelsea squad, even after the departure of Eden Hazard, is packed with talent. They should be competing really, and it is right to expect a tough game on Saturday.
With Bernardo Silva banned, will his namesake fill the vacant spot, or could this be the time for Phil Foden to step forward? You never know with Pep, but the high stakes may persuade him to play it "safe". I almost wish I didn't support either side, as this really should be a cracking game. For Pep, his priority will surely be to dominate the ball to restrict the threat posed by the away side. Test them more than they test us, and stretch that defence, rather than get caught endlessly passing it sideways in front of their area. Whatever happens, that 6-0 defeat seems a lifetime ago now. Things change quickly in football, as Mauricio Pochettino found to his cost this week.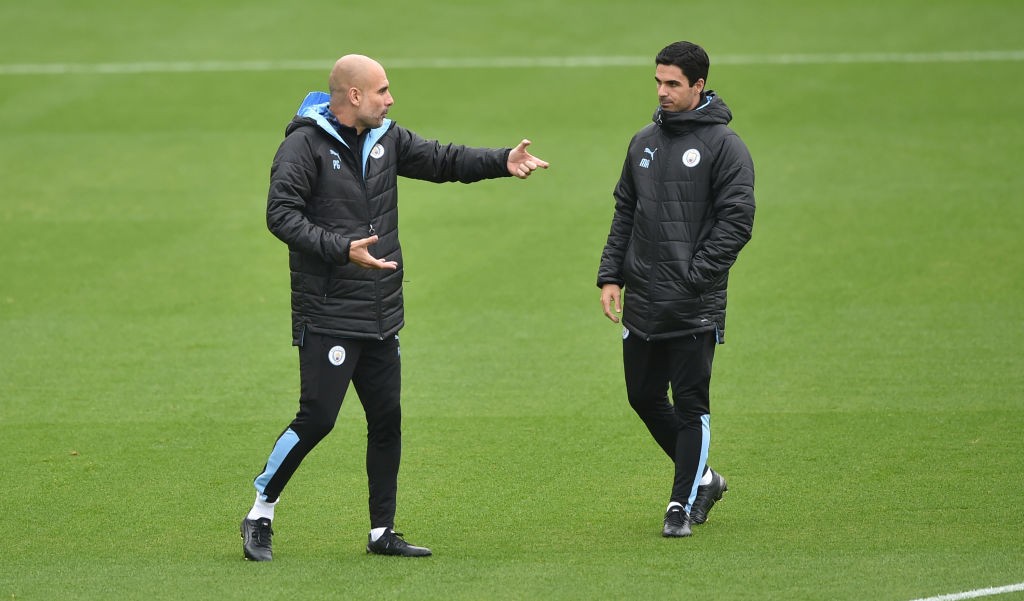 (Photo by Nathan Stirk/Getty)