Lucky City & Global Domination: Weekly Thoughts
By Howard Hockin | 29 November 2019
Howard takes a look at the last week at City.
(Photo by Oli Scarff/AFP)
City & Luck
On the Athletic app (have you heard of them?), I saw an analysis of the City v Chelsea match from Michael Cox. I enjoy Michael's analysis, it's much needed for my simple brain that has slowly come to terms with inverted wingers, half-spaces and overloads. He's another journalist who on social media is never "knowingly wrong", but that could describe most of us. But something that Michael wrote caught my eye, and he has said it before, that City were a tad lucky to win. And it seems to be a mainstream opinion consistently when City win tight games, January's game against Liverpool springing to mind, when I am pretty sure he said the same thing.
I find this a tad weird that City can't win a tight game, without a caveat or two. In fact it's downright tedious. In the final hour of the game, Chelsea had one good chance of note, a shot from Kante that Fernandinho deflected behind. From 25-45 minutes, City had 7 shots to 0. The luck element therefore must focus on the opening 25 minute period, but the fact is that whilst Willian shot wide from a good position, so did Kevin De Bruyne. Chelsea had 2 shots on target, so this was no hard luck story, though I was greatly impressed by them and the job Frank Lampard is doing. After all, they were lucky themselves that Sergio Aguero forgot how to shoot when Kepa passed to him, and that VAR came to their rescue at the death. Chelsea caused us problems, and dominated for a short while. They impressed and dominated the ball. But the domination did not last, and it does not mean City were lucky anyway. City won without controversy, apart from the ludicrous disallowing of a 3rd goal – for City, not Chelsea.
Luck can be hard to quantify. City play well most of the times, so we don't have a wealth of evidence. When City play badly, they tend to lose. Narrow wins such as the one at the weekend or January's win over Liverpool are not flukes, even if on another day they may have played out differently. Deflected shots like De Bruyne's are a rarity. You could analyse pretty much any team's most important victories and if you look hard enough, like a video referee trying to disallow a City goal, find something that you consider lucky. City's 2011 FA Cup semi-final win over United? Well what if Berbatov had not spurned a great chance in the 1st half? City were so lucky! In the final, Stoke had a great chance in the 2nd half. Lucky City. QPR – Tevez could have been sent off, and 2 goals in injury time is beyond lucky. Lucky too that United let their 8 point lead slip. And talking of slips, brings us to Steven Gerrard. What a clinical, joyless way to look at football.
City got their one MASSIVE dose of luck in one serving – when they were taken over in 2008. But all clubs rely on "luck" – whether it be a player or managerial signing that brings unforeseen success, or any number of other factors. However you look at it, I don't consider the City team of recent years particularly lucky. Two Champions League exits on away goals, serious injuries aplenty, VAR farces, an immunity to penalty awards and more mean they have had to fight the tide plenty of times, negated somewhat of course by their financial might. Fans tend to remember the injustices more than the lucky breaks, but we all know City have not ridden their luck in the past few seasons.  Besides, on Saturday pre-match, Michael Gove walked past me in Manchester and I didn't have a milkshake to hand.
Now that's bad luck.
Coffee & Chat
I was delighted to meet up with a passionate blue from even colder climes this week. Gunnleifur Gunnleifsson flew over from Iceland to watch City in the Champions League this week, his choice of match not the best unfortunately.  He travelled over with his two sons and father-in-law, who as a United fan forced them round an Old Trafford tour on the Sunday.  In my continued campaign to distribute "things that come with my season ticket", I passed on a commemorative City scarf, as we had a coffee at Takk, which has an Icelandic theme. What are the chances? It seems it is true that all Manchester is lacking is a beach (and sunshine). Gunnleifur is still playing professional football in Iceland at the tender age of 44, for Breiðablik. With 26 caps for Iceland too, and a career spread over 25 years, he is the record appearance holder back in Iceland. A fan of City since way before the glory days, attracted by the blue shirt and as an antidote to a country of United and Liverpool supporters, Gunnleifur fell in love with City in the 1980s, as did I. His collection of old City shirts is rather more impressive than mine however. He told me over coffee about a great lunch the previous day with David White at San Carlo, and I returned the favour by explaining in great detail as to why Piccadilly Gardens and our government are a disgrace to humanity. Iceland's defeat of England was mentioned, and the national team continues to prosper, though a play-off in March awaits at home to Romania.
I am sorry to divert from football, but as we walked back to their hotel near the cathedral, I felt a great shame to be English as the route was, as usual, lined with homeless people. I wonder what visitors to our shores think of a supposedly advanced 1st world nation that allows people to suffer to this extent, but then I am well aware this is not a problem confined to the UK. A recent visitor from Los Angeles commented on how there is literally a city of tents there. Still, 726 people in England & Wales died on our streets last year, and that figure will rise once more this year. It should be a priority for all political parties.
Good Teams Struggle – Everywhere.
Tuesday's game was so uninspiring that it does not require much more discussion from me. Job done, at the end of the day. The main worry is whether such a performance should be evaluated in the context of the circumstances of the group, or whether it hints at a deeper malaise. Time will tell. City's "underwhelming" performances recently have triggered millions of heated debates and discussions as to its cause, its repercussions, its solutions.  But as I've said many a time, a dip is inevitable at some point. It will come, and those involved simply have to work at overcoming it, whatever its causes may be. And to illustrate the point, perhaps it is pertinent to look at how some other teams are doing right now around Europe. A good place to start is Barcelona. On the surface, everything seems fine. Top of La Liga, and top of their Champions League Group too, qualification secured. Messi is still doing what he always does, the goals are plentiful (usually), and reinforced by some stellar signings, the future looks as bright as ever. And yet talk to anyone who watch them regularly, and that is not the impression you will get.  Barcelona have 28 points from 13 games, the same as City. The only difference is that no other team has shown sufficient levels of consistency. After all, no other team in the league has won more than 3 of their previous 5 games. But the rumblings of discontent at the lack of style and efficiency in Barcelona's performances have been widespread, their manager routinely panned as being unsuited for such a big job.
Still, it's far better to be a Barcelona supporter rather than a fan of a number of other big teams. In Spain, Real Madrid are finally beginning to find some form, but there has been discontent there for a while at the level of their performances and that of their manager Zinedine Zidane. On Tuesday, they surrendered a two-goal league at home to PSG in just 2 minutes. The team Barcelona beat this week Borussia Dortmund are struggling too, and now face a fight to qualify from their Champions League group with Inter. They are 6th in Bundesliga, Jadon Sancho has had another strop and things are not going smoothly. Bayern Munich have already dismissed a manager this season, and like City lie third in their domestic league, despite Lewandowski's 27 goals. Napoli got a creditable draw at Anfield on Wednesday, but have won 1 game in 7. The players have effectively gone on strike by refusing to attend a training retreat they see as outdated and demeaning. Manager Carlo Ancelotti's job is thought to be under threat, and a fire sale of players has been mooted. AC Milan are 12th in the table, whilst the travails of many an English giant will be common knowledge to you all.
The point of all this? Football is not predictable, nor would we want it to be, and a lot of money cannot protect you from unpredictability. There will be dips and mishaps and misfortunes however good the players and the manager are. It's not an excuse, the likes of Pep and many players strive for improvement and near-perfection constantly, but when such levels are not met, we need to be pragmatic. The club continues to move in the right direction, and you can't ask for much more than that.
New Investment
Finally, news broke this week of extra investment for the City Group, making it one of the biggest sporting franchises (*vomit*) in the world. And will soon be the biggest, no doubt. The investment will not really have any clear effect on City fans, but will clearly help the whole group expand and grow further, as plans for world domination continue. Sports-washing my arse, this is clearly an investment by an investment company that will make said investor(s) plenty of money when the oil runs out, they get bored, and leave. In 2080, I reckon. But most importantly, Silver Lake invest in Ali Baba, so this deal effectively gives me the green light to (allegedly) keep buying snide football shirts from China.
So once more, thank you Sheikh Mansour.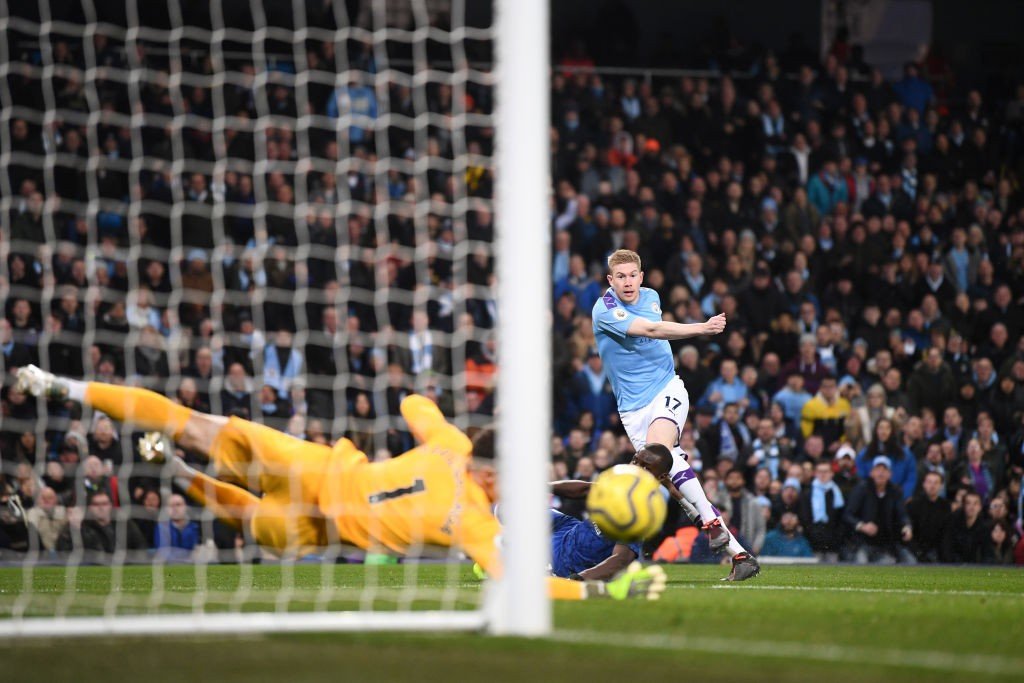 (Photo by Andrew Yates/AFP)