Liverpool v Manchester City: Match Preview
By Joe Butterfield | 09 November 2019
Joe previews the season's biggest match.
So. This is it. The big one. Anfield.
This was always going to be one of the season's defining games. There are plenty of City fans who are the more optimistic among us who will say it's "just another game" and "there's still plenty of points to be played for" but, let's be honest, if we drop to nine points behind, even at the beginning of November, with the proneness we have for poor performances and our current injury list, it's going to be a struggle to get back from there.
Having said that, as things currently stand I would happily take a draw. In Friday's press conference, Guardiola confirmed that Ederson will not feature against Liverpool on Sunday. Whether this is a particularly elaborate mind game or not, we shall see, but for now we can only take him on his word. This adds Ederson to the medical table, one which already hosts at least three or four of our strongest XI. With Laporte, Sané, Rodri, Silva and Zinchenko already unavailable for this game, it's difficult to see how City can get a win from this game.
"But City have loads of squad depth!" cries the mainstream media, "cry me a river, you've spent hundreds of millions on your squad!" It's interesting that the media narrative this week hasn't once made mention of City's injury list. Not the size of it but the number of important names who are on it. Leroy Sané, a player who, assuming he'd not gone to Bayern, would be a regular feature in this side. David Silva, who would have almost certainly started the game. Laporte, one of the best centre-backs in the league. Rodri, who had secured his place as first choice in the #6 role and had fit in almost seamlessly in a matter of months. Ederson, our first choice goalkeeper, the best in the league right now. If Liverpool were walking into this fixture without Alisson, Van Dijk, Wijnaldum, Mané and Fabinho you'd never hear the end of it. A City win would be inevitable and it wouldn't really count because Liverpool have so many injuries. Much like the time we beat them 5-0 but it didn't count because Mané kicked Ederson in the head when they were already losing 1-0. However, going into this game the focus has very much been on whether Pep is even fit to straighten Klopp's dyed hair plugs and how a victory for Klopp would vindicate his ability to build a squad on a shoestring budget.
This is normally the part where I would look at the opposition's squad but there's really no point. We all know the big names. Van Dijk is imperious at the back, a defender who is so good that it's actually annoying to watch him when he doesn't play for your team. Mané has become this season's Salah, as it feels like almost every attack goes through him in some way. Despite this, it's not as rosy as it might seem. Make no mistake, Liverpool did incredibly well to fight back with two goals in the last ten minutes of their game against Aston Villa, but don't let this distract you from the fact they were a goal down to a newly promoted team in the 87th minute. They conceded three goals against Red Bull Salzburg. They conceded in both of their games against Genk, a team who currently sit 8th in the Belgian First Division. They conceded against a Manchester United team who've rarely looked worse in Premier League history. They've kept two clean sheets in the Premier League all season – against Sheffield United and Burnley, neither at Anfield.
City may have defensive weaknesses to be exploited but we're without our best centre-back, our left-backs have been chopping and changing due to varying levels of fitness and so too has our centre-back pairing. Liverpool have been playing all season with, for the most part, a consistent back four of Robertson, Matip, Van Dijk and Alexander-Arnold. Sure, Alisson was injured for a decent spell of games but I remember reading and hearing a lot of media praising Adrian for being the greatest back-up keeper in the league and saying he's too good to be a back-up. Combine that with the fact that Alisson's return has not stopped the rot and there is a very real fragility to Liverpool this season, much more so than last.
For City, this game will come down to one simple thing – do not lose. A draw is fine, a six point deficit at this stage of the season is more than doable, plus it dents Liverpool's confidence as they'll know a chance to break free to a nine point gap has passed them by. A win is even better, suddenly Liverpool are fallible in the Premier League and the gap is closed to three points which will have us really breathing down their necks, however I think every City fan in the world is well aware of our record at Anfield, so I'll take a draw at this stage.The set-up of the whole team will depend entirely on the midfield. If Fernandinho pushes up into CDM to accomodate both Gundogan and De Bruyne in the #8 roles, we're looking at a centre-back partnership of Otamendi and Stones in front of Claudio Bravo and we can kiss goodbye to any hopes of coming away from the game without conceding at least two or three goals. It's precisely because of this that I think that Fernandinho will be kept in central defence alongside John Stones, who was clearly rested in mid-week for this game. Gundogan should play in the #6 role where he excels much more than in the #8 and Phil Foden should be thrown in alongside De Bruyne as the #8 partnership. Foden has shown enough in his appearances this season to tell me and 99% of City fans that he's ready for a game like this and, honestly, his dynamism and speed will be needed against the physicality of Liverpool's midfield. Alternatively, Bernardo can play alongside De Bruyne, meaning Mahrez is locked in for one of the wing positions, however if there's one player you want running up and down after Robertson it's Bernardo, who seems to have lungs made of titanium.
Moving into positions that rely on much less of a domino-effect, the full-backs are probably going to be Walker and Mendy. Mendy has improved a lot in the last few weeks, despite still showing some signs of rust, and Walker's brilliant performance against Southampton last weekend will have earned him a spot in this game. Raheem will obviously start and I think Aguero will too. De Bruyne and Stones are obvious picks for their respective positions, however around them it's much more of a case of flipping a coin and closing your eyes. Still, my attempt at a team prediction is: Bravo, Walker, Stones, Fernandinho, Mendy, Gundogan, Foden, De Bruyne, Bernardo, Sterling, Aguero.
Looking at that starting line-up, it's still a strong team. There's a lot of talent there, however it's obviously nowhere near as good as it could be. Liverpool might not like it, but they're playing a shadow side – the kind of squad we'd put out against Premier League opposition in the FA Cup when we're taking it seriously enough to win the game but not so seriously that we're playing all of our big guns at once. A Liverpool victory is much more likely than a City one and I'd probably be saying that with or without any injuries because the curse of Anfield runs too strongly within City, however a scouse win would no doubt see weeks after weeks of eulogising over Klopp's men who have toppled Big Bad City with their heavy-metal gegenpress.
Pep, however, will be aware of this. He'll know the media are backing Liverpool. He'll be well aware that Eni Aluko doesn't regard him as a "great manager" because he couldn't make it to a Champions League final with Divock Origi in his squad. He'll have a point to prove, as will the rest of City's squad, and this is a team that usually knows how to perform when it has a point to prove.
​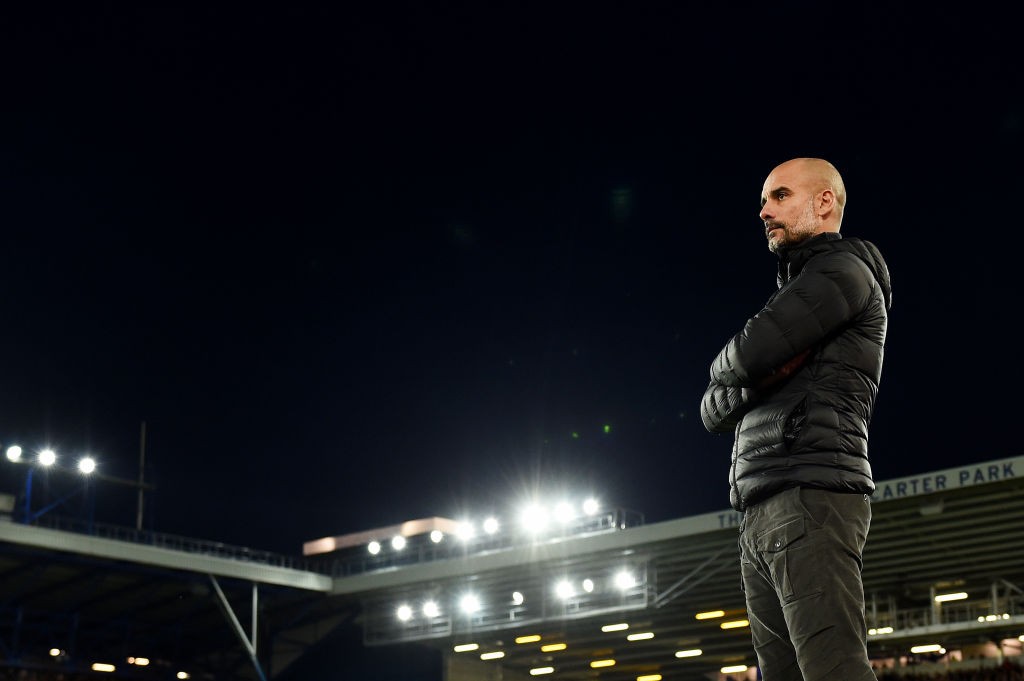 (Photo by Michael Regan/Getty)