In Life, Things Rarely Even Out - Except For Manchester City's Cup Draws
By Howard Hockin | 31 October 2019
Howard takes a look at City's luck when it comes to cups.
(Photo by Ashley Feder/Getty)
(Photo by Ashley Feder/Getty)
They say that things even themselves out. "They" are wrong. A losing run on the horses is not followed automatically by a 30/1 winner. That camping trip when it rained solidly for 3 days does not ensure that next time you'll be cooking sausages in glorious sunshine. And in football, things most definitely do not even themselves out. There is no footballing god that ensures that a team that suffers from a bad decision will get a good decision at some later date to make up for it. The law of averages means most teams will generally get a mix of good or bad decisions, and an average number of injuries too, but that is down to chance, not some higher power ensuring equilibrium in the sporting world. And so with that in mind, you would think it foolish of me to claim that Manchester City's cup draws are evening themselves out – and yet that seems to be what is happening.
There are a hundred ways to disprove the pitiful tribal nonsense that City are getting away with a raft of easy draws because of some conspiracy, or heated balls. The same conspiracy theories and calls of heated balls when City's draws were going "the other way" a few years back. So let's look at how the theories fall apart when you actually bother to do a modicum of research. But if you're the best team, I guess every draw is favourable.
Firstly, the system is set up to reward good teams, especially in Europe. In the Carabao Cup, teams in European competition get a round off. In the Champions League, recent rule changes ensure that league champions go into Pot 1 for the group stage draw. Thus, in a heavily rigged draw that does not allow City to play Inter because they can't play on the same night as Juventus because they both have a yellow 3rd kit (I think I got that right) it is not surprising that City are not going to get the hardest draw going as Premier League champions. A seeded draw pretty much ensures this, unless you get a dangerous underdog in a lower pot, and it's a system that has been around for decades, so it's hardly anything new. In fact, if "historic" successful teams had their way, they'd be in the top pot because they used to be good, so don't think this system could not be even more ludicrous. On top of that, win your Champions League group, as City did last season  (and the season before) and you naturally increase the chances of avoiding one of the toughest sides in the round of 16. Again, blame the system, not City. In the Champions League, City have gone out the last two seasons to a team that would reach the final. What's more, two of the last three exits have been achieved despite not being outscored by the opposition team. Sometimes the rules do go against City after all.
But let's look at domestic cup competitions. In the Carabao Cup, there is one strong, logical reason that City have drawn some much lower ranked teams. Before I point out why, it's blatantly clear that draws involving City are called as a fix by many if they draw anyone that's not in the top four of the Premier League. Southampton at home in the last round of the Carabao Cup is not the hardest tie in the world, but it is a tie against an established Premier League side. City could have got Oxford (oh, they have now!), Colchester, Sunderland, Crawley or an Arsenal youth side. And the last side are the key here. There's little point bemoaning City's draws in the competition when other teams treat the competition with disdain. City could have drawn West Ham United, if they hadn't been thrashed by Oxford United. Manchester United could have drawn Spurs, if they hadn't somehow contrived to lose to Colchester. City can't draw a top class side if those top class sides aren't in the competition. After all, Jurgen Klopp has spent the past three years trying, successfully, to get his side knocked out of domestic cup competitions as early as possible. There's a reason Burton Albion got to the semi-final of the competition last season, and it's not because they're jam packed with international players. City could have drawn harder opposition in Nottingham Forest, Middlesbrough, Swansea or Burnley instead, if Burton hadn't already knocked them out. And is it really a harder tie to draw a Liverpool team packed with youth and fringe players rather than Oxford United's first team? Probably not. Pep himself takes all competitions he enters seriously, but even he would not put out a first team in the Carabao Cup prior to the semi-final stage. Of course City's squad is good enough and deep enough to win the trophy four times in six years without getting out of 2nd gear most of the time.
Elsewhere, in the 3rd round of the FA Cup, there are 64 teams left in the competition. The law of averages suggests that a Premier League team is more likely than not to draw a lower-league side. Even in the 4th round, depending on how many Premier League sides are left, you stand a good chance of avoiding a top-tier side (often it will be close to 50/50). But let's be honest, last season's FA Cup run was hardly the most tortuous nevertheless. City did not face a team that finished in the top half of last season's Premier League.
But if City have had one stroke of luck in cup draws, then one tie does stand out, and that was Burton Albion in the semi-final of the Carabao Cup last season. The timing was immaculate. With Chelsea drawing Spurs in the other tie, it allowed the squad breathing space during the savagery of a January schedule. Qualification was as good as assured as soon as the draw was made, especially considering the two-legged format, and City would go on to win the domestic treble.  For the only time in my life, thanks must go to ball-drawer Piers Morgan for sorting that one. 
Still, if City have had an easy run of cup runs, there's no need for City fans to get defensive about it <deletes blog>. Draws are, however they are formatted, open to an element of chance, and you take what you get. City have had better than average luck with cup draws over the past two years. It's undeniable. The old adage that you must beat the best to win a cup competition is of course garbage, as you don't. The more good teams you are drawn against, the lower the chances of success. Still, I doubt few were bemoaning United's luck when they got Millwall in thee FA Cup final. Or maybe plenty of people were, and this argument has always abounded.
However, being lucky in cup draws also rather depends on your definition of luck. To put it another way, answer this question: is it luckier to draw 1 non-league side in the FA Cup, followed by a middling Premier League side, or two championship sides instead? Because City's reputation for good luck is based on the latter being the better of the two options. But is it? Because the facts are thus: at the start of the season, the number of teams drawn by the "Top 6" against teams below Championship level since City won the FA Cup in 2011 are as follows – United and Spurs 14, Liverpool 13, Arsenal 11, and Chelsea 9. As for City? Well they were on 5. Which is now 6 of course. Funny that, considering how all our draws are fixed.
But as alluded to at the beginning, in what way has City's recent run of cup draws "evened itself out"? Well it will still be fresh in the memory of most City fans that a few years ago, their team was not quite so fortunate with cup draws. Again, no conspiracy, because there were some contributing factors. City have not always been in Pot 1 for the Champions League draw for starters, which naturally meant they had to draw a team from that pot. It is hardly surprising therefore that they drew the likes of Barcelona and Bayern Munich out of the bowl on more than one occasion. Nevertheless, there was a run of bad luck too, at least with domestic draws. Between 2015 and 2017, there was a period when City were drawn away on nine successive occasions. The odds on getting 9 away draws on the bounce is 512/1. That's before you factor in the odds of getting so many Premier League teams. The run was only interrupted by a Wembley Cup final. Eight of the nine teams were Premier League clubs, whilst the exception, Huddersfield, were flying high in the Championship at the time. The conspiracy theorists were rather quiet during this period.  They were quiet too in 2012, when City, as English champions, were drawn against the champions of Germany, Spain and Holland in the group stages. Unlucky. City have had to defeat Chelsea and Liverpool in League Cup finals. Their first FA Cup in a generation required a semi-final defeat of Manchester United, who you may have heard of. In fact it's when City come up against weaker teams that they are more likely to fail, such as Wigan, Wigan or Wigan. And thus, when you consider City's cup draws over a longer period, say this decade, the luck in draws is probably close to average. By honing in on cup draws for just the last two years, you conveniently cherry pick to suit your argument. There's a reason such people don't use a 3 year sample size instead, because that would rather weaken their case.
But this is a trend that is only set to continue. City will likely top their Champions League group and the conspiracy theorists will crawl out from under their rocks again because City don't draw one of the best teams in Europe, even though they couldn't because those teams all won their group and/or are English. If the world wants tougher draws for Manchester City, then fight for change. Campaign for the removal of seedings, group stages and pots in the Champions League. Or alternatively, don't waste your time, as that will never happen, the competition's entire existence dependent on favouring the status quo and ensuring the "little guy" rarely wins. But please, give it a rest, because even counting empty seats is less annoying than the cup draw polemic.
Well, almost…..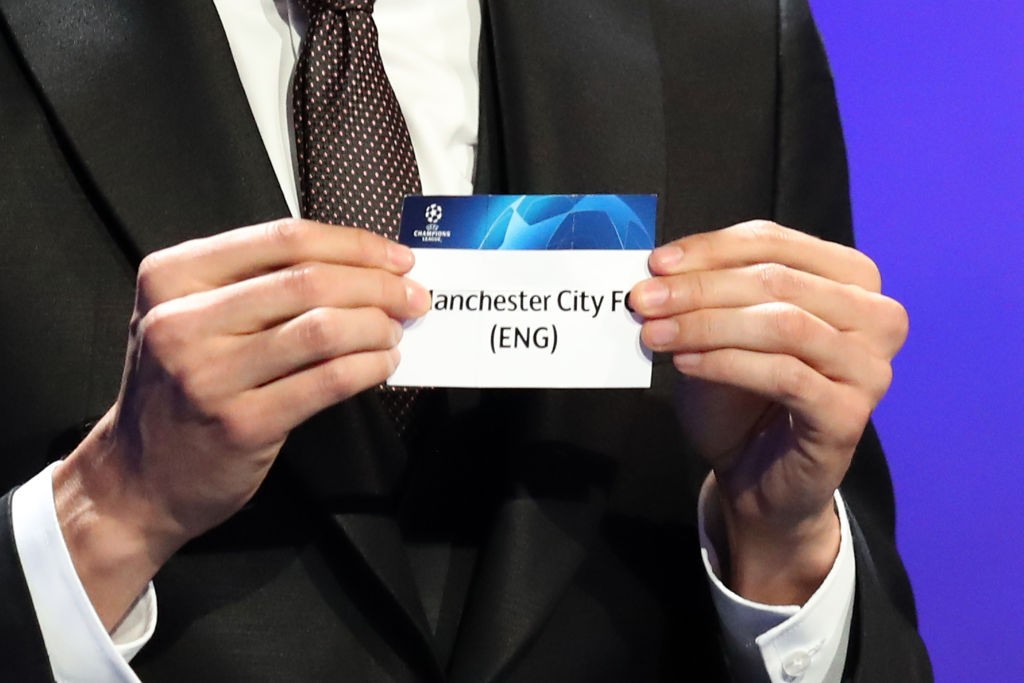 (Photo by Valery Hache/AFP)