One Of Our Own: An Ode To Shaun Wright-Phillips
By Howard Hockin | 04 September 2019
A look back at a true fan favourite
(Photo by Alex Livesey/Getty)
"The best advice I think I been given is always enjoy what you do otherwise you'll never do it with a smile on your face."
When can you really celebrate winning a derby? Well, when City weren't "all that" but still had their moments against their red neighbours, it would take a two goal lead with a minute of injury time left for me to truly relax. Only then did the logistics of the situation suggest that two goals in that timespan were simply not possible. And this is why, in March 2004, as the Etihad hosted its first Manchester derby, as a clearly knackered Shaun Wright-Phillips broke up field into United's half, City 3-1 up with full-time approaching, I implored him to take the ball into the corner.
Shaun Wright-Phillips did not take the ball into the corner.
As the ball rocketed its way into the back of the net via the woodwork, and Shaun wheeled out his robot goal celebration, I struggled to comprehend that City had beaten United 4-1. They would beat them by that score line again in the future, and by a greater margin too, but at that moment it seemed like I'd lived the impossible dream. And I'd never loved a player more than Shaun Wright-Phillips at that moment. In the week United had been dumped out of Europe, City fans, for a brief time at least, had bragging rights.
Shaun Wright-Phillips was my final ever "favourite player" and my final hero too, before the club changed forever and churned out whole teams of them. The 5 ft 5" dribbling maestro who seemingly wore the same sized shirt as me despite being half my size. The Peter Pan player who was one of our own.  A rare breed who seemed to enjoy every moment, who played with freedom and with a smile on his face. 277 appearances, scoring 48 goals in total as well as 20 assists. Plus 36 caps and 6 goals for England.
And so last week, 20 years after his debut, Shaun Wright-Phillips called it a day and retired, long after many of us thought he had anyway. Injuries and age have caught up with the 37 year old since joining his final club Phoenix Rising of the MLS in 2017.
It seems like a lifetime ago that my excitement levels rose every time Shaun dribbled the ball towards an opposition penalty area, but the fact he has only just hung up his boots proves how recent it is. Perhaps it is because a week is not only a long time in politics, but football too, and for Manchester City a lot has happened since our returning hero departed for Loftus Road in 2011. The ten trophies tell only half the story.

The Family
For City, the story begins in the summer of 1998. Wright-Phillips, the step-son of Arsenal legend Ian Wright, was bizarrely released by Nottingham Forest as a 16-year-old. It probably won't surprise you to learn that in the days when size really was everything, the diminutive attacker was considered too small, even if the official reason was that they considered his constant travelling to and from London to be a hindrance. The rejection hit him hard, but with the encouragement of his parents, he was determined to succeed. And succeed he did.
City snapped him up, and a beautiful relationship had begun. He was not ready to make an immediate impact in the team at such a tender age, but under Joe Royle was introduced into the team gradually, calling him his "pocket rocket". This was an *interesting* time to be breaking through, as the club lurched from triumph to disaster on a weekly basis. From the lows of the 3rd tier, to the astonishing play-off final of 1999, back-to-back promotions and then relegation once more. And another promotion for good measure. A new chairman in David Bernstein and a new ground to play at too. It was rarely dull at City.
Wright-Phillips made his debut at Burnley in a League Cup 2nd leg tie (in the days of two legs in every round). A league debut followed at home to Port Vale in October. But not until Kevin Keegan arrived two seasons later would he really kick on and establish himself in the first team. His energy, endeavour and spectacular goals meant he was perfect for the role of a crowd favourite.  Often Keegan employed him as a wing back in the early stages of his career. He clearly did alright in this role, being named City's Young Player of the Year over four consecutive seasons from 1999/2000 through to 2002/03. And Keegan's brand of attacking football perfectly suited the skillset of Wright-Phillips. It was a marriage made in heaven, even if Keegan would doubt at times if Wright-Phillips' size was not suited to a wing-back role.
Little wonder then that Keegan adored Shaun: "I haven't seen a player like him in all my time in the game. He's got terrific balance and courage. He may be small but he can win the ball in the air and he never stops running. I said to his father, 'Your lad can go right to the top'. With his attitude and his talent, he's the kind of lad you'd like to have as your son."
Off the pitch, Shaun would live for a while with his brother Bradley in a village outside Warrington as his stock rose in the City team. Bradley was highly rated but never matched the achievements of his older brother, until he went to America, where he has been a revelation for the New York Red Bulls. He scored just 2 goals for City, before becoming the Red Bulls' highest ever scorer.
Back in Manchester, it was Shaun pulling up trees. He grew as a player if not physically, and was a diamond in the semi-rough. The life of Wright-Phillips at this time had its parallels to one of City's current stars, Raheem Sterling. Sometimes it seems nothing changes. Wright-Phillips had to endure media intrusion into his personal life as he rose through the ranks at City, and in November 2004 he was racially abused after coming on as a substitute for England in a friendly against Spain in Madrid.
That England call up was only a matter of time. And once in the squad, he made the most of his opportunity, coming on as a substitute against Ukraine in August 2004. Collecting the ball in his own half, he surged forward, kept going and shot firmly into the bottom corner. 3-0.
I can't tell you what I had for tea three days ago, but I can tell you where I was when Shauny Wright Wright Wright scored that goal: sipping an underwhelming pint of bitter in the Dog & Partridge in West Didsbury. Beaming with pride.
And rightly so. A City player did that! For these were the days when a City player representing England was a novelty and a source of happiness, rather than the burden it would later become.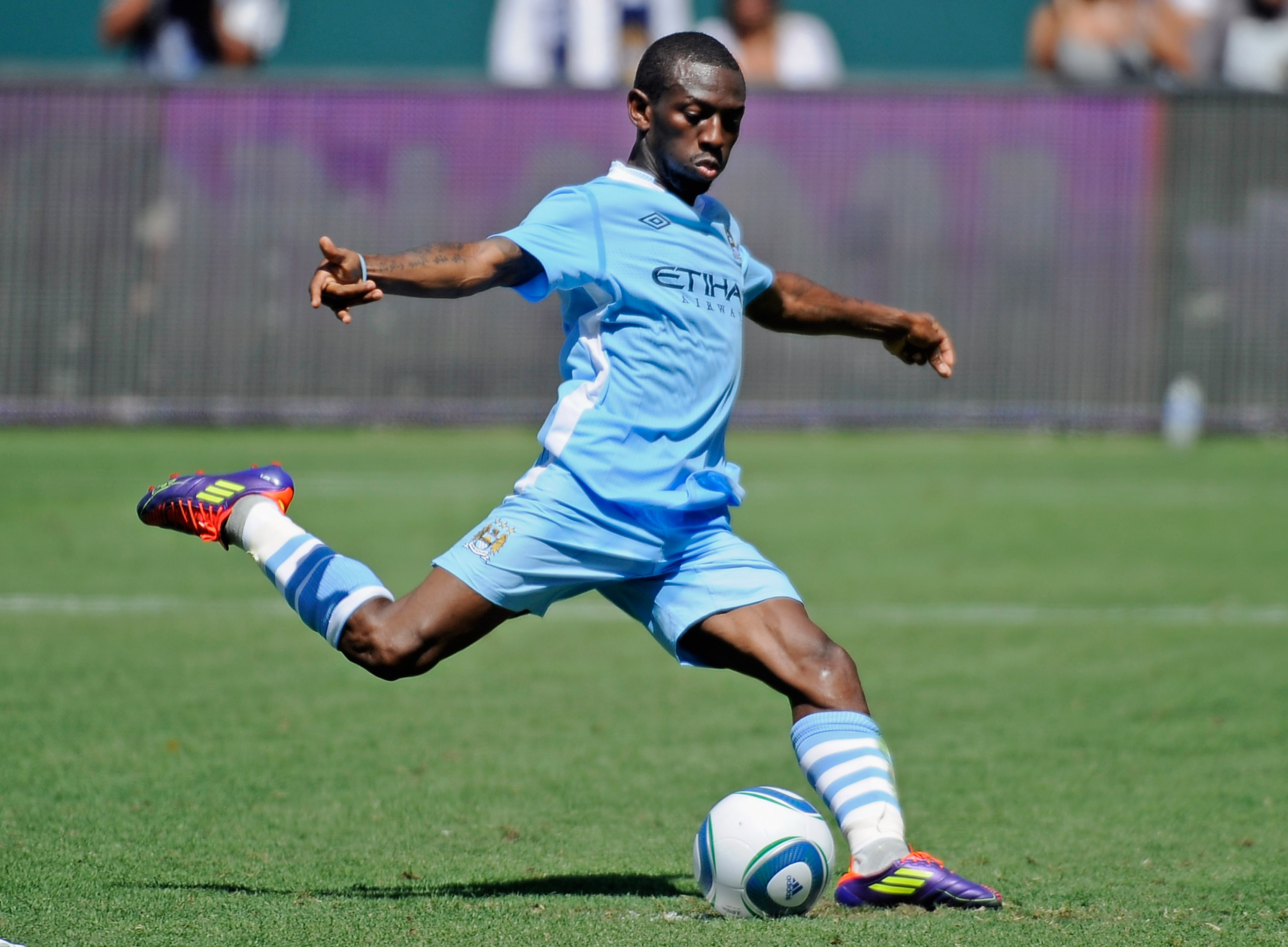 (Photo by Kevork Djansezian/Getty)
The Long Goodbye
As always, success comes with a price for the player's club. The Manchester City of 2019 does not sell its best players willingly, if at all. The City of 2005 was a rather different beast. What's more, they needed to sell someone. Wright-Phillips was naturally attracting the attention of more successful clubs, and despite his love for the club, a move away always seemed on the horizon.
Once Chelsea's concrete interest became common knowledge, it was time to brace ourselves. I was on holiday in Portugal, waiting day by day for the inevitable confirmation that he had left the club. It was coming, and there was a weary resignation when it finally came to pass. He probably had to go. Many a subsequent report of the move has suggested that the £21m fee saved City from administration. The move seemed a strange one, moving to a Mourinho-led Chelsea, but it was too good an offer for City to decline in their perilous state. Wright-Phillips admitted later that he cried when he heard of the move, as he considered City his family, but was told that he would really be helping the club out. It was too good an offer to refuse though, even to this day remaining one of City's biggest ever sales. A sad day for all concerned.
His exit was a perfect illustration of where the club was at. Broke, and forced to soon adopt Stuart Pearce's insomnia-curing football to stay in the top division. The doldrums had called and fancied meeting up for a drink. Daniel Taylor in the Guardian reported that City had debts of £62m. The departed Kevin Keegan had brought back some good times, but at a cost. Keegan spent £51.5m in total, including £15m on Robbie Fowler, Jon Macken and Vincente Matias Vuoso.
The following paragraph really leaves nothing to the imagination:
"While Pearce will have to convince City he is a more worthy contender than acclaimed managers such as Martin O'Neill, Iain Dowie and Gordon Strachan, it also transpired that the new man will almost certainly have to get by without Wright-Phillips. John Wardle, the City chairman, said his first priority was to get the club "back in a good financial position" and he squirmed in his seat when asked whether their most prized asset would be sold."
Wright-Phillips would win the league in his first season at Chelsea and make the PFA Team of the Year, and yet his time there will not be defined as a true success. To be fair, he was bought by a club that already had Arjen Robben and Damien Duff on its books, so his position had already been ably filled. Similar to Riyad Mahrez joining City last summer, there was always going to be a fight for game time with others. His form faltered after his early success, costing him a place in the England 2006 World Cup squad. But Mourinho would teach him about being a more rounded midfielder.
"He taught me about taking better options."

The Return
The fact is though that Wright Phillips only made 43 Premier League starts in 3 years at Chelsea, scoring 4 goals. So when City were linked with bringing him back, it made sense, Mark Hughes later claiming he had sought his signing since taking the City job. With a few days of the transfer window remaining, terms were agreed. Wright-Phillips returned to Manchester City on a 4 year deal, for an undisclosed fee.
And I remember that buzz when he returned. We couldn't possibly have envisaged that we were just 4 days away from an even bigger buzz, but at the time it felt like everything. There's no denying there was a hint of trepidation. Homecomings don't always work. Never go back and all that. Could he carry on where he left off, or were we getting a different player back?
Who cares was probably the response at the time – let's just enjoy the ride.
The problem was, he wasn't returning to the club he thought he was. As August ended, the club changed forever, and Manchester City was taken over by a certain Sheikh Mansour and ADUG, his investment company. The period of takeover talks coincided with the arrival also of Vincent Kompany and Pablo Zabaleta, and you wonder just how much they knew as the transfers were agreed. For City's new owner, there was time to secure the services of Robinho, but within a year many more players had arrived at the Etihad, a new era in the club's history well under way. Competition was tougher than ever, and this would limit Wright-Phillips' impact in his second spell at the club.
What's more, the Mourinho-coached player that returned was changed from the innocent, young man that departed, full of the exuberance of youth. On his return, Wright-Phillips never really got the heights of his first spell at the club, and I never truly expected him to. The club was of course a different beast by now, and he was a smaller fish in a much larger pond. He would eventually make 64 appearances for City in his 2nd spell, scoring 9 goals. And there was little stopping him initially, as if he had never been away. He scored a brace on his debut as City won 3-0 at Sunderland. He has talked since of a great atmosphere in the dressing room as the club went through the greatest upheaval in its history. Within a month, he had equalled his goal tally during three years at Chelsea. The move helped resurrect his England career briefly too, finishing with inclusion in the 2010 World Cup squad, and 2 substitute appearances in the finals.
With Roberto Mancini in the hot seat, Wright-Phillips' game time dwindled away, not helped by the arrival of Adam Johnson. The 2010–11 season saw Wright-Phillips only make seven league appearances, with the increased competition for places following the signings of David Silva and Yaya Touré resulting in him rarely being included in the club's match day squad. Despite contributing during the FA Cup run that season, he did not make the final squad. It was of little surprise then that on the final day of the summer 2011 transfer window he moved on again, to QPR, once more for an undisclosed fee.
And with so many stories to tell about that fateful day in May 2012, it is easy to forget that Shaun lined up for QPR that day. His influence was thankfully minimal, my solitary memory being him failing to keep the ball in play less than a minute before City's greatest ever moment. And yet it was rather poignant to see him there that day, in different club colours, fighting to avoid relegation. Because he missed out on City's glory years, just. It was at Chelsea that the major honours were attained, despite his struggles.
What's more, I sometimes wonder how past players would do in the modern day, under Pep's eagle eye. Part of me suspects that we operate on a different level as a team, and most would get nowhere near the squad, let alone be a 1st team regular. But with Shaun Wright-Phillips, I think he could have benefitted from the sort of tuition afforded to Raheem Sterling. Tuition that could have taken him to yet another level. And boy it would have been fun to watch.
Shaun recently told 888sport: "As a player I'd have definitely loved to have played under Pep. He likes attacking, working hard, and pressing from the front and that's the stuff I like. I enjoy watching the football he produces because it's all about flair and keeping the ball."
We'll never know. Wright-Phillips would stay at QPR until 2015, but his time there was rarely a success, nor was his move to the MLS. It's rather sad that the latter part of his career did not reach the heights of his spells at City and Chelsea.
But he left City with a raft of great memories preserved forever. Saluting the empty City end at Millwall after scoring his first goal for the club. The dribbling, the ball control, rifled shots and the care-free football, all with a smile on his face. Football to get you off your seat. Not just the goal in the 4-1 derby but a similar goal at Old Trafford preceded by a nutmeg on Paul Scholes. 46 other goals and a player who sparkled on and off the pitch.
All good things must come to an end. Age and a knee operation have brought an end to a great career. And who knows what the future holds, be it coaching or a media role like his dad. While out injured he coached Notre Dame Preparatory High School in Scottsdale, where he helped them win the regional championship. Keeping his options open, perhaps.
Whatever he decides, the Wright-Phillips story is not over at City. His 17 year old son D'Margio is on City's books and has represented England at youth level.  Let's hope that he can have half the influence his dad did at City. And let's hope that whatever the future holds for Shaun Wright Phillips, he enjoys it and we see that beaming smile as much as when he put on that light blue shirt.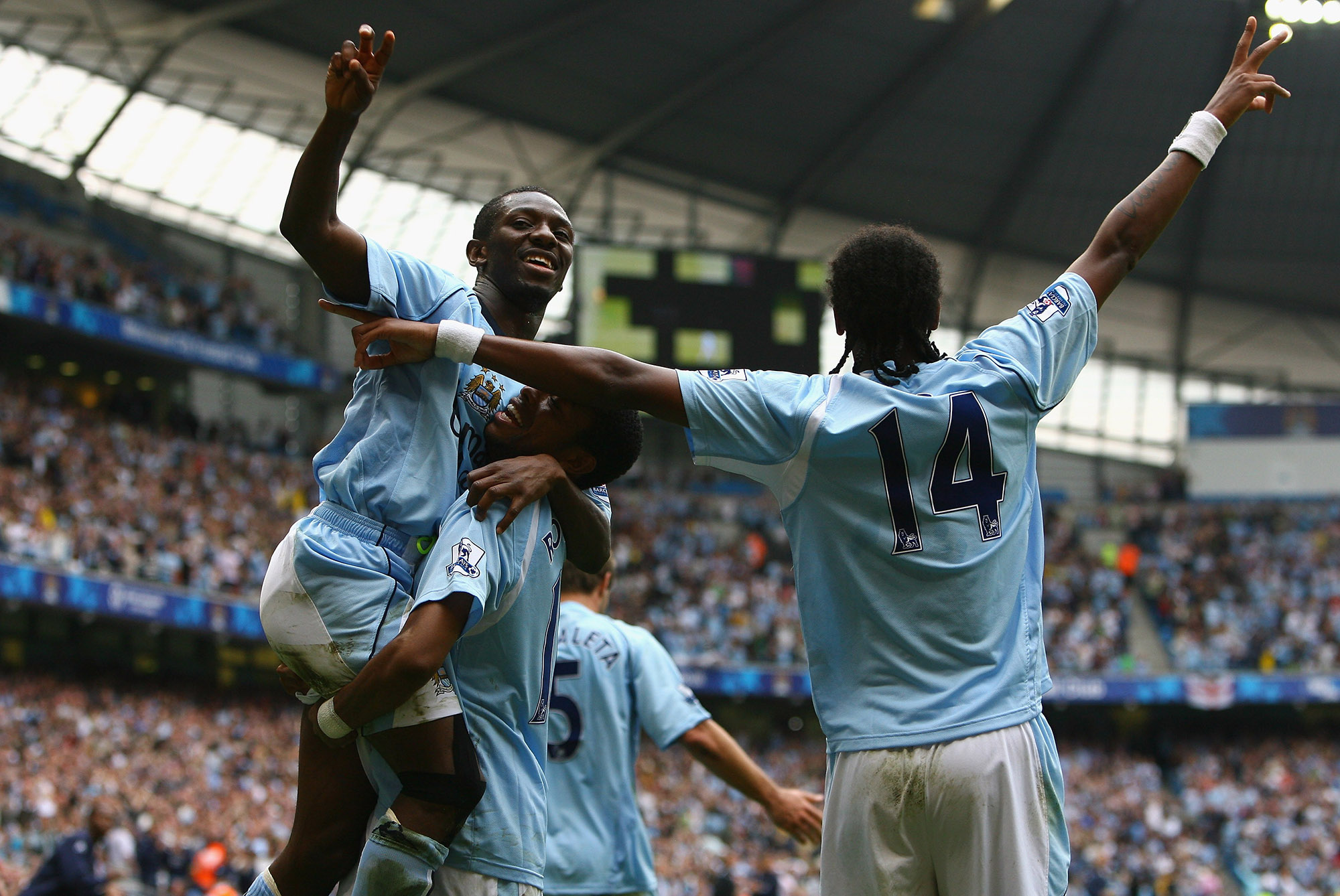 (Photo by Alex Livesey/Getty)