Georgi Kinkladze: The Flawed Genius That Gave Us Hope
By Howard Hockin | 11 September 2019
A look at one of Manchester City's most enigmatic players.
(Photo by Alex Livesey/AllSport)
Going down, going down little Franny Lee,
Down to division three,
We`ve only one lad, who isn`t half bad,
 And that`s little Georgi Kinkladze.
The Ballad Of Franny Lee – The Shirehorses
Before Brexit tore families apart, and we seemed to spend every waking moment arguing about something or other, there was something else to argue over with Manchester City fans. A consistent debate that seemed to bubble under the surface, to be dragged out after a few drinks, or when in an argumentative mood: just how good was Georgi Kinkladze? Which led to the inevitable follow on question: do you think he could he play in the current side? Well in the present day the answer to the second question is no, but more on that later. For little Georgi Kinkladze was the definition of an enigma. An enigma wrapped around a puzzle stuffed inside a conundrum. So hard to define, so hard to evaluate, in a period when the club lurched from disaster to comic-tragedy. Or to many City fans, quite simply a diamond in the rough, and the only diamond in the rough.
Like many footballers from eastern Europe, Kinkladze's story is one of war and overcoming obstacles in his way. He was not an obvious footballer as a child growing up in Georgia, dabbling with gymnastics and ballet. His proficiency in those arts would serve him well on the football field. With the prompting of his father though, football would soon capture his imagination. Having worked on his strength, he was soon rising through the ranks at Dinamo Tblisi, having briefly played elsewhere in Georgia. His natural talent meant it was not long before he was starring for club and country. And we have the inadequacies of Welsh football to thank for him coming to City's attention. Georgia beat Wales in a European qualification game, including a beautiful lob over Neville Southall from Kinkladze. Francis Lee was watching, and swooped in to sign him for £2m. The signing ended a period of nomadic travel for Georgi. Dinamo sent their players abroad as war ravaged around them, and unsuccessful spells at a number of clubs, including bizarrely Real Madrid and Boca Juniors, saw Kinkladze eventually turn up in Manchester in 1995. We City fans knew nothing of this new arrival. It was not the era of ready internet access or YouTube compilations. That Wales international was the sole evidence, and boded well. Georgia won 5-0, their first ever competitive victory. And in the return fixture, Kinkladze would secure the points with an outrageous goal. Nevertheless, in those days that was a serious fee for a club in City's position.
It's fair to say it didn't take long to see what we were getting. And boy did we need it. After an opening day draw at home to Tottenham, City would proceed to lose 8 games on the bounce, under the expert stewardship of Alan Ball. This was a team woefully short of Premier League quality players. There was some talent in there – Uwe Rosler was of course hugely popular, and there was plenty to like from Keith Curle, Steve Lomas, Niall Quinn,  Peter Beagrie and even Nigel Clough. But it was an underwhelming, struggling squad, bereft of exciting players that lifted a game above the norm. Until Georgi Kinkladze arrived. What single thing he offered was immediately clear. I'd never seen anything like it before, and despite the wealth of talent I now watch on a weekly basis, I'm not sure I've seen anything matching it since. Georgi Kinkladze could dribble with a ball. Boy could he dribble with a ball. It was often mesmerising to watch him in full flight. So mesmerising it seemed to affect his team mates too. Small but strong, he could bounce off and around players with ease, seemingly with the ball glued to his foot.  It was always his left foot, but that rarely mattered when he had such mastery of a football. With great acceleration too, he would have been a nightmare for opposition defenders.
So whilst he struggled to adapt to English life off the pitch, speaking no English and stuck in a hotel for months, he certainly performed on the pitch, unlike the team as a whole. The problem was the same as it would ever be in his three years at the club – the dichotomy between his obvious skill, the need for a team ethic and the struggles of the side as a whole. City would not win a league game until their 12th attempt, at home to Bolton in November 1995. They would spend the rest of the season playing catch-up, falling short on goal-difference after the farce of the final day, when they would try to protect a 2-2 draw when a victory was needed to stay up.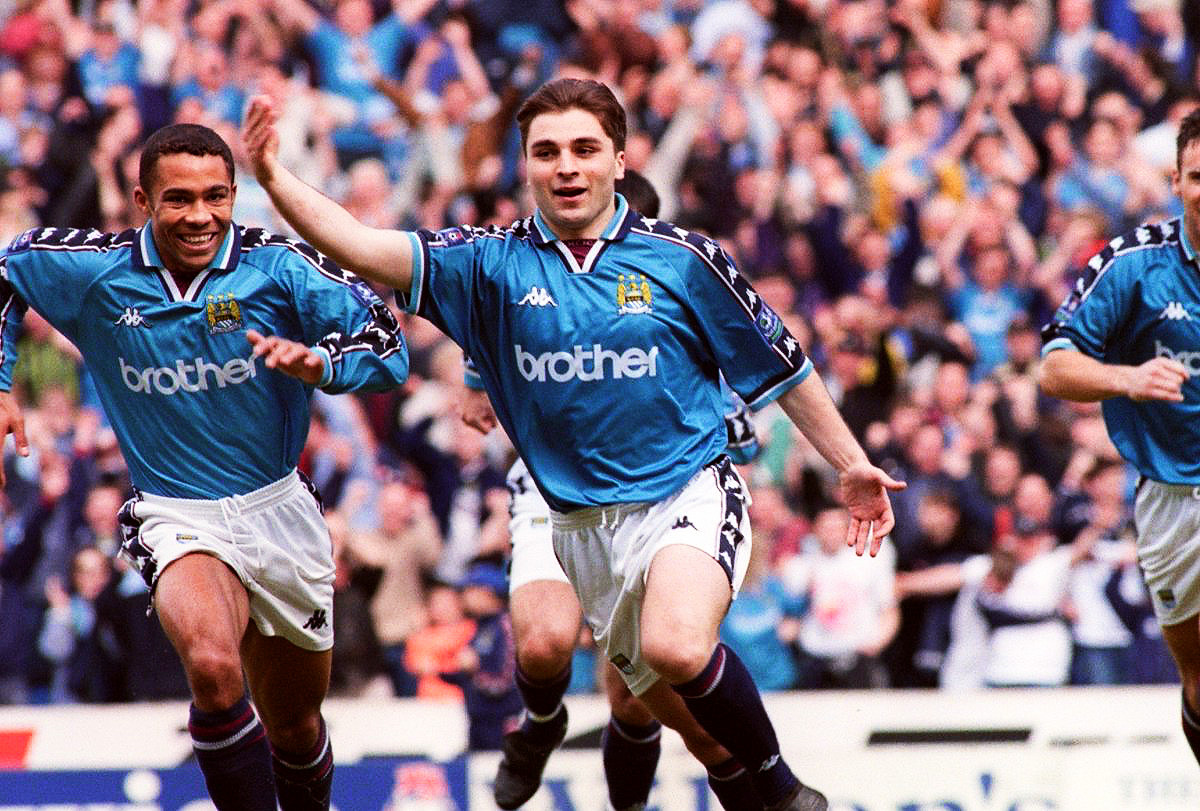 The Georgian Maradona
But amidst the pain, for many fans Kinkladze was off-limits because he was one of the few players to offer anything above mediocrity. In a way that is a tad harsh on others in the squad who were weighed down by the most mediocre manager of them all. But Kinkladze had something we'd never seen before. Because THAT goal against Southampton in March 1996, where he slalomed through half the opposition before placing Dave Beasant on his backside and then dinking the ball into the net, will be remembered more than the entirety of the ten or even twenty games that surrounded it. So good, it even won Match Of The Day's March competition for Goal Of The Month. Because we live, we follow football, we exist, to witness moments like that. That goal did not win the league like Aguero's strike, or the FA Cup like Yaya Toure's goal against Stoke City or put one hand on another league title and confirm immortality like Vinny's thunder-bastard against Leicester, but it was still special, and more skilful than any of those other more momentous goals. And just a few months earlier he'd scored a goal almost as good against Middlesbrough, largely forgotten in the fog of a 4-1 defeat.
And so for many City fans there was a dependency on Kinkladze. The news of a car crash prior to games against Crewe and Oxford United sent shudders through an already nervy fan base. Thankfully Kinkladze was not badly hurt, having wrapped his Ferrari around a motorway bridge's supports. This is what happens when a poor team contains a single gem. Someone whose skill on the ball is at odds with those around him. Kinkladze gave us hope. Hope of better times, hope that Manchester City could be better, be contenders. Hope is what keeps many football fans going after all. What's more, he was also a play-maker, and football has a special place in its heart for such players. We want to be entertained, we want to be off our seat, marvelling at the skill shown by our boys in blue. And in the club's lowest moments, there was a felling, wrongly, that there was only one player threatening to do that. And that is what fired up Kinkladze to perform. As he once commented, 'The most important thing when you play is to hear the fans clap. And when you retire the most important thing is to remember that sound. I remember like it was yesterday'.
Kinkladze's debut season in English football had attracted the attention of some big clubs, but the Georgian remained at City as they finished a disappointing 14th in the First Division the following season. This was a season where managers were collected almost as much as points, City managed within a four-month period by Alan Ball, Asa Hartford, Steve Coppell, Phil Neal and Frank Clark. Kinkladze was still attracting the adoring glances of other clubs by season-end, leading to a 25,000 strong petition from City flans imploring him to say. Wheeled out after City's final home game to greet the fans, the campaign infuriated other members of the squad, annoyed at his special treatment. It worked though, and he would remain for another season, in which City imploded further, dropping for the first time in their history into the third tier of English football.
Right Place, Wrong Time
Georgi Kinkladze's timing was terrible. His three years at City coincided with the club's greatest ever decline. Two relegations and demotion to the third tier of English football. Sheer bad luck, though some would connect the dots and come to a different conclusion. Kinkladze was never really the problem though, at a club that was the king of cock ups.
Joe Royle would disagree later stating, 'To the supporters, he was the only positive in all that time. To me, he was a big negative. I am not saying that City's ills were all down to Kinkladze, but there was too much about the whole Kinkladze cult phenomenon that wasn't right. Too often since his arrival, the team had under-performed. I couldn't help deducing that contrary to popular opinion, he would be my weak link not my strong one.' And once Joe Royle arrived in February 1998, his time was up, the rumour being that Royle stated it was "him or me". City got £5m, more than doubling their initial outlay, and the club would go on to secure back-to-back promotions followed by yet another relegation. Striker Paul Walsh has said Kinkladze was 'the catalyst for City's problems' because Alan Ball indulged him. 'He didn't make enough goals and didn't tackle or head it. His overall contribution was not enough.'
And that "overall contribution" is key to the debate. Key to how you evaluate a flair player that is interested only in looking forward and creating goals. A player who was not interested in tracking back, in running until he dropped. A player whose poor English made it hard to build up a real understanding with the players around him. Michael Cox wrote an article in the Guardian in 2017 suggesting the problem was that Kinkladze showed the inability of the Premier League to adapt. Clubs were trying to recreate the success of Eric Cantona at United, and his role in a team, but the rigid 4-4-2 system prevalent in the league was not suited to Kinkladze's skill set.
And so you can see, the debate a single player can cause. Was he at the wrong club for his talents or part of the problems of that club? And how do you define the talent he had when he spent just a single season in the English Premier League and encountered problems in most of his career elsewhere? I guess you don't define it. You just try to enjoy the good times, brief as they were. The problem was that Alan Ball tried to build a team around a single player. And that not only failed as a plan, but it put far too much pressure on one player's shoulders. Kinkladze could not operate in a 4-4-2, and Ball's attempts to shoehorn him into a system cost the team dearly. After Ball departed, Frank Clark was faced with the same dilemma. It was these dilemmas that hampered the efforts of other players, that made us think Kinkladze was our only hope when there were many others in the squad who had as big a part to play. 
The sad fact is that Kinkladze would rarely sparkle on a football pitch again. Accusations of laziness and a lack of fitness would dog him constantly. His pace would be lost with weight concerns and a succession of injuries that would temper his effectiveness. His bad timing would continue. He would join Ajax to replace a departing player that never departed. Shunted to the left and lacking his pace of old, he struggled. He was never an adaptable player and struggled with the Ajax system. He would move on to Derby County, and despite rediscovering his form briefly, it would not last. The club had its own financial difficulties and Kinkladze's healthy wage was used as a stick to beat him with. Further failed attempts to resurrect his career would see him retire at the modest age of 33.
The only remaining question is what would have happened if 1995's Georgi Kinkladze was dropped into this current City side. Sadly, I am not sure it would work, because a Pep side is about far more than skill alone. That's merely the starting block. In a Daily Mail interview last year, Kinkladze suggested he could perform for a Pep side: 'I am blessed to have come to England and played football, so I would change nothing. But sometimes I see the way City play and think it would have suited me. It is like a team on a PlayStation, isn't it? Silva to Sterling to De Bruyne. Boom, boom, boom. If I had the ball now, I could pass it to Aguero without even having to look up. I know it. But every skilful player thinks they could play in this Guardiola team. It's not that easy.  You would have to play at 100 per cent every game. Even Messi — if he didn't play well — would be on the bench.' Uwe Rosler probably summed it up when he said: 'Technically he was the best I played with and he made us exciting. People came just to watch him. But he wouldn't get in Guardiola's side because he would not have worked hard enough.'
We will never know of course. Georgi Kinkladze was born at the wrong time to collide with the rise of Pep Guardiola, manager edition. Instead he became the unwitting and unwilling focus of a club in decline. The solution to and cause of all of City's problems. But there is and always will be a wealth of appreciation for one of the most skilful and entertaining players ever to pull on the blue shirt. After all, all the runs that Kinky makes are winding. And all the goals that City score are blinding.
Thanks for the memories Georgi.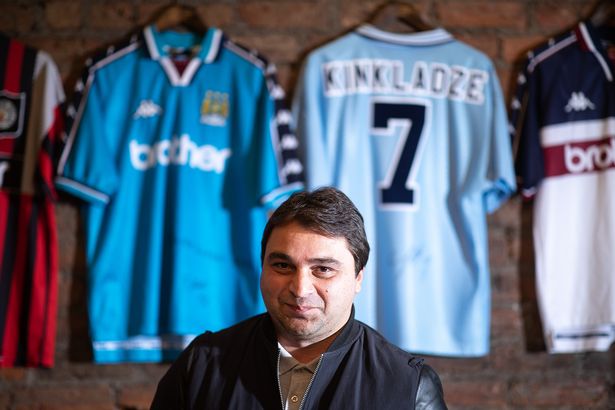 (Photo by Joel Goodman Photography)