Football & My Hopes For 2020
By Howard Hockin |31 December 2019
Howard tells us his hopes for 2020.
(Photo by Andrew Yates/AFP)
And so as another eventful year ends, we head into 2020, a new decade full of hope, expectation, and a bit of dread, as per usual. The world's gone a bit weird, but as always, football keeps ploughing along its usual path. I thought it the perfect time to look ahead, and relay some of the things I hope 2020 brings to us in the world of football. These are my hopes for 2020.
City Go Strong In Transfer Market
City's hierarchy traditionally have not seen overly concerned about the perception of others over their "extravagant" spending, and yet recent years seems to have seen our board withdraw into their collective shells, due partly perhaps to numerous investigations carried out by a multitude of sporting bodies, which will soon be at end, most likely with little punishment. And so it's time to stop messing around, whatever the punishments. City must have a bit of cash in their war-chest, as their income continues to rise year after year. The summer will require a partial rebuild of the squad considering who will go and who should do, and it is time to use our scouting network, identify targets and backup targets and fill every problem spot in the squad. With Garcia and Foden ready to shine, it is easily achievable in a single window. This season's struggles in the league should be a wake-up call for some laziness in previous windows.Get the players you think will make the biggest difference and if you break a transfer record or two, then so be it.
VAR
Don't click off this page. Please, I'm begging you. I've got mouths to feed.
Look, we're all fed up of talking about VAR, and most of us are fed up of it existing. But it's not going anywhere, and there will not be changes until the season ends. We need to make the best of a bad job, somehow. So with that in mind, I will reiterate once more that it is not necessarily VAR itself that is the problem, but the way it is used. So let's rattle through how things can be made better.  Get rid of Mike Riley, as he has proved not to be fit for purpose. Use feet to judge offsides, and use eyesight, not lines to judge. If you can see a player is offside with your own eyes, ten it's offside. Use pitch-side monitors so the final decision always rests with match officials, not a person sat in a van 200 miles away who is clearly more susceptible to corruption, use screens in stadia to keep fans informed, and if a decision cannot be made quickly with video evidence, then you have your answer as to whether the referee should be backed or not.
Also, allow linesmen to flag after the ball hits the back of the net as they may have done if VAR was not in use. Look at the disallowed goal for Sheffield United against City. It was offside, and if VAR did not exist, the linesman may have flagged for offside. But with VAR, there is little incentive to, so the use of video refereeing increases. But if he had flagged, then the fans would not be given false hope, as they would know the goal was subject to a check.
I've heard many state, correctly, that rugby and cricket use video technology excellently. They do indeed, but the fact remains that its use tempers the ability to immediately celebrate a try or a wicket. It is now just accepted as part of the sport, and that is probably where football will head too, sadly. The only type of goal that will be instantly celebrated will be the type of pile-driver that Vinny pulled out of the bag against Leicester City in May, and even then you're hoping there wasn't a team-mate stood in front of the goalkeeper.
So my hope is that its use is eased off, and used for those pesky clear and obvious errors. For offsides where the attacker can be seen to be gaining an advantage with his position, for incidents the referee admits he did not see. We will see.
Waving Goodbye To Certain Players
Apart from the inevitable end for David Silva, there are others that must exit the club at the end of the season. Claudio Bravo needs no explanation, nor does Nicolas Otamendi. Their time is coming to an end, surely.
But who else? The left-back situation remains a mess, but we will have to wait and see on that score as to how the likes of Benjamin Mendy perform for the rest of the season. I cannot see Zinchenko as a long-term left-back option, and Angelino is yet to impress. Tough decisions need to be made in that area of the pitch over the summer.
As for David Silva, it is not going to be easy saying goodbye, but it must be done. It is clearly time, and I do not want to see him decline further in a City shirt as the inevitable ravages of time catch up with him, as they do with all of us.
Racism Is Dealt With. Properly.
Forlorn hope over expectation most probably, but you never know. If Mrs Brown's Boys can win Sitcom Of The Decade, then anything is possible. And I mean ANYTHING.
Enough banners, hashtags and paltry fines. It should not be down to players to lead the campaign against racism, but it seems we will continue to head that way. UEFA simply don't want the hassle of dealing with the issue properly, so put in minimum effort in order to be seen to be doing something, whilst in reality nothing changes. Expulsion from competitions for clubs and countries is the only way some will learn, and this should be implemented for any repeat offenders. After all, everyone should get one chance, though not the individuals themselves of course.
The Club, Atmosphere & More
Boy, this is so straight-forward, logical and easy to implement, that it pains me to even type these words. So I would like to hope that 2020 is the year that the club either stop issuing pointless surveys or at least act on the replies they get. The club do many wonderful things, and I am not wishing to pile in on them, but it still frustrates that form such a position of strength, they do not do more.
Our owners have expressed support for (safe) standing (the term safe is utterly redundant in all of this), so that is good to know, but it's time to be more vocal with that support. Push for a single tier safe standing section, and fewer Harvey Nichols experiences, and move the Family Stand away from the lower tiers. Push government to move legislation along. Elsewhere,  I've always said I am OK with corporate sections, as long as it does not encroach on the normal match-day experience for the rest of us. If there's someone at the other end of the ground sat in a padded, heated seat eating a mushroom vol-au-vent (how the other half live), that is of little concern or interest to me. This is modern football, after all, and it's a big ground, and there's superstars' wages to pay. But it HAS encroached on the normal experience as it has crept around the ground and affected what was already a troublesome atmosphere ( as is the case at most grounds in the league). So knock any further corporate expansion on the head, I doubt there's little demand for it anyway, and start thinking more about the long-standing working-class fans.
Finally, let me spell it out to you in simple terms that anyone at the club can understand.
Do not put up season ticket prices next season.
There, pretty easy to understand, right? It serves no purpose for a club whose income is measured in hundreds of millions of pounds each year, and just alienates further a fan base. A £20 increase is affordable for most of course, but that rather misses the point. The rise is a piss take, and there have been 9 rises in the past 10 years. Those seemingly modest rises add up, and soon many fans' tickets will be double what they were just a decade ago. It is out of order.
A Continuation Of England's Goodwill.
Trusting England's red-tops to act in a responsible manner is akin to trusting Mario Balotelli with the keys to a firework factory. But last time around, at a major tournament, they largely behaved themselves. This is essentially down to Gareth Southgate. Whatever you think of him as a manager or even a man, the tabloids certainly like him and see little reason to go in hard on him, not that they ever should of course. And so my hope for the Euros in the summer of 2020 is that the team is allowed to play without the weight of a nation on their shoulders. Let's enjoy the ride and see what happens. With the tournament virtually a home one for England, this is a great opportunity, and it will become an even greater one if everyone gets behind the team, whatever happens.
What we'll probably get instead though should England fall short is a front page exclusive about how Raheem Sterling was caught laughing just DAYS after England's shock elimination from the tournament, and The Sun digging up 8 year-old tweets from Jadon Sancho. I was going to use James Maddison as an example, but then I remembered that he's white.
Ole Gunnar Solskjaer to end the year as Manchester United manager
Yes I know there are signs there that he is beginning to resemble a competent manager, and he clearly has the DNA side of things nailed down, but I refuse to believe that with him in charge, United can become a major force again. After all, if he was available for hire tomorrow, how many other Premier League teams would want him as their manager. West Ham perhaps, as nothing they do makes much sense.
Amazon-style streaming football as the norm
Streaming is mainstream now. It's the norm, not some sneaky, underground movement. But how I see the match is not the key point, more that I have the opportunity to do so. The Saturday 3pm black out is archaic and needs to go. Lower league football will remain popular, whether I can watch Everton v Aston Villa on the couch on a Saturday afternoon or not. As we enter 2020, it seems weird that I could catch more Premier League football if I was out of the UK than if I was in it.
The Athletic thrives. And paves the way.
I have no inside information, I have no figures to back this up, but I have the suspicion that the Athletic has not garnered the subscription numbers it had hoped for when it launched earlier in 2019 for the UK market. But I hope it prospers in the future. I do not think it is perfect, but I am happy to support what it does and what it is trying to do.
People have to stop expecting everything for free. Apologies for what clearly seems to be self-promotion, a cry for help or just sheer desperation on my part, as the podcast of course is based on a subscription model, but it is something that I worked out in 2019 away from whatever I myself may churn out into the public domain.
Times are hard for many, including me, and it is natural to use what money you have wisely, and not spend on things you know you can get for free. But the key point for me is what you get if you pay is not the same as what you get for free. What the Athletic offer is not available elsewhere. You may not like what they offer, which naturally is fine, but if you do like someone's output, try and help out where you can, because if no one does, one day that output will cease. And then it's back to Stan Collymore articles and Garth Crooks' team of the week. Is that what you want?
Well IS IT?!
A new contract for Pep.
Last, but by no means least.
Yes please.
The common media narrative for a while was that this is Pep's final season, whilst recently there has been a revival for the thought that he will simply see out his contract and then leave in the summer of 2021. But of course there is a third option. It may seem far-fetched, as already we could be looking at his longest stay at a single club, but he seems comfortable in Manchester, though not all his family would say likewise. Most look at what happens on the pitch as an indicator of what will happen, but surely how he feels off it is as important.
What would make Pep leave? Well if you are the media, you can turn any circumstances into an answer that suggests his time is coming to an end. A successful season, most notably winning the Champions League, would give the media just cause to suggest he'd walk out on a high. A bad season would also suggest he would walk, and then he can be portrayed as a quitter who when the going got tough, cracked.  Personally I think a failure to land one of the big two trophies, which is probable, would see him stay, as he would rather leave on a high and not at a time of upheaval.
But if you're a City fan, and sane, the simple fact is that a new contract for Pep in 2020 is one of the best things that could happen. After all, once global warming kicks in, there's little need to leave Manchester.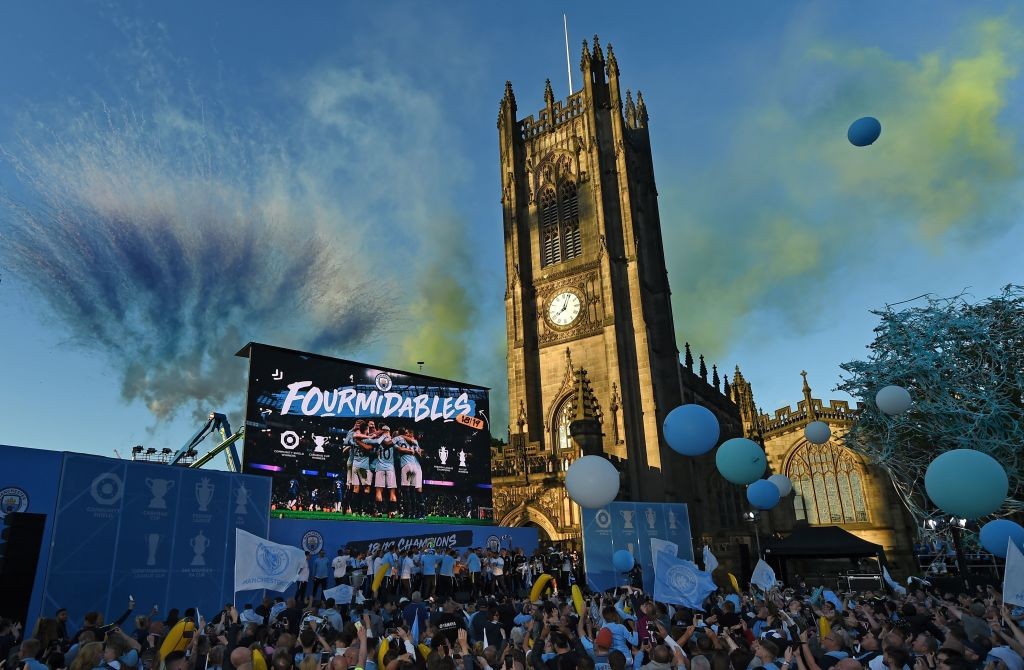 (Photo by Andrew Yates/AFP)