Everton v Manchester City: Match Preview
By Howard Hockin | 27 September 2019
A look at the Premier League's Saturday tea-time kick off.
(Photo by Alex Livesey/Getty)
And so with one crisis skilfully averted by Manchester City in the only manner they know how – namely by scoring 14 goals without reply – a new one threatens the stability of the club and its fan base on Saturday evening. The threat being Liverpool extending their lead at the top of the table further and being crowned champions-elect.
I'm being overly dramatic of course, and with the league leaders travelling to Bramhall Lane for Saturday's early game, who knows what the weekend holds? City have banished somewhat their Goodison hoodoo, winning there in 2014 when a league title was on the line, and again last season to see off Liverpool once more. The 3-1 victory in March 2018 was perhaps the best performance of all, but was preceded by the worst, the 4-0 loss in Pep Guardiola's first season. Despite the upturn in results, it remains a tough place to go to.
The question is which Everton will City face this Saturday? A true Jekyll and Hyde side, their manager is being questioned once more, leading to their own rumblings of an approaching crisis. The stats suggest sterile domination is the main problem for an expensively assembled side, their conversion rate the worst in the division. The talent is there, which suggests a tough game is entirely feasible. Richarlison's hefty transfer fee was sniffed at by many when he moved to Merseyside, including by me, but he has proved his worth. Moise Kean was quite the coup, but has yet to settle fully, the weight on his shoulders to lead the line and provide goals perhaps proving to be troublesome. Perhaps a return for Dominic Calvert-Lewin after his midweek goals will help. Quality is sprinkled throughout the squad from Yerry Mina, Andre Gomes, Bernard, Lucas Digne, Michael Keane, summer signing Alex Iwobi, Gylfi Sigurdsson and more. The doubts remain however as to how often they make full use of their ability. Or more pertinently perhaps, how often their manager does.
What shouldn't be underestimated too is the loss of Idrissa Gueye in midfield, Everton's tackling machine last season, who moved to PSG in the summer. No player in the Premier League attempted more tackles than Gueye last season. He won 89 of his 142 tackles, and he won more tackles (2.7) per game than any other player in the league during the 2018/19 season. He was sixth in the league for interceptions. Instead, City may instead be reunited with Fabian Delph, providing his fitness holds. He will provide a stern test instead, an underrated player who could never avoid injury for long enough to prove it.
The other question remains, and perhaps always will, over just how good a manager Marco Silva is. He seems to be a man that has gained a reputation before earning it. He is certainly not a bad manager, but the doubt remains over how far he can take this Everton side. The club's other problem is simply one of consistency. If they have designs of breaking into the top four, then they must put a run of victories together, something they have been habitually incapable of doing so far. Periodically their home ground is a fortress of sorts, but that form must be taken onto the road. Many a time they have shown signs of moving onto a new level before losing unexpectedly once more.
Pep's Dilemmas
For City, the key may well be to come out firing. The home crowd is certainly one to show its frustrations and dissatisfaction when things are not going well. Many a boo can be heard trailing in the breeze as Everton players traipse off the pitch, and the visitors need to take advantage of this. This was especially apparent during their recent 2-0 loss to Sheffield United, a game that summed up their season. Dominant with the ball and as dominant with the shots, they fell to two sucker-punch goals. As for what team Pep will plump for this time around, your guess is as good as mine. But guess I most certainly will. Ederson will of course return in goal, as well Otamendi and Fernandinho in defence. Expect Walker and Zinchenko to fill the full back slots, as Benjamin Mendy is possibly still not fully match fit. Kevin De Bruyne is the easiest pick of the weekend, but who lines up alongside him is harder to call. My hunch suggests David Silva drops to the bench, but then if he does, I struggle with a logical set-up. I do not think Phil Foden will start, though he may next week, and Pep Guardiola seems reluctant moving Bernardo Silva into the centre. Maybe Gundogan will fill that spot, but I feel he is a definite starter for the Champions League, and perhaps Pep will choose a team with that game in mind. Or perhaps he will not. I hope that clears things up. I expect Sergio to return, and Sterling and Mahrez/Bernardo to occupy the wide positions. There is always the possibility of Gundogan filling in for a rested Rodri, but he isn't really in need of rest right now after a week off.
Either way, the late Saturday game should be a fascinating match. Nothing is decided this weekend whatever happens. It is September, after all. The title race may well be defined more by Liverpool's hectic December schedule or ability to keep key players injury-free as opposed to results this early in the season. Though ti may also be assisted by the stormy weather due to hit the region during Saturday evening. City's PR division had not had its best week, bogged down with accusations of racism in a tweet soon deleted by Bernardo Silva, the issue exacerbated by Pep Guardiola's response. For all concerned, it's probably good to be back talking about the football.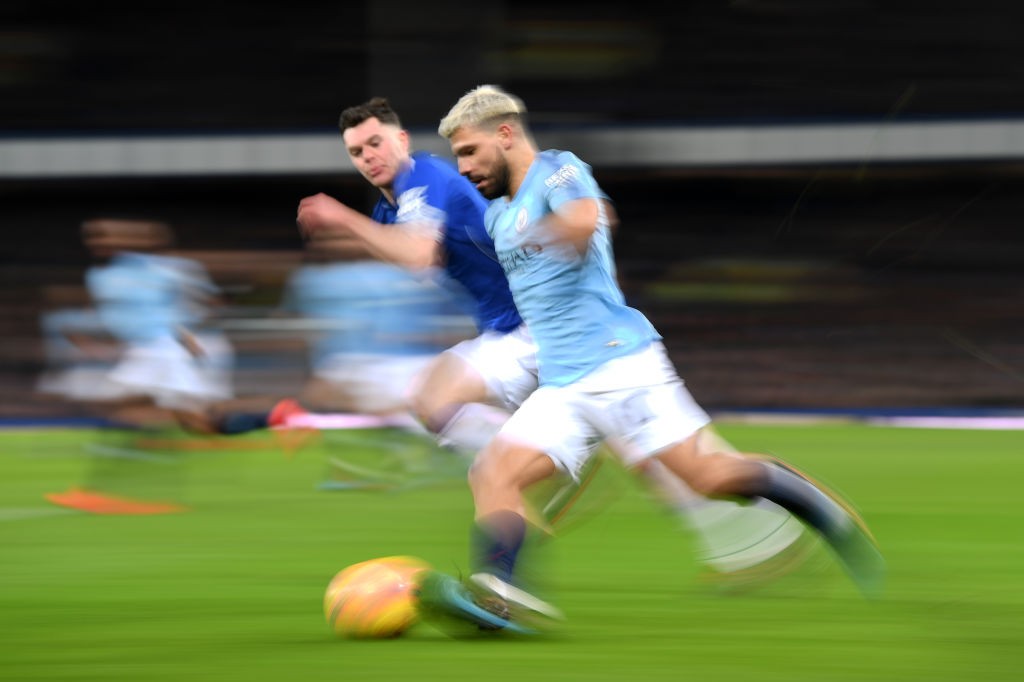 (Photo by Laurence Griffiths/Getty)