Bernardo Silva in midfield is working. Or is it?
By Dan Larsen | 15 January 2020
Dan takes a look at an erratic season for the Portuguese maestro.
(Photo by Michael Steele/Getty)
Bernardo Silva's season at Manchester City so far has seen its fair share of peaks and valleys when it comes to his level of performance. Bernardo started the year off quite well, capped by a monstrous three-goal performance in the 8-0 thrashing the blues laid on Watford in the Premier League in late September. It continued a trend from the season before, where he had firmly established himself as one of the most promising and talented attacking players in all of Europe.
Things, however, went downhill after that game (a certain tweet not doubt contributing to that). Between some leggy performances on the wing, along with some uncharacteristically poor touches at vital moments in the final third, Bernardo looked a shadow of his former self for much of October, November, and early December. At the same time, the team's collective form dropped as well, making his struggles stand out even more than they otherwise would have. Fortunately for City, though, Bernardo has found a bit of resurgence over his past several appearances. Since Pep Guardiola has moved him back into midfield, the team's quality on both ends of the pitch has improved significantly.
The work that he's putting in, especially in his pressing, positioning, and tracking back, has helped create some stability in what's otherwise been a volatile side defensively. He's provided vital cover for City's full-backs, dropping deep when required and assisting them whenever they face a real threat on the wing. He's also helped close the gaps that their midfield was leaving far too often on counter attacks, and his discipline, energy, and intelligence in defence has allowed City to keep a more consistent shape, especially when they're being put under pressure. It was many of the same qualities he demonstrated when playing in a midfield role in the absence of Kevin De Bruyne a season ago. In addition to his high level of defensive work, Bernardo has also begun to see his attacking quality come back in bits and pieces. The dominant first-leg performance that City put in against Manchester United at Old Trafford in the semi-final of the Carabao Cup was fueled, in large part, by him. His goal on the edge of the 18-yard box, which opened the scoring that night, was one the finest goals he's scored for the club. It looked much more like the goals he scored for City during their incredible run in the Premier League a season ago.  He also played a key part in driving the City attack in other ways, such as executing two perfectly weighted passes that led to the team's second and third goals. He was the engine that made the midfield run at an elite level. He didn't have a set position during the game, rotating between the front-line and dropping deeper to help with the build-up. However, some of is best moments came when he was involved in more traditional midfield positions.
Getting put back into midfield seems to have sparked something for Bernardo. He's looked much more confident, and comfortable, since getting shifted back to the centre of the pitch. That appears to have helped him recapture the overwhelming attacking skills he demonstrated in spades a season ago. Curiously, though, Bernardo's form rating over his past couple of games, at least in the Premier League, doesn't reflect how well he's played. He's failed to score above a pedestrian 6.67 rating in his past four games despite being used in midfield. This appears to be one of those times where the advanced numbers are missing a lot of what he's providing to the team, especially since so much of what he's providing isn't necessarily things that show up on the stat sheet.
If City are going to succeed in their pursuit of any trophy this season, Bernardo playing more often in midfield is a requirement. His high level of defensive work, as well as the elite passing, dribbling and creativity that he possesses, is exactly the combination of skills that the team need in their midfield if they're going beat the best sides in Europe. He and Kevin De Bruyne, as a pair of attacking midfielders, in any formation, poses a greater threat to defences than any other midfield in Europe can. Guardiola would be wise to continue to explore what this pairing can do in the weeks ahead.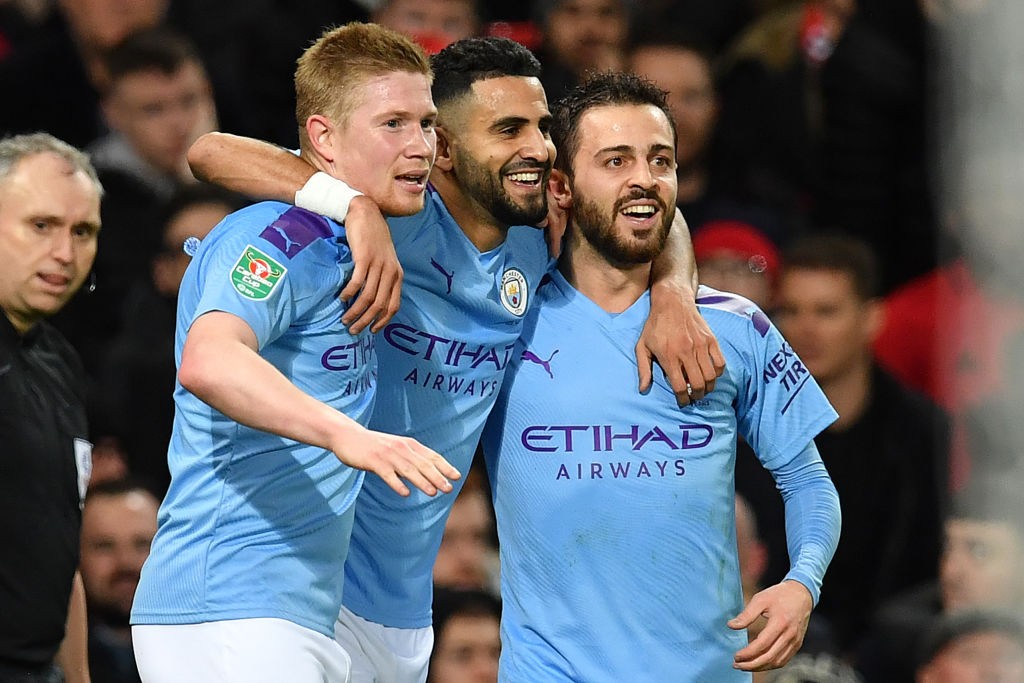 (Photo by Paul Ellis/AFP)