A Portrait of Edin Dzeko: The Bosnian Diamond Who Sparkled When It Mattered.
By Howard Hockin | 09 October 2019
A look at the career of Edin Dzeko
(Photo by Michael Regan/Getty)
"Since I left, I follow every City game in every competition and it's just natural for me because I feel it is still my club, even if I'm not there anymore."
It's my 40th birthday, and there's a league title on the line. And it's Liverpool FC that it's on the line against. To say I'm on edge as I sit in one of Manchester's worst pubs as the match against Everton starts would be something of an understatement. I'm bricking it. I feel sick, and it's not the crap beer that's made me feel this way. By rights, you'd think the home side would not try too hard to win, but I know they will. They're professionals, after all. The result of the game on the big screen means everything. City have to win this match, or everything is ruined, including my birthday celebrations, my summer, everything. If Liverpool end the weekend top of the table, they will not let it slip again. It's a fact. So when Ross Barkley picks this match to actually do something good and pings one into the top corner from 25 yards, my world starts to disintegrate. Thankfully Sergio Aguero is on hand to restore parity, injuring himself celebrating, but it's still not enough. City need more.
Enter Edin Dzeko.  His header to put City ahead at Goodison was as perfect as it got. Standing fairly still, he waited for the ball to arrive, and made it do all the work. Perfectly directed and with power, the ball nestled in the bottom corner of the net. As of that moment, the updated league table suggested that City were on the way to a 2nd Premier League title, helped further by Dzeko expertly rifling home a 3rd goal in the 2nd half. City held on despite another Everton goal and the rest, as they say, is history. It was 2014, but just like 2 years previous, Dzeko had made all the difference.
Edin Dzeko was born in 1986 in Sarajevo, which was at the time part of the Republic of Yugoslavia. Like many footballers from eastern Europe who have found success in the past decade, his childhood was dominated by war and armed conflict. Between the age of 6 and 9, the city of Sarajevo was under siege from Serbian forces as the Bosnian war for independence raged.  And like others with similar childhood experiences, it toughened the footballer that developed, and made their desire to succeed all the greater. In an interview Dzeko gave to the Players' Tribune site last year, he talked about his difficult upbringing, of having stop playing football games in the streets because of the sound of sirens, followed by finding a place to hide. In fact on one occasion it is rumoured that if it hadn't been for his mother Belma, who on one occasion stopped her boy from going to play football in the field which got bombed a few minutes later, then Dzeko's story may have been a much more tragic one.
"Our lives were dominated by the conflict as everyone knew someone in the military and this meant we were all touched by the death of friends and family. It was a frightening experience to be in Sarajevo when the city was under siege every day, but this was the life I was given and to be honest, I don't enjoy talking about it so much now. It was a hard time for everyone in the country. There wasn't much to eat, not really enough for three meals a day. I was very afraid every day. We were always having to hide when shots rang out or bombs fell. You could get shot at any time. I cried a lot in those days. Thank God the war was in the past. As a little kid, you don't really understand the danger. At six years old, I knew what was happening, but honestly I didn't think much about it. The parents do all the thinking and the worrying. They're the ones who carry a lot of the burden, I think. Without my parents, my life would not be possible. When the war finally stopped four years later, everything was destroyed. There was no city left. "
Despite the war that raged around him, football remained his passion, and he played as much as he could. As his city started its recovery from the ravages of war, he quickly developed his skills. Džeko began his career at Zeljeznicar from 2003 under the then coach Jiri Pilsek. He started as a creative midfield player, and apparently did not stand out from the crowd. Surprisingly, he wasn't very comfortable heading the ball either. Soon though he would develop considerably and his fortunes would change. Pilsek moved to FK Teplice, and brought Dzeko with him. Zeljeznicar could not believe their good fortune in getting a sum for him, likening it to winning the lottery. But as Dzeko improved, along with his heading, bigger clubs in Europe started sniffing around. It was VFL Wolfsburg who finally won the race to his signature for €4 million in 2008. He was an immediate success, and would became the highest league scorer in Wolfsburg's history, netting 66 goals in 111 Bundesliga matches, and helping the team to a historic first Bundesliga title in 2009. He scored 36 goals in that season alone. It was no surprise then that he caught City's attention.
History Maker
What's more, Dzeko caught the attention mid-season, one of those rare-ish big January signings. His timing was good too, as City were about to embark on a new and glorious chapter in their history. The first of many trophies was just months away, and a power-shift in the city would soon follow. Welcome to Manchester, Edin, For £27m, on a four and a half year deal. His timing was rarely better when scoring a crucial equaliser as City toiled at Notts County in the FA Cup, his debut goal. City would of course go on to win the trophy, beating Manchester United on the way. The latest chapter in Dzeko's life was well under way. His second goal for the club would come in the replay as Notts County were comfortably dispatched at the 2nd time of asking, and he'd bag a brace in the Europa League just four days later. That was 24th February, and whilst Dzeko would be a sometime-starter for the rest of the season, it would be two months before he would score again, coming off the bench to secure a winner at Ewood Park in late April. A goal at Bolton in the final game of the season would be his only other before the summer. And despite his goals keeping City in the FA Cup, he would not feature in the rest of the cup campaign as City secured their first trophy in 35 years. There was Mario Balotelli and Carlos Tevez as competition after all.
And so the 2011/12 season would be Dzeko's first full season at the club, and it would be a season no one would ever forget. The "Bosnian Diamond" would certainly not, but it would not be plain-sailing. And it's rather important to point out why. Because the simple truth is that Edin Dzeko was never the 1st or even 5th name on the team-sheet during his time at City, nor a roaring success. What he was though was an important team player and perhaps City's 2nd best "heavy goal scorer" of the modern era (no one trumps Yaya in that respect). Looking back at the 2011/12  season, it is perhaps surprising that the appearances and goals total does not tally with my memory of that period. The opportunity was certainly there for Edin, considering Carlos Tevez emigrated to Argentina for 6 months, whilst Mario Balotelli was busy being Mario Balotelli, and all that that entailed. Nevertheless, Dzeko played his part, and by the end of the season, had earned his place in City's history.
He netted in the Monday night season opener against Swansea, a match best-remembered for Sergio Aguero's explosive debut from the bench. He then netted at Bolton, before starring in one of his greatest games, as City thrashed Spurs 5-1 at White Hart Lane. Dzeko scored four, making it 6 goals in 3 games. What's more, his side header that day is one of my favourite goals of the past decade.  With a perfect TV camera angle, it is a goal I could watch on a loop eternally. It's one of those matches where you remember exactly what you were doing. Personally I was in the bar at a campsite at Shell Island, watching part of a Manchester/North London double-header. Later that day United would crush Arsenal 8-2. Dzeko had a perfect hat-trick, scoring with both feet and his head before curling one in from 20 yards, and his reward, to his great surprise, was to drop to the bench for the next match against Wigan Athletic. Dzeko would get back into the team in the following weeks but the goals soon dried up. It would be worth the wait for his next goal though.
23rd October 2011. It should have been ten. City visited Old Trafford, and duly knocked Alex Ferguson off his perch. Dzeko scored two in that 2nd half, including one off his knee, and could easily have had a hat-trick. And once Edin scored, a few more tended to follow, with another brace the following match at Molineux in the cup, and 2 more in the next two league games. And then, as per usual, came the dry spell. It would be almost two and a half months before Dzeko would score again as he flitted in and out of the team, heading a crucial winner in a hard-fought victory at Wigan in mid-January. A few more goals followed, but after scoring against Blackburn on 25th February, another dry spell would follow. His next goal, his final one of the 2011/12 season would come in injury time of the final game. At home to QPR.
Aguerooooooooo
Yep, along with Kevin Horlock, Edin Dzeko scored one of the club's most under-valued and forgotten goals. But a goal without which the history of the club would be irrefutably poorer. Without Dzeko's equaliser against QPR, there is no Aguero moment. There no is 1st league title for 44 years. There is only heartbreak, and a summer of recriminations, and another scar in the club's history. "We were dead. That's all I was thinking while watching that game from the bench," said Dzeko for his interview on the Players' Tribune website. In an interview given to Four Four Two magazine earlier this year, Dzeko recalls that fateful day in 2012. "On the bench, Mancini was swearing at everyone about how we had conceded that second goal. He called me over and put me on straight away. We had some chances, but nothing special, because we knew what was at stake and the pressure was too high. Somehow we scored that second goal, which gave us a little bit more belief. The time was flying and we still had to score another, so when I equalised I just ran back to the halfway line, so we would have a few more seconds to try to get another. We were lucky to score the third, because we had only one attack to do it in – and Sergio Aguero scored. It was lucky, but well deserved in the end. I knew I just had to do my job: to score. That was it. I didn't think about anything else." And when he scored? "You can see me scream, 'Come on, come on!' to everyone as I'm running back to the centre circle. Still two, three minutes to play. Maybe we're not dead yet?" And then THAT goal. "The strongest emotion was just relief. You cannot imagine how relieved I was when that goal went in. We worked the whole season with such a great team and performed so well, and we were a few seconds from losing it all."
(Photo by Michael Steele/Getty)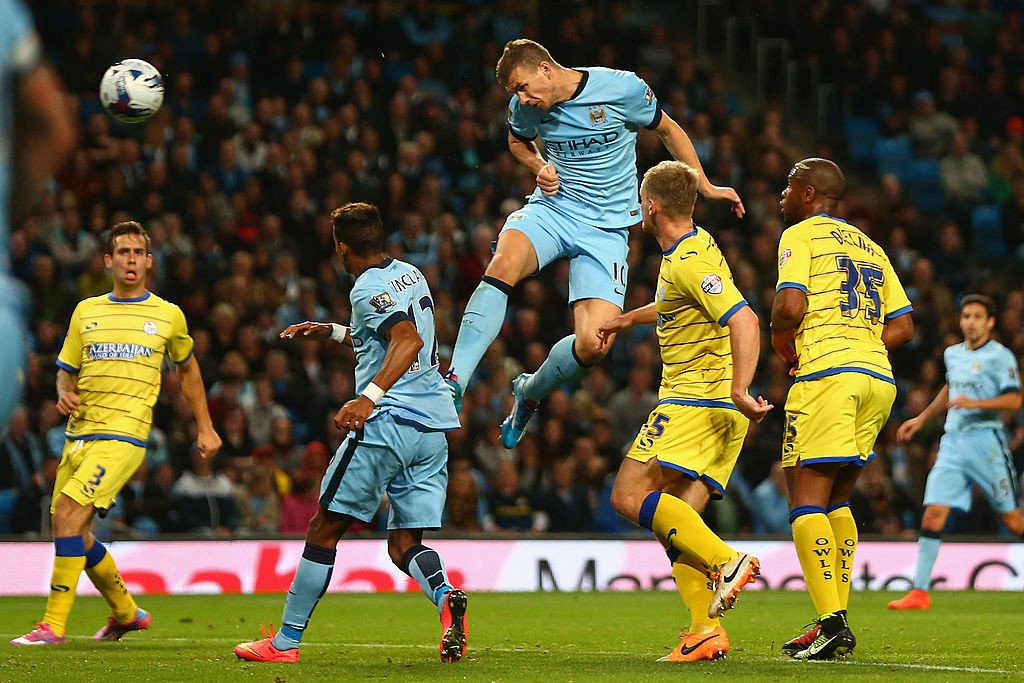 Lean Times
In my end of season review, I gave Dzeko a 7/10 rating, and apologised for the generous score, pointing out that he had scored 19 goals. His form and touch had evaded him as the season progressed, but his style never really suited the team, he suffered from rotation, and probably needed constant football to flourish, as many other players have shown since. Still, after that final day, there was only one way it could go for everyone concerned. After all, how could it be matched? And so it turned out as Roberto Mancini failed to land his summer targets, went to war with most of his squad and left after a Cup Final humiliation against Wigan Athletic the following summer.  Mancini's final season at City was of course an unsuccessful and fractured one.  Nevertheless, in the 2012-13 season, Dzeko was City's top-scorer with 15 goals in 44 appearances. He would only score a single goal outside the Premier League though, in the 3-2 defeat at Real Madrid, and the grumblings over his game time and future at the club had begun. Instead he was becoming best known as a super sub, a tag he did not relish. Five of his first six goals came from the bench, though that tally did include a superb brace to bring City back from a goal and a man down at West Brom.
"I was never a super sub before I came to City. I used to play always from the beginning and I scored a lot of goals not as a sub," Dzeko said. "In the last few games it's a situation like this and I am just happy I am scoring goals. But I will never be a super sub. I want to play." The frustration was clear, from a player with as many goals as his fellow attackers combined, despite only completing a match once by that point.
The brace at West Brom earned him a start in the Champions League, but City were poor as they lost 3-1 at Ajax, though at least Dzeko lasted the 90 minutes. He was back on the bench for the next game. And so the season continued in a similar vein, as the results fluctuated and Mancini burnt his bridges with all and sundry. By the time May 2013 came around, both Dzeko and Mancini had hinted at a summer exit, Borussia Dortmund heavily linked with the Bosnian striker. The lack of football came despite opportunities presenting themselves to him. Balotelli was gone by the end of January, Aguero had started picking up periodic injuries and the shooting of Tevez had gone awry. But still Dzeko could not nail down a regular 1st team place. My season review saw him score 6.5/10, and once more mentioned a poor touch. By the end of the season he looked disinterested and an exit seemed likely.
By the summer of 2013, Mancini had of course exited, and in came Manuel Pellegrini, the three-year caretaker for Pep Guardiola. He promised an energetic brand of football that did not exactly tally with Dzeko's brand of football. And yet Dzeko remained at the club as the summer drew to an end, And for one final time, he would be key in City's success. But first in came Alvaro Negredo, and as the new signing formed a formidable partnership with Sergio Aguero, the duo seemingly scoring at will. Dzeko scored a scattering of goals, but once more was pushed to the periphery, the new strike force undroppable. But it would not last. Needlessly played in a League Cup semi-final 2nd leg match at Upton Park in January, Negredo would injure his shoulder and never be the same player again. And it was then that Edin Dzeko truly made his mark in City's history.
A goal at White Hart Lane as City once more thrashed Spurs, 5-1, was followed by another barren spell. But Edin Dzeko, the scorer of important goals, was simply saving himself for when it truly mattered. At Hull, City were facing disaster squarely in the face as Vincent Kompany was sent off early doors. David Silva settled the nerves with a beauty, City's makeshift defence stood firm (take note) and Dzeko sealed the win late on. Next up was Old Trafford, and Dzeko was off the mark within a minute, City's 2nd chance of the match. He would end the match with a brace. His contribution since Vinny's red card had helped keep the title push alive. City wobbled in the coming weeks, and Dzeko's goals dried up, but he had more to give. On a fateful day, hours before Steven Gerrard slipped and the title race changed course for good, it was Dzeko that calmed nerves with the opening goal at Selhurst Park. And the week after? Well that was my 40th birthday. Perhaps that day Dzeko illustrated that he was the last great header of a ball we've had at the club. Nevertheless, some would argue that his goal contribution against Everton was not even his greatest achievement that day. No, his attempt to feign injury on the pitch and play dead for minutes must surely be viewed as his crowning glory of an illustrious career. Later that week, as the rained poured down on The Etihad as City probed and probed for a goal against Aston Villa that would push the club closer to a 2nd league title Dzeko obliged with a 2nd half brace, before Yaya Toure ran half the pitch to seal off a win with one of the goals of the season. Dzeko once more stepped up when it mattered, and his goals helped shape and change the club's history forever. A few days later, the title was City's.
The Final Chapter
And so with my review score of 7.5/10 lost in the Manchester breeze, in August 2014 Dzeko signed a new 4 year contract at the club. "Over the last three and a half years we've made history together, but I feel like we are only at the start of something really special," Dzeko said. "I'm really happy here at City, it's a second home to me." It seemed the tide had turned. But sadly, that was not the case. Dzeko only had one more season remaining at the club, and it was his poorest of all. He would score 6 goals in 32 games in his final season at City. Nothing illustrates his struggles more than the fact that on 21st February 2015, Džeko ended a run of 15 matches without a goal by scoring Manchester City's third goal in a 5–0 home victory against Newcastle United. It would be his penultimate goal for the club. His form had largely deserted him and a summer exit was by now inevitable, especially with the arrival of Wilfried Bony. With the arrival of Raheem Sterling too, Manuel Pellegrini had previously hinted that Dzeko's time at the club might be up, even though the two players were hardly alike in style or position.
What's more, it was an exit that was not met with great displeasure at the time. A small section of the City fan base might tell you that Dzeko was a constant hit from beginning to end during his time at City. He was nothing of the sort, nostalgia somewhat fogging the memory. There's a reason that he left, and a reason that he is missed further down the line than he was at the time of his departure. What didn't help was who came in to fill the void. This just elevated Dzeko's standing even more. But hey I'm not complaining, because Edin Dzeko was, and is, ace. Nevertheless, the fact that he was not properly replaced does not mean that he should not have left City. This is conflating two separate issues. It was probably the right time for Edin Dzeko to leave Manchester City after 189 appearances and 72 goals for the club, whilst on a separate note the recruitment of Wilfried Bony was a disaster. But it seemed that after all he offered, and at the age of just 29, City would need to loan him out. The loan fee was £2.9m, with an extra £7m or so if the deal was later made permanent. He would prove to be quite the bargain for Roma.
Stats, appearances, trophies won. Sometimes it doesn't matter. Because sometimes, you just love a footballer and it doesn't need to be broken down into detailed explanations. Sometimes a bond is just formed, and it remains long after the player moves on to pastures new. And I know you feel the same way, don't you? It's weird to hear his name sung to this day. It's the little things that can help though. Ex-players still holding City dear to their heart. Remembering our time together. Singing City songs on Instagram. And apart from being irritatingly attractive, Dzeko just seemed like a nice guy. For a manager he is a dream, as he is never in the news, at least not on the front pages. The fact I knew nothing about his personal life was just how it should be, because I only cared about how well he could kick and head a football. A club video followed him around for a day, and he commented on how after training he likes to go home and relax and watch TV. I guess that's what managers want of all their players. As it turned out, Dzeko met his future wife whilst at the club, and has since become a father of two. He told Four Four Two, "It's amazing to think how many good games and special moments we had in the four and a half years I was at the club: beating United, winning two titles, plus two cups and the Community Shield as well. And United always had that flag which counted the years City were without a title, making fun of our fans. After the 6-1 they were quiet."
They certainly were. Or are. And to see him succeed at Roma does not make me pine for him at all. It makes me happy that he is doing well. That sums him up for me. I want him to succeed in all he does. And succeed he has. A talisman for his country with 58 goals in 105 appearances at international level, and the same goal tally in 113 appearances for Roma. No hard feelings, no regrets, just a happiness tat seeing him do well. His time at Roma has had its barren spells too, but his purple patches have more than made up for that as the stats suggest, and helped deliver great memories for another fan base, few better than when they destroyed Barcelona to knock them out of the Champions League. Thanks for everything Edin. Thanks for being a model pro, for all your goals, but especially for those that weighed a tonne. You were a diamond that sparkled when it mattered.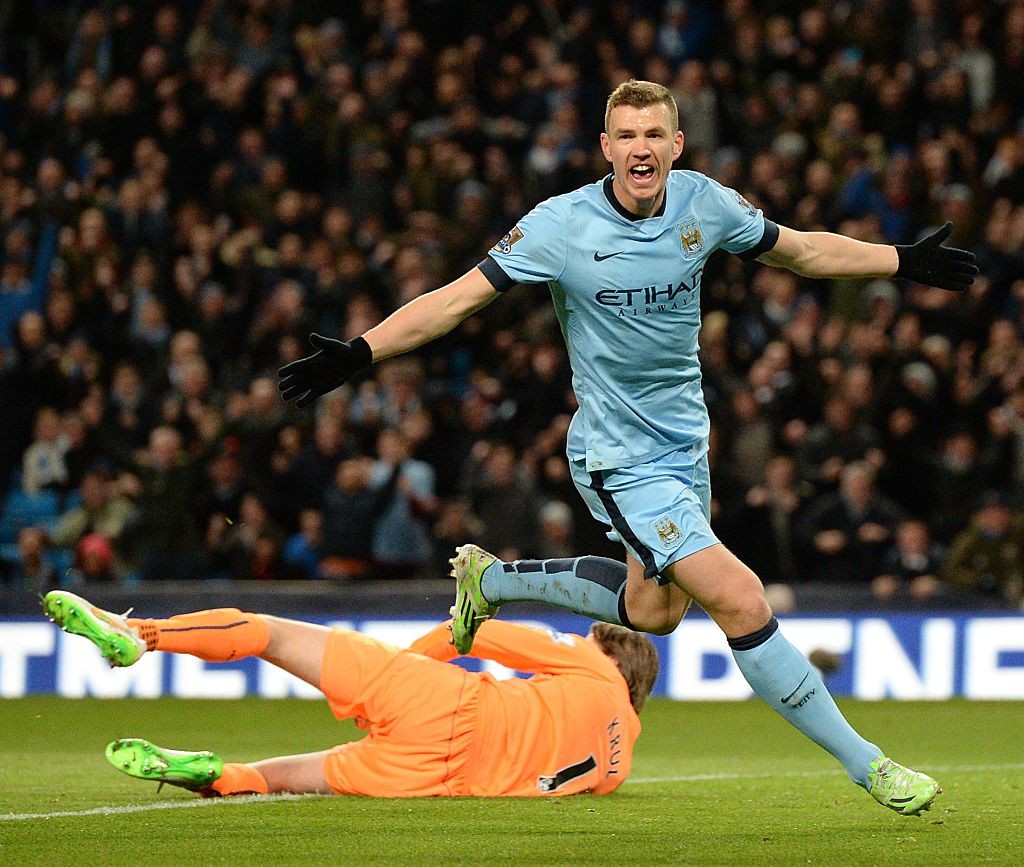 (Photo by Oli Scarff/AFP)