Ederson: Is He Finding His Form?
By Dan Larsenn | 07 October 2019
Dan takes a look at the City goalkeeper's form this season.
(Photo by Clive Brunskill/Getty)
This piece was written prior to the weekend's game.
It's been a bit of an uneven start to the 2019-20 Premier League season for Manchester City goalkeeper, Ederson. After proving himself to be a reliable goalkeeping option in his first two seasons in Manchester, Ederson has had some roller coaster moments to start this season. Ederson has made a few mistakes that have directly contributed to Manchester City conceding goals in the early going of this season. In fact, his mistakes have played a vital role in City dropping points.
In City's home opener against Tottenham on Matchday two, Ederson was beaten early in the match on a long-range effort by Eric Lamela. Though the initial breakdown that led to the chance for Spurs did not involve him, his poor positioning allowed an extremely low percentage shot to beat him from 25 yards out. Spur's second goal, which would come much later in the game on a set-piece, was also partly on him. Though the defenders in front of him failed to mark Lucas Moura, who had just come on as a sub, Ederson once again got caught out of position and was beaten at close range by the header that Moura won. His slight hesitation in reacting to the play burned him. Ederson came out of that home opener with an atrocious match rating of 5.64. He was their worst player on the pitch based on whoscored.com's player ratings. His mistakes allowed Spurs to get a result out of a game where they created just 0.12 expected goals, and had an expected points total of .03.
A few weeks later, in Manchester City's shock defeat at Norwich City, he was also very poor. On Norwich's first goal, which opened the scoring that afternoon, he was beaten by a header at the near post. Like the second goal that Spurs scored a few weeks earlier, Ederson's bad positioning and reactions allowed a relatively easy save situation for him slip by. Later in the first half, Ederson was caught dramatically out of position on a Norwich counterattack. Though a massive mistake in front of him got Norwich into a great situation to score, he read the play poorly and failed to get himself in a spot to prevent an easy tap in. For as bad as the defenders in the line in front of him were that afternoon, Ederson actually finished the match as City's worst rated player with a match rating of 5.41.
The flip side to Ederson's start to the season, however, is that he's also had several well-above average performances in goal too. Last weekend, at Everton, he made several crucial saves that kept Manchester City alive as they began to wobble in defence. His six saves helped City concede just one goal on the afternoon despite giving up 2.36 xG to Everton. He posted a solid matchday rating of 7..78, which was second best in the squad behind Riyad Mahrez.
Overall, Ederson has posted a game rating of seven or better in five of his first seven EPL appearances so far in 2019-20. His overall Premier League rating, at 6.98, is second best among Premier League goalkeepers so far. Only Rui Patricio has a better form rating in the League to date than him. With Manchester City's defence in a chaotic state at the moment, they're going to need Ederson to continue playing at a world-class level. Unlike his first two seasons at the club, where chances for opponents were few and far between, he's going to be facing a lot of more high-quality scoring opportunities to stop on a regular basis now given City's unsteadiness in the center of their backline.
Any slip-ups from him, like the ones he made against Norwich and Spurs, could prove devastating to City. With Liverpool continuing to edge out results, City cannot afford to drop any more points right now in the league because of atrocious errors, especially from him. Many have regarded Ederson as being one the best keepers in the world. He's shown, in crucial moments, that he's capable of being that. However, we'll see just how great he is in the coming weeks given the potentially daunting task he faces with the defending in front of him. It's time for Ederson to prove he can be the Premier League's best goalkeeper.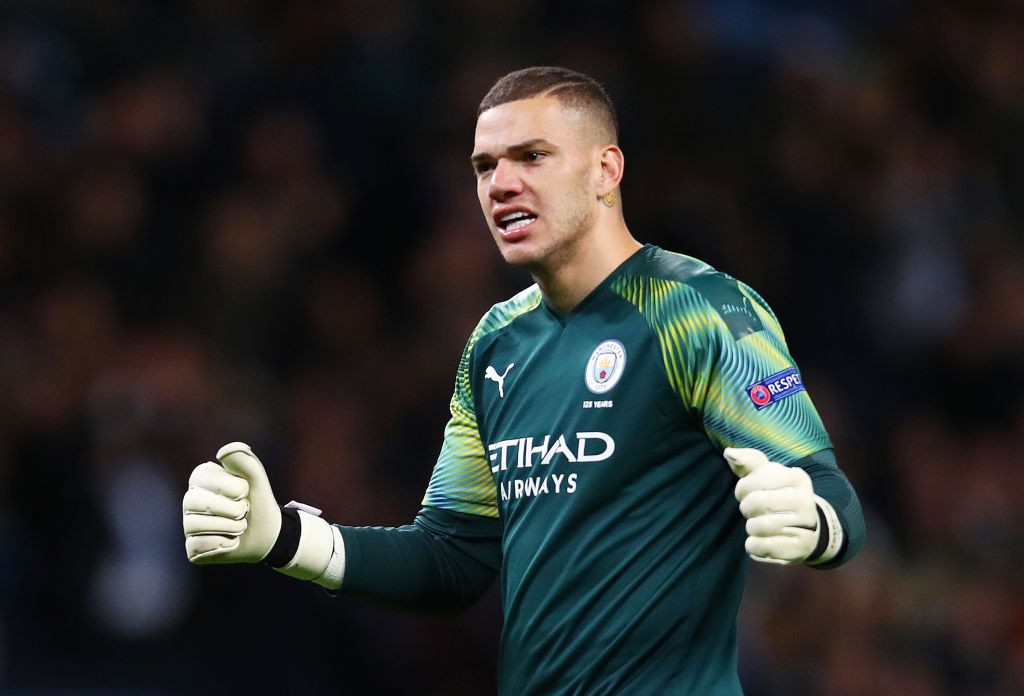 (Photo by Clive Brunskill/Getty)