A Gruelling Xmas Schedule, Atmosphere, Garry Cook & Whataboutery - Weekly Thoughts
By Howard Hockin | 27 December 2019
Howard takes a look at the week's talking points.
(Photo by Andrew Yates/AFP)
Fans Hit Hardest By Gruelling Xmas Schedule
The Christmas schedule in the UK is quite an eye-opener. It can leave players new to our shores broken and confused. Some never recover. It can decimate squads. It's gruelling, and it's chaotic. And apparently, it is the best thing ever, because the fans demand it. It's as British as red telephone boxes, cups of tea and Brexit. Apart from a chance to get away from the in-laws for the day, the Xmas schedule can throw up shocks, controversy and season-defining moments that occur due to the incessant nature of the action. Wherever you look over the Xmas period, there seems to be football on.
And it's live!
In the old days, before the sport sold its soul to the highest bidder (BSkyB), the festive period could really throw up some amazing results. Ten first division games were played on Boxing Day 1963, producing 66 goals. Often games were double-headers, so there was a chance for quick revenge, which was often taken. Many a team would be thrashed before themselves thrashing the same opponents days later. Christmas Day football was once the norm, before floodlights removed the need to cram football into such a special day. The last Christmas Day league match in the UK occurred in 1965.
But Christmas is not just a slog for the players. They seem to get all the sympathy, having to play two games less than 48 hours apart. But what about us fans?  After all, the period has not been kind to me. When I think of Xmas football, I think of hangovers, of nursed pints, of an aching yearning for my bed, re-runs of the IT Crowd and a hot Vimto. Two occasions stand out above all other. New Year's Day, date unknown. The internet suggests it is 2005. I have had 2 hours' sleep, and I need to get to the ground from Didsbury, as City are at home to Southampton that day. The bus timetable suggests there is a full service, but a bus never arrives. Luckily a man also stood at the stop needs to get to the ground too, so we hail a taxi. However, that is when the problems begin. For reasons unknown I am only wearing a jumper, on a very cold day, and during the journey it begins to rain. Hard. The traffic around the ground is stationary, the glamour tie bringing in the crowds. The driver refuses to sit in traffic any longer, so I have to alight half a mile from the ground. By the time I reach my seat, I look like I have been pushed into a canal. Shivering heavily throughout, eventually I am gifted a coat from someone sat nearby. I later stay in bed for two days, but at least City won.
And then there was the most generous of Xmas gifts, which I received with the fakest of smiles. It's New Year's Eve 2011, and a couple of friends inform me they have a gift for me. I open an envelope and inside is a train ticket to Newcastle, and a match ticket for the game against Sunderland at the Stadium Of Light. The following day. They inform me that the taxi is booked for 7:45am. I don't handle hangovers well, and I can get one from sniffing a wine gum. A beautiful touch from my friends, which had me grimacing for a day. With friends like me, eh?
The next day I was predictably rough. I could not even look at an alcoholic drink for at least four hours. And then to cap it off, City naturally lost 1-0 to Sunderland, as they always used to in those days, to a last minute winner that was blatantly offside. Where's VAR when you need it? Still, lovely day out.
The Christmas schedule takes planning, dedication and commitment. It is not for the faint-hearted. Add on all the food that has weighed us down and it is clear it is actually the players that have got it easy. It's about time the fans got some sympathy at such a difficult time.
Pep & Atmosphere
This has been playing on my mind all week, to be honest. And further events have only cemented my though that I have had enough. After City equalised against the other City last weekend, Pep was animated on the touchline urging the crowd to get behind the team and spur them on. I'm not going to go to town on what he did, an impulse action from a man we all adore, a passionate guy with a Latin temperament. Pep has mentioned the fans before in press conferences, about how important the crowd are, and they are, the point is valid. An atmosphere makes a difference, and atmospheres on most Premier League grounds are very often damn poor, and City are certainly no different.
But I'm sorry, I'm not going to let this lie. And I am not going to allow Pep to put this all on the fans.  We have been spoilt as fans, and often nowadays turn up almost expecting to be entertained. Atmospheres have always been up and down anyway, and depend on the actions of a section, not all, of the crowd. Some don't want to make a noise, and never have. And atmosphere is often linked to what happens on the pitch.
But there is far more to it than that. If you are THAT bothered Pep, speak out about ticket price rises, the spread of corporate areas around the ground, and back safe standing. You know, if it's that big a deal, rather than pinning it on fans each time, why not ask questions about how we got to this point? Speak out about how ticket prices have risen over 1000% in real terms since the start of the Premier League. Question why fans are continuously messed about and the last consideration when it comes to matches? Why away fans are treated like cattle, placed in the gods, why match times are changed to random times to accommodate TV, why fans have to travel across the country on a weeknight to see their team, why corporate sections have crept round the Etihad destroying atmospheres, why the club still insist on raising season ticket prices each year despite having income approaching the half billion mark, why the club aren't more proactive in pushing for standing sections to reclaim some atmosphere, why they seem more interested in bespoke pubs and £700 Harvey Nichols match day "experiences" than a good atmosphere. And there could have been no greater example of this when news emerged on Christmas Eve of the stitch-up between City & United to only allocate 3000 tickets for away fans in the Carabao Cup semi-final. Yeah a few fans misbehaved at the recent derby, but let's not pretend that limiting numbers to 3000 means that the breeding ground for further trouble is thus eradicated. It is a cop-out, in more ways than one.
So by all means talk about the importance of atmosphere in helping the team, Pep. But mention all the reasons that it has suffered in recent times, not just one. As always, fans are the easiest target.
Garry Cook
As you are probably aware, there was a fascinating interview with Garry Cook in the Athletic this week. I say in, is it on if it's an app? Anyway, never mind.
Garry was open about what was a crazy period in City's history, and it was sad to see how much his departure hurt him. I think it's rather damning on a minority of fans that they seemed intent on portraying Garry Cook as some sort of joke figure at the time of his employment. Maybe that's a tad harsh – Cook says in the interview that he brought a brash, US business, can-do attitude with him from Nike, his previous job. The club needed that, but you can easily see how this would rub against a down-trodden UK audience, fed stories of false hope for decades. Garry was right though about most things, and saying Manchester United instead of City at a hall of fame event is hardly a hanging offence, or even an offence that would dampen my respect for him. I'd often see him around the club at all hours, and he was clearly passionate and committed to making City a force.  I went on a Legends dinner a few years ago. Tommy Booth was the legend, and he was brilliant company throughout. Afterwards we got a tour around the Carrington complex, where the wacky kit man put forth a lengthy diatribe against Roberto Mancini, calling him the luckiest manager of all time, citing his ridiculous phobia of the colour purple. I wasn't expecting that as he showed us the laundry facilities. But what stuck in my mind more that day was something Tommy said as I tucked into an extremely large chicken breast. He said that Cook, who had left the club a good two years or more previous, was still missed around the place by virtually everyone who worked there. And that tells you all you need to know about the man. I'll always be thankful for the job he did at the club, and the role he played in changing the mentality of the club forever.
Competitiveness of the Premier League.
Finally, it's time for some classic whataboutery. But it deserves a mention. By winning 4-0 at Leicester City, there can now be little if any doubt that Liverpool will win this season's Premier League title, a title assured before we even reach New Year. City are 7/1 with the bookies, but you can add a zero to that as far as I'm concerned, as Liverpool will not drop enough points to give City a sniff of a comeback.  Liverpool have lost 1 league game in 18 months, and could feasibly dominate in the years to come. That's not my opinion, I'm just pointing out that their form suggests the possibility. With that in mind, you would assume that there have been many an article written about what a dull anti0climax the season has been, as were written when City were yet to secure their first title under Pep.
Yeah, right. The fear of a Liverpool period of trophy-grabbing strikes fear into many not just because of how a swathe of their fan base will act, but how the media will too. It's fine to say the team is brilliant, because it is, and their run of form and performances deserve multiple accolades and articles written. City got plenty over the previous two seasons, even if we do tend to hone in on the negative ones. But you know as well as I do that it will not end with a few articles. It will be much, much more.  And then you have to ask yourself – at what point will Miguel Delaney and his Whatsapp group start writing about their concerns over the anti-competitiveness of the Premier League? Do not hold your breath, because it will not happen, because certain clubs are treated different to others, and that's just how it is. Liverpool football club have a greater hold over the media, to the point they can try and destabilise City whenever they desire. Their story is romantic, and five successive titles would not change that, whilst City's story is one of evil, bought on oil money and power. Liverpool achieved their success the right way blah blah, thus it seems a dull league is not an issue.  It's gone beyond tiring now, so time to retreat back into my bubble and enjoy the finer things in life. Endless football, food and pale ale. Happy New Year everyone, and here's to a successful 2020.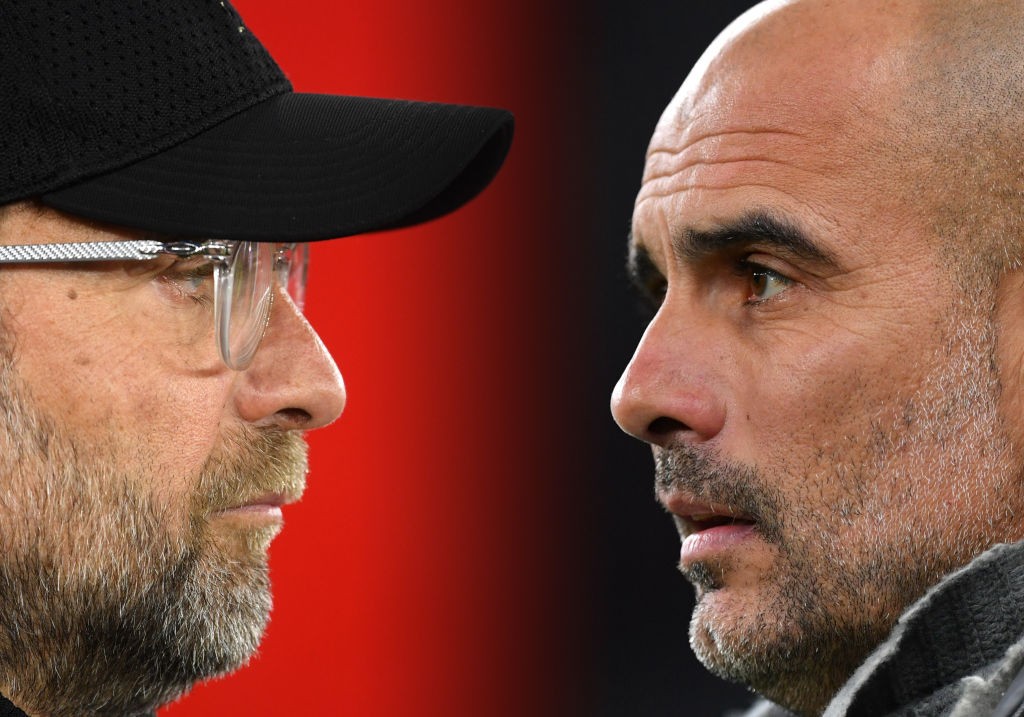 (Photo by Andrew Yates/AFP)